January's Tour de Zwift was the biggest multi-stage event ever held on our favorite indoor training platform, with nearly 120,000 riders taking part in stages between January 3rd and February 4th.
Stage One came out strong with 43,182 Zwifters finishing. It's a good thing we had multiple events for each stage because all of those riders at once would be like 245 Tour de France pelotons riding together! In order to accommodate multiple time zones, Zwift ran a total of 468 events in these nine stages.
Here are more numbers just released by Zwift:
A total of 119,076 Zwifters took part
24,758 Zwifters completed all 9 Stages
In total, Zwifters covered 8,088,702 miles / 13,017,503 km during the Tour de Zwift, or 314 times around the world.
Zwifters climbed a mind-boggling 180,025,715 meters — that's halfway to the moon!
Still feeling that holiday weight? Zwifters burned 297,224,138 calories during the Tour de Zwift. If a pound of fat is roughly equal to 3500 calories, we burned almost 85,000 pounds of fat!
Zwifters are a social group. In total, 'Tour de Zwifters' received 1,911,633 RideOns
The biggest stage was Stage 1, seeing 43,182 people take on the Mayan Jungle Circuit
34 professional cyclists and triathletes took part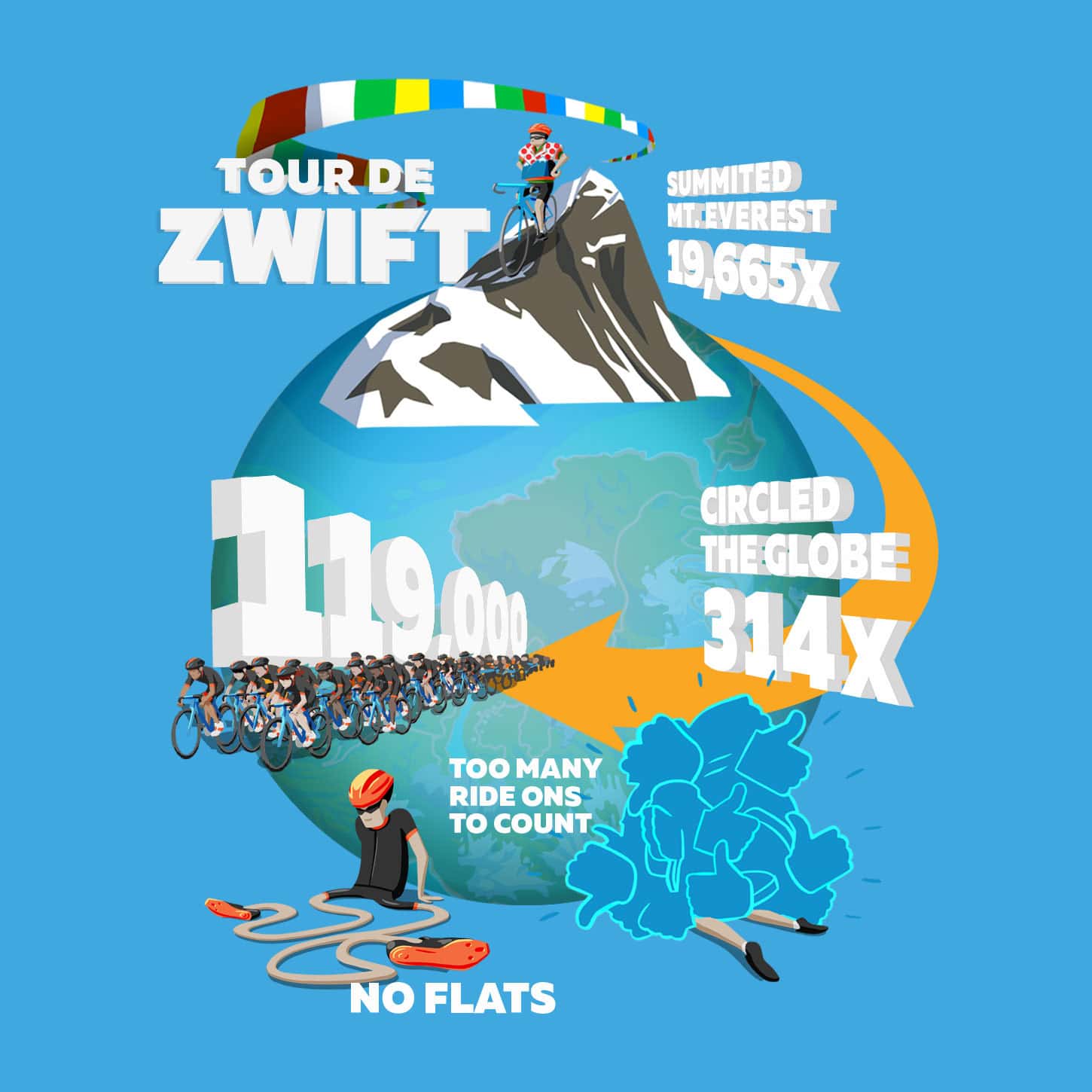 How Did You Rank?
Did you ride the Tour as a race? Check out ZwiftPower's overall results to see how you ranked against others in this race/not a race.
I came in 1757th in the A's, out of 3,420 who finished all 9 stages. (Of course, we have to remember ZwiftPower only displays info from riders who have opted into ZwiftPower and set up a ZwiftPower account… so there were certainly more finishers than we see.)
Completion stats from ZwiftPower:
A: 3,420
B: 2,464
C (Women only): 152
The ZwiftPower Minority
These numbers offer a rare window into overall ZwiftPower usage. If Zwift shows 24,758 total completions, but ZwiftPower only shows 6,036, that means the vast majority of Zwifters (3 out of 4) don't use ZwiftPower at all.
Of course, this isn't much of a surprise with an event like TdZ, since many participants won't be racers, and only racers would be signed up for ZwiftPower. Still, my hope is that eventually ZwiftPower, or a service like it, will be tightly integrated into Zwift to better govern and display the results of competitive rides.

ᐧ