Team Electric Spirit Co. is known for their unique, competitive races. But their latest event may be their most audacious endeavor yet!
Tour De La Rive Gauche uses an exciting new format creating a 4-stage time-based GC race… over the course of a single evening of racing!
Schedule and Routes
The racing kicks off at 19:00 BST in true Grand Tour style with a prologue iTT on the flatter section of Bologna, before heading to the Queen Stage on Alpe du Zwift where the climbers will battle it out on a shortened version of the famous Alpine stage. The sprinters get their chance to shine with a short crit in Yorkshire for stage 3 before a testing finale back in France. By this point the fatigue will really be starting to show in the legs, so this will make for an exciting battle between the puncheurs and the Grand Tour endurance specialists.
It all happens Tuesday, May 24. (All times below are BST.)
*Women's category to race distance of the next mixed category down.
**TT mode, draft off.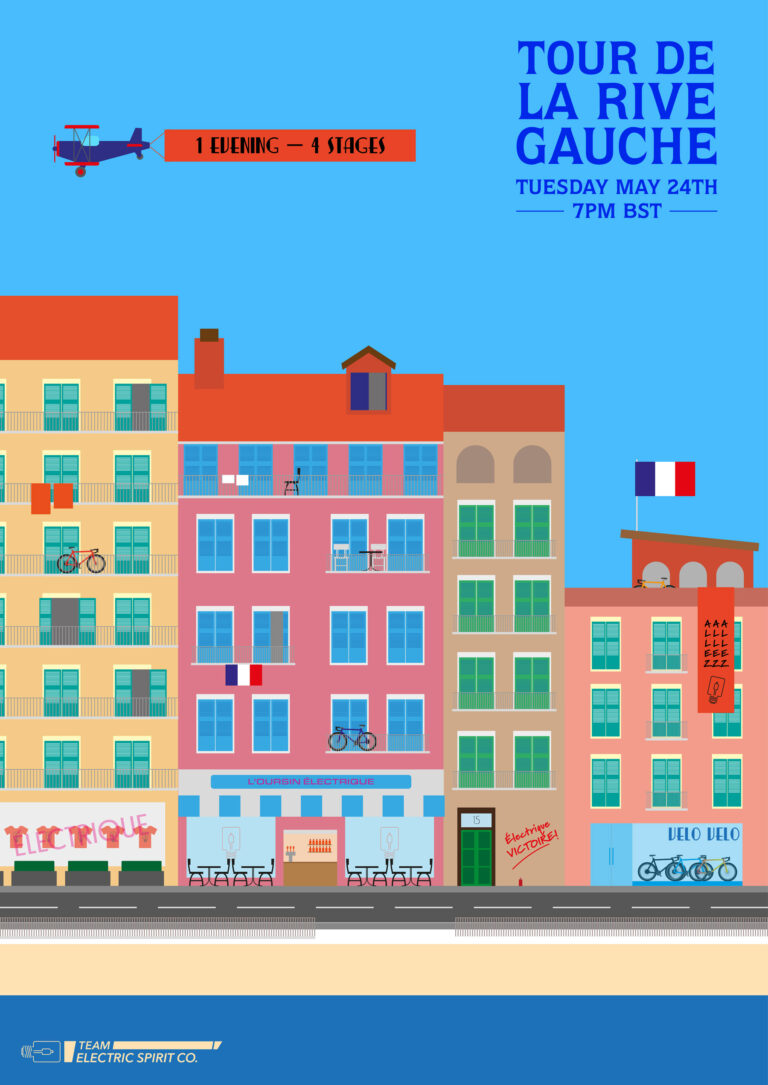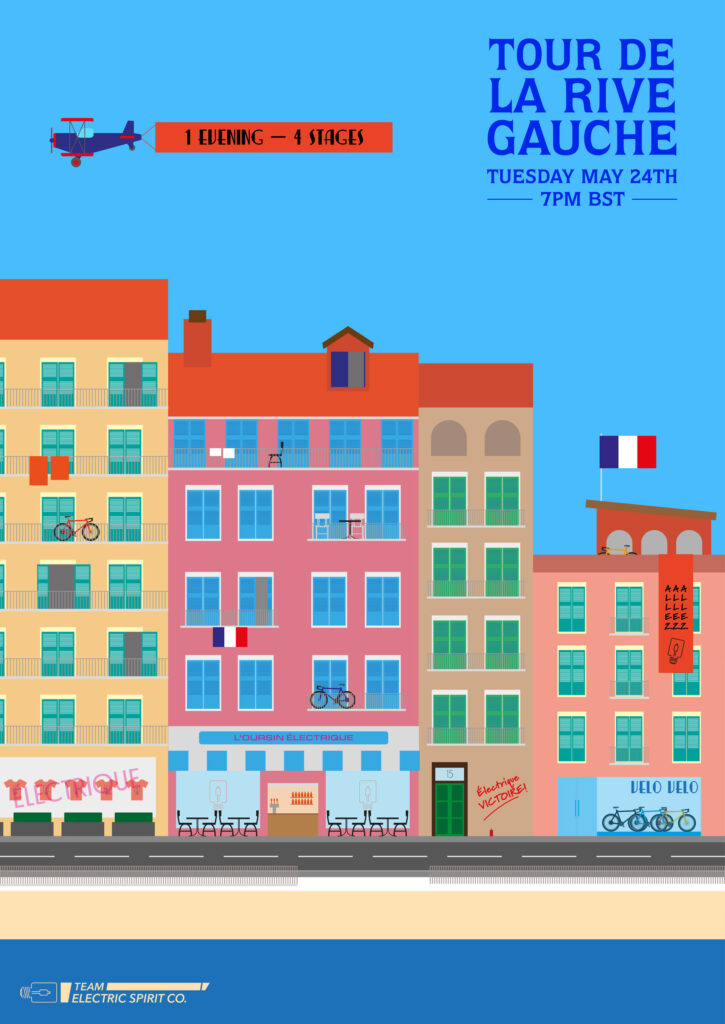 GC, Points, and Team Races
The winner will be the rider with the lowest combined time over the course of the 4 stages, we'll also be running a points and team race alongside the main GC.
We will have 9 separate categories for A+ through to D in mixed and separate A to D women's categories. For each category we have some prizes on offer from Electric Spirit Company.
The tour will be based on a Grand Tour GC format, with the winner being the rider in each category with the lowest total time over the 4 stages.
Race organizers are also running a points competition as a secondary competition, scored as follows:
Finish line points: 10, 9, 8, 7, 6, 5, 4, 3, 2, 1
Prime Points: 5, 4, 3, 2, 1
Finishing points will be allocated for all stages, prime points will be allocated for first over the line in all recognized sprint and KOM segments in stages 3 & 4.
A team competition will run along the GC format, with the lowest combined time for the best 4 racers in each team to count. (Teams will be based on your Zwiftpower team, there is no way for race organizers to override this with another team. You can temporarily change your Zwiftpower team for these events only.)
Series standings can be found on Zwiftpower:
Signups and More Info
Got questions? Check out the Tour De La Rive Gauche Race Book >
Ready to sign up? The private event links are at the bottom of the Race Book.
Questions or Comments?
Post below!