Flamme Rouge Racing (FRR) is one of a handful of Zwift community race organizers who are pushing the boundaries of Zwift racing. Their back-to-back, multistage event style coupled with a unique categorization system create an inclusive yet highly competitive race environment.
I caught up with Richard Vale, the founder of this racing series, to get his thoughts on the recently-concluded "Tour France" event and a look at what's next.
Tour France
"Tour France" saw 1362 riders from over 80 different clubs form 59 teams to compete in this multistage event that covered 265km in 8 stages over 9 days. This included over 4000 meters of climbing! 302 riders completed the whole event.
To facilitate this event and the racing series, Richard designed an integrated web-based platform to help manage the entire process. This can be seen at flammerougeracing.com.
Racing with a difference
This event is very different from anything on Zwift (including Zwift Racing League) as its primary focus is to build fatigue over consecutive stages, replicating the effects of a Grand Tour. As such, this series requires riders to develop a different approach to competing and recovering than what is required if you're only racing hard once or twice each week.
Over the course of the event riders compete in a team competition as well as an individual GC, Sprint, and Polka-dot jersey competition. There is also a points league for their own class to keep them engaged in every stage.
Riders can do as many stages as their schedule allows, sign up at any time, and ride any of the event times on offer. This has been termed "Your race Your way" by Richard. The event is fully inclusive as Richard ensures every rider has a team and places riders without a Zwift team into the Flamme Rouge Racing Team for the event.
Another major difference compared to other Zwift races is rider classification. Instead of applying the traditional A-D categories based on your 20-minute power, a more holistic view is adopted which looks at weight, gender, and normalised power to place riders into "split" categories.
As Richard explains, "the current Zwift category system is too wide for 50% of the platform as those at the lower end of each range simply cannot compete within their assigned category. The FRR classification produces a fairer racing environment for everyone by placing riders within a seven-category scale, where each class is much tighter and therefore more competitive."
The process considers riders equally to produce a w/kg value which then places the rider within the Flamme Rouge Racing Heat Category scale (FRHC), which uses the chili heat scale naming convention with Capsaicin being the hottest and most powerful riders down to Jalapeno.
Feedback
Rider feedback has been very positive, particularly regarding the different classifications. Riders seem to agree this system is quite fair. In one of the categories after 8 stages and over 8 hours of racing, the result was separated by just 13 seconds!
One rider noted, "I have to say I have been really impressed by this league setup. It seems fair and consistent and encourages you to do your best. Can't wait for the next one."
In addition to this, there was special recognition in the form of the "Sheer Determination" award going to Hilary Readhead, who completed the event over 13 hours!
Next Up: Tour Britannia
The next event starts on November 26th and is called "Tour Britannia". It's the second run of this tour (we wrote about the 2021 Tour of Britannia here.)
This is 8 stages in 9 days, with early morning and evening event times for NZ/AUS/EMEA/US-EST/US-PST. This will be followed by "Tour Watopia" in January.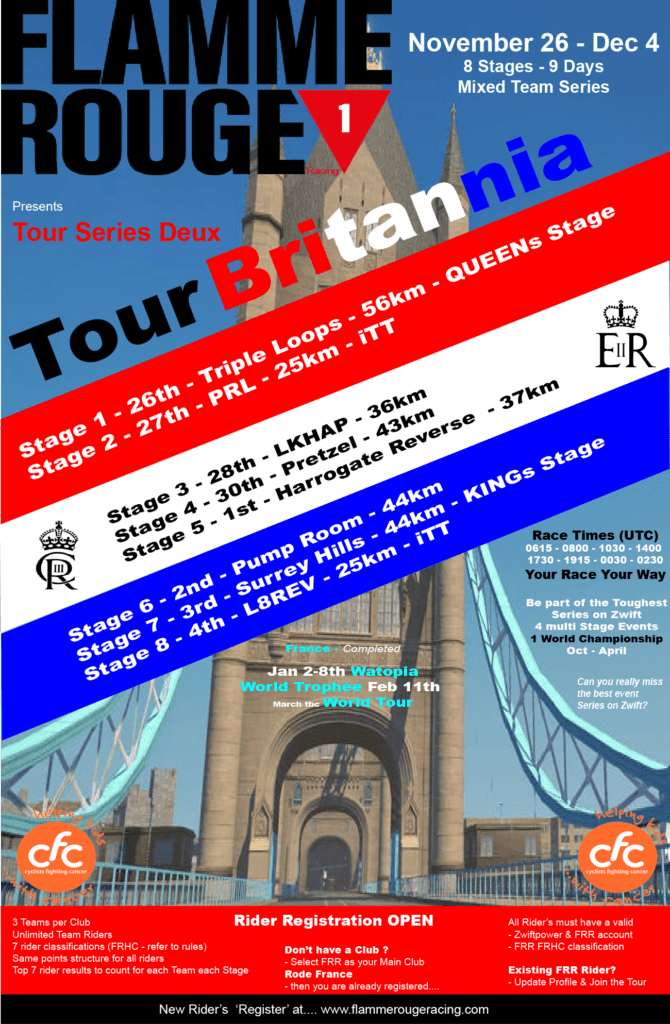 If you are interested, visit the Flamme Rouge Racing website for more information and register your interest by clicking to register and create your account.
Charity Link-Up
FRR have linked up with Cyclists Fighting Cancer, a charity that helps young people recover from cancer. 20% of funds FRR raises are donated to CFC, and over the summer they are planning to do a number of virtual events to further fundraise.
Questions or Comments?
Post below!