Today Zwift released a post across its social channels, teasing what is certainly the launch of a new map/world. Here's the Facebook post so you can see for yourself:
If you look closely, the map on the wall of the train shows at least some of Zwift's worlds, in order of their release dates:
Watopia
Richmond
London
New York
France
The final stop on the map says "An Ancient Land", and as you're trying to read the smaller text on the map, the train announcement audio says, "The next stop is… an ancient land."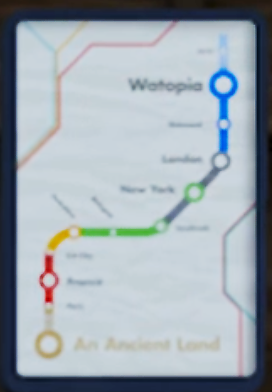 What Is This "Ancient Land"?
Surveying replies on Zwift's social posts (Twitter, Strava, Facebook, and Instagram) the clear consensus is that "An Ancient Land" refers to the Tokyo/Olympics route which we know was planned to launch a year ago in anticipation of the Olympics, but shelved when the lockdown craziness erupted.
The colors of the map matching the colors of the Olympic rings certainly help make the case.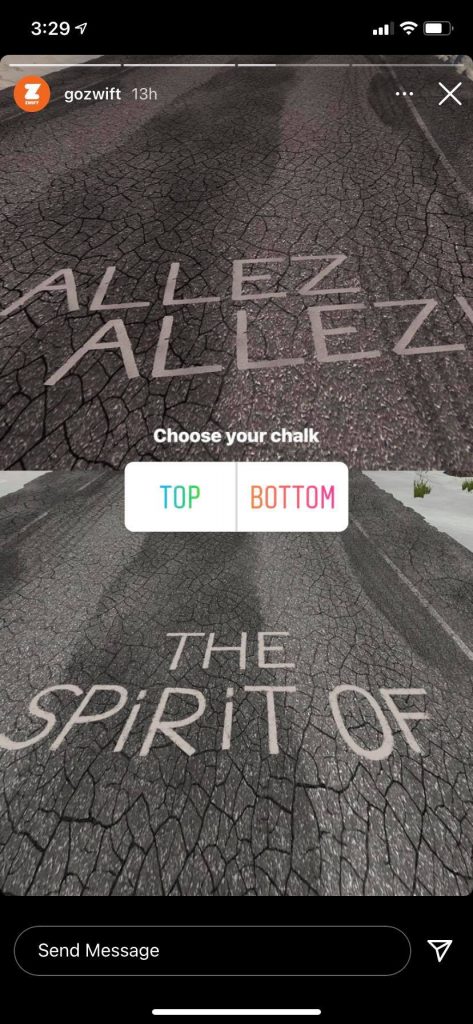 Further Clues
We've seen three additional clues over the weekend as well. More subtle clues, perhaps, but clearly intentional teases on Zwift's part.
First was their Instagram story asking people to "Choose Your Chalk". One of the chalk phrases is "The Spirit Of" – and that phrase doesn't actually appear on any Zwift roads today, that we know of.
Secondly – and this is a big one – we know at least some of the riders who completed this weekend's Ride Like King 13 events received an email with this image in the footer: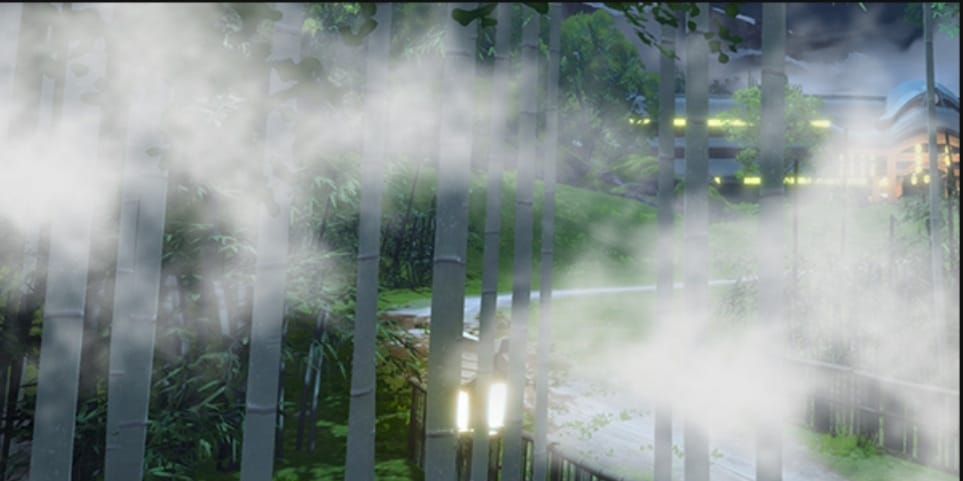 That's definitely not a shot from any current Zwift world. The bamboo and architecture give it a distinctly Japanese feel. And… it looks pretty freaking cool!
Lastly, the latest World of Zwift episode includes an interview with Zwift's Wes Salmon, and Wes has a map hanging on his wall with "An Ancient Land" printed over it (credit to James Eastwood for spotting this!):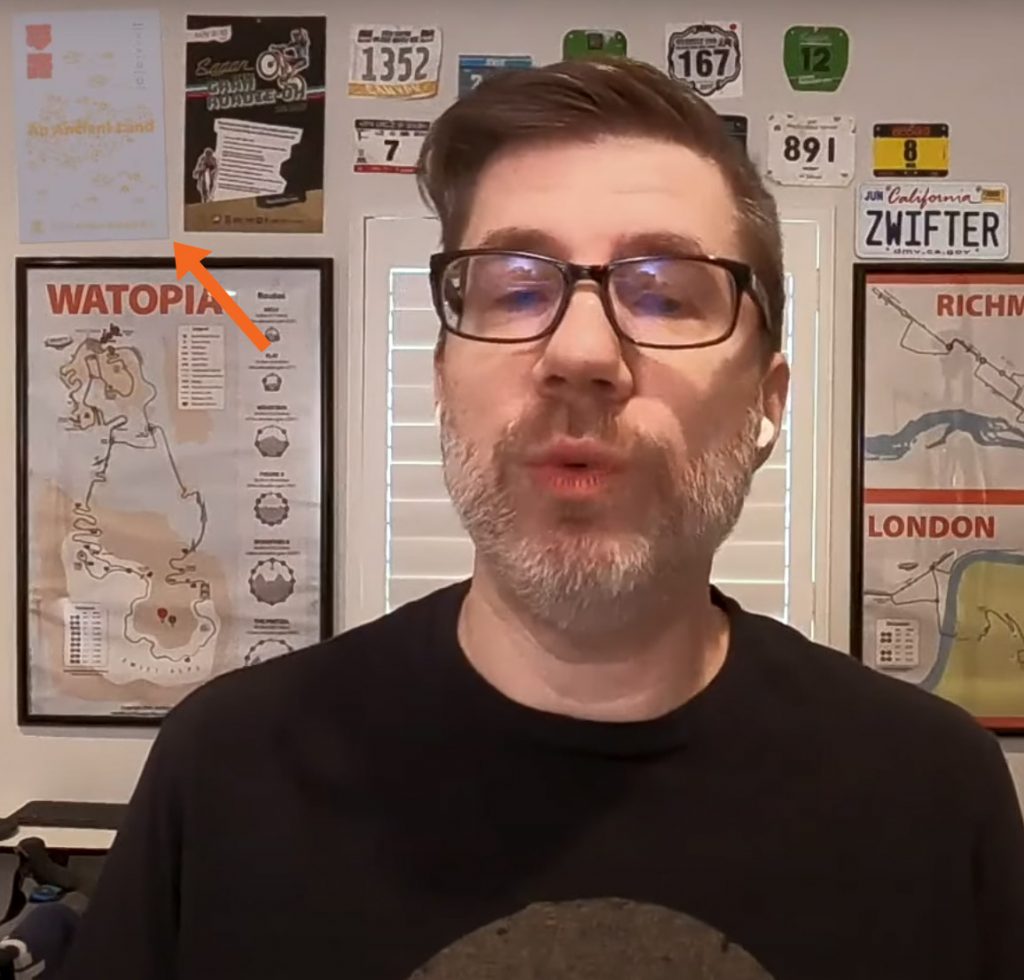 The Olympic Route?
We know this new map was launching in step with the Tokyo Olympics – but is it a re-creation of the 2020 Olympic Road Race route?
That seems highly doubtful, given how the route lays out. Here's the Men's road race route: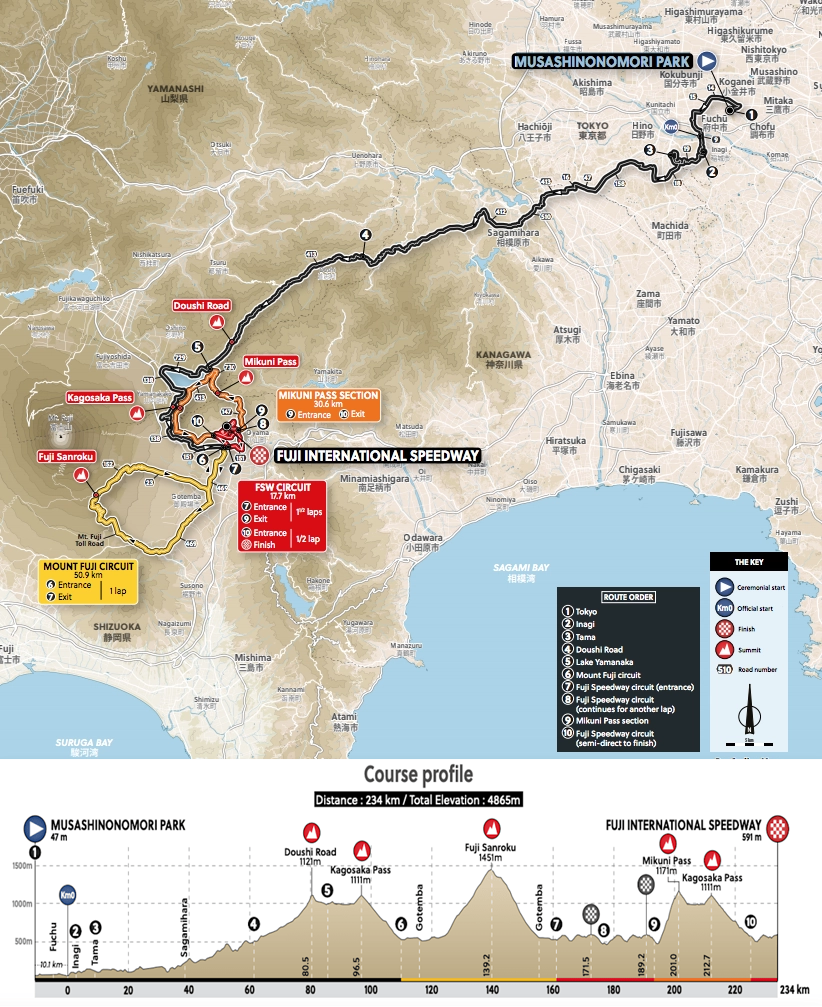 Given that Zwift likes to create loops instead of "out and back" routes, the whole lead-in from Tokyo to Doushi Road seems like a non-starter. But we do have a couple of loops after that lead-in, including one at the base of Mt. Fuji. Perhaps Zwift will be re-creating some of these portions of the Olympic route?
On the other hand, this isn't the UCI Worlds – it's the Olympics. In past years, Zwift has faithfully recreated portions of the UCI Worlds routes each year. But what have they done for the Olympic routes?
Nothing. There is no precedent. So all we can do is guess until this map launches.
While Zwift could re-create GPS-accurate portions of the Olympic route, it's quite possible they have created a sort of Japan-inspired map which mixes together elements of real-world Japan in a rider-friendly layout. Eric Min talked of a new map coming that was potentially "bigger than Watopia" and if this is that map, it will almost certainly not be based entirely on real-world GPS coordinates. Zwift will want to make IRL Japan Zwifty. And that's a good thing.
When Will It Launch?
Zwift is only teasing at this point, and not giving any firm launch dates. We do know Zwift's Olympic Virtual Series begins on June 1, and there's a virtual Mt. Fuji Hill Climb race scheduled for Road to Sky on May 30th. Additionally, the last 4 days of the guest map schedule all being assigned to London/Yorkshire currently seems a bit suspicious.
On the other hand, launching the new map on May 27th would give Zwift only a couple of days to debug things before the events above, which is a tight schedule if those events are going to be held on the new map. So it's quite possible that the new map is planned to launch much earlier – even this week!
Your Thoughts
What is Zwift launching, and when will we see it? Share your thoughts below!