The Tiny Races happen every Saturday, and they're all about getting a hard, fun effort done in 1 hour. You're meant to race all 4 races back-to-back, with each lasting just 5-10 minutes, giving you a short break in between.
David Hivey (ART) from the UK took top honors in the zone 1 C group this week. When we chatted afterward, he said, "That was bloody horrible. Great/Terrible idea to do the same course that just got longer. Had to really think about not going flat out in the early races, or the last one would just be too much." See his video below, complete with Sauce for Zwift overlays:
Got a great YouTube video of your Tiny Race experience? Post it in the comments and we may feature it on Zwift Insider!
Last Week's Results
Overall Winners
A: Mads Buster (Dragons)
B: Chris Benham (RELENTLESS)
C: David Hivey (ART)
D: TyDiddySr (ZSUNR)
A: Pedro Errecart (OTR)
B: P Oswald (SST)
C: Alan Reid (ART)
D: Lukas Lenhardt
A: Dobiacco
B: Rob Bane (DIRT)
C: Terry LeDuc (Herd)
D: Jeff Cockerill (BPCC)
Women's Winners
A: –
B: Jackie Gilbert (SYNERGY)
C: Margo J (Valhalla)
D: Ayako Sakamoto (EVOLUTION)
A: –
B: Nicola Smith (Synergy)
C: Melissa Touma (Synergy)
D: Vibeke Stalsberg
A: –
B: –
C: –
D: Ashley Mattson (GXY)
This Week's Routes: 2 Steps Forward, 1 Step Back
Our races this week feature two pairs of routes. Each pair is raced 2 laps in one direction, then 1 lap in the reverse direction. The roads will feel familiar, yet entirely different. Good luck!
Sign up at zwift.com/events/tag/tinyraces
ZwiftPower Results
Zwift displays preliminary race results in game when you cross the line, but points are computed after all four races are finished, with final results on ZwiftPower. (We have to do some data processing on our side to compute results, so if your rankings don't show up right away, be patient.)
Riders will earn points based on finish position in each of the 4 Tiny Races. The category winner of each week's series is the rider with the most points across their timezone's 4 races. Here are the links for each timezone's results on ZwiftPower:
Rules
Tiny Race rules are simple, but still every week 6-8% of registered ZwiftPower racers get disqualified and removed from the final results. Don't let that be you! Four races, four rules:
You must have a ZwiftPower account, because final results are processed by ZwiftPower (learn how to sign up)
No skipping then returning. These races are meant to be raced as a set of 4. If you need to leave early, that's fine… but once you miss a race in your hour's set of 4, don't come back and race another or you'll be disqualified from that race since you rested while others were racing! (Example: racing only races 1 and 2 is fine. Racing 1, 2, and 4 is not – you will be DQ from race 4. And if you race 2, 3, and 4, you'll be DQ from all those races, since you skipped race 1!)
Heart rate monitors are required.
Smart trainer/smart bike or power meter required. ZPower/Virtual power is not allowed.
Join a Chat & Chill Cooldown
Immediately following each hour's racing, we've scheduled 30-minute "Chat & Chill" events where riders from all categories can spin their legs together and chat about how it all went down. Find them at zwift.com/events/tag/tinyraces.
Zwift Insider Kit Unlock
Finish any Tiny Race or a Chat & Chill ride and unlock the Zwift Insider "Ride Smarter // Ride Harder" in-game kit.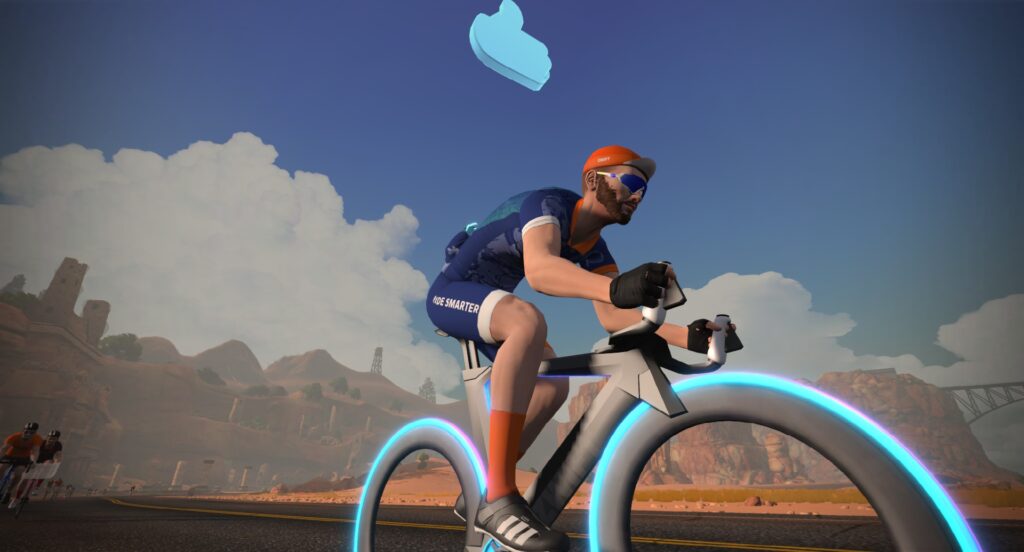 Questions or Comments
Post below!