Last week's Tiny Races were another tough mix on the theme of training for Worlds. We ran into a hitch with race 3, when everyone who was running the current Zwift version was routed incorrectly, while those who hadn't updated were routed properly. Ha!
Watch Titanium Ben and his admirable reaction to the bug in his A race:
(Because of the bug, we removed race #3 from the results entirely, for all zones.)
In other news, Chris Hoelzl of WattFabrik, a dominant B Tiny racer, decided to take on all three zones in his final Tiny Races as a B. And he won all three! Congrats, Chris, and good luck in the A's.
This week we're mixing up the routes a bit, with some flatter stuff for the sprinters. Next weekend we'll be in Scotland for something a bit different from our standard Tiny Races… stay tuned for details!
Last Week's Results
Overall Winners
A: Joakim Lisson (POAuto-CeramicSpeed)
B: Chris Hoelzl (WattFabrik)
C: James Gilbert (ZSUNR)
D: Dmitriy Kudria (NHK)
A: Brian Duffy Jr (NeXT pb Enshored)
B: Chris Hoelzl (WattFabrik)
C: David Hivey (ART)
D: Duonporn Daffner (Race3R)
A: Fabian D'Evola (dPAC ELITE)
B: Chris Hoelzl (WattFabrik)
C: D P
D: Simon Vandore (EVO)
Women's Winners
A: Kurai Uma
B: Sandrine Etienne (Foudre)
C: Maria Wiklund
D: Mone Thiele (RCP)
A: Amelia Van Hove (Synergy)
B: Vlad (Velo-Baza)
C: Valery Ramirez (AEO)
D: Duonporn Daffner (Race3R)
A: none
B: none
C: あや AYA (TMR)
D: Sophie Stallasch
This Week's Route(s): A Tiny Mix
After a couple of extra-tough weeks, we're back to a more typical mix of flatter and rolling routes.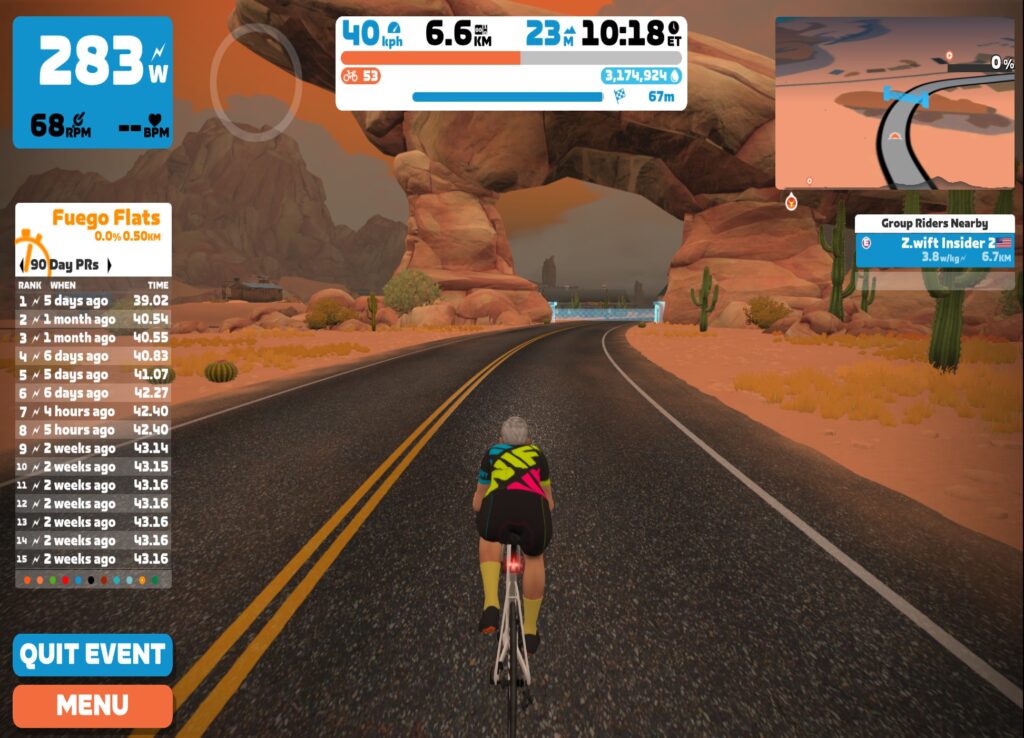 Sign up at zwift.com/events/tag/tinyraces
ZwiftPower Results
Zwift displays preliminary race results in game when you cross the line, but points are computed after all four races are finished, with final results on ZwiftPower. (We have to do some data processing on our side to compute results, so if your rankings don't show up right away, be patient.)
Riders will earn points based on finish position in each of the 4 Tiny Races. The category winner of each week's series is the rider with the most points across their timezone's 4 races. Here are the links for each timezone's results on ZwiftPower:
Rules
Tiny Race rules are simple. Four races, four rules:
You must have a ZwiftPower account, because final results are processed by ZwiftPower (learn how to sign up)
No skipping then returning. These races are meant to be raced as a set of 4. If you need to leave early, that's fine… but once you miss a race in your hour's set of 4, don't come back and race another or you'll be disqualified from that race since you rested while others were racing! (Example: racing only races 1 and 2 is fine. Racing 1, 2, and 4 is not – you will be DQ from race 4. And if you race 2, 3, and 4, you'll be DQ from all those races, since you skipped race 1!)
Heart rate monitors are required for podium finishers
ZPower/Virtual power is not allowed. Smart trainer/smart bike or power meter required.
Join a Chat & Chill Cooldown
Immediately following each hour's racing, we've scheduled 30-minute "Chat & Chill" events where riders from all categories can spin out their legs together and have some fun chatting about how it all went down. Find them at zwift.com/events/tag/tinyraces.
Questions or Comments
Post below!