Last week's Tiny Races with their "Tricky Mix" theme were indeed challenging, forcing riders to have not only the legs but the brains to come out on top. Timing was crucial, and many riders got it wrong… but some got it right!
Friend of ZI Nathan Guerra won Zone 3 A's two weeks ago, so we encouraged him to try the more competitive Zone 2. He did it, and finished a respectable 5th, with Thrall and Bruhn from NeXT taking 1st and 2nd with a Tiny Racing masterclass. Watch Guerra and Thrall's Tiny Race streams below – two incredibly gifted racers with varying strategies:
Last Week's Results
Overall Winners
A: Joakim Lisson (POAuto)
B: Richard Shoebridge (EVO)
C: Paul Smith (ART)
D: Aleksei Nesterov*
A: Thomas Thrall (NeXT pb ENSH)
B: Chris Hoelzl (WattFabrik)
C: Daniel Lundberg (eSRT)
D: Sickow Koved
A: Oliver Dowd Restart)**
B: Kaj Emanuel (Team NL)
C: Michael Nechemia (Herd)
D: William Ng (Rhino)
*First Kinz tied with Aleksei for 1st, but Aleksei had more 1st place finishes, so gets the overall win.
** Joe Endersby (Electricspirit.co) tied with Oliver for 1st, but Oliver had a first-place finish and thus gets the overall win.
Women's Winners
A: none
B: L Rainique (HERD)
C: Lyndsey Anderson (Electricspirit.co)
D: Jo Knight 63 (BSCC)
A: Kristen Kulchinsky (Twenty24)
B: Naomi de Pennington (Twenty24)
C: Mona Kangasniemi (ZZRC)
D: Tiffany Saunders
A: none
B: Deirdre Maloney (HGR)
C: Isabelle Auger (WSisters)
D: Maddy Vaughn (HERD)
This Week's Routes: Getting Steeper…
This week's routes begin flat, but the finishes get steeper with every race, adding insult to injury as your legs get increasingly tired. Who will have what it takes to finish first on the final race up the Leg Snapper?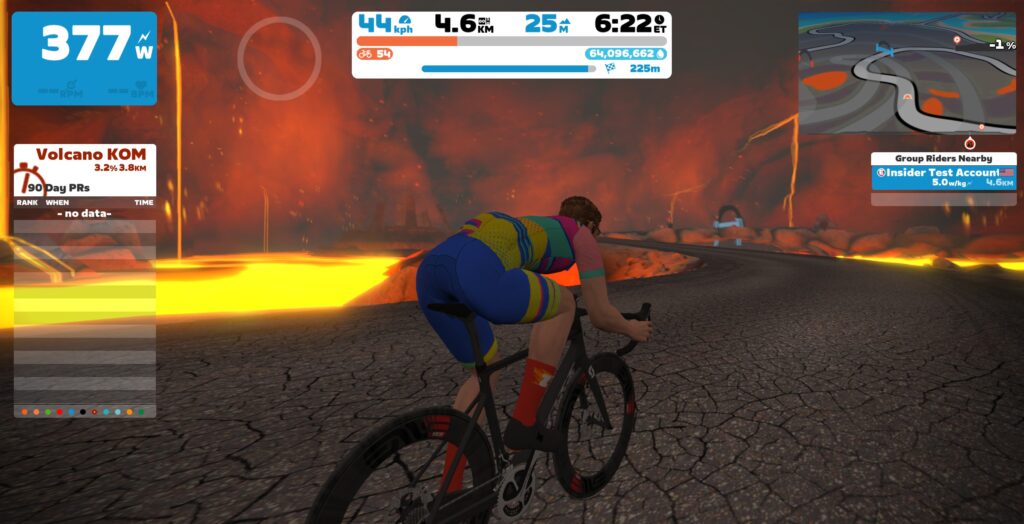 Sign up at zwift.com/events/tag/tinyraces
ZwiftPower Results
Zwift displays preliminary race results in game when you cross the line, but points are computed after all four races are finished, with final results on ZwiftPower. (We have to do some data processing on our side to compute results, so if your rankings don't show up right away, be patient.)
Riders will earn points based on finish position in each of the 4 Tiny Races. The category winner of each week's series is the rider with the most points across their timezone's 4 races. Here are the links for each timezone's results on ZwiftPower:
Rules
Tiny Race rules are simple. Four races, four rules:
You must have a ZwiftPower account, because final results are processed by ZwiftPower (learn how to sign up)
No skipping then returning. These races are meant to be raced as a set of 4. If you need to leave early, that's fine… but once you miss a race in your hour's set of 4, don't come back and race another or you'll be disqualified from that race since you rested while others were racing! (Example: racing only races 1 and 2 is fine. Racing 1, 2, and 4 is not – you will be DQ from race 4. And if you race 2, 3, and 4, you'll be DQ from all those races, since you skipped race 1!)
Heart rate monitors are required for podium finishers
ZPower/Virtual power is not allowed. Smart trainer/smart bike or power meter required.
Join a Chat & Chill Cooldown
Immediately following each hour's racing, we've scheduled 30-minute "Chat & Chill" events where riders from all categories can spin out their legs together and have some fun chatting about how it all went down. Find them at zwift.com/events/tag/tinyraces.
Questions or Comments
Post below!