Last week's Tiny Races in Urukazi were extra tough – a bit longer than usual, so riders had less time to recover between races. (Apologies to D's who couldn't make the time cuts – we'll try to keep things a bit shorter in the coming weeks.)
This week saw perhaps the closest podium contests we've seen since Tiny Races began! The Zone 1 C men had a points tie for first place (in which case the win goes to the rider who placed highest in the most races). The Zone 1 A race came down to just one point, but Tiny Race veteran Joakim Lisson managed to best Mickael Plantureux (HEX). Zone 2 women's A competition was also separated by one point, where Daniela Istrate (AEO) edged out Kristen Kulchinsky (Twenty24). And several other races were decided by just 5-10 points!
Friend of the site Nathan Guerra won the Zone 3 A battle and live-streamed all the action, including a rant about not getting the planned anvil powerup for race 4. (Related note: Zwift now thinks they fixed the event misconfig that caused this.) Check it out:
Last Week's Results
Overall Winners
A: Joakim Lisson (POAuto)
B: Simon Matros (WattFabrik)
C: Michael Michael (BON)*
D: Sickow Koved
A: Thomas Thrall (NeXT pb ENSH)
B: Stéphane Demers (IRIS/Bob Cyclo)
C: Steve Tuck (TFC)
D: Martin Björgvik (SZR)
A: Nathan Guerra (OMG)
B: SONNE (EDDK)
C: Sully (DIRT)
D: Ammon Lane-Ramsey (KCCC)
*Michael tied with Oleksiy Korolkov (CRYO-GEN) in points, but since Michael had the highest individual race placings 1st places goes to him.
Women's Winners
A: none
B: Naomi de Pennington (Twenty24)
C: Madeleine Johansson (SZ)
D: none
A: Daniela Istrate (AEO)
B: Auke Blom (LEQP)
C: Anne Puumala (EVO)
D: Alice Cantelo (Herd)
A: none
B: Anna Rogers (REVO)
C: Natasha Williams (REVO)
D: Jadene White
This Week's Routes: A Tricky Mix
This week's routes each have a bit of trickiness to them. When do you use your powerup? When do you surf the wheels, and when do you attack? And of course: do I use a gravel or road bike on the Road to Sky race?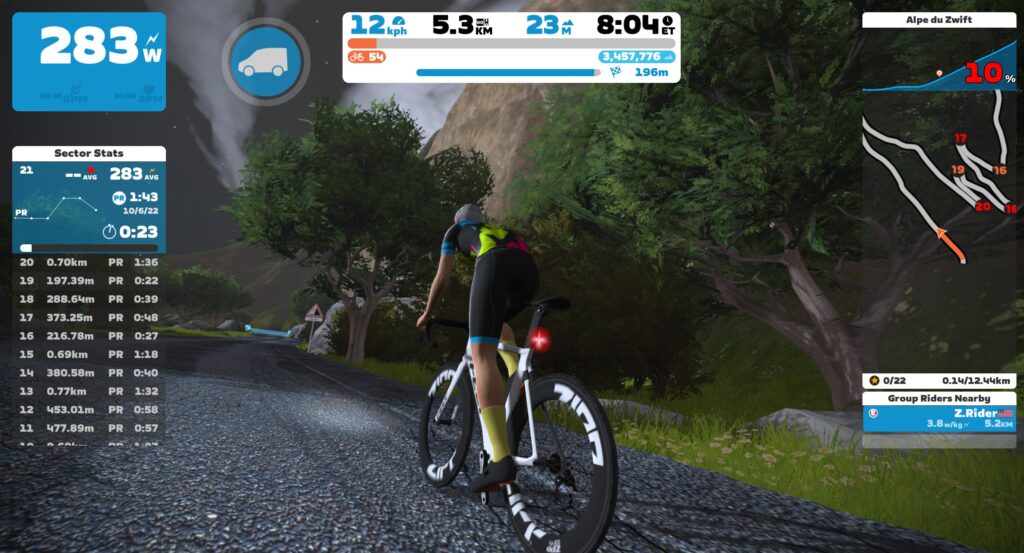 Sign up at zwift.com/events/tag/tinyraces
ZwiftPower Results
Zwift displays preliminary race results in game when you cross the line, but points are computed after all four races are finished, with final results on ZwiftPower. (We have to do some data processing on our side to compute results, so if your rankings don't show up right away, be patient.)
Riders will earn points based on finish position in each of the 4 Tiny Races. The category winner of each week's series is the rider with the most points across their timezone's 4 races. Here are the links for each timezone's results on ZwiftPower:
Rules
Tiny Race rules are simple. Four races, four rules:
You must have a ZwiftPower account, because final results are processed by ZwiftPower (learn how to sign up)
No skipping then returning. These races are meant to be raced as a set of 4. If you need to leave early, that's fine… but once you miss a race in your hour's set of 4, don't come back and race another or you'll be disqualified from that race since you rested while others were racing! (Example: racing only races 1 and 2 is fine. Racing 1, 2, and 4 is not – you will be DQ from race 4. And if you race 2, 3, and 4, you'll be DQ from all those races, since you skipped race 1!)
Heart rate monitors are required for podium finishers
ZPower/Virtual power is not allowed. Smart trainer/smart bike or power meter required.
Join a Chat & Chill Cooldown
Immediately following each hour's racing, we've scheduled 30-minute "Chat & Chill" events where riders from all categories can spin out their legs together and have some fun chatting about how it all went down. Find them at zwift.com/events/tag/tinyraces.
Questions or Comments
Post below!