Hey Zwifters! In a recent Outside the Draft episode, Anna Russell suggested changing the steamroller after witnessing how this PowerUp completely changed the nature/outcome of the Beach Island Loop ZRL race.
Thinking about this idea grew into what I believe is one of the easiest (and most interesting) enhancements Zwift can do right now. Because I know many of you also spend a lot of time thinking about how we can help make Zwift better, I wanted to outline this idea here to encourage it to continue growing, and to have people like yourself respond back with their thoughts.
The Idea
Imagine a world where Zwift has modified the distribution of, and access to, PowerUps, with the goal of making the game more dynamic.
The Details: 2 Big Changes
First: Allow PowerUps to be selected before the race
The Issue: As we all know, PowerUps are randomly assigned as racers go through a banner. This creates a race dynamic where (sometimes) the winners are the people who get lucky, not necessarily the people working the hardest.
The Change: Before every race, the race organizer determines the number and types(s) of PowerUps available. Racers then select their PowerUps when heading into the pens and start the race with all selected PowerUps available to use when desired. This creates a few dynamics:
Organizers can be more strategic with PowerUps. If a racer has 3 laps of the Innsbruckring and has only 3 PowerUps, it forces competitors to figure out a strategy balancing the climb and the finish.
Teams can deploy new strategic tactics. Imagine all team racers selecting 5 aero helmets and then each racer using them, in a row, to attempt a team breakaway!
Individuals would have a much wider range of tactics in the race. Maybe the racer uses all their PowerUps to fracture the field. Or maybe a racer saves all PowerUps until the end to try a 2k break to the finish (even though those almost never work now.)
Competitors will not know what PowerUps other racers have. Right now, all racers know, when passing through a banner, there is a good chance everyone receives a PowerUp. This change would result in racers not knowing what anyone around them has kept, even when entering the final minutes of a race.
How would selection work? We're veering into UI and programming details here, and I'm confident Zwift, who has already built a great app, and this audience (who is filled with creative Zwift advocates) have some great ideas on the best way to make these enhancements a reality. In my dream world, the racer experience for selecting these would be any one (or a combination) of the following:
Use PowerUp-specific hotkeys (hello bluetooth e-racing controller)
Navigate to a new screen option in the app, where the entire phone screen is PowerUps only and the racer selects the one they want
Move the mouse to the desired PowerUp at the top of the screen
Press spacebar to select the desired PowerUp as each moves from left to right across the screen.
So how would this look in game? I know the Zwift UI people are WAY better at this than me, but I made a mock-up to illustrate what I am thinking: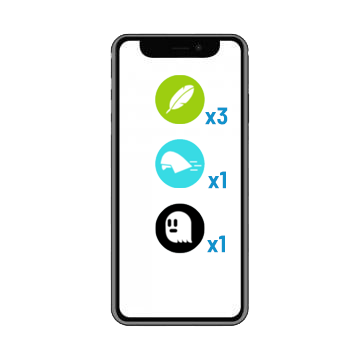 Second: Make PowerUps roughly equivalent to one another
Credit to Anna, Jordan and YouTube commenter, Dean, for this idea.
The Issue: Powerups have vastly different effects today. For instance, we rarely see people break away with a feather PowerUp, but can see massive differences with the steamroller on the dirt.
The Change: Modify PowerUps so they each offer a different but comparable effect, enabling more strategic uses.
Here is a list of PowerUp tweaks that may allow us to move towards this change:
Aero: Keep as is
Draft Van: Extend to 1 minute to enable better rest
Feather: Last for a whole climb or 2 minutes, whichever is less
Burrito: Increase the radius to 5 (or even 10) meters to create group chaos
Ghost: Make this at least 30 seconds (I would prefer 2 minutes) to allow people to attempt a move. Imagine if an entire team dropped ghosts at once! I think all racers should be visible the last 200 meters of a race.
Steamroller: Make this a little less powerful on dirt – it is too powerful now
Anvil: Remove this
New PowerUp type ideas:
The Fence: No one can pass you for 3-5 seconds (cannot be used within the last 3k of a race)
Crosswind: Everyone 10 meters behind you gets a 20% decrease in their W/kg
Anvil: Everyone within 5 meters of you gains an extra 5% of their weight for 20 seconds
Additionally, it's interesting to imagine a Zwift world where racers can select if PowerUps affect other racers or not. How awesome would it be if you could drop a Burrito and it wouldn't affect your teammates? Or if you could drop an anvil on the one person you knew was a big threat in the race?
I know some of this would make things more complicated, and some of what I am proposing would be terrible in practice! But the thing I keep coming back to in Zwift is we can do anything. Try some strange stuff out in different races, iterate through things quickly and dump whatever doesn't work.
Your Thoughts
Let me know what you think in the comments, and if you have any other cool ideas for making PowerUps an even more fun part of the game, share them as well!