This season especially, a lot of the athletes I coach have turned to Zwift to get their racing fix. More often than not they will start off saying something like, "Well there aren't any tactics are there? It's just a time trial with a sprint at the end right?" That is exactly what I thought when I started poking around the early racing scene on Zwift in 2016. Right out of the starting pen I was on the back foot, clamoring for a draft that didn't seem to be there and desperately trying to stay at the front of the group holding 5-6 w/kg. There was no relief – at least none that I could find. That first foray ended quickly!
The following indoor season, I came back to Zwift racing. I figured out the requisite "hard start" and saved myself a lot of agony moving up the pack but I still didn't really get it. I thought that to stay in the action, I needed to be in the top 5-10 riders like in real life (IRL) road races. I would ride hard the whole way to ensure that and then a bit harder on the climbs to try to break free.
It was great training but I wasn't racking up any results. I'm sure I would have learned more but after that my road career started picking up speed. I began spending winters in Arizona instead of on the trainer, so Zwift racing faded into the background.
Into the Deep End
In 2020, Zwift racing roared back to the forefront. The Echelon Series stage races in May and June were a big opportunity to race against our usual professional competition and some top e-sport teams and gain bright exposure in a season of static.
I read all I could about how to actually compete on the platform and watched big races regularly on Zwift Community Live. As a team, we did practice races and gradually the tactical nuances came into focus. I started to understand the timing of attacks and response and how to dial in the minimum effective power to stay in the draft. Looking back, I still barely knew what I was doing and good legs saved me from more embarrassment as the real Zwift racers surgically attacked the courses. But I kept watching and racing and gradually came up to speed.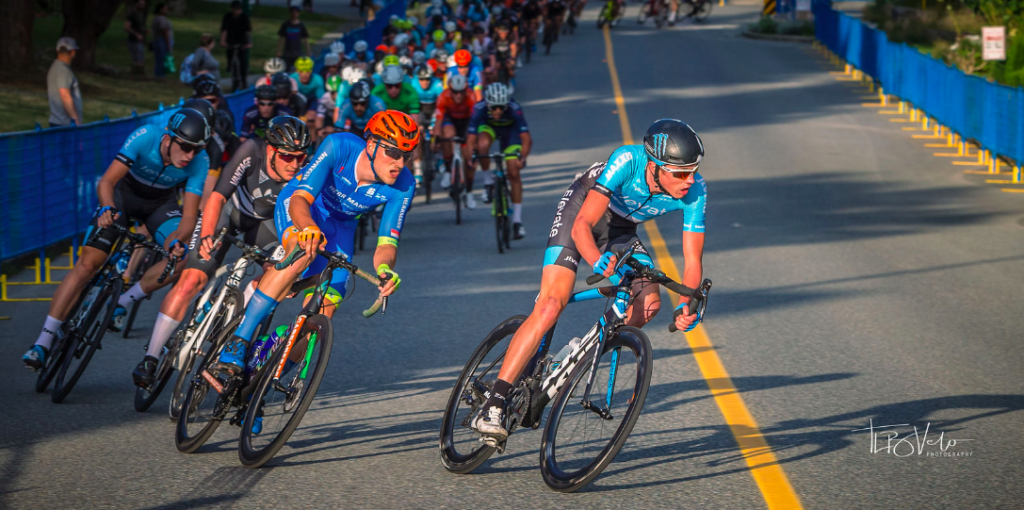 Pinch Points and the Psychological Battle
No one would argue that racing on Zwift is the same as racing on the road. You can tell instantly the difference between an IRL race power file and a Zwift race file. The drafting dynamics make the difference.
On Zwift, it is harder to ride in the draft – on the flat at 45kph you might need to do 200-225w on the road but 250-275w on Zwift. It is also is much harder to ride away solo, since the power of the pack is bizarrely cumulative and 50 riders all pedaling at 250w will likely keep pace with an attacker doing 350w. That changes everything from start to finish, promoting a defensive grind rather than the start/stop frenzy you see on the road.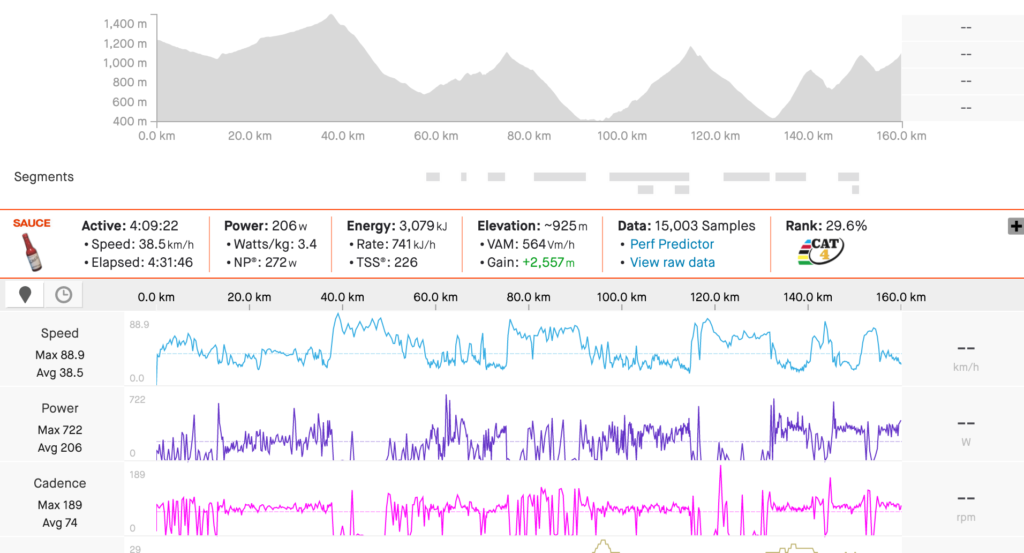 Still, you can attack and break a race apart. There are actually similarities to IRL racing when it comes to making that happen. There are pinch points: climbs, turns, dirt sections, and undulations where things happen in Zwift just as they do on the road. Their importance is magnified in the Zwift peloton. If you hit certain points in certain ways and employ the strength of your team you can gain a big advantage. You can also get spat out rapidly here and left for dead if you aren't anticipating the movements! If you want to make an impact, studying these parts of the course is paramount.
Additionally, there is a psychological similarity between attacking on the road and on your laptop. An experienced pack knows the pinch points and sometimes you still can't find daylight with smart riders on alert. One of the only backup strategies for a rider like me (lacking a decisive 10-30s attacking punch) is to play on the mental and physical fatigue of the field.
As a time trial type rider who can manage sustained pressure, I am usually better in the hardest parts of a race. Still, even a tired group of 20 drenched in lactic acid can bring back an attack from me or almost anyone on the flat if they want to. So I have found it is important to find the moments that they don't want to. If it has been full-on for 45 minutes, teams have lost riders, and sprinters are doubting themselves – it is a good time to go. It's no guarantee for success, but it's probably the tactical similarity to road racing that makes me enjoy Zwift racing the most.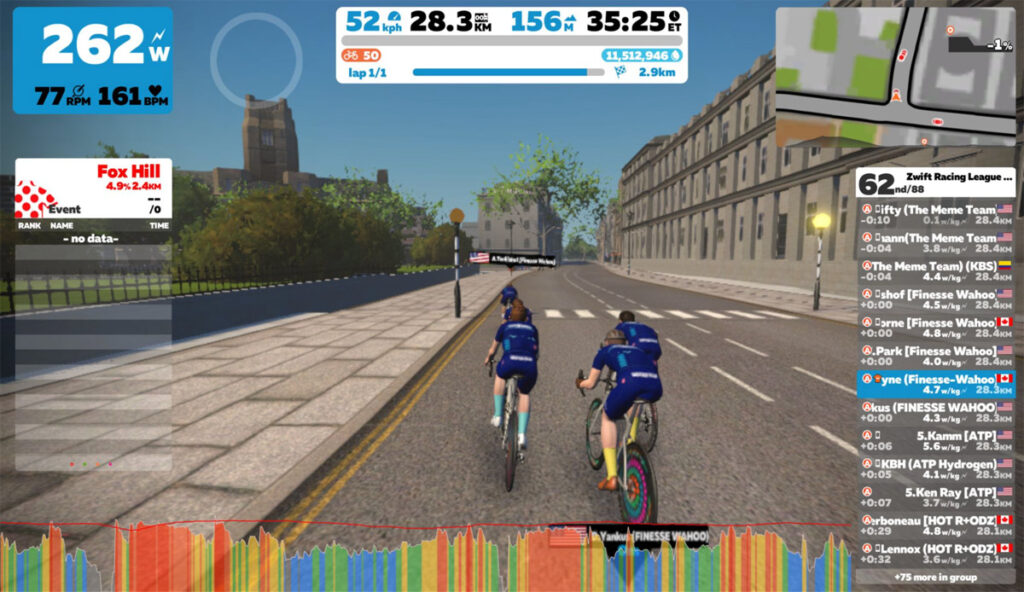 Figuring it out with Finesse-Wahoo
When I came to Finesse-Wahoo this fall they already had a reputation as an aggressive, entertaining team willing to try multiple moves in any race. In my first real event with the team, we made the popular and usually sprinter-friendly Austin Driveway hard from the start and ended up winning out of a breakaway. That worked for me.
I have started to find my best role in forcing moves away and backing up the attacks of my teammates with sustained pressure. That worked perfectly in week 5 of the Zwift Racing League race on the NYC Everything Bagel course. I pushed hard up the last KOM with around 10km to go and we escaped with 3 riders out of 6. I stayed on the gas, pressed our numbers advantage, and the guys crushed it at the end for a 1, 2, 5 result.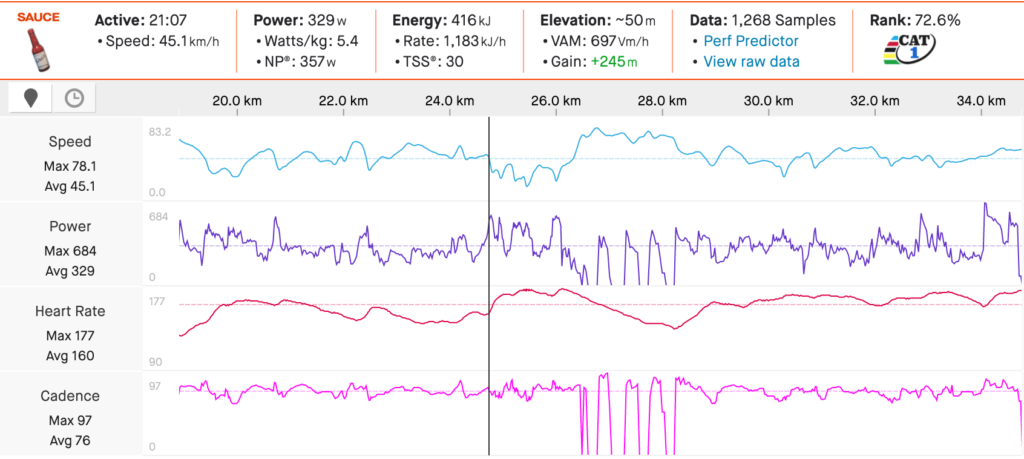 We are all still learning, though. This game moves too fast and has too many variables for anyone to gain complete mastery. This is poker, not chess – the human element can cast your "20-moves in advance" strategy into shambles at any moment.
Unfortunately, that was the case in our latest ZRL outing in France in week 7. We had an ambitious plan based on careful analysis but we outmaneuvered ourselves into our first scratch race loss of the ZRL season. Tactics rely on fluidity and communication just as they do on the road. It stung but I learned more about my own racing and the game itself than I have all season.
Next time we will be that much smoother in our execution. It's all going in the bank and I'm hoping I can make the right moves at the right time in the UCI Esports World Championships on December 9th.