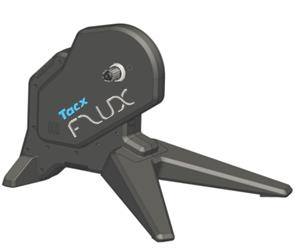 BikeRadar recently toured Tacx's facility in Wassenaar, Holland, posting a writeup which includes many interesting details about Tacx's production techniques and overall company philosophy.
The article includes a sneak peak at Tacx's "Flux" trainer which we wrote about 10 days ago even though it has yet to be released to the market.
BikeRadar says the new Flux could be called the "Neo Light" because it offers a similar quiet ride thanks to electromagnetic resistance, but at a lower price. This is a surprising revelation, because we initially assumed the Flux would use a belt drive based on its design and lower price. Apparently Tacx is using less expensive magnetic coils to keep the price down.
Neo vs Flux
Here are my current best guesses as to Flux specs vs the Neo.
Same low noise
Simulated flywheel vs real flywheel
2200w max brake power vs 1500w
Incline simulation: 25% vs 10%
Power measurement accuracy: 2% vs 5%
Price: £1,200 vs £699
Road feel only supported on Neo
UPDATE: Tacx has taken the Flux Smart page live on their site. See the details here >