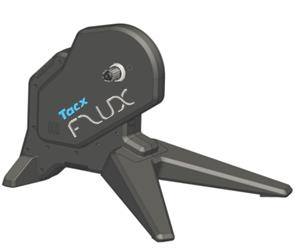 UPDATE: here's some new information on the Flux.
---
I've been hearing murmurings for a while, but finally some solid information and images about Tacx's newest trainer have made their way onto the Interwebs. Dubbed the "Flux," this trainer appears to be targeting Wahoo's Kickr market share with similar features for $180 less.
It is already listed on some retailer's websites, but they all contain very sparse information at this time.
A few details:
1000w resistance (which is lower than I would have expected)
10% gradient simulation (I've seen this number quoted but haven't seen it posted on a reliable source)
Appears to be belt-driven like the Kickr
Support the typical protocols:

Ant+

and Bluetooth, outputting speed/cadence/power
Price: 800€/$900US
Availability: early October
My guess is Tacx will unveil this trainer at Eurobike 2016 August 31st, so we'll have more details then if not sooner. Hopefully we'll see some new smart trainer offerings by other manufacturers as well!