As the local Zwift guy in my area, the most common Zwift question I get is "what stuff do I need."
Although you can get started on Zwift with a $200 fluid bike trainer, an old bike and an iPhone, this article is about the best Zwift setup for the money… before the law of diminishing returns takes over.
Keep in mind that I am NOT a reviewer. I am a Zwift user and a Zwift researcher. Although I suggest products, there are many equivalent products out there that work just as well.
With that out of the way, here is a list of "stuff" you need to Zwift smoothly in incredible 4K resolution.
The Main Stuff
Gaming Computer
Since Zwift is a video game, like Call of Duty or Madden NFL 17, the best Zwift experience starts with a powerful gaming computer. Forget your beloved Mac… this is strictly Windows PC territory. I've been a Mac guy my whole life but they are way too expensive and have lousy gaming specs.
Below are the tech specs your Zwift gaming computer should have in order to be fast today and relevant three years from today:
The CPU. The CPU is the brains of the computer and a great Zwift experience demands a fast brain. Although Intel's i5 CPU's run Zwift well, for a few dollars more it pays to get Intel's latest and fastest high performance CPU…the 4.2 GHz i7 CPU (model 7700K).
The GPU. In order to play Zwift smoothly at 4K resolution, your computer needs a powerful GPU to run the graphics. Although the NVIDIA 1060 GPU runs Zwift nicely, you should future protect yourself with the much faster 1070 GPU or the lightning fast 1080 GPU.
Hard Drives. There are two kinds of hard drives; Solid State Drives (SSD's) and traditional spinning hard drives (HDD's). SSD's have no moving parts and are faster while HDD's are cheaper and hold more storage. Although I strongly prefer SSD's, your computer will likely come with both.A few important hard drive notes:

Buy a computer with Windows pre-installed on the SSD for much faster speed and startup.
Install Zwift on the SSD for much faster speed.
If you're using the computer for other programs and games besides Zwift, get an SSD with at least 256GB or ditch the HDD and buy a second SSD. It's not difficult to replace a hard drive yourself.
Memory. The more memory (RAM) your computer has, the more stuff that can fit inside the computer's super-fast brain as opposed to having to retrieve it from a much slower hard drive. Although memory is easy to upgrade and 8GB of RAM works fine in Zwift, get at least 16GB and forget about it.
There are many PC gaming systems out there but if you want a name brand computer, the Dell Alienware Aurora series is a good place to start. The Dell costs about $1,800 for the Intel 7700K CPU, NVIDIA 1070 GPU, 256GB SSD, 1TB HDD and 16GB of RAM. For $1,500, B&H sells a CyberpowerPC with same specs except with a 128GB SSD. Both are excellent Zwifting machines.
If you want a top of the line gaming computer, B&H sells a $2,000 CyberpowerPC with the Intel 7700K CPU, NVIDIA 1080 GPU, 512GB SSD, 3TB HDD and 32GB of RAM. Although not inexpensive, it is a very good deal.
TV
Even if you have a great gaming computer, your Zwift experience won't be all it can be if you don't have the right TV. Below are the two most important specs when buying a flat screen TV for Zwift.
Resolution. The more pixels a TV can handle, the better the picture quality and the more detail you will see. Since Zwift can run in amazing 4K resolution, you'll want to get a 4K TV.
Refresh Rate. Measured in frames per second (fps) or Hertz (Hz), the refresh rate is the number of times the TV changes the image. The higher the refresh rate, the smoother games like Zwift play. Most smaller and lower priced 4K TV's have a refresh rate of 60 fps (or 60Hz) while some of the larger, more expensive TV's have a refresh rate of 120 fps (or 120Hz). Zwift looks just fine at 60 fps, so if you want to save money, go ahead and get a 60Hz TV.
Warning! Very few TV companies disclose the actual refresh rate which is what matters for Zwift. Using a tech trick, most TV companies use marketing names such as "Motion Rate", "Tru Motion" or "Image Motion" to make consumers think their TV's have a higher refresh rate than they do. As a general rule, but not always, the actual refresh rate is half of the manufacturers claimed "motion rate."
If you can afford it, buy the biggest 120Hz TV your pain cave can fit so long as you aren't Zwifting too close to the TV. Although most 4K TV's are excellent, I'm very happy with the 43" Samsung KU6300 4K Smart TV which sells for $500. It's only a 60Hz TV, but it runs Zwift very smoothly.
Smart Trainer
Until an all-in-one Zwift bike comes out, you'll need to buy a smart trainer to put your bike on. Smart trainers wirelessly broadcast your cycling data to your computer via ANT+ or Bluetooth so Zwift can figure out how fast you are going.
There are two types of smart trainers: wheel-drive and direct-drive. They are many differences but on a wheel-drive trainer the bike's rear wheel stays on while on a direct-drive trainer the bike's rear wheel comes off and the bike's chain is attached to a cassette on the trainer.
Although wheel-drive trainers work well and are less expensive, you should get a direct-drive trainer which is usually more durable, accurate, powerful and realistic.
There are many reviews and discussions about which direct-drive smart trainer is the best but most agree that they all work well with Zwift. A popular choice is the $1,200 Wahoo Kickr which was updated this fall and is now quieter, more accurate and more responsive than the previous excellent model.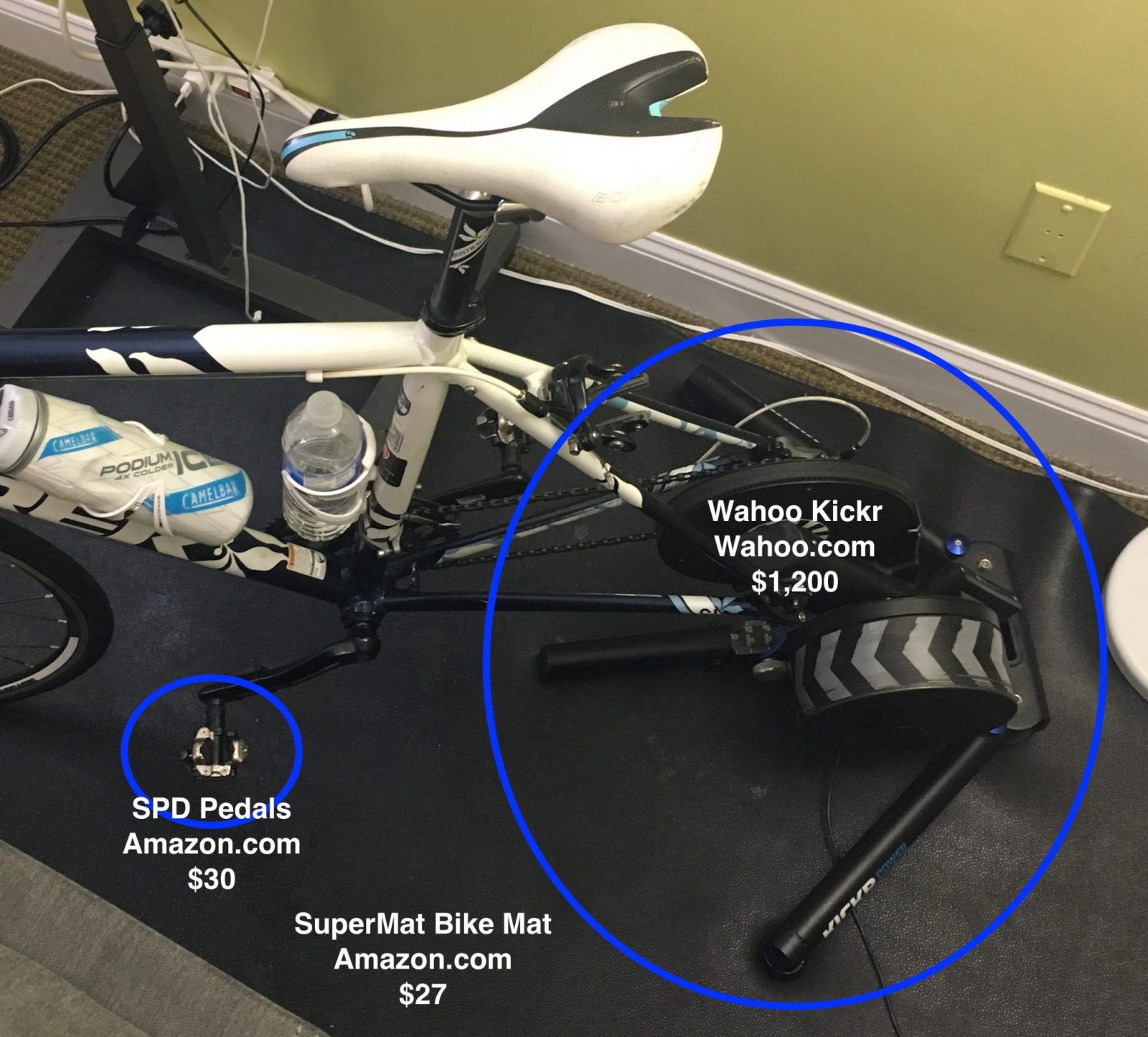 Bike
A good Zwift system should include a good Zwift bike. Your old 7-speed in the garage will work but it may be challenging getting up and down Zwift's varied terrain.
If you are in the market for a new Zwift bike, you certainly don't need to break the bank but you'll still want a quality bike that can handle the rigors of Zwifting on an indoor trainer. An aluminum 11-speed bike with Shimano 105 components will work beautifully both inside on Zwift and outside on the road.
There are many great bikes out there but the Trek Emonda ALR-5 is an excellent choice at a fair price. A new 2017 Trek Emonda costs $1,679 but you may be able to pick up a new 2016 leftover for less.
Stuff Nobody Tells You About
Rear Cassette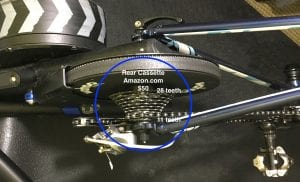 The rear cassette on your direct drive trainer makes a big difference in your Zwifting experience and should not be overlooked. Although the Wahoo Kickr comes with an 11-speed rear cassette, most of the other direct-drive trainers do not include one.
If you have a 10 or 11 speed bike and need to buy a cassette, get one with 11-28 gearing which Amazon sells for $50. The 11-tooth gear will give you power while descending Box Hill, the 28-tooth big gear will help you to spin up Mount Zwift and the 11-28 range will be good for everything in between.
Pedals and Bike Shoes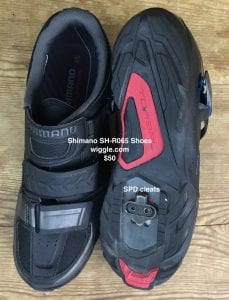 Whether riding inside or outside, your bike should have clip-in pedals for maximum power throughout the entire pedal stroke. There are several types of pedals but the two most popular are the Look Keo and the Shimano SPD's.
There are advantages and disadvantages to both. The Look Keo's are road biking pedals that have more surface area to transfer power but the compatible shoes and cleats are clumsy to walk in. Conversely, the Shimano SPD's are mountain biking and spinning pedals that have less surface area but the compatible shoes and cleats are comfortable to walk in and easier to clip in and out of.
If your Zwift bike stays indoors most of the time, get the SPD double sided pedals ($30) so you can comfortably walk around your house before and after your ride. If your Zwift bike is also your main outdoor road bike, get the Look Keo pedals ($50+) for better power transfer.
Whatever pedals you get, you'll need a pair of compatible bike shoes and cleats. For the SPD's, I like the Shimano SH-R065 which Wiggle.com sells for about $50. For the Look Keo's, there are many shoes out there at different price points so go to your local bike store and try on a few pair.
Music Speaker
Music can motivate you to Zwift harder. If your pain cave needs to be a quiet place for the benefit of your family or neighbors, get yourself a pair of in-ear wireless headphones. But if you can blast music, you'll want a good speaker with various connecting options.
There are so many great speakers out there but I love the Polk Woodbourne which Amazon sells for $449. With its very powerful 180-watt amplifier, the Polk easily fills your pain cave with distortion free music and connects to nearly every device via Wi-Fi, Bluetooth, Airplay (Apple devices), USB, and optical (TV).
ANT+ USB Dongle
ANT+ is a wireless technology that allows your smart trainer to talk to your computer and your computer to talk to Zwift. Your smart trainer is already ANT+ compatible but your computer isn't so you'll need to attach an ANT+ dongle ($20) to one of your computer's USB ports. Keep in mind that you don't need an ANT+ device if you're Zwifting with an iOS device or Apple Computer which both connect via Bluetooth.
Keyboard with USB Ports, Mouse and USB Extension Cable
Although your computer likely won't be close to your Zwift bike, you'll still want a wired keyboard and mouse handy in order to log-in to Zwift, send texts, and change views. Although you can buy a wireless keyboard and mouse, they can be jittery and slow to respond and they shut down after a period of time to save battery.
You'll also want to move the ANT+ dongle from your computer to within 5 feet of your smart trainer to ensure a trouble-free connection.
The best solution to get these devices from your computer to your Zwift bike is to buy a USB extension cable, a wired mouse and a wired keyboard with USB ports built-in to connect your mouse and ANT+ dongle. I like the AmazonBasics 10' extension cable for $7, the AmazonBasics USB Wired mouse for $7 and the Perixx Keyboard with USB ports which Amazon sells for $20.
Heart Rate Monitor
You should always Zwift with a heart rate monitor to measure your effort. The Wahoo Tickr heart rate monitor ($50) works great and connects to Zwift via both ANT+ for your computer and Bluetooth for your iOS devices. The Tickr also works great with most power meters, sensors, and cycling computers.
HDMI Cable 10-25'
In order to use your TV as a Zwift monitor, you'll need to connect your computer to your TV via an HDMI cable. I like the AmazonBasics 25' HDMI cable which Amazon sells for $13.
Bike Mat
You'll want to put your bike and smart trainer on a heavy-duty mat in order to dampen vibration and noise, protect your floors and collect your sweat. The SuperMat, which Amazon sells for $27, is a thick, durable and tough mat.
Fan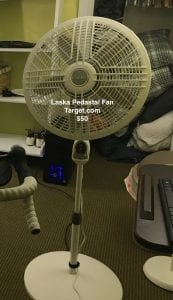 You need a fan to keep you cool while Zwifting. I like the Lasko 18" Pedestal stand with remote which Target sells for $50. The Lasko is adjustable up to 54" high, oscillates, tilts and has three fan speeds which can be controlled by the remote. Many Zwifters also like the Vornado 630 which Amazon sells for $63.
Desk
You'll probably want a desk near your Zwift bike for your keyboard, mouse, remotes, phone, gels and various other items. The Seville Classics Desk Cart with Side Table, which Amazon sells for $50, is adjustable, sturdy and easy to set up.
Desk Organizer
You may also want a desk organizer to keep your loose Zwift stuff and phone in one place. The ClearTech Acrylic Desk organizer, which Amazon sells for $12, fits on the Seville desk side table and holds your phone, tablet, headphones, gels, bike tools etc.
iPad Desk Mount
If you have a desk nearby, think about getting a desk mounted iPad holder. Even if you run Zwift on a computer, it's nice to have your iPad's big screen nearby for the Zwift Mobile App, your music collection or Netflix. The AboveTEK iPad Holder is a heavy duty, adjustable and easy to set up tablet mount that Amazon sells for $39.
Phone Bike Mount
Although you can keep your phone on your desk or in the desk organizer, you may want to mount it on your bike's handlebars. Amazon recommends the Taotronics for $14.
Corkboard
If you have a wall near your Zwift bike, it's not a bad idea to buy a corkboard for your Zwiftblog course maps, Zwift keyboard shortcuts and flags of the world. I have the Mead 24" x 18" corkboard which Walmart.com sells for $12.
Prescription Glasses
If you have trouble reading the Zwift data on your TV, you may want to invest in a dedicated pair of prescription glasses for Zwift. Goggles4U.com sells comfortable plastic prescription glasses or bifocals for about $35. The bifocals are great for seeing your TV at a distance and your cell phone close up on your bike. Get a pair of Croakie's to hold the glasses in place and a couple of Halo 2 Headbands to keep the sweat off your glasses and you'll be all set.