Zwift's August 2022 update included the welcome addition of a Legsnapper KQOM segment to the Innsbruck map. As any Zwift racer will tell you, the 'Snapper is a crucial climb that has broken the will and legs of many, so it only seems fitting to make it an official segment.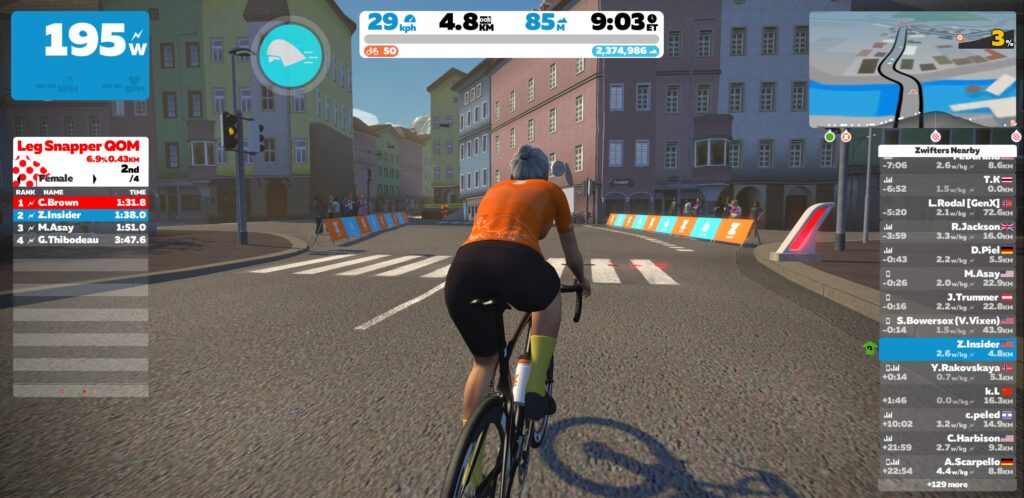 As keepers of the official set of Zwift Strava segments, we've had several inquiries from observant riders who have noticed that the new in-game KQOM doesn't perfectly match the Legsnapper segment we created years ago when Innsbruck launched.
To be precise: the in-game segment starts a bit later than our Strava segment, and ends a bit earlier.
To be honest, we weren't at all surprised to learn the segments don't match perfectly. While Zwift had reached out to us for details on the start and finish of our Strava segment so they could make the in-game segment match, our original segment was simply our best guess as to where the official climb should stop and start, and we figured Zwift might see things slightly differently.
When the update dropped, we went in and recorded a ride so we could make a new Strava segment matching the in-game KQOM. And that's when we ran into a roadblock.
Minimum Segment Length on Strava
When we clicked the button to create the new Legsnapper segment we were greeted with an error message: "Please make your segment longer. It's currently too short to be accurately timed."
For the past few years, Strava's minimum segment length has been 300 meters. This was a big change from the early days of Zwift when the limit was 100 meters, which explains why short segments exist for older sprints like the 180-meter Watopia Reverse.
We were surprised to see this error pop up, since the Legsnapper segment is well over 300 meters long (430 meters according to Zwift's leaderboard).
So we did a bit of digging, and it turns out Strava recently increased their minimum segment length to 500 meters. Which is a bad move, in our opinion. Here's why…
Reason #1: This is Zwift
In Strava's support post about Very Short Segments they explain that one key factor forcing the need for a minimum segment length is GPS accuracy – specifically, the sampling rates of GPS devices. "Some devices only record a GPS point every 5 to 10 seconds," Strava says, so having a segment that only takes 30 seconds to complete could lead to lots of inaccuracies.
Fair enough. But this is Zwift. Strava knows the difference between a virtual ride and an outdoor one. Virtual platforms record GPS coordinates very consistently (Zwift does it every second) and can therefore accurately and consistently measure times on shorter segments.
Reason #2: Roads Go Uphill
Strava's simple length limit is a bit of a bodge if you think about it, because it doesn't bring gradient into the question.
If the real issue is how long it takes to complete a segment (and that is the real issue), Strava needs to do more than look at segment length. They need to look at segment gradient and compute an estimate of how long it would take a rider to complete the segment. That 500-meter downhill section? Maybe it's too short for a segment. That 300-meter turn-to-turn section of the Alpe d'Huez climb? Probably plenty long.
Incidentally, this is why we were able to create turn-to-turn segments for most of the Alpe du Zwift, but not for the shortest segments (bends 16-17, 18-19, and 19-20). We all know those segments take significant time to complete because they are ridden at slow speeds. But Strava doesn't care.
Mountain bikers are particularly up in arms about the new 500-meter limit, because as any MTBer will tell you, a 500-meter uphill segment is no joke. Especially on difficult terrain!
Reason #3: It's Just Us
Zwift Insider's Strava account is the only one allowed to create public segments for Zwift activities. Strava doesn't need to let the entire world create shorter segments. But if they trust us enough to maintain the official segments for Zwift, they should be willing to flag our account and let us create shorter segments.
We've repeatedly reached out to our contacts at Strava, though, and have heard no reply.
Wrapping It Up
While we understand Strava's reasons for limiting the creation of short segments, any implementation of segment length limits that does not take gradient into account is simplistic and over restrictive.
Additionally, the key reason for those limits (GPS accuracy) simply does not apply in the virtual land of Zwift!
We would really like to see Strava roll back the virtual segment minimum to 100 meters so we can create segments for Zwift's new Legsnapper KQOM as well as the various sprints and Alpe sections. What do you say, Strava?
(A link to this article has been posted on Strava's support forum. Please visit, comment, and Kudos the post to help get Strava's attention.)
Questions or Comments?
Post below!