Earlier this week we announced the first-ever series of Zwift races where a steering device is required. I was skeptical, thinking we wouldn't have enough riders for a fun race. But I was pleasantly surprised to see some solid signup numbers.
Of course, I couldn't miss the first event. So I jumped into the Bs. 12 laps of Crit City's Bell Lap. Let's go!
First Race on AppleTV
While I've done some Zwift test rides on AppleTV over the years, I've always raced using my dedicated Zwift PC. The problem is, Zwift has been unexplainably crashing on my PC for the past couple of weeks, spoiling two races so far.
So today I decided to race on AppleTV. Sure, the visuals aren't as nice as my gaming PC… but it's quite stable. And with the Play Controllers at my fingertips, there would be minimal faffing about with that cursed remote control!
Race Plan
I've only done a couple of races with steering enabled in Crit City, so my plan was to first work on taking the fastest lines around the course. (With 12 laps in the race, I hoped I would have plenty of time to practice in the early laps.) Then if my legs felt good I might put in a few digs and try to shake a rider or two, using steering to get further off the front by taking the best lines possible.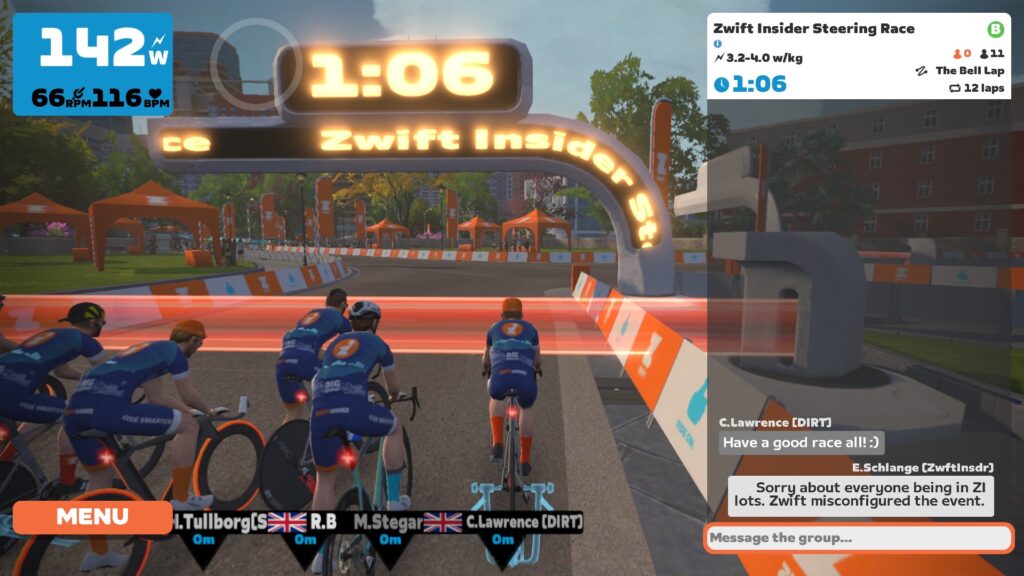 The Start
I was surprised to see that 83 riders had signed up for this first steering-required race, including 31 Bs! But when I joined the pens with just a few minutes to go, only a fraction of those signed up had shown up.
12 Bs left the starting pen, and that number was quickly whittled down to 7. The pace wasn't particularly high – I averaged just 277W (3.33W/kg) for the first 4 laps. It seemed everyone else was taking it a bit easy and getting the feel for steering like I was.
It didn't take long before I noticed that this race felt entirely different from other Zwift races. I've raced hundreds of laps on Crit City, but I've never raced in a group where everyone could steer. The pack felt more lively, more real, and the whole thing felt more immersive. I was actually surprised at how different it felt, and surprised by how much more engaging it was.
On the bummer side, two riders messaged early in the race that their steering had stopped working. One was on the Elite Sterzo – I'm not sure what the other person was using. But the race must go on!
Playing with Play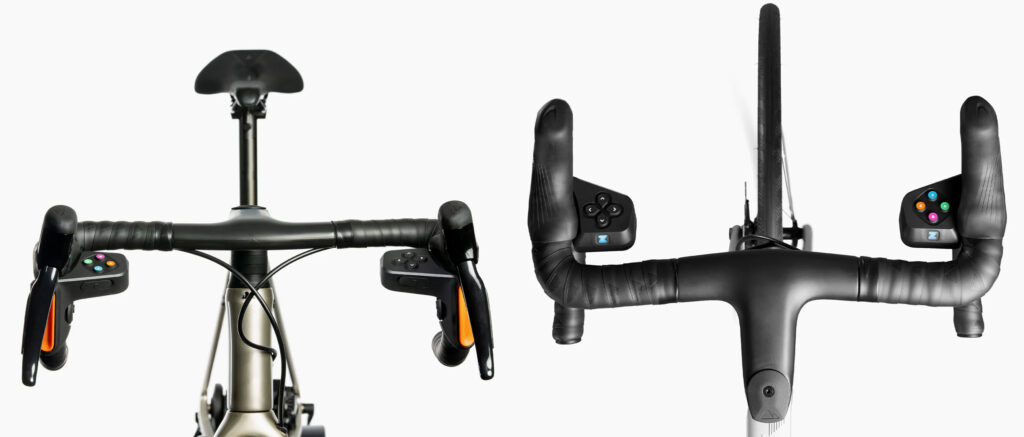 I was using the new Zwift Play controllers for my steering, and I noticed a few things:
Cutting corners made me more efficient. Crit City is made for steering! There are opportunities to steering a more efficient line on 10 90-degree turns, 2 hairpins, and the twisty climb each and every lap. I could easily tell that cutting the corners gave me an edge over riders who did not do so. (More on this in an upcoming Zwift Insider post!)
Following wheels is more fun. It's much more engaging when you need to do a bit of steering to stay in the draft of a rider attacking off the front.
It seemed like some riders weren't steering at all. I was trying to take the shortest line around each turn, but it felt like most of the riders in my group of ~6 were just letting the game steer for them and thus not taking good lines. I found that odd.
Attacking is more fun with steering. I put in a few digs off the front, and it was way more fun attacking and taking the best line at the same time. Felt like I was really riding smart to get away.
You can still draft without being on the wheel. Based on my rider sitting up (in the draft) or crouching over (out of the draft), I could be a few feet to the left or right of riders ahead and still be in the draft. I want to test this more precisely, so watch for an upcoming post on this topic, too…
I used three other functions of the Play controllers during the race:
That blessed Y button: activating a powerup with a quick touch of a button feels so smooth and right.
Return a Ride On: tapping Z to return another racer's Ride On was quick and easy. Like I've been saying for years, Zwift should create a keyboard shortcut for this!
Rearview cam: the down arrow activates the rearview camera for 5 seconds, which is great when you're attacking and want to see what's happening behind. (But I learned in this race it is not great when you need to see ahead in order to steer properly.)
Lap After Lap
Nothing else remarkable happened during the first 11 laps of the race. I averaged just 259W (3.12W/kg), and that's with me rolling off the front and being in the wind a fair amount!
Since the pace wasn't high, I decided to try not steering for an entire lap, to see what happened. I could tell it hurt me a bit on a few corners, but overall the game's autosteering kept me in a pretty good place. That's a good thing, I think. Zwift has to walk the line between making steering useful and fun without leaving the non-steerers out in the wind.
With the pace being rather easy through lap 11, I knew we'd all have fresh legs for that final lap. When would the attacks come, and what was my best strategy for following them?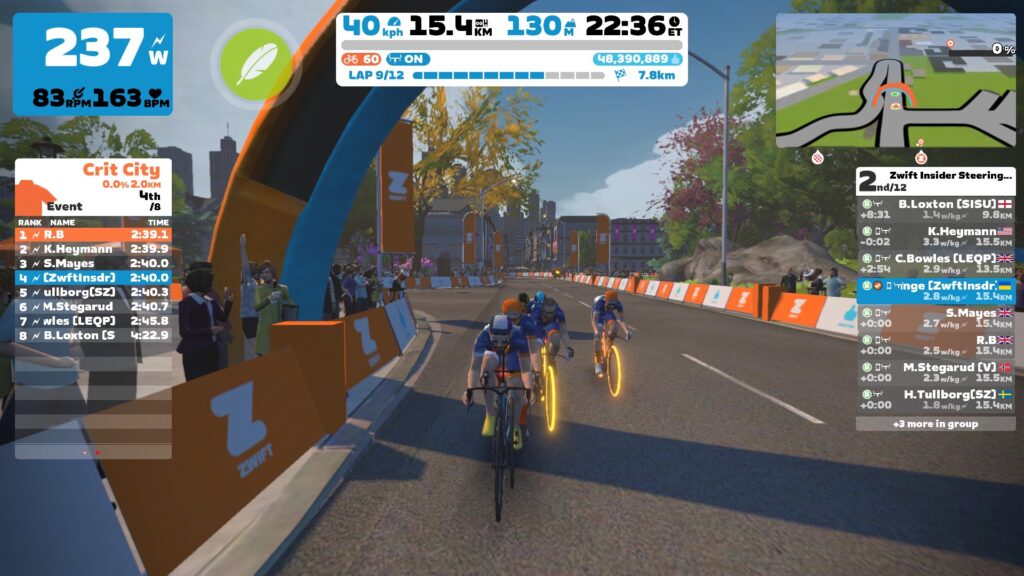 The Finish
The pace ratcheted up as we started our final twisty climb. Still, nobody was attacking in earnest yet. I had decided to follow the wheels of any attacks but save the Aero Boost I'd been holding since lap 8 for my final sprint.
With 700 meters to go everyone was still playing a bit of cat and mouse, and more than one rider had already burned an aero powerup. Madness! I stayed patient, ready to follow any attacks but happy to hold on until the final turns if nobody went.
With 250m to go I activated my Aero Boost, began hammering, then cut the inside of the final left-hand turn. Others responded with orange numbers of their own, but I saw myself move to the front of the pack. Now I only had two goals:
Cut the inside of that final turn
Give it all the power I had to the line
I kept hammering, glancing up to see I was still ahead. Could I actually win this? I pressed my controller to cut the inside of the final right-hand turn. Nailed it! Keep pushing. The riders behind were gaining on me, but I crossed the line just ahead. Winner!
See activity on Strava >
See results on ZwiftPower >
Watch the Race
Watch the Race from Fan View:
Takeaways
I set a new 15-second power PB (955W) in that final sprint – not surprising, given that the race pace up to that point was quite tame. Make the pace tougher and I'm only good for 800W or less.
This race answered two questions for me:
Can you steer while sprinting? I wasn't out of the saddle, and I wasn't in the drops. But doing my typical seated sprint on the hoods, I was able to negotiate those final two corners quite nicely.
Is it fun to race with steering? When I've had steering enabled in past races, the vast majority of the peloton has not. And to be honest, the experience hasn't been anything to write home about. This race was different, though. It was really engaging and fun having all the riders constantly able to move left-right on the road.
There are a few improvements that could be made to the experience:
If the race requires a steering device, that needs to be obvious when people sign up. Currently there's no indicator that steering is required, so you have to include that in the event text (which many don't read). I'm quite sure this is why only a fraction of those who signed up actually raced.
Steering needs to be stable. I don't know why the two riders lost their steering abilities, but that needs to not happen.
Riders visibly ride through each other too often. I could see riders riding through others during the race, which detracts from the realism of it all. I don't think I see this in non-steering environments, so I assume this is a steering-related thing.
We shouldn't all be wearing Zwift Insider kits. This was an event misconfiguration that will be fixed for future Zwift Insider Steering Races.
Lastly, I should say: AppleTV performed like a champ. But there were three things I wish it could do:
Give me a controllable drone camera to take nice in-game shots.
Let me use a USB keyboard for messaging.
Show better visuals. I'm on the latest AppleTV, which has the power to do more than Zwift is asking of it.
Your Thoughts
Have you tried a Steering Race yet? Got Play Controllers on order? Think steering on Zwift is a terrible idea? Share your thoughts below…