I hate you Zwift! (But I love you more…)
Like some other Zwifters I have a mild self-diagnosed OCD which among other things makes me get up at 4am every Friday for my BoOCD2000 ride which is my own route including the Radio Tower, Alpe, and a u-turn on the way down the Alpe to hit precisely 2000m.
And the reason I hate Zwift (well not really but…) is they choose to roll out a new (buggy) update almost every single Friday which isn't really what you want to see early in the morning when trying to ride before work.
A few Fridays ago, the story repeated, and a new update was forced on my Win10 setup. Fortunately, I'm on a quick connection and decent hardware so when they roll out an update it downloads quickly. I got the update and started riding. Went on the forum while getting some heat in the legs, just to see how many bugs people already has discovered, and discovered that the new steering feature had dropped like a bomb.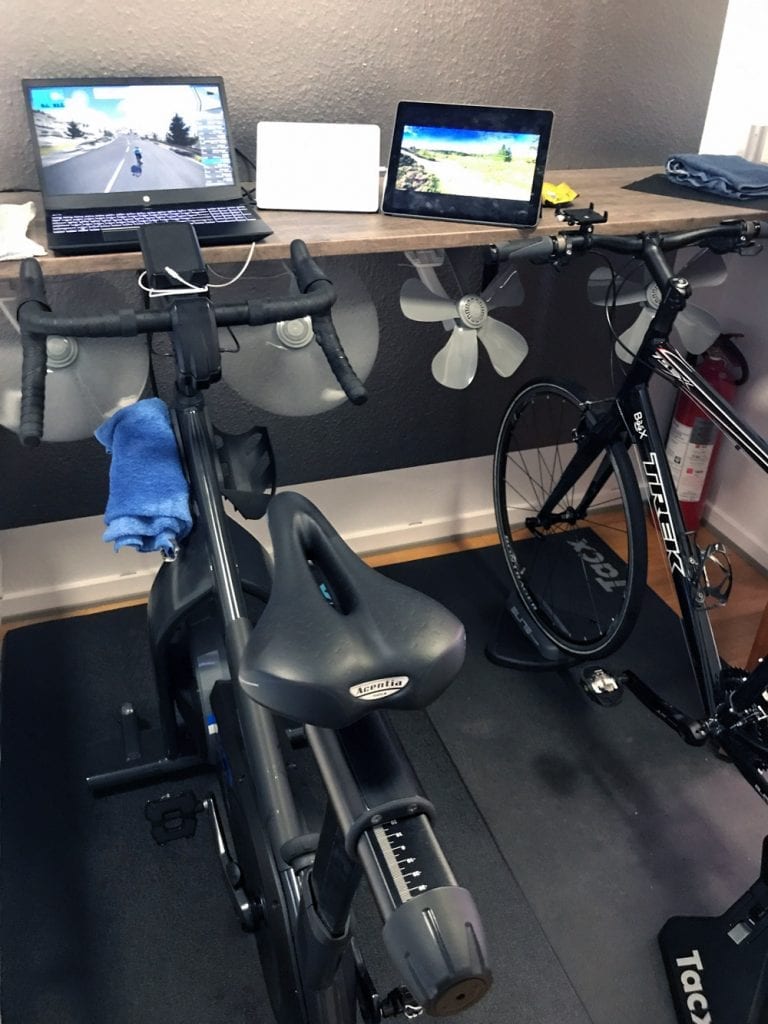 First thought was "Nah… don't really want steering, I'm here for the pain." And a few hours later the order confirmation from the Zwift store hit my mailbox. 😊 (Of course… guessing that the Sterzo units probably would be sold out very quick I couldn't resist ordering one, just in case I would change my mind about that pain thing.)
The package from Zwift arrived very fast (Tuesday) here in Denmark and installing the Sterzo on my old Neo trainer setup was a 5-minute job. The Stages SB20 next to it looked a little sad when it realized that it was "outrun" by a well-used Neo and an old Trek fitness FX bike.
The first test was quite impressive, and a few rides on the Repack Ridge MTB course was a lot of fun. Especially if you ignore that I got slightly seasick!
Finding the Line
The next Friday after some outdoor riding and zwifting on the Stages bike I decided to jump on the Neo for my Friday BoOCD2000 and just activated the steering because I could. A few miles into the ride an idea popped up: why not try to steer on the optimal line up the Alpe?
So while trying to figure out if it was a great idea to climb 2000m fasted early in the morning I was also trying to estimate if actively steering for the optimum line would make any difference. But I didn't really come to any conclusion, so I kept climbing.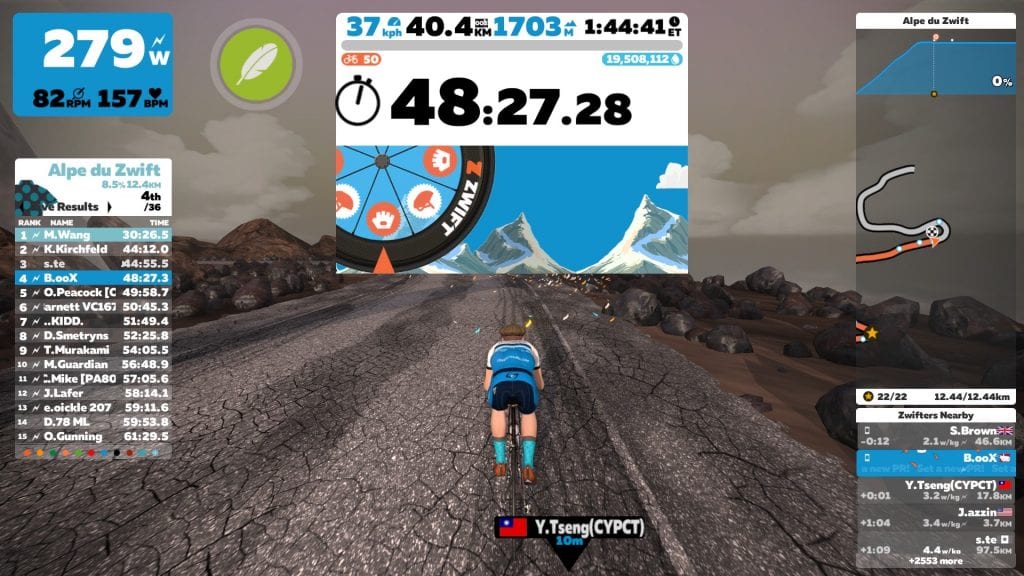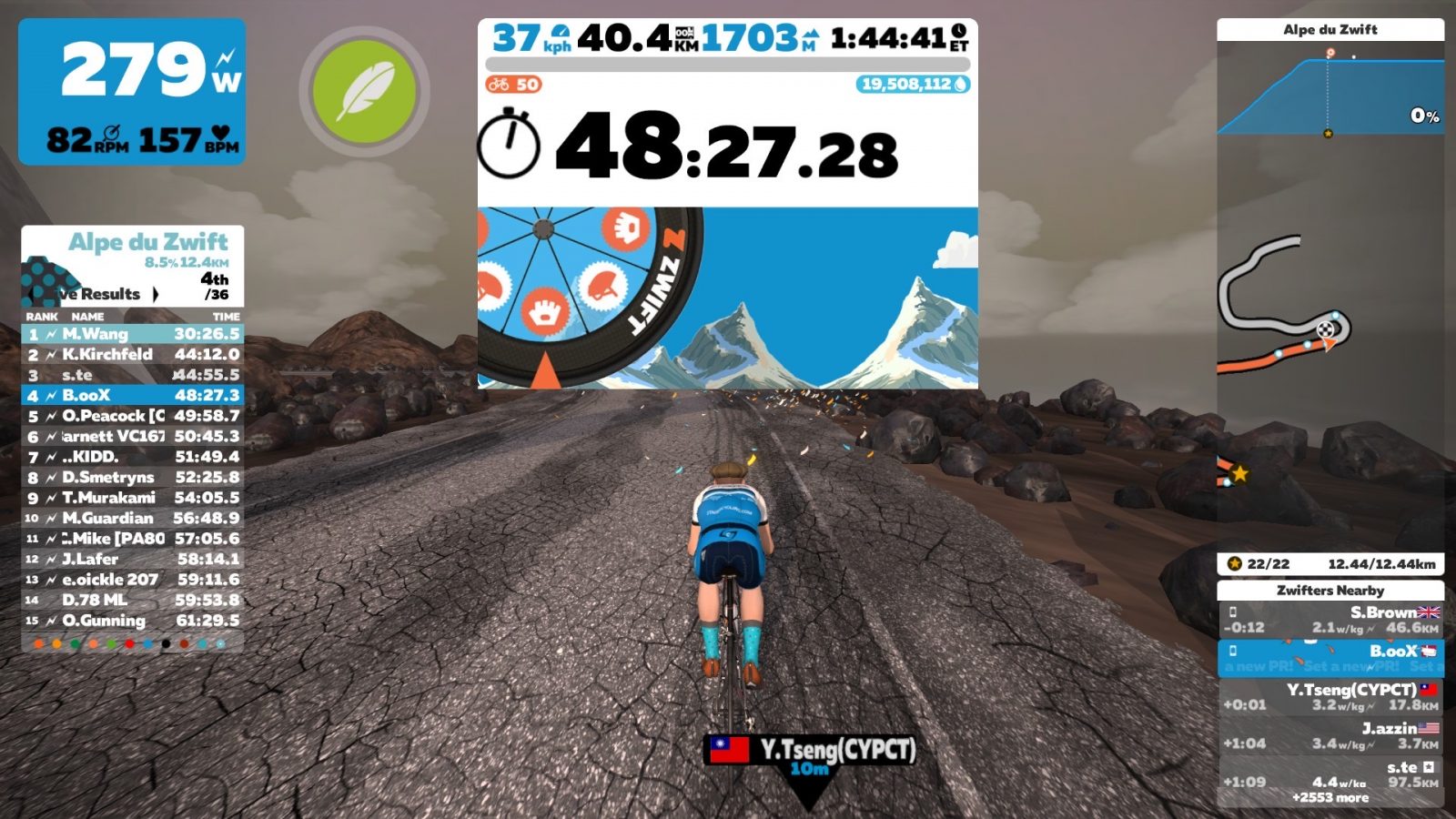 At the top (well more like on the way down when trying to find some oxygen) comparing the photos from a non-steering BoOCD2000 ride with the active ride I realized that I actually rode 600 meters less during the 40km ride by actively keeping the optimum line!
Bad, On Purpose
Of course, my mind had to mess with me, so for the next Friday morning ride there wasn't really anything to do but try riding the same route while taking the worst line and see what distance that would result in on the top.
For some weird reason Zwift didn't have an update ready that morning and I just hopped on. The legs weren't quite as enthusiastic as I was, but at the top, the distance ridden was 500 meters longer than the non-steering ride – making the difference between the optimum line and the worst line 1100 meters!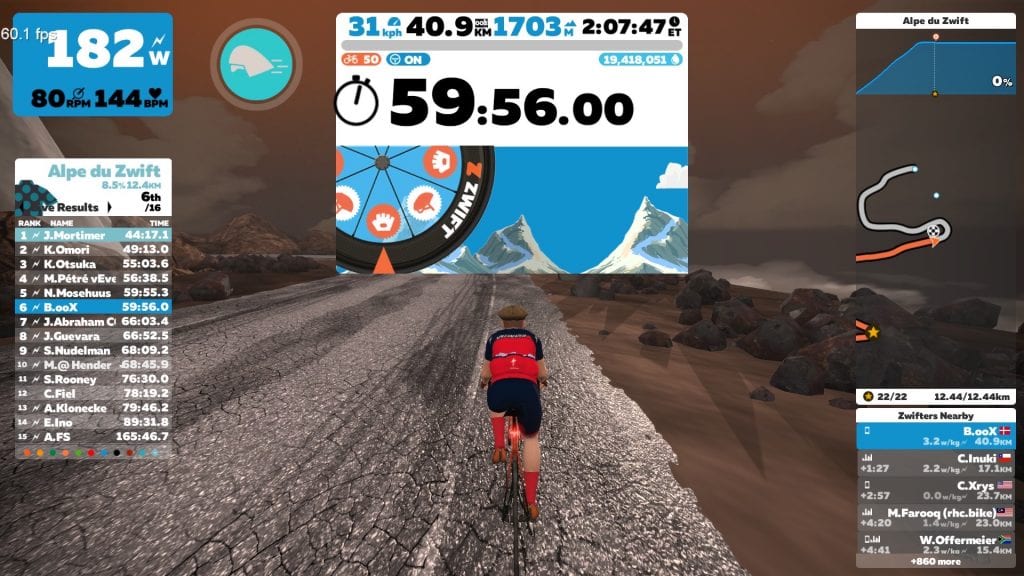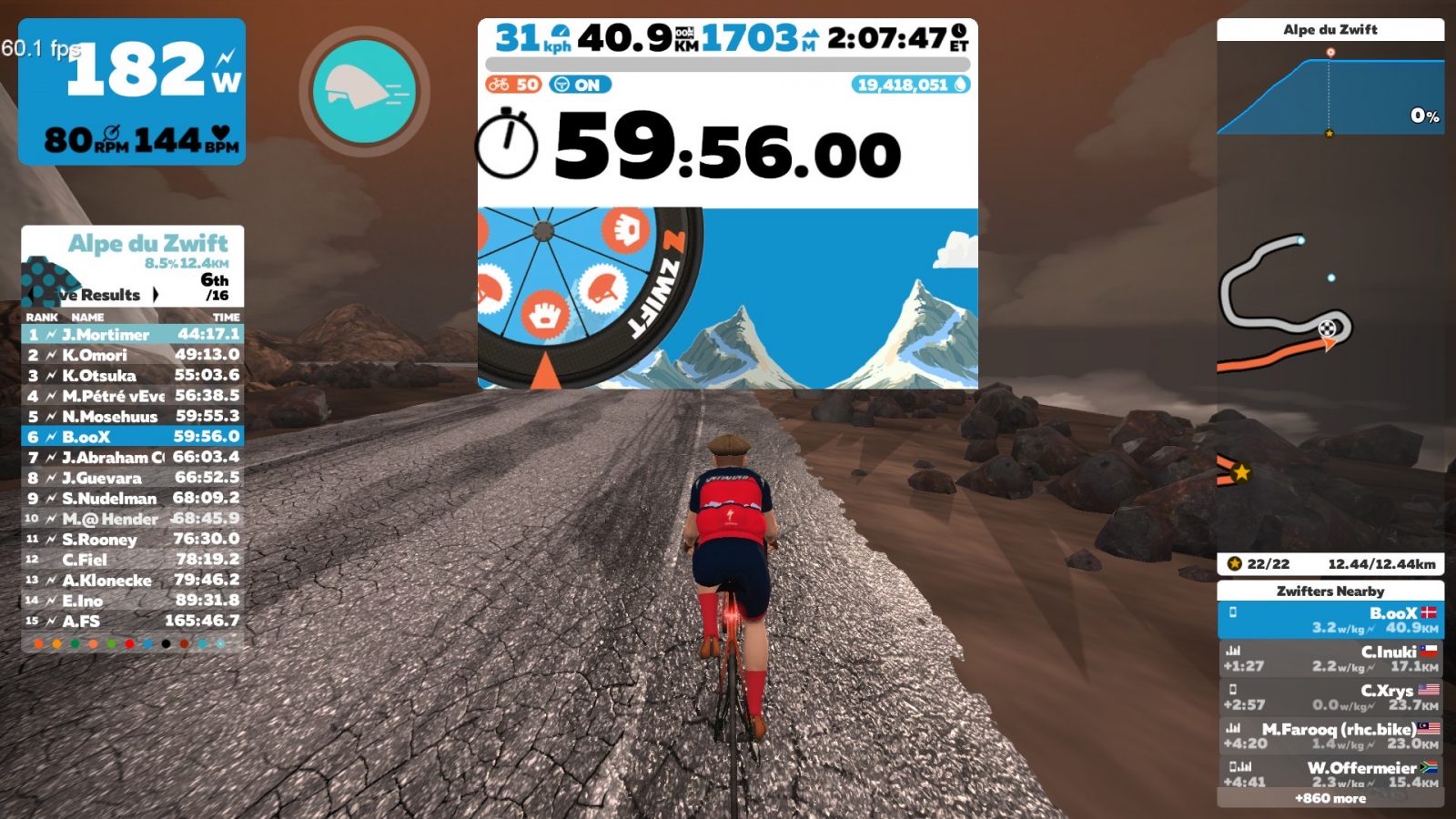 Conclusion
The distances stated above are from the photos included in this article. There might be a slight difference where they are shot, but Garmin connect shows the following distances to the same point at the top of the Alp which confirms everything:
Normal no steering: 40.79 km
Steering optimum line: 40.25 km
Steering worst line: 41.90 km
For me, the surprising conclusion is that line choice does affect the distance ridden. Well done Zwift! 1100 meters less on a 40km ride is quite a lot if you are racing.
This isn't a scientific test, just me having fun trying, so you might want to do a few tests of your own. It's fun and you get to be on Zwift so why not? Ride on!
Questions or Comments?
Share below!