Tacx Flux 2 Smart
Direct Drive Trainer

Compared to its predecessor (the original Tacx Flux), the Flux 2 is equipped with a bigger and stronger resistance unit and a heavier flywheel. Confusing naming conventions aside, the Flux 2 is a solid trainer, significantly stouter than the budget-level Flux S.
The only downsides? Legs that don't fold up, and a bit higher noise level than the competition.
Key Specs
MSRP: $899.99 USD
Accuracy: +-2.5%
Flywheel: 16lb
Max Wattage: 2000 W
Max Incline: 16%
Overall Rating
4 stars
based on 19 reviews
Easy setup
84%
Accurate power
74%
Realistic inertia
53%
Well-built
79%
Helpful support
32%
Portable/storable
11%
Quiet
84%
Budget-friendly
32%

Worst trainer on the market. Don't ever buy it. from Tom April 19, 2021 


This is the WORST trainer on the market. Do not buy it. I have three other smart trainers - the Wahoo Kickr Core, the Elite Direto, and the Cyclops Hammer, which are in different cities where I train, so I have decent knowledge on smart trainers. The bluetooth didn't connect AT ALL to Zwift, despite doing every single piece of trouble shooting that Garmin (who own Tacx) gave me. The Ant+ did connect but the signal would drop every 15 minutes or so, which ruins workouts as the only way to reconnect is to completely close out of Zwift and restart. The base is also not very stable and wobbles. Customer service was absolutely awful, and took ages to respond and didn't solve my issue in over a month of back and forth emails. They refused to believe that it was their trainer at fault. In the end I was able to exchange the trainer for a Wahoo Kickr Core, which connected to Zwift right away via bluetooth. This is a horrendous trainer and should be recalled. The fact that Tacx is still selling it is embarrassing, and quite frankly, unethical because they KNOW these issues exist with the trainer, and that many people are experiencing them: https://forums.zwift.com/t/tacx-flux-2-to-zwift-disconnecting-losing-signal-mid-ride-race/324721/16

Still haven't sorted the quality issues from Brooke February 11, 2021 


I actually came to the site to research replacement trainers and thought I would leave a comment on my current one. I really want to like the trainer but have had too many bad experiences to endorse it. If you are a casual rider and/or only use the trainer occasionally, this is a great trainer given its relative affordability. But if you are indoors a lot and use your trainer for structured workouts that require accurate, predictable power I would try either try to reach for the more expensive options or go with the Kickr Core.

This is actually my 4th Tacx Flux of various iterations. I had the first generation Flux. Within 6 months it was making horrendous noises, screeching and scraping sounds. Tacx was quick to send a replacement unit. Within 6 months that one also began to fail. They sent out a 3rd unit, a Tacx Flux S this time. The Flux S was supposed to solve the issues with the original Flux. But I had a bunk unit. Most of the time the resistant wouldn't ramp and I would spin out in my 53x11 while going UPHILL. Other times it would completely clamp down on the flywheel and I'd have to push 300+ watts just to move slowly along the flats. After weeks of back and forth and sending file after file they finally replaced the unit.

Given all my past troubles I convinced them to upgrade me to the Tacx Flux 2. So points for customer service. Even nearly two years past the original purchase they were sending me new units. The Flux 2 is a definite improvement with the heavier flywheel and improved feel. However, like my first two trainers this one has started to make the same screeching and scraping noises. I was just going to live with it but I've also been ramping up my training and want to have consistent power on the road and on the trainer. But my Tacx Flux 2 consistently reads 8-10% below my Assioma Duo pedals. That's fine for a rest day but if I want to do intervals at threshold then I may actually be pushing 25-30 watts more than my target. That completely changes the workout. So most days I use my pedals as the power source. But that creates the "sticky watts" problem with long delays (3-5 seconds) in power readings. So when I do Zwift racing I'm left to choose between leaving 10% of my power on the sidelines or being constantly late to react to surges.

In short, I'd look at other options if you're in the market. If you have the pocket change and want to do Tacx, I've heard of none of these issues with the Neo 2. Otherwise, I'd look to another brand. Though the service (pre-Garmin purchase) was pretty amazing. As part of Garmin it's still been okay, but not near as responsive or friendly.

Easy setup Helpful support Budget-friendly
Problem quickly replaced by Garmin from Gray October 15, 2020 


I had the original kickr previously but could only find this before the covid lockdown. The first model had a grinding noise, when I called Garmin they swapped it out to my house during the week and it's been smooth and silent since. Support is excellent. Variety of through-axles suits all bikes. Conveniently works as normal trainer off-power. Perfect!!

Realistic inertiaWell-built Helpful support Quiet Budget-friendly
First 2000km with Tacx Flux 2 Smart from vaisanenj September 29, 2020 


First 2000km behind with my Flux 2 Smart and going strong. Very good direct drive smart trainer. Easy to setup and run with Zwift. Sometimes overshoots the power to 2000W in mid of the ride but most likely due to lag/miscommunication between app and trainer. Also little hard to storage as but can still manage with it. Overall been satisfied with it.

Easy setup Accurate power Realistic inertiaWell-built
First trainer from Emms September 25, 2020 


I am new to indoor training and zwift and wanted a simple quick way into the 'game' as I'm not a techie mechanic type. Flux 2 fulfilled all my needs in this respect once I'd got LBS to put a casette on all I had to do once home was fix the sturdy legs, select the correct QR axle and put my bike on. I then flicked the power switch and instantly connected via Bluetooth to ipad running zwift and that was me up and riding! So simple after all the zwift set up vids I'd watched some of which suggested lods more kit would be required. Very happy with flux 2 so far and no problems (I'm 24+ hours and 750kms in) with no signal drop outs at all and always an instant connection.

Easy setup Accurate power Well-built Quiet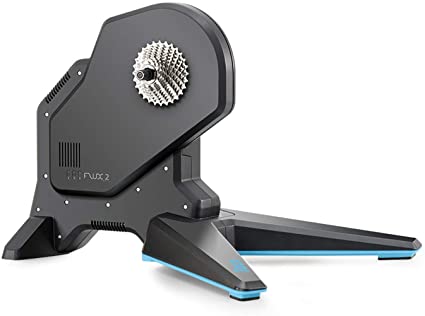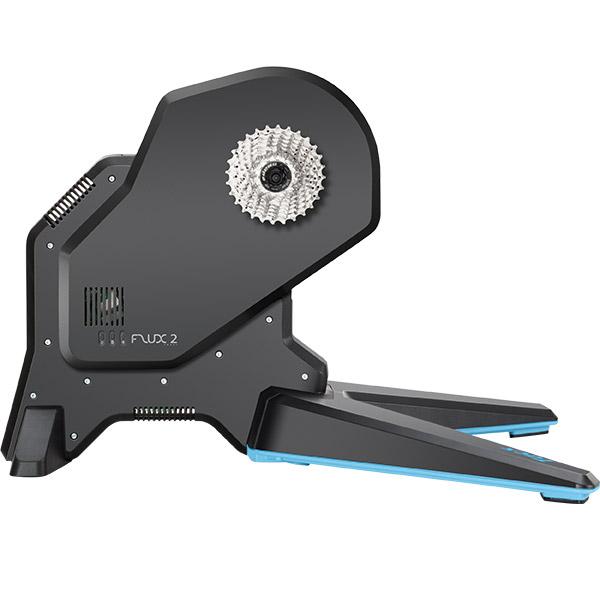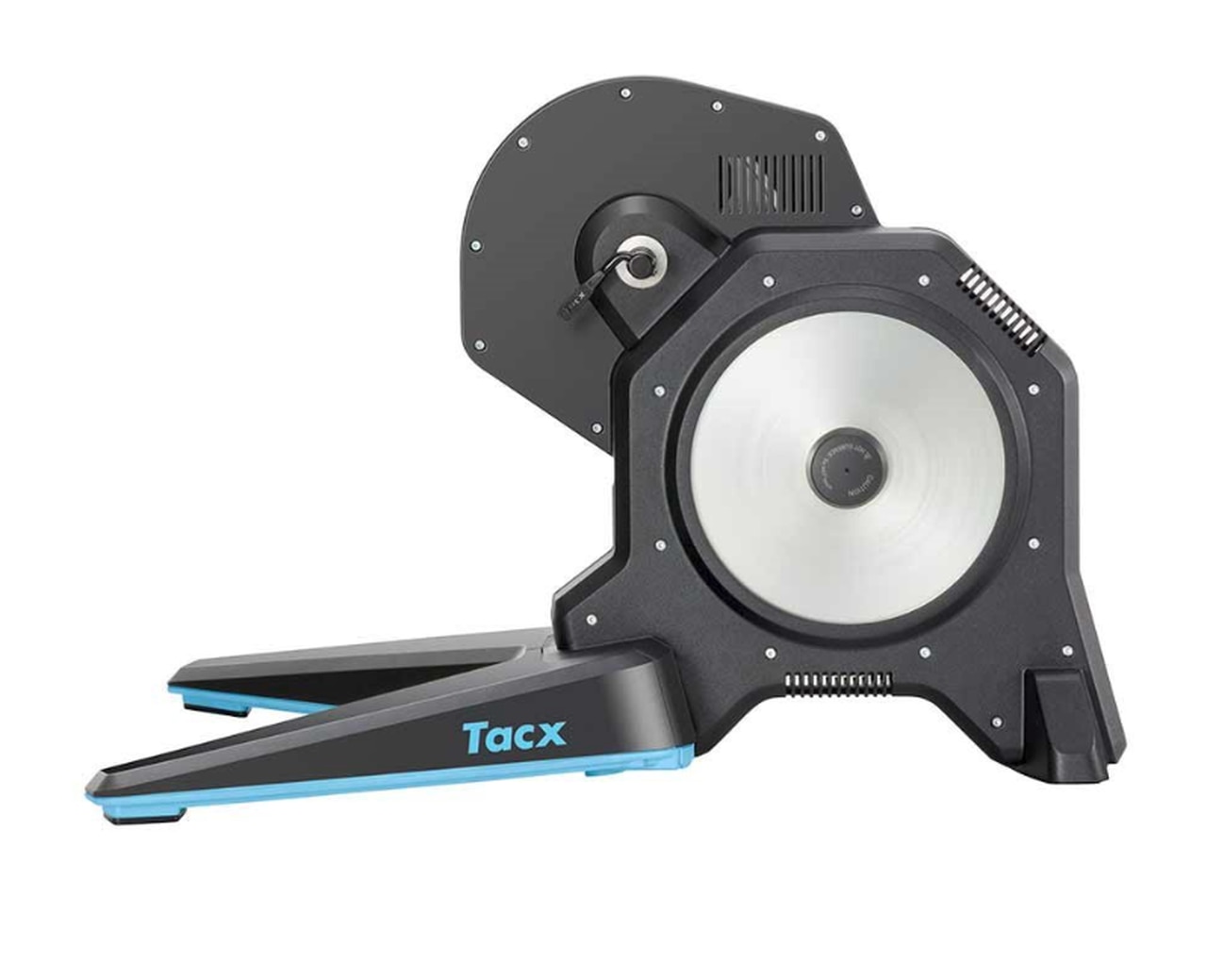 More Tacx Flux 2 Smart Reviews
Own this trainer? Post a review!

Worst trainer on the market. Don't ever buy it. from Tom April 19, 2021 


This is the WORST trainer on the market. Do not buy it. I have three other smart trainers - the Wahoo Kickr Core, the Elite Direto, and the Cyclops Hammer, which are in different cities where I train, so I have decent knowledge on smart trainers. The bluetooth didn't connect AT ALL to Zwift, despite doing every single piece of trouble shooting that Garmin (who own Tacx) gave me. The Ant+ did connect but the signal would drop every 15 minutes or so, which ruins workouts as the only way to reconnect is to completely close out of Zwift and restart. The base is also not very stable and wobbles. Customer service was absolutely awful, and took ages to respond and didn't solve my issue in over a month of back and forth emails. They refused to believe that it was their trainer at fault. In the end I was able to exchange the trainer for a Wahoo Kickr Core, which connected to Zwift right away via bluetooth. This is a horrendous trainer and should be recalled. The fact that Tacx is still selling it is embarrassing, and quite frankly, unethical because they KNOW these issues exist with the trainer, and that many people are experiencing them: https://forums.zwift.com/t/tacx-flux-2-to-zwift-disconnecting-losing-signal-mid-ride-race/324721/16

Still haven't sorted the quality issues from Brooke February 11, 2021 


I actually came to the site to research replacement trainers and thought I would leave a comment on my current one. I really want to like the trainer but have had too many bad experiences to endorse it. If you are a casual rider and/or only use the trainer occasionally, this is a great trainer given its relative affordability. But if you are indoors a lot and use your trainer for structured workouts that require accurate, predictable power I would try either try to reach for the more expensive options or go with the Kickr Core.

This is actually my 4th Tacx Flux of various iterations. I had the first generation Flux. Within 6 months it was making horrendous noises, screeching and scraping sounds. Tacx was quick to send a replacement unit. Within 6 months that one also began to fail. They sent out a 3rd unit, a Tacx Flux S this time. The Flux S was supposed to solve the issues with the original Flux. But I had a bunk unit. Most of the time the resistant wouldn't ramp and I would spin out in my 53x11 while going UPHILL. Other times it would completely clamp down on the flywheel and I'd have to push 300+ watts just to move slowly along the flats. After weeks of back and forth and sending file after file they finally replaced the unit.

Given all my past troubles I convinced them to upgrade me to the Tacx Flux 2. So points for customer service. Even nearly two years past the original purchase they were sending me new units. The Flux 2 is a definite improvement with the heavier flywheel and improved feel. However, like my first two trainers this one has started to make the same screeching and scraping noises. I was just going to live with it but I've also been ramping up my training and want to have consistent power on the road and on the trainer. But my Tacx Flux 2 consistently reads 8-10% below my Assioma Duo pedals. That's fine for a rest day but if I want to do intervals at threshold then I may actually be pushing 25-30 watts more than my target. That completely changes the workout. So most days I use my pedals as the power source. But that creates the "sticky watts" problem with long delays (3-5 seconds) in power readings. So when I do Zwift racing I'm left to choose between leaving 10% of my power on the sidelines or being constantly late to react to surges.

In short, I'd look at other options if you're in the market. If you have the pocket change and want to do Tacx, I've heard of none of these issues with the Neo 2. Otherwise, I'd look to another brand. Though the service (pre-Garmin purchase) was pretty amazing. As part of Garmin it's still been okay, but not near as responsive or friendly.

Easy setup Helpful support Budget-friendly
Problem quickly replaced by Garmin from Gray October 15, 2020 


I had the original kickr previously but could only find this before the covid lockdown. The first model had a grinding noise, when I called Garmin they swapped it out to my house during the week and it's been smooth and silent since. Support is excellent. Variety of through-axles suits all bikes. Conveniently works as normal trainer off-power. Perfect!!

Realistic inertiaWell-built Helpful support Quiet Budget-friendly
First 2000km with Tacx Flux 2 Smart from vaisanenj September 29, 2020 


First 2000km behind with my Flux 2 Smart and going strong. Very good direct drive smart trainer. Easy to setup and run with Zwift. Sometimes overshoots the power to 2000W in mid of the ride but most likely due to lag/miscommunication between app and trainer. Also little hard to storage as but can still manage with it. Overall been satisfied with it.

Easy setup Accurate power Realistic inertiaWell-built
First trainer from Emms September 25, 2020 


I am new to indoor training and zwift and wanted a simple quick way into the 'game' as I'm not a techie mechanic type. Flux 2 fulfilled all my needs in this respect once I'd got LBS to put a casette on all I had to do once home was fix the sturdy legs, select the correct QR axle and put my bike on. I then flicked the power switch and instantly connected via Bluetooth to ipad running zwift and that was me up and riding! So simple after all the zwift set up vids I'd watched some of which suggested lods more kit would be required. Very happy with flux 2 so far and no problems (I'm 24+ hours and 750kms in) with no signal drop outs at all and always an instant connection.

Easy setup Accurate power Well-built Quiet

Not as good as expected from Pablo Leon September 23, 2020 


Solid construction and wheel, but it requires to be opened more often than I expected and the connectivity issues are constant and irritating

Easy setup Accurate power Well-built Quiet
Solid trainer at a reasonable price from ggeiselman September 22, 2020 


Overall, I'm very happy with this trainer. It's very solid/stable and was easy to set up. It occasionally seems to disconnect from Zwift but that's likely an issue with my laptop, not the trainer.

I'd recommend this to anyone looking for a middle of the road smart trainer.

Easy setup Accurate power Realistic inertiaWell-built Quiet
Tacx Flux 2 Smart Trainer is a Reliable Option from SamBLap September 17, 2020 
Accurate power Well-built Quiet
Great Experience from edfullman September 17, 2020 


I've been riding and spinning for over 20-years, and I've owned a number of trainers. The Tacx Flux 2 is the first "Smart" trainer that I've owned.

Since I got the Tacx out of the box, it has run really well. I've customized the setup of my Flux 2 to include a Kreitler Front Fork Stand ($125) so I could remove my front wheel and gain some stability and rigidity in the feel of the experience. I figured that the traditional approach of leaving a front-wheel in place will put pressure on the front wheel, which is unnecessary for the experience. I believe this setup is very similar to a Peloton or an expensive Tacx stationary bike for under $1100.

If it has been a while since you've ridden your bike, think about getting a tune up. The Zwift experience such as pushing up the mountains in Watopia will push your bike harder than most people can find riding around their town. So you can get into a situation where you can be surprised by a hill, and forced to downshift at a low rpm. Your derailleur will thank you, if it has been tuned well.

If you decide to get a Kreitler Front Fork stand their are 2 models. These are built for the Kreitler roller system, the 4mm model is the one I got. This puts your bike into a permanent 3% climb angle. The smaller Kreitler 2mm would be closer to a 0% climb.

I'm really happy with the Tacx Flux 2.

Easy setup Accurate power Realistic inertiaWell-built Quiet Budget-friendly
Beginner indoor cyclist review from Daan September 17, 2020 


Set up was easy in combination with Zwift. Seams fairly accurate to me vs IRL cycling. Easy to store during summer months.

Easy setup Accurate power Realistic inertiaWell-built Helpful support Portable/storable Quiet
An affordable and reliable trainer from Lester71 September 16, 2020 


The Taxc Flux is the best trainer you should buy if you want to get through the winter in your garage or man cave. You get quality and reliability for a relatively limited price. It simply does what you ask of a smart trainer. When used in combination with Zwift you will enjoy all those indoor rides you didn't like before!

Easy setup Accurate power Well-built Quiet Budget-friendly
Best upgrade this year! from Elruts September 16, 2020 


I resently uppgraded from a Taxc Vortex to a Flux 2 and I´m so happy I did.
First of all it´s silent, I can ride any time of the day or night and I will not disturb my family or neighbours.
It also simulates a lot more watts and makes rides in the moutains much more fun and realistic compared with the Vortex.

I bougt the trainer used, a Flux S, and hade some problem updating the firmware and contacted the Tacx suppoirt here in sweden and the replaced my Flux S with a Flux 2 free of charge, that is what I call customer service.

This is by far the best upgrade I have done since I bougt my Crescent Giga in 2015.
I´m super satisfied.

Easy setup Accurate power Realistic inertiaWell-built Helpful support Quiet
Tacx Flux from eapalaciosavila September 11, 2020 


I love this smart trainer, the price is accessible, easy to assemble, zero noise and quick response in bluetooth connectivity =)

Easy setup Accurate power Realistic inertiaWell-built Helpful support Portable/storable Quiet Budget-friendly
Good Trainer from joe.konasubway September 10, 2020 


We've been using this trainer for eight months and have over 4000 miles on it and not one issue. Both my wife and i use it and it's great, would definitely recommend this one looking to buy a smart trainer. Regarding the next question, we haven't had any issues so don't know about support, but if it's anything like the trainer, it's good.

Easy setup Accurate power Realistic inertiaWell-built Quiet
Excellent! from Castellimark September 8, 2020 


The power meter is not very precise but is the best trainer I ever try

Easy setup Realistic inertia Helpful support Quiet
Tacx Flux 2 Smart from T.Short September 8, 2020 


Great trainer. Super easy set up. I got rolling so fast that I was sure I did something wrong. My only complaint is that I drop connection; I did update firmware on the trainer and it happens a lot less though. I continually check the power against another power meter and they are both pretty close all the time. Also, I was blown away by how quiet it is compared to my old mag trainer.

Easy setup Accurate power Well-built Quiet
Tacx Flux 2 Smart from Harry T September 8, 2020 


Slightly delayed gradient shifts, especially in the Watopia esses.

Easy setup Accurate power Well-built Quiet Budget-friendly

Reliable, quiet performer for over 6,000 virtual kilometres, but accuracy is a query from Adam (Problematic) September 7, 2020 


I've put over 6,000km into the Flux 2 during COVID-19 lockdown and it's stood up to the task so far. I do have concerns about the accuracy and have found it reading up to 10-12% below my pedal-based power meters, which I've validated using an independent lab test on separate equipment. I'm lucky to have the pedals as a secondary power source I can use while the trainer provides the resistance.

I've noticed a slight lag between what's on screen (in terms of gradient feedback) and the trainer, mostly on Zwift. The effect isn't as noticeable on RGT, the only other platform I've used for any length of time.

The trainer is comparably quiet, and I frequently use it inside early in the morning without disturbing others (single storey 3 bedroom home, so not huge). There is a good support group on Facebook and other resources on the net for any issues, but so far it's been quite painless.

If I had my time again I would probably spend my money on one of the Wahoo range, but this was the only model available at the time and I've enjoyed riding on it immensely. If you have a secondary power source, go for it, but I would be cautious otherwise if you intend on doing events or races.

Easy setup Quiet
Love my Flux2 from Bridgey September 5, 2020 
Easy setup Accurate power Realistic inertiaWell-built Quiet