Saris M2
Wheel On Trainer

The M2 began life under the CycleOps brand, but was rebranded under the Saris name when Saris decided to consolidate some of its brands. This is the second generation of the Magnus line, replacing the original CycleOps Magnus.
Key Specs
MSRP: $549.99 USD
Accuracy: +-5%
Flywheel: 2.6lbs
Max Wattage: 1500 W
Max Incline: 15%
More Details
Brand:

Saris

Year Released: 2019 (In Production)
Axle Compatibility: 130/135mm quick release
Requires Calibration
Weight: 11kg
Cadence: Built in
Communication: ANT+ and Bluetooth
Physical Dimensions: 21" x 19" (53 cm x 48 cm)
Overall Rating

3.9 stars
based on 17 reviews
Easy setup
88%
Accurate power
47%
Realistic inertia
35%
Well-built
71%
Helpful support
18%
Portable/storable
76%
Quiet
18%
Budget-friendly
76%

Good trainer on paper but inconsistent results and clutch knob issues from RugbyMark July 29, 2021 


This is my first trainer and I decided to go for a higher end wheel on trainer rather than more expensive direct drive or less expensive wheel on models. On paper it seems to have all of the features you need, accepting the limitations of a wheel on trainer.

On the first one I received, the clutch knob would not click at all and had to be replaced twice. The second knob causing some damage to the roller due to pressure being too high and the entire resistance unit had to be replaced. Then, a few months where everything seemed fine. I calibrated on every ride and everything seemed fine. Recently, more issues which I thought was with resistance unit but Saris think may be the clutch knob again. Also a burst tyre (Saris trainer tyre which was quite new), pointing at too much pressure again.

Overall, very frustrated and disappointed. The inconsistencies and faults have led to a lot of downtime and also a lot of failed events, missing the end of races for example. I have no confidence in the accuracy and the unit is currently back with the retailer for further assessment.

Overall, I can't really recommend it if you want to assess your performance and improvement or race. I don't feel the quality matches the price.

Portable/storable
Cycleops M2 from docherty_b April 14, 2021 


I purchased the trainer around 10 months ago. It was very easy to set up and get going on. I had an initial free trial with Rouvy which was useful to start (around 6 weeks). I then switched to Zwift. I found myself seemingly improving well initially, then on one group ride the training went really tight and I had to re-calibrate. I realized then that my performance improvements were partially down to lack of regular re-calibration. The tightening issue mid ride happened another 2 or 3 times, however since investing in a longer USB cable putting the ANT+ sensor closer to the unit it has not happened.
I changed to a JetBlack Volt direct drive trainer (left review here too) and can now say that the M2 is certainly very accurate when compared against it, you'll not be disappointed.

Easy setup Accurate power Well-built Portable/storable Budget-friendly
Solid Trainer Great Value from G February 23, 2021 


I've had this trainer for one month and have put over 700 miles on Zwift. Initial set up was not smooth, the resistance unit did not bolt to the frame smoothly like I've seen in YouTube videos. I had to use some tools to line up the bolt and push it through before I could torque it down.

Like many other reviews, the clutch knob is too tight. I do two full turns and calibrate. Ride feel is solid, and the hills sting. Can't compare to other trainers, but when I'm riding I don't feel like I'm missing out.

As a trainer I've had a great experience doing workouts and group rides. If you're looking for a solid trainer at a reasonable price this trainer is worth it. I initially wanted the kickr snap but with no cadence and a shorter warranty (1 vs 2) I went with Saris.

Accurate power Portable/storable Budget-friendly
Great affordable Wheel on Trainer from ALF January 24, 2021 


I have had this trainer (Saris M2) for about 10 months and use it with Zwift. I used a "dumb" trainer prior to this on Zwift (for a couple of months) and spending the money for a smart trainer was well worth it. I did find that the knob used to secure the roller to the tire system applied too much pressure when twisted until the ratchet kicked it. After a few blown tires I backed off the pressure of the roller on the tire to about 2 full turns after the roller touches the tire. No more blown tires and no slippage either. The trainer syncs well with Zwift, changes resistance while climbing and descending and has made virtual rides much more realistic. Training sessions are more effective too since the trainer works with the training program to provide the correct amount of wattage for each training segment.

Easy setup Accurate power Realistic inertiaWell-built Helpful support Portable/storable Quiet Budget-friendly
Totally happy with my M2 from AFC December 28, 2020 


I've had my Saris M2 for over a year and have put almost 5000 miles on it. I got mine 20% off at REI ($400). Erg mode works great. Each firmware update seems to improve the road feel (inertia) a little, but it will never be great with the small flywheel (that also makes moving the trainer so easy). Fortunately, most of my riding is over 20mph, so the wheel speed adds some realistic inertia (low speed climbing is where you'll miss the inertia). The clutched engagement knob has worked really well, so I don't need to calibrate very often. I use mine with a regular, smooth road tire and it is quieter than my fans until I sprint. The legs are stable, even when sprinting out of the saddle (950+ Watts). Totally trouble-free and I like that it has cadence built-in (unlike the SNAP). I already had a front wheel block, but Saris should start including one. Also wish I could calibrate within Zwift, but the Saris app works well. Overall, it's a great smart trainer for my uses.

Easy setup Accurate power Realistic inertiaWell-built Helpful support Portable/storable Quiet Budget-friendly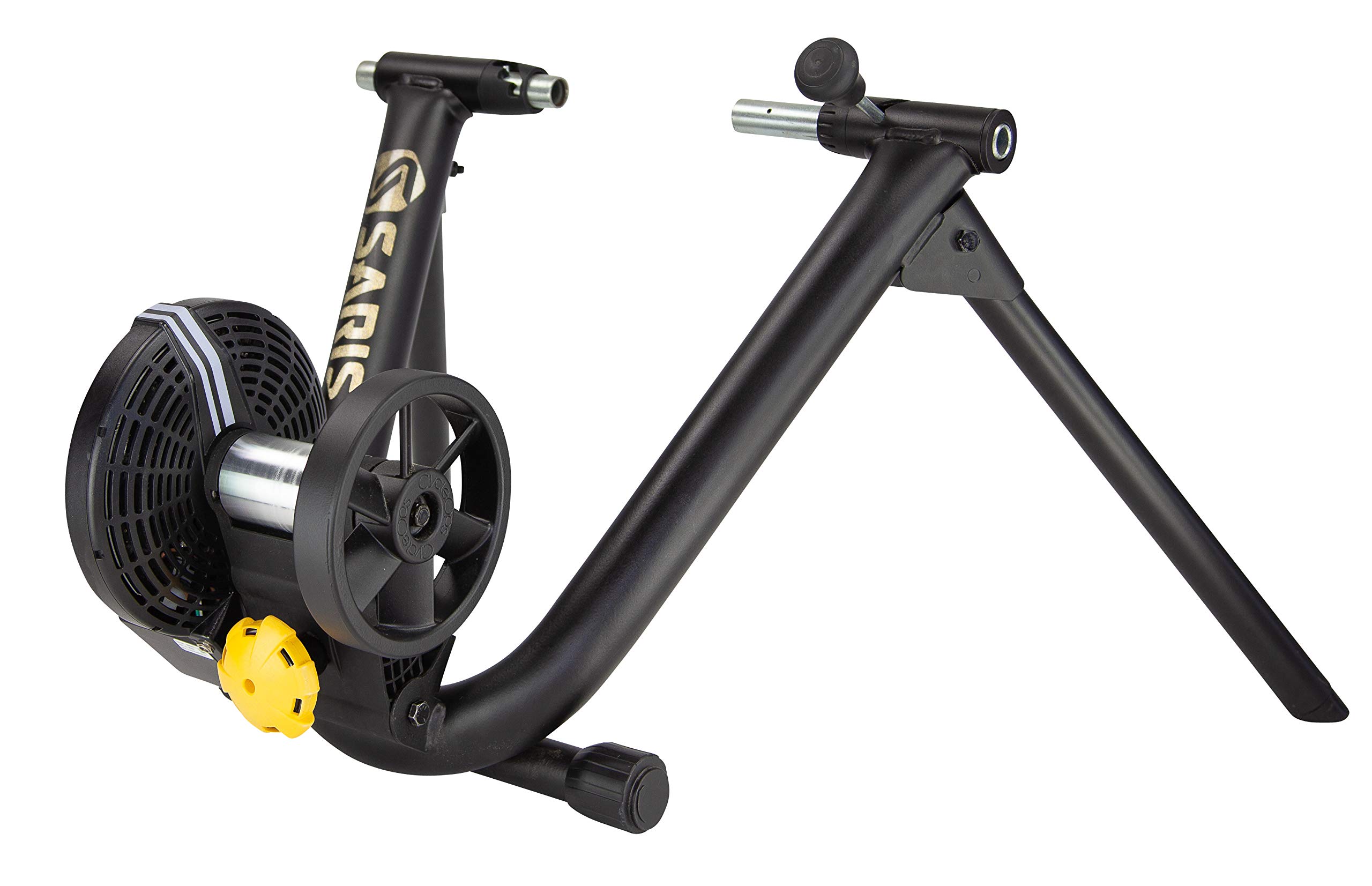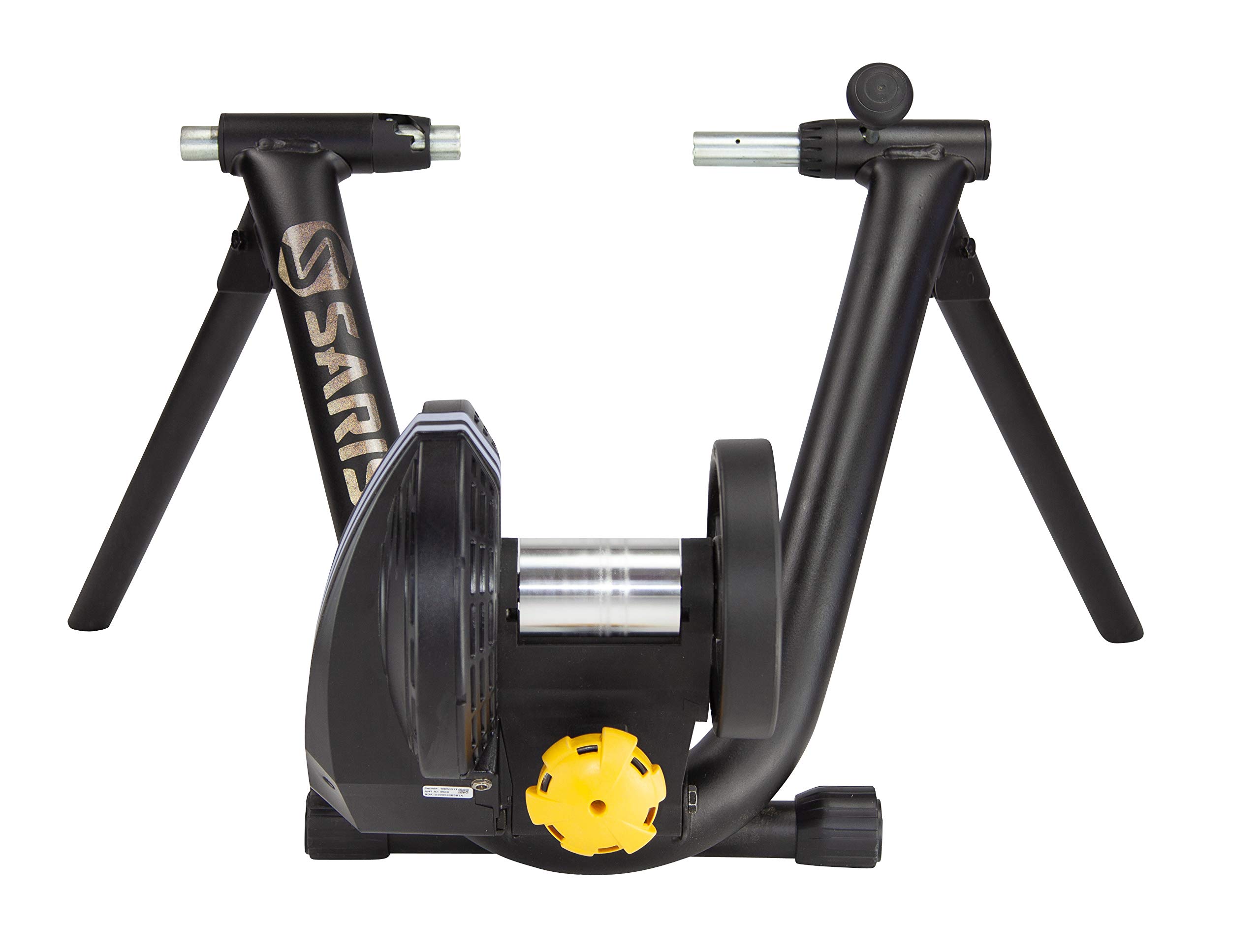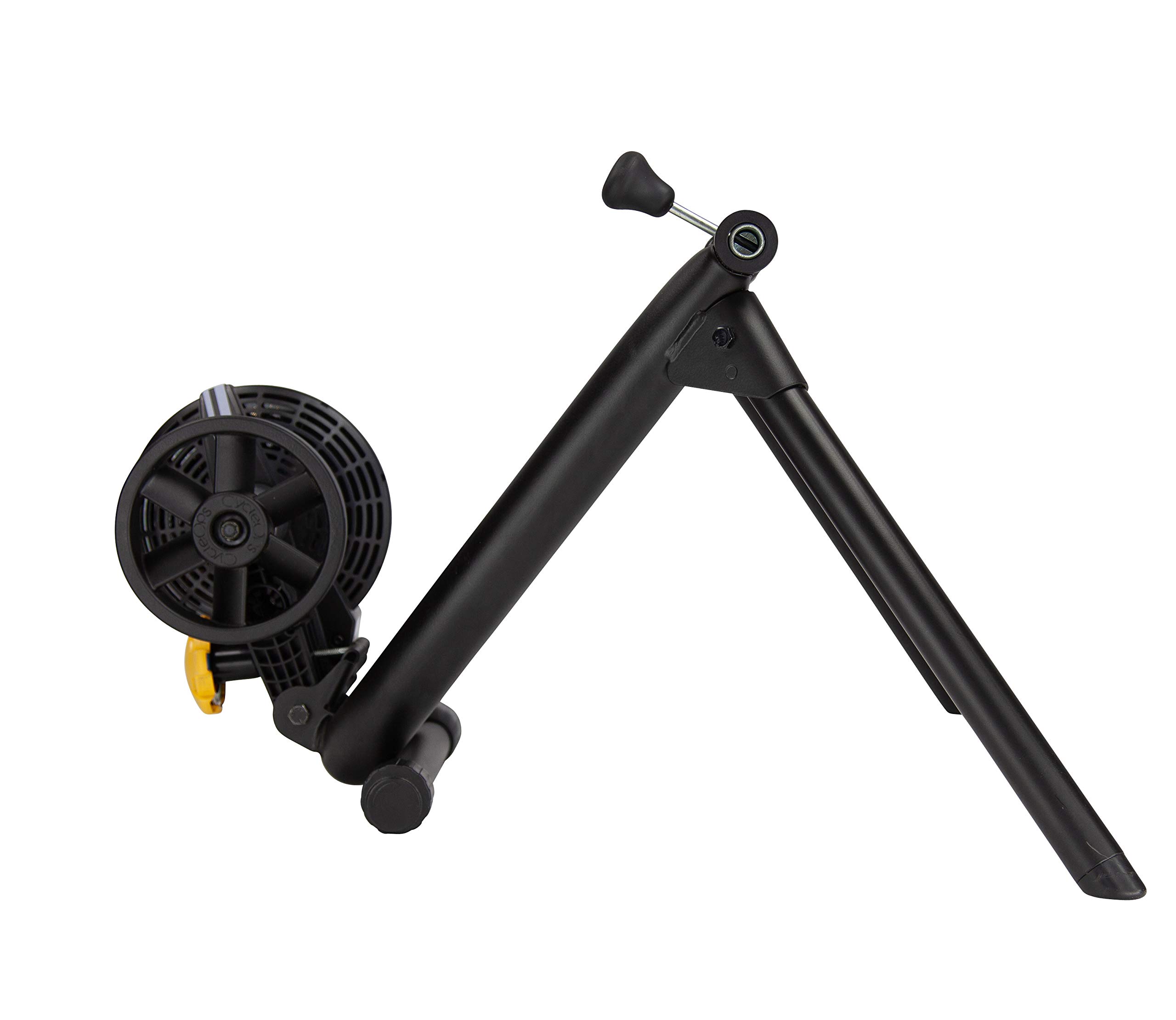 Own this trainer? Post a review!

Good trainer on paper but inconsistent results and clutch knob issues from RugbyMark July 29, 2021 


This is my first trainer and I decided to go for a higher end wheel on trainer rather than more expensive direct drive or less expensive wheel on models. On paper it seems to have all of the features you need, accepting the limitations of a wheel on trainer.

On the first one I received, the clutch knob would not click at all and had to be replaced twice. The second knob causing some damage to the roller due to pressure being too high and the entire resistance unit had to be replaced. Then, a few months where everything seemed fine. I calibrated on every ride and everything seemed fine. Recently, more issues which I thought was with resistance unit but Saris think may be the clutch knob again. Also a burst tyre (Saris trainer tyre which was quite new), pointing at too much pressure again.

Overall, very frustrated and disappointed. The inconsistencies and faults have led to a lot of downtime and also a lot of failed events, missing the end of races for example. I have no confidence in the accuracy and the unit is currently back with the retailer for further assessment.

Overall, I can't really recommend it if you want to assess your performance and improvement or race. I don't feel the quality matches the price.

Portable/storable
Cycleops M2 from docherty_b April 14, 2021 


I purchased the trainer around 10 months ago. It was very easy to set up and get going on. I had an initial free trial with Rouvy which was useful to start (around 6 weeks). I then switched to Zwift. I found myself seemingly improving well initially, then on one group ride the training went really tight and I had to re-calibrate. I realized then that my performance improvements were partially down to lack of regular re-calibration. The tightening issue mid ride happened another 2 or 3 times, however since investing in a longer USB cable putting the ANT+ sensor closer to the unit it has not happened.
I changed to a JetBlack Volt direct drive trainer (left review here too) and can now say that the M2 is certainly very accurate when compared against it, you'll not be disappointed.

Easy setup Accurate power Well-built Portable/storable Budget-friendly
Solid Trainer Great Value from G February 23, 2021 


I've had this trainer for one month and have put over 700 miles on Zwift. Initial set up was not smooth, the resistance unit did not bolt to the frame smoothly like I've seen in YouTube videos. I had to use some tools to line up the bolt and push it through before I could torque it down.

Like many other reviews, the clutch knob is too tight. I do two full turns and calibrate. Ride feel is solid, and the hills sting. Can't compare to other trainers, but when I'm riding I don't feel like I'm missing out.

As a trainer I've had a great experience doing workouts and group rides. If you're looking for a solid trainer at a reasonable price this trainer is worth it. I initially wanted the kickr snap but with no cadence and a shorter warranty (1 vs 2) I went with Saris.

Accurate power Portable/storable Budget-friendly
Great affordable Wheel on Trainer from ALF January 24, 2021 


I have had this trainer (Saris M2) for about 10 months and use it with Zwift. I used a "dumb" trainer prior to this on Zwift (for a couple of months) and spending the money for a smart trainer was well worth it. I did find that the knob used to secure the roller to the tire system applied too much pressure when twisted until the ratchet kicked it. After a few blown tires I backed off the pressure of the roller on the tire to about 2 full turns after the roller touches the tire. No more blown tires and no slippage either. The trainer syncs well with Zwift, changes resistance while climbing and descending and has made virtual rides much more realistic. Training sessions are more effective too since the trainer works with the training program to provide the correct amount of wattage for each training segment.

Easy setup Accurate power Realistic inertiaWell-built Helpful support Portable/storable Quiet Budget-friendly
Totally happy with my M2 from AFC December 28, 2020 


I've had my Saris M2 for over a year and have put almost 5000 miles on it. I got mine 20% off at REI ($400). Erg mode works great. Each firmware update seems to improve the road feel (inertia) a little, but it will never be great with the small flywheel (that also makes moving the trainer so easy). Fortunately, most of my riding is over 20mph, so the wheel speed adds some realistic inertia (low speed climbing is where you'll miss the inertia). The clutched engagement knob has worked really well, so I don't need to calibrate very often. I use mine with a regular, smooth road tire and it is quieter than my fans until I sprint. The legs are stable, even when sprinting out of the saddle (950+ Watts). Totally trouble-free and I like that it has cadence built-in (unlike the SNAP). I already had a front wheel block, but Saris should start including one. Also wish I could calibrate within Zwift, but the Saris app works well. Overall, it's a great smart trainer for my uses.

Easy setup Accurate power Realistic inertiaWell-built Helpful support Portable/storable Quiet Budget-friendly
This has been a great trainer from Cosma Shiva December 25, 2020 


This trainer was purchased as a gift from my wife in early 2020 as pandemic limited my outdoor riding. I have found it to be easy to use and it has worked without major issue for over 5000 miles. The knob at back never 'clicks' you just have to tighten it by feel onto the tire. Also, my quick release axel on my Vuelta rims didn't fit exactly so a few times the bike literally came off the trainer. One time 2/3 up the Alpe the bike dropped off the trainer and I crashed into the desk in front of me. Now i'm the butt of jokes for crashing a bike inside the house lol. I have since found a solution which has worked fine (different axle, imagine that). I haven't used any other trainers but this one has performed fine and allows me to remove my bike for maintenance or to ride outside in seconds.

Easy setup Accurate power Realistic inertiaWell-built
Saris M2 from Angus September 30, 2020 
Easy setup Well-built Budget-friendly
Great trainer for a good price from RobertM September 25, 2020 
Easy setup Accurate power Budget-friendly

Saris M2 – First Smart Trainer from Wardak September 19, 2020 


I have had my Saris M2 Smart Trainer for a couple of months now, and I have greatly enjoyed how it has enabled me to ride during inclement weather and while traveling for work. I live out of a hotel for almost 6 months out of the year and having an easily portable trainer to take with me when working has been incredible for getting me riding more often. The trainer easily connects to Zwift, and has seemed pretty accurate in road feel to my novice legs. However, the Clutch mechanism for accurate tension on my tire seems to be of less than stellar quality. If you have this trainer, then you know about the "L" bolt that attaches to the Clutch Knob... mine is now a "J" bolt, and the Clutch Knob doesn't click until the roller has darn near popped the tire off the wheel. I have ordered a replacement part while I await (2 weeks and counting) a customer support reply from Saris. If the "L" bolt and Clutch Knob worked as advertised I would be over the moon happy with this trainer, as is... not so much. It seems it is a crap-shoot on if this happens to your trainer or not. I am willing to wait abit to see if Saris makes this right, if not, I guess I am out the cost of this trainer and will end up buying something else. The price was attractive for a smart trainer, but you are gambling if you get a bending "L" bolt or not.

Easy setup Realistic inertia Portable/storable Budget-friendly
Saris from jaffe48 September 16, 2020 


Great trainer. Seems to be harder to push 250 watts than other trainers I have tried. Have done calibration and same results.

Easy setup Realistic inertiaWell-built Portable/storable Budget-friendly

Does the job well enough from Lucas September 11, 2020 


Reliable, consistent, and easy to setup. Road feel tends to be a little light and I always feel like my Watts are higher than they should be. Never checked with a secondary power meter but I always feel like I can just keep pushing on this trainer and my numbers are consistently higher than when on other trainers.

Easy setup
Excellent entry level smart trainer from drbll September 9, 2020 


The M2 was my first smart trainer for use with Zwift, it was a huge improvement over my Cyclops Fluid trainer with Garmin speed and cadence sensors. Trainer is smooth and feels good for road feel and climbs. Great gateway trainer on budget.

Easy setup Well-built Helpful support Portable/storable Budget-friendly
Great Value from Ron September 9, 2020 


This wheel-on trainer is easy to set up and easy to use. I set mine up once, calibrated it once, and it has worked flawlessly ever since (for over a year and over 2500 virtual miles).

Easy setup Accurate power Well-built Portable/storable
Goof wheel-on trainer from Mhallang September 8, 2020 


Great little wheel-on trainer. Very responsive, and plenty of resistance, including some 1000 watt 10 second sprints. We've used this with both thru axle and quick release bikes without issue., though I had to buy an adapter for the thru-axle. Also, the knob to tighten the trainer onto the wheel doesn't "click" at the right pressure, which caused me to blow a tube on my wife's bike. It works fine just going 2 turns and then calibrating. In general, it's not without its quirks, but it's solid and we're very happy with it.

Easy setup Well-built Portable/storable Budget-friendly
Good Value for the Money from mmonette September 8, 2020 


I bought this trainer as a "compromise" first trainer for Zwift, not wanting to shell out for a direct drive trainer until I knew more. That was a year and a half ago, and I'm still riding it. It's been a pretty solid investment. It's well built and sturdy - I've never felt like the bike was going anywhere I didn't want. I've only had a couple of relatively minor issues - the ANT+ interface has dropped to 0 power a couple of times (although I generally don't use ANT+ much), and the power plug is just a loose enough that I've had it drop out a couple of times while jumping up for a sprint, even though there's plenty of slack in the power cable. All told, though, I've been pretty pleased and wouldn't hesitate to recommend it as an entry-level smart trainer.

Easy setup Well-built Portable/storable Budget-friendly

Not sure if all trainers work this way? from trailrnr September 8, 2020 


I mostly find the trainer to be okay. However, when going down a virtual hill, the power reads way higher than I think it should. And when going up a steep hill (say, over 8%), it reads lower than I think it should. When I am riding on the road, I can frequently ride at over 300 watts for a minute or so, but if I am going up a steep hill on Zwift, I max out at perhaps 150 watts. My speed seems appropriate, but the wattage reading seem bogus

Easy setup Realistic inertiaWell-built Portable/storable Quiet Budget-friendly
Excellent entry level trainer on a budget from R. Kuhar September 4, 2020 


This was my first smart trainer that I bought to get started on Zwift, with a budget of $600, and the goal being to be able to take my bike off quickly any time I want to ride outside. In this it absolutely succeeds, my bike goes on or off in seconds, and when necessary the trainer folds up for storage.

After over 6,000 miles and about 288 hours of ride time I am very happy with the purchase.

Initially there were some connectivity issues, occasional drop outs and such, but firmware and Zwift updates seem to have resolved the issue; connecting is instant and stable.

The one downside to this trainer, it is a bit noisy compared to direct drive models, but the noise level is still reasonable even at high power (I share a wall with a neighbor right behind me and have had zero noise complaints).

If you are on a budget, or want to be able to swap between indoor and outdoor as quickly as possible, absolutely consider this trainer.

Easy setup Accurate power Well-built Portable/storable Budget-friendly