CycleOps Magnus
Wheel On Trainer

The first version of CycleOps' wheel-on trainer, the Magnus was a solid unit for its price point. It has since been replaced by the M2.
Key Specs
MSRP: $499.99 USD
Accuracy: +-5%
Flywheel: 2.6lb
Max Wattage: 1500 W
Max Incline: 15%
Where to Buy
This trainer is no longer in production, but you may find a good deal on used or old stock.
More Details
Brand:

Saris

Year Released: 2016 (No longer in production)
Axle Compatibility: 130/135mm quick release, 12x142 and 12x148 thru-axle
Requires Calibration
Weight: 11.59kg
Cadence: Built in
Communication: ANT+ and Bluetooth
Physical Dimensions: 19" x 21" (48 cm x 53 cm)
Overall Rating

3.9 stars
based on 17 reviews
Easy setup
94%
Accurate power
47%
Realistic inertia
24%
Well-built
76%
Helpful support
24%
Portable/storable
94%
Quiet
18%
Budget-friendly
82%
First dip into Zwift from jamescolbeck September 28, 2020 


After seeking an entry level smart turbo in lockdown, I came across the Magnus lightly used from a bike-shop as their demo device.

Since acquiring it, I have not had any major problems with the trainer. It is easy to setup and fold back down, being quite compact and able to be set out of the way in our kitchen.

The device itself was very easy to pair with my Macbook Pro and Zwift, following calibration with the Saris app on my iPhone. My process is currently, wake the device up and get the tire warm on the roller and calibrate in the Saris app before pairing with Zwift, seems to have done me in good stead.

I can't say much about the power accuracy, as I don't have a power meter on my bike, but consistency is fairly good (I did have a drop out during the Virtual TDF up Ventoux, which left me spinning a bit, but it came back with force and I made it up!). Due to the light flywheel, inertia isn't too strong, but in riding the trainer provides more than enough resistance (I have managed 1350W sprinting on the trainer and it took it well). However, I can't tell you again whether this is as accurate as it could be.

I got the unit for fairly cheap, but as now it's branded under Saris' banner, I would still recommend it as a strong purchase for a wheel on trainer, as it suits my riding style of short sharp rides of about 50km and sprinting.

Overall, I have got my money's worth from the trainer (and more) and continue to use it almost daily - storage and size being the most important factor as it's not permanently setup in my home.

Easy setup Well-built Portable/storable Budget-friendly

Smartish trainer – not for Zwift racing from pip September 25, 2020 


Basic no frills wheel on trainer.

Good points:
* Its easy to set-up
* Solid frame
* It works well for Zwift training
* Most of its made in the USA, Saris/Cycleops are are solid company with a long history of building trainers.

Meh points - noise and road feel, but thats to be expected for a wheel on trainer.

Bad points:
* Calibration is a pain. Have to warm up the trainer, calibrate and then log into Zwift. Do not feel like it calibrates the same each time.
* Power reporting is constantly 50W less than my other power meter.
* Clutch knob tension is set very high
* Get occasional signal drop-out, where the trainer just reports 0watts for a few seconds. This is annoying in training sessions but destroys the fun of Zwift racing because you can easily get shot out of the back of the pack.

If it broke I would replace it with something else in heartbeat.

Easy setup Well-built Portable/storable Budget-friendly
Works great for me from TTalton September 24, 2020 


Got this as a first trainer on a budget. Got it with a Zwift bundle. Only smart trainer I have had. I have put a lot of miles on it with no issues. The first week I had it I tried to calibrate through zwift and hit some crazy power numbers. Overall at the time of purchase quality budget friendly choice.

Easy setup Accurate power Well-built Portable/storable Budget-friendly
Great introduction to indoor training from ngthompson10 September 17, 2020 


Not being tech savvy, this trainer has been a dream to set up and use! 10months in and 10,000kms and only one little hiccup. Easily pleased perhaps, but very reliable trainer for me.

Easy setup Well-built Portable/storable Budget-friendly
Magnus Trainer from c-helm September 16, 2020 


It is very easy to set up. It appears to be quite accurate. Interestingly I had a Cycle-Ops trainers trainer that is six years old and uses Amt+. I was never really able to calibrate it, but now using the Saris M2 my figures for W and W/kg. are considerably higher. The review suggested that the M2 was accurate plus or minus 3. It is also very reasonably priced at $500 bucks. So far it is a Thumbs up

Easy setup Accurate power Realistic inertiaWell-built Helpful support Portable/storable Quiet Budget-friendly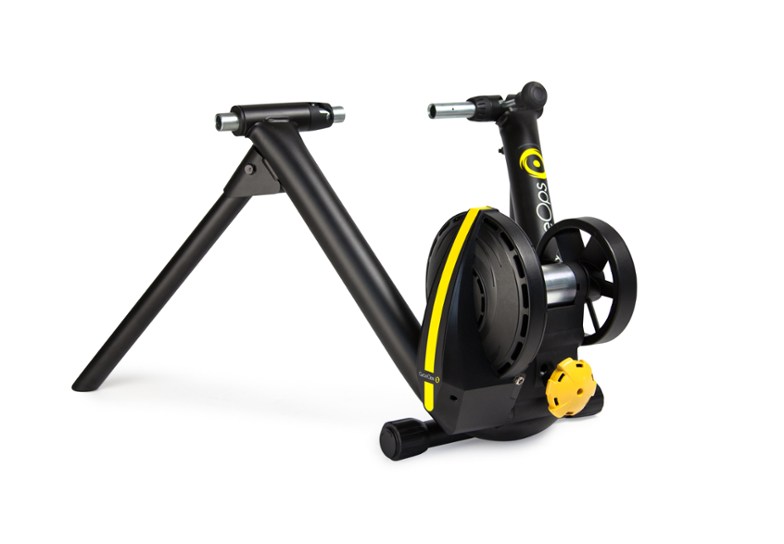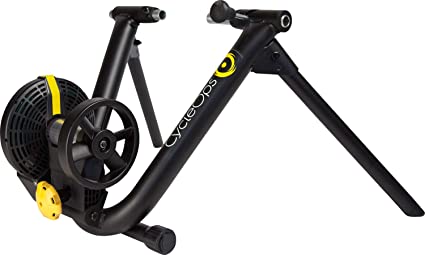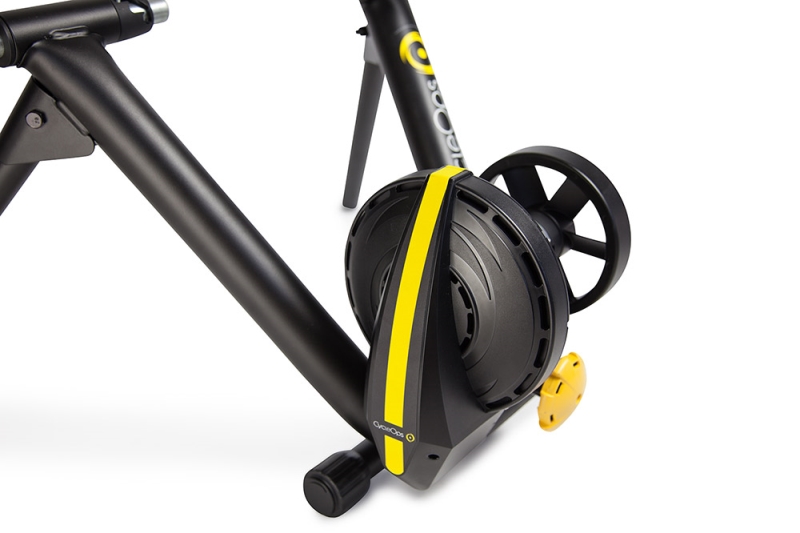 More CycleOps Magnus Reviews
Own this trainer? Post a review!
First dip into Zwift from jamescolbeck September 28, 2020 


After seeking an entry level smart turbo in lockdown, I came across the Magnus lightly used from a bike-shop as their demo device.

Since acquiring it, I have not had any major problems with the trainer. It is easy to setup and fold back down, being quite compact and able to be set out of the way in our kitchen.

The device itself was very easy to pair with my Macbook Pro and Zwift, following calibration with the Saris app on my iPhone. My process is currently, wake the device up and get the tire warm on the roller and calibrate in the Saris app before pairing with Zwift, seems to have done me in good stead.

I can't say much about the power accuracy, as I don't have a power meter on my bike, but consistency is fairly good (I did have a drop out during the Virtual TDF up Ventoux, which left me spinning a bit, but it came back with force and I made it up!). Due to the light flywheel, inertia isn't too strong, but in riding the trainer provides more than enough resistance (I have managed 1350W sprinting on the trainer and it took it well). However, I can't tell you again whether this is as accurate as it could be.

I got the unit for fairly cheap, but as now it's branded under Saris' banner, I would still recommend it as a strong purchase for a wheel on trainer, as it suits my riding style of short sharp rides of about 50km and sprinting.

Overall, I have got my money's worth from the trainer (and more) and continue to use it almost daily - storage and size being the most important factor as it's not permanently setup in my home.

Easy setup Well-built Portable/storable Budget-friendly

Smartish trainer – not for Zwift racing from pip September 25, 2020 


Basic no frills wheel on trainer.

Good points:
* Its easy to set-up
* Solid frame
* It works well for Zwift training
* Most of its made in the USA, Saris/Cycleops are are solid company with a long history of building trainers.

Meh points - noise and road feel, but thats to be expected for a wheel on trainer.

Bad points:
* Calibration is a pain. Have to warm up the trainer, calibrate and then log into Zwift. Do not feel like it calibrates the same each time.
* Power reporting is constantly 50W less than my other power meter.
* Clutch knob tension is set very high
* Get occasional signal drop-out, where the trainer just reports 0watts for a few seconds. This is annoying in training sessions but destroys the fun of Zwift racing because you can easily get shot out of the back of the pack.

If it broke I would replace it with something else in heartbeat.

Easy setup Well-built Portable/storable Budget-friendly
Works great for me from TTalton September 24, 2020 


Got this as a first trainer on a budget. Got it with a Zwift bundle. Only smart trainer I have had. I have put a lot of miles on it with no issues. The first week I had it I tried to calibrate through zwift and hit some crazy power numbers. Overall at the time of purchase quality budget friendly choice.

Easy setup Accurate power Well-built Portable/storable Budget-friendly
Great introduction to indoor training from ngthompson10 September 17, 2020 


Not being tech savvy, this trainer has been a dream to set up and use! 10months in and 10,000kms and only one little hiccup. Easily pleased perhaps, but very reliable trainer for me.

Easy setup Well-built Portable/storable Budget-friendly
Magnus Trainer from c-helm September 16, 2020 


It is very easy to set up. It appears to be quite accurate. Interestingly I had a Cycle-Ops trainers trainer that is six years old and uses Amt+. I was never really able to calibrate it, but now using the Saris M2 my figures for W and W/kg. are considerably higher. The review suggested that the M2 was accurate plus or minus 3. It is also very reasonably priced at $500 bucks. So far it is a Thumbs up

Easy setup Accurate power Realistic inertiaWell-built Helpful support Portable/storable Quiet Budget-friendly
Great Wheel-On Trainer from Dunn767 September 16, 2020 


Trainer is very easy to setup and the clutch knob ensures proper wheel tension every time. Resistance is delayed a second or two in game but i have had no issues otherwise.

Easy setup Well-built Portable/storable Budget-friendly

Good mid-level trainer from cmcneese September 16, 2020 


This gives reasonable power data when properly calibrated. Unfortunately, getting that calibration seems a bit more finicky than other trainers and related apps. It is not quiet or loud, but somewhere in the middle because of the air resistance fins on the flywheel. Road feel falls a bit short of the older CycleOps PowerBeam Pro model that had the the heavier flywheel. A decent trainer, but not up to matching the Wahoo Snap, IMO.

Easy setup Well-built Portable/storable Budget-friendly
Great smart trainer for the money from skuzma September 16, 2020 


The trainer was easy to setup, easy to pair, and works seamlessly with Zwift and other workout apps.
I was suprised at how responsive the trainer is at adding and rmoving resistance so quickly.
It make very minimal noise and has a small foot print.

My only cons for it is thats is a little on the light side, and if you like to stand and do a climb it can get a little more wobbyly than i'd like to push it. Also, the folding legs are very still and can be a pain to retract and release if you need to setup/breakdown after each training session

Easy setup Accurate power Realistic inertia Portable/storable Quiet

1st Smart Trainer Owned from BillyMc September 15, 2020 


It worked fine about 80% of the time. Some times had issues connecting to Zwift, but it was early days of Zwift to be fair. Worse issue was calibration. When it got off it was hard to re-calibrate. I lost it in a flood. For several months before that i had at least 1/2 dozen experiences of the trainer all of a sudden getting so hard to pedal I would have to stop. Probably fixed with firmware update by now (I hope) although mine was up to date until May 2019 when it wound up under water while plugged in.

Accurate power Portable/storable
Very solid trainer from COWolfe September 9, 2020 


I have had my Magnus for a little over a year, and it has been extremely solid. There have been maybe one or two errors, but nothing in the last 6 months. It handles erg mode well, and consistently. As with any lower spec trainer, it does change gradient a little slowly, and the max gradient, especially at slower speeds, isn't ideal, but for the pricepoint, it has been a winner. Calibrating is a bit of a pain, and it has the same downsides as any wheel-on design. I would 100% recommend this to someone who wanted a good trainer, built like a tank.

Easy setup Accurate power Well-built Helpful support Portable/storable Budget-friendly
Work Horse from bvigneux September 9, 2020 
Easy setup Accurate power Realistic inertiaWell-built Portable/storable Budget-friendly
Great Trainer from Serge September 8, 2020 


I purchased this as my first smart trainer and couldn't be happier with my choice. The unit is super easy to use and works with Zwift perfectly

Easy setup Well-built Portable/storable Quiet

Magnus from Sjp September 6, 2020 


I own 2 Magnus. I have a couple of thousand miles on them. I found them to be reliable and consistent calibration. Couldn't run over 50% trainer difficulty on steep grades such as radio tower climb.

Easy setup Accurate power Portable/storable Budget-friendly
Great value for money from rgcastro7 September 5, 2020 


I've had my CycleOps Magnus for 3 years and about 13,000 km virtual kilometers. It's been trouble-free, consistent, and easy to use. Calibration is easy and fast, resistance changes are normally handled quickly, but big changes in ERG mode can sometimes take up to 7 seconds if you're not delivering steady power when the command gets to the trainer.

I would buy this again, though I might consider a Wahoo direct drive option for the next one due to wanting Kickr Climb compatibility. I can't comment on support because I haven't needed any yet.

The Magnus has now been replaced by the M2.

Easy setup Accurate power Realistic inertiaWell-built Helpful support Portable/storable Budget-friendly

Good for training, not for outdoor feel. from email September 4, 2020 


If you just want a decent trainer to get you in shape this will do it. You may get some tire slipping with wheel on trainers so its not quite like riding outdoors. The small flywheel is enough for getting in a workout but not for real world inertia. I would have no problem recommending this one for lower cost fitness focused people. Jump on spin for an hour and done. This one does connect power, speed & cadence all in 1 bluetooth connection.

Easy setup Well-built Helpful support Portable/storable Budget-friendly
Great Entry Level Trainer from drmiles August 27, 2020 
Easy setup Budget-friendly
Good, solid, inexpensive wheel-on trainer. No complaints after 2 years. from hilbert August 27, 2020 


This is the only smart trainer I've ever had, so I can't really make comparisons. But, in the almost 2 years I've been using this trainer, I haven't had any issues with it at all.

Set up is relatively easy. I connect it to my computer via Bluetooth and haven't had any drop outs. It folds up fairly small, so it's easy to move. I've brought it on a couple vacations. The stated power accuracy is good, although I don't have a second power meter to compare it with. See the DC Rainmaker review linked below, where he tested the power.

As with all (I think) CycleOps trainers, you have to calibrate the Magnus using the Rouvy app. For some reason the roll down doesn't work on Zwift. The main reason I initially bought this is that I found it on sale and was excited to get into Zwifting with a smart trainer, but without spending twice as much, which is what the direct drive trainers were going for at the time.

Here is the DC Rainmaker review that I used as one of my main sources when deciding to buy the Magnus: https://www.dcrainmaker.com/2016/08/cycleops-magnus-trainer.html

Easy setup Well-built Portable/storable Budget-friendly