SISU Racing announced two exciting race series last week which are worthy of a special mention due to their innovative formats. Separate 5-stage Men's/Mixed and 3-stage Femmes (women's) series will be replicating classic 2022 Tour de France (TDF) stages in Zwift at the same time as the world's top pros are fighting it out in the IRL races!
The Big Idea
SISU Racing le Tour Men's/Mixed includes a Grand Depart group ride through the French countryside and five race stages, including an ITT on Stage 1, Alpe du Zwift on Stage 4, and the iconic finish on the Champs-Elysées on Stage 5.
SISU Racing le Tour Femmes is a three-stage series, with Stage 1 on the Champs-Elysées, Stage 2 through the champagne countryside of Douce France, and finishing with the Queen Stage, a mountain top finish on the La Reine course in France.
Route Details – Men's/Mixed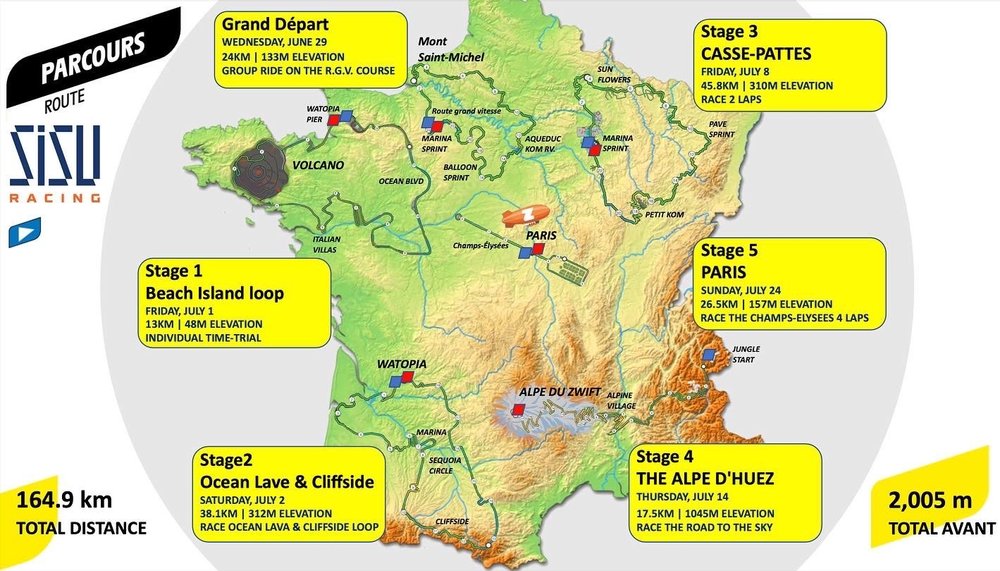 See all upcoming events at zwift.com/events/tag/sisuracingtour
Route Details – Women's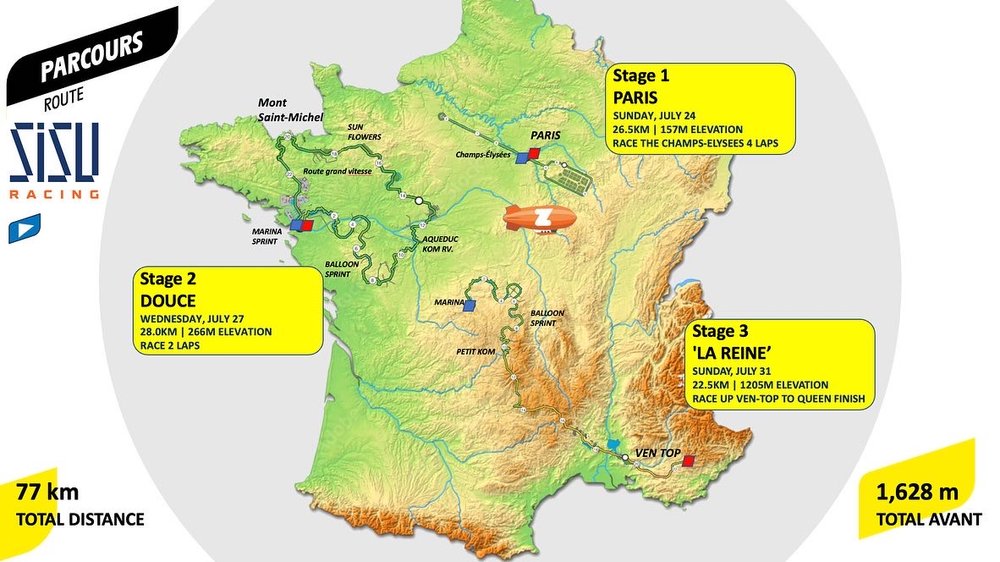 Stage 1 (Sunday, July 24) Champs-Elysees x4 – 26.5km, 157m elevation
Stage 2 (Wednesday, July 27) Douce France x2 – 28km, 266m elevation
Stage 3 (Sunday, July 31) La Reine – 22.5km, 1205m elevation
See all upcoming events at zwift.com/events/tag/sisuracingtour
Important Rules
These races use Zwift's new category enforcement rules to enforce a minimum category for each rider.
A heart rate monitor is required to be included in the results; Z power riders will be removed from the results. Event results and GC standings will be available on ZwiftPower.
Need More Info?
Complete information is available on the team website, including all stage details, rules, and Zwift Event links (events are also available in the Companion app).
Questions or Comments?
Share below!