The London course's "PRL Full" route is meant to mimic the distance (but not the full course) of the real Prudential RideLondon-Surrey 100.
Route Basics
Length: 173 km (107.5 miles)
Elevation: 2290 m (7,513')
Lead-In: 0.5 km (0.3 miles)
Map: London
Start & Finish
The route begins at the standard London start/finish, but ends on the red asphalt of the Mall at the forward sprint.
Achievement Badge: 3460 XP
Route Description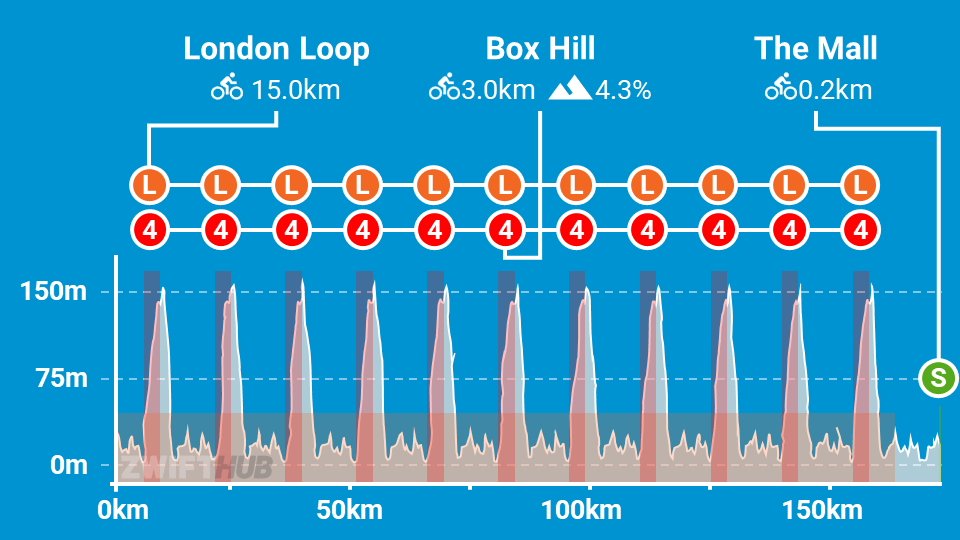 Route profile by ZwiftHub – the place to plan and track your route achievements!
This route takes you on eleven circuits of the "London Loop", then turns around at the Surrey roundabout and heads towards the sprint and finish banner on The Mall.
Although we can't seem to find numbers for the IRL course, it appears that Zwift's version has significantly more elevation gain than the real-life course. (The 2013 course had a gain of 6,167′.)