Editor's note: Monica is undertaking the "Couch to Route Hero" challenge of riding all 67 "free-ridable" Zwift routes (and getting all the badges) in 11 weeks. Each week she shares her story of the previous week's struggles and accomplishments. Follow along on her journey, take the challenge yourself, and be sure to give her a Ride On if you see her on course!
---
Looking at the schedule for this week was daunting. But I took it one day at a time. As each difficult ride ended I realized more and more that I'm the most amazing cyclist in the world!
The difficulty of this plan ramped up very quickly. Last week included four days of mild riding, with one day that had a 3 bidon route in it. THIS week was a 3 bidon, a mild ride, a 3 bidon, a mild ride, and then my first 4 bidon! My legs and my heart can't understand what's happening to them right now.
How the Week Played Out
I added 7 more badges to my stash! 23 down, 44 to go. I'm getting there!
This week I rode 98.12 miles, climbed 8,360 feet, with 7 hours and 52 minutes in the saddle. In about 12 weeks this quest ends with the PRL Full route. Oddly enough, this week's entire effort looks similar to that one final PRL Full ride. Lord, have mercy!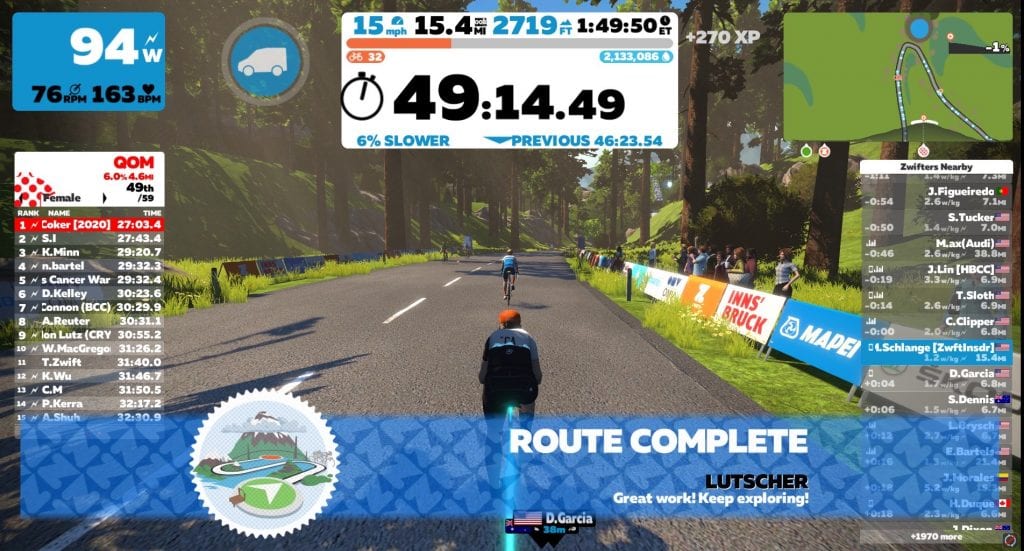 Routes I completed in week 3:
Lutscher
Lutscher has got to be some cruel joke someone at Zwift HQ is playing on all of us. The lead-in to the segment is a climb to the top of the ~1400′ Innsbruck KOM. which means to finish the route you end up climbing the KOM a second time! "We get it ZHQ! You have all the power!"
The ride started out painful enough… climb, climb, climb. I hoped to entertain myself and maybe others too so sent a message to those on the mountain with me. "Anyone else feel like it's going to be your resolve that gets you up this mountain more than your legs?" Two guys agreed. And from there it was a conversation of encouraging each other up the climb. Or distracting each other. Either way, it worked! What a way to start the week!
Is there anybody out there?
For my four bidon route I decided Watopia's Three Sisters would do. About 3 miles into my ride I realized I hadn't received a single Ride On. Strange! I did some poking around to make sure nothing was wrong on my end of things. And then I remembered… I'd noticed this had happened once the week before. My Ride Ons didn't show up until the end of my ride.
I didn't really know how much I enjoyed giving AND receiving them until it was a big fat zero. Especially on a long ride! This may seem silly, but oftentimes I'll say the name of the person who gave me the ride on, and/or will salute and then push myself just a bit more. So riding without them was sad. AND I wasn't getting extra Drops from them either! "Add this to the list of changes that need to be made, ZHQ. Remove lead-in for Lutscher, and let Monica see her Ride Ons during her rides. kthxbye."
As I rode up the Epic KOM in Watopia another rider reached out asking what route badge I had picked for the day. He was doing the same one! It was fun to keep in contact. At times I'd even watch his ride as he was much faster than I. It was entertaining!
When my ride was over I checked the saved activity in the Companion app. I had received over 200 Ride Ons!!! I knew I was well-loved!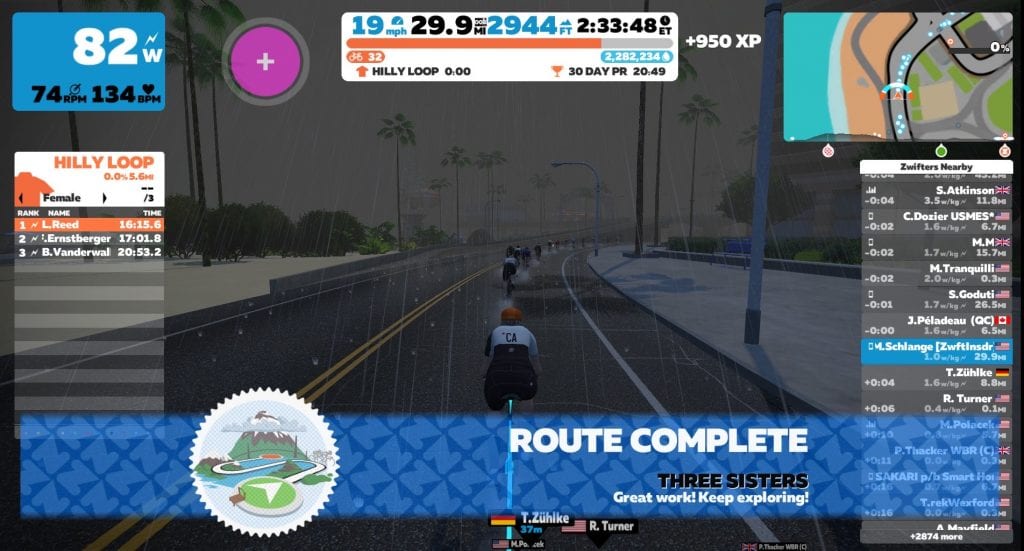 How about you?
Which routes did you do? Did you make any new friends during them? Did you find out you're ALSO the most amazing cyclist in the world? I know I'm not the only one standing at the top of this, the world's largest podium!