Zwifter Cory Miller recently sent in this question:
Any plans to conduct a speed test for a course like Road to Ruins where you've got a mix of tarmac and gravel/dirt and how over the course of that… well, course, one of the faster road setups would fare against faster gravel or MTB?
This is one of those things I've considered doing, but haven't gotten around to. (It's been "on the list", as they say.) Thanks to Cory's inspiration, this week I decided to do some Road to Ruins tests… for science!
Why Road to Ruins?
Road to Ruins begins in downtown Watopia, but makes its way out to the Jungle Circuit before coming back home. Since the Jungle dirt rolls much slower for road bikes, we're left with the question: would it be faster to ride a mountain bike on this route? Or perhaps a gravel bike?
If you don't understand how or why different bikes roll at different speeds on different surfaces in Zwift, check out Crr and Watt Savings of Zwift Wheel Types
About the Tests
For our tests we completed one lap of Road to Ruins using a 75kg rider, 183cm tall, holding 300 watts steady in an isolated environment (so no other riders to draft). We tested three different virtual bike setups:
Road: Zwift Aero with Zipp 808 Wheels
Gravel: Cervelo Aspero
MTB: Specialized Epic
We chose the Zwift Aera/808 combination because it's a decently-fast road setup that is available to most Zwifters. The Aspero and Epic were selected because they are among the best performers in their classes.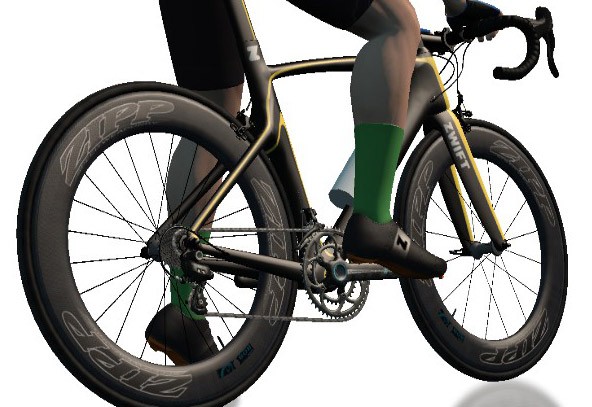 Selecting other bikes would have changed the results slightly, but would not have changed the overall rankings – not even close! Using different rider weights or power numbers for the tests would have changed the timings as well (obviously) but would not affect the overall rankings, either.
Test Results
Cory (who submitted the original question) made this guess about what the tests would conclude:
My gut tells me that IRL, a gravel setup on a course like Road to Ruins gives you the best of both worlds, but that may not play out quite the same in Zwift, especially because it seems as though the MTBs are significantly better on dirt than gravel [bikes]. My guess is that your test might bear out that mtb/gravel are about the same for Road to Ruins and road is superior overall just because of the ratio of road to dirt on that course.
Simply put: Cory was right! Here are the Road to Ruins lap times for each of our setups:
With only 8.7km of the 29.6km route being dirt, the road bike has more than enough tarmac time to make up any time lost to the gravel or MTB setups in the dirt.
Here are two quick videos showing Strava time comparisons between the road bike and the other two bikes, so you can see exactly where each bike gains and loses ground:
Road Bike vs Gravel Bike
The gravel bike passes the road bike and actually gets ahead by 23s before the dirt ends and the road bike gains again. In the end, the gravel bike finishes 27s behind the road bike.
---
Road Bike vs Mountain Bike
As we would expect, the MTB loses more time to the rode bike than the gravel bike did – but it also gains more time in the dirt, because the MTB rolls faster in the Jungle dirt than the gravel bike. Still, the MTB only manages to get 2s ahead of the road bike before the dirt ends and the road bike takes back all those gains plus more, finishing 84s ahead of the MTB.
Bike Swapping
This test wouldn't be complete without trying one other approach: the bike swap! If you're not familiar with how this works, the idea is that it may make sense, on a mixed route like Road to Ruins, to change bikes mid-ride, swapping to a bike that will go faster on the upcoming road.
(Some Zwifters don't want to hassle with swapping, and I get that. Personally, I find it interesting and fun – where else does a mountain bike get to zip past packs of hard-charging roadies? But to each their own!)
Since we know that the road bike is fastest on pavement, and the MTB is fastest on dirt, we can easily formulate a smart swapping strategy to test. Road to Ruins goes into the Jungle then comes back out onto pavement, so when we hit the Jungle dirt we'll swap to the MTB, then once the dirt ends, we'll swap back to the road bike.
Using this strategy, our lap time went from our previous best on the road bike (50:06) to 49:24. A savings of 42 seconds (see it on Strava)!
Here's how that test compared to our previous fastest time on the road bike:
Bike Swap: Road Bike + Mountain Bike
Swapping Gotchas
There are three "gotchas" worth mentioning when it comes to bike swapping. First: you have to stop moving in order to change bikes. Using our method for changing bikes quickly, you will still probably lose 12-15 seconds each time you swap, if you do it smoothly. Practice makes perfect.
Second: you will want to accelerate hard after you stop for the bike swap, to get back up to speed as quickly as possible. Plan on 10-20s of hard effort before you settle in.
Third: if you're going against packs of riders in a double draft race, the MTB probably won't provide enough of an advantage on the descents. (I discuss this more in this post.) I would recommend staying on your road bike and sitting in the draft until you begin climbing after reaching the bottom of the Jungle. This lets you benefit from the double draft on the fast descent (where drafting matters much) as well as over the wood and paved portions at the bottom of the Jungle, where road bikes roll faster than mountain bikes.
Conclusion
An aero road bike setup is your best best when racing Road to Ruins, unless you're up for being a little crazy and doing a bike swap.
Wondering if you should choose a climbing bike or an aero bike for this route? Go aero, for sure! Simply choose the most aero frame and wheels available to you.
Your Thoughts
Questions or comments? Share below!