The more you ride indoors, the more you'll feel the need for certain accessories that aren't necessary outdoors: fans, sweat towels, desks, etc. These aren't major purchases, but they still pay off big in helping you train your best.
This is the second post in a series covering recommended accessories for new Zwifters (see our first post covering fans here). Today, we're talking about one of those accessories you don't think about when starting up on Zwift… but once you have it, you won't know how you lived without it!
The table. The training desk. The indoor cycling media platform.
Whatever you call it, it's essential if you Zwift using an iPad or laptop… and simply very very handy if you're riding on a big screen using Apple TV or PC/Mac. They can hold a keyboard, towel, bottles, snacks, remotes, phones, small fans… you get the idea.
New Zwifters often begin with a repurposed stool or music stand next to their bike, but these solutions aren't the most stable or roomy. If you're ready to upgrade, we've got your back. Here's our short list of recommended indoor cycling tables for Zwifters.
The Budget Approach: KOM Cycling Media Display
At $99USD, this table is significantly cheaper than the Wahoo Desk or its bargain-basement competitors. The folks at KOM Cycling know how to see a need in the market and produce well-conceived, affordable solutions. Their Indoor Cycling Desk is no exception.
The stand is a generic collapsable tripod type, and the tabletop itself is a non-slip rubber and includes two bottle holders and a slot for tablets or phones. Bonus: the tablet/phone slot is actually wide enough to accommodate devices with cases, unlike the Wahoo Desks!
The tabletop isn't quite as large or sturdy as the Wahoo Desk designs, but it's lighter, less bulky, and easier to move around. Works nicely as a side table if that's more your speed.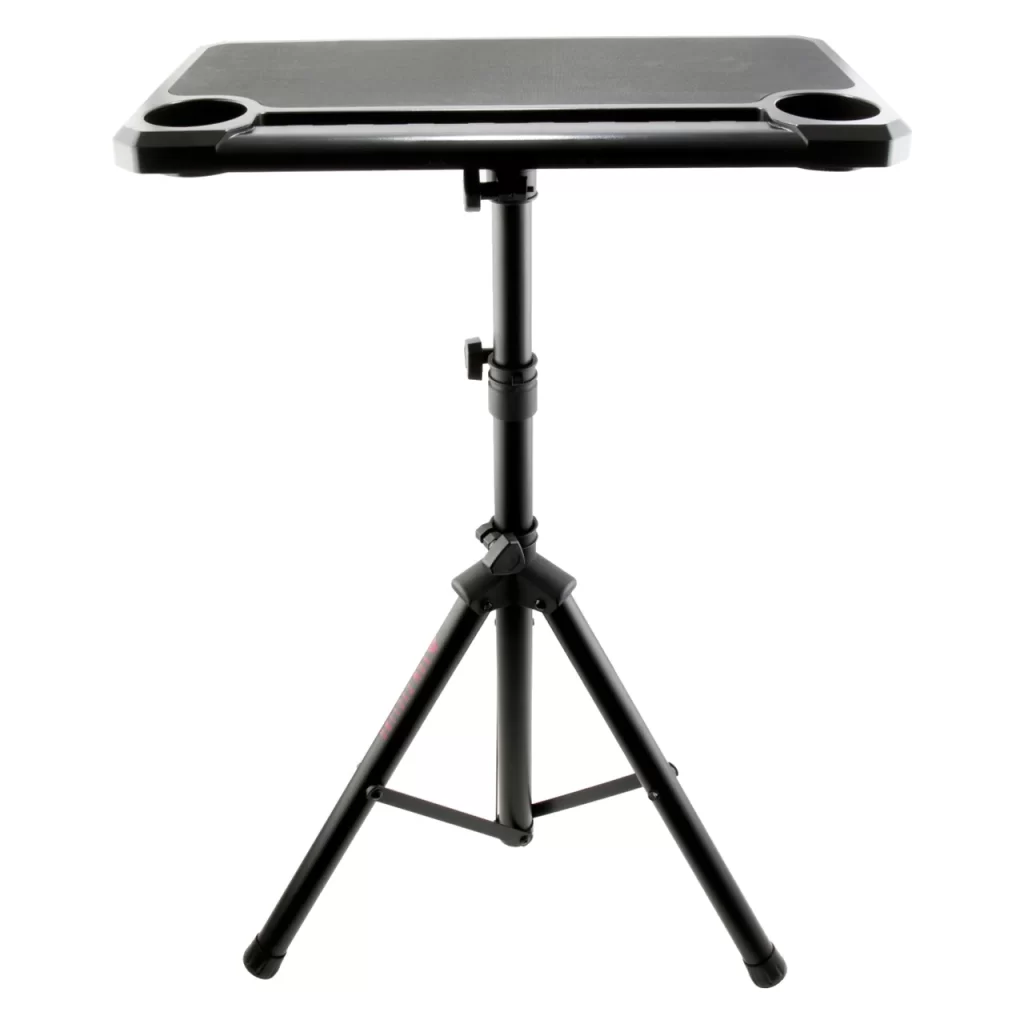 Pros:
Low price
Small footprint
Device slots that work with cases
Goes extra high (50″)
Cons:
Less beefy/strong than some desks
Smaller table surface
The Dark Horse: Medical Overbeds
It's always smart to see if products are already being produced to meet other needs before purchasing or developing a product to meet your more specialized need. Bedside tables, sometimes called "medical overbeds", are sturdy, adjustable-height devices sold in huge numbers worldwide. There are a variety of makers and models, but they generally have similar designs, with different finishes.
The Vaunn Bedside Table (shown below) is one of the lower-priced models. A quick search on Amazon brings up other alternatives like the clean-looking SANODESK or the Vive Overbed Table.
Note that these tables don't include the non-slip rubber surface or bottle holders. Another potential downside to medical overbeds is that, unlike other tables in this list, most overbeds only go up to 40″, so they won't be taller than your road bike's hoods. That may or may not be an issue for you, depending on your preferred setup.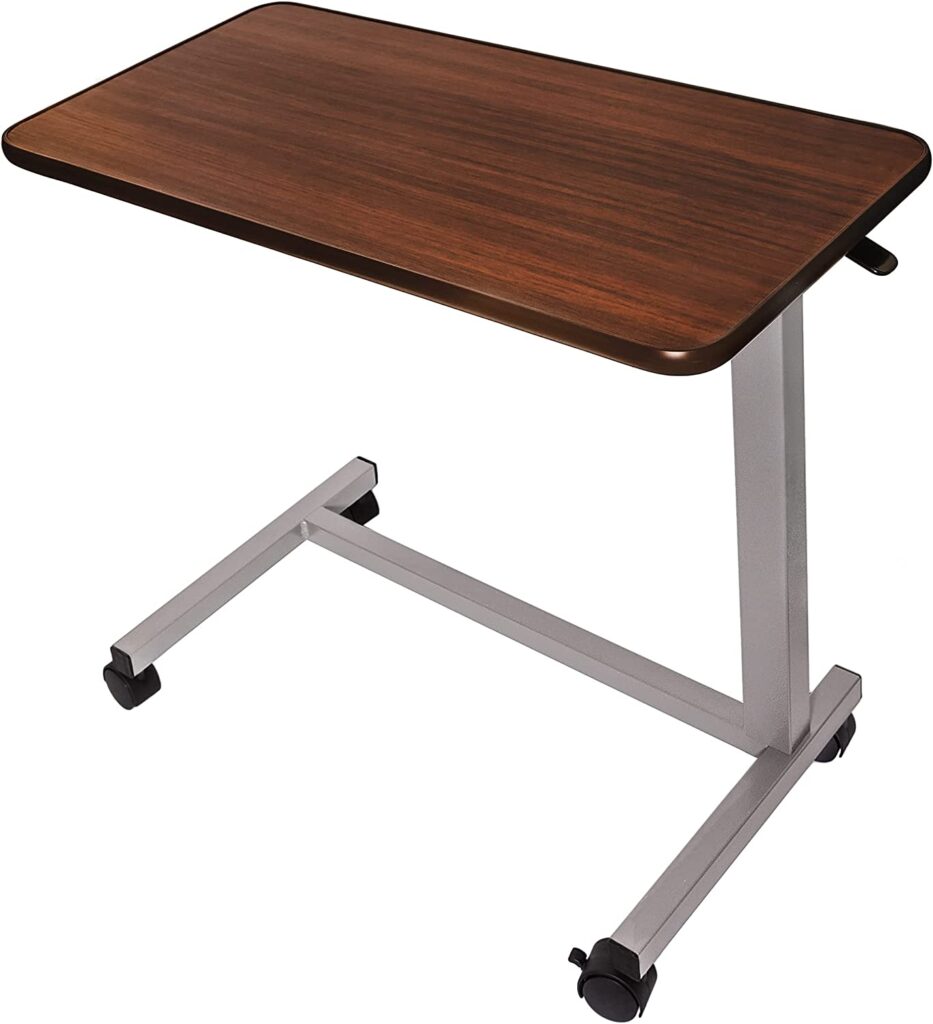 Pros:
Low price
Sturdy
Locking wheels
Cons:
Slipper top surface
No bottle holders or other slots
Only goes up to 40″ high
Budget Wahoo: RAD Cycle Products Desc
The RAD Cycle Products Desk is a blatant Wahoo Desk ripoff, but it's also half the price (or less!), making it hard to ignore.
Prices on this desk tend to fluctuate, but it's currently $160 on Amazon, and the Lifeline-branded version (which appears to be identical) is $69 on Chain Reaction.
Don't expect build quality to match the Wahoo Desk. The casters aren't very heavy duty and in fact make the table more wobbly than some may prefer (you might just remove them) but in general, this desk is sturdy and functional, making it hard to justify the additional expense of the Wahoo Desk.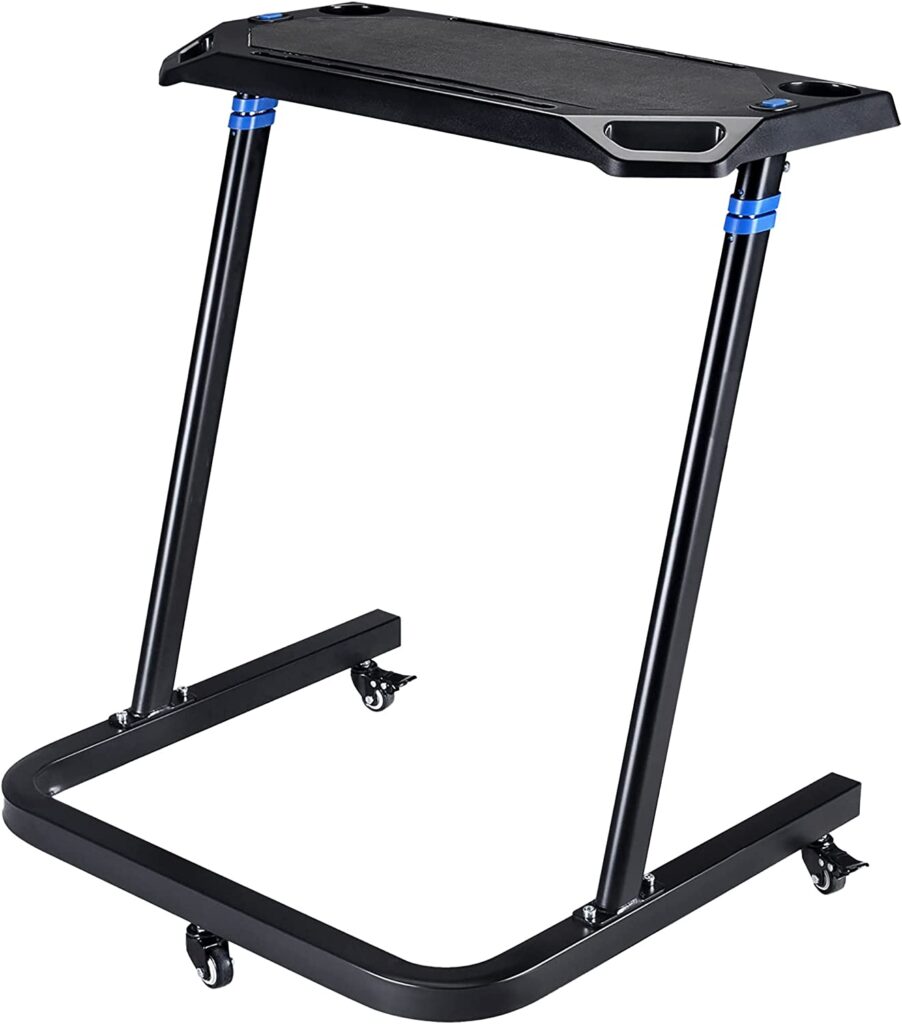 Pros:
Low price vs Wahoo desk
Sturdy
Roomy tabletop
Cons:
Poor built quality vs Wahoo Desk
Tablet/phone slots don't work with cases
Premium Solution: Wahoo KICKR Desk
Like they've done with fans, Wahoo's desk solution is a premium offering in this space. Now priced at $299, the Wahoo KICKR Desk is well-built and stable. We would prefer bottle holders, lockable wheels, and a table/phone slot that was wide enough to accommodate cases. But apart from those issues it's a solid product, even though it's pricey.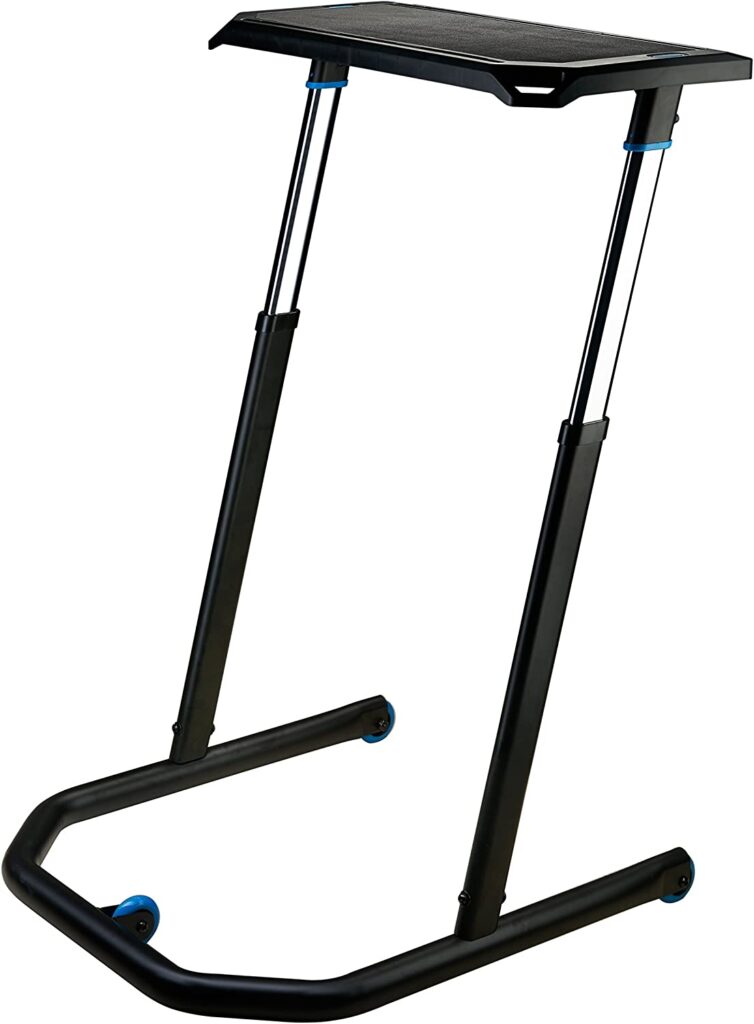 Pros:
Good build quality
Roomy tabletop
Smooth-rolling wheels
Cons:
No water bottle holders
Pricey
Tablet/phone slots don't work with cases
Upgrade Your Desk
If you have a Wahoo-style desk, our favorite Aussie Lama has some sweet tips for customizing your desk to make it the "Ultimate Indoor Cycling Smart Desk":
Questions or Comments?
Post below!