The final race of Zwift Racing League season 4 happened this week. It was the Queen Stage of the season, with A/B riders hitting Yumezi's Temple KOM three times over the course of the event on the Countryside Tour route.
My team (the DIRT Roosters) were seated in first place in the EMEA W B3 division, with our close rivals the Vikings just three points behind. That meant as long as we finished within a few spots of the Vikings, we would take first overall.
But this was a climby course, which is not our team's strength. So we knew this wouldn't be an easy race. We would have to push it to the max, both strategically and physically, to place as high as possible.
The Warmup Discussion
My typical race day preparations happened at their prescribed times: beet juice a couple of hours before the race, then three pieces of caffeine gum an hour before, and PR lotion on the legs before kitting up and heading out with C. Cadence and her roadies for about half an hour.
Today's warmup was occupied with discussions of bike choice and race strategy over Discord with my team. To swap or not to swap? Should we start on gravel bikes?
We'd been bouncing ideas back and forth for a week, and here we were 30 minutes before the race began, still making decisions. In the end, we decided to go with what we had decided a few days earlier. Here are the basic points of our strategy:
Nobody starts on gravel, because it was too risky. We couldn't afford anyone getting dropped early.
Our sprinters (including myself) would contest the first sprint, going for FTS and FAL points on what would certainly be the fastest time through the sprint segment.
We might push hard after the first sprint in order to (hopefully) drop some of the riders who had bravely started on a gravel bike.
Antoine, our strongest climber, would swap to gravel on the first KOM to attempt an FTS (and maybe FAL) grab. He would then attempt to swap back.
I would be swapping to gravel on the last KOM, just to get a bit of an edge that last time up. I would start on the Cervelo S5 2020 + Disc combo, for maximum advantage in the sprint.
The Start: Strategic Silliness


One thing that made this race interesting was how much everyone was wondering what everyone else was riding. So the Roosters decided to be a bit silly and enter the pens on bikes nobody would ever choose! I went with my Safety Bike.
This had the benefit of not letting the competition know what we were riding (we waited until the race was about to start before swapping to our real bikes). But we thought it might have the interesting result of racers actually seeing our funny selections during the race, due to the way Zwift caches bike selections for other riders.
We're not sure if it worked, but we loved the idea that it might.
We saw some gravel bikes in the pens, but mostly Trons. And before we knew it, it was time to start!
The pace out of the pens wasn't very hectic – I averaged just 250W for the first 5 minutes. Everyone knew the KOM would be where things split apart.
I was just sitting in, listening to the Belgians on our team chatting (not in English), when suddenly teammates Clem and Thomas jumped off the front of the peloton. We were still 1 kilometer from the sprint… what was going on?!
It took our DS Ally by surprise too. "Oh Clem, are you, are you going now? Wow…"
But here's the thing: it worked! Clem and Thomas jumped away, and nobody was able to catch them. The rest of us stayed in wheels, waiting for the right time to start our sprints. In the end Clem and Thomas were first across the line, and we picked up a pile of FAL and FTS points as well. Their attack had surprised everyone, putting them on the back foot. And we took full advantage of it.
The Real Work Begins
We were happy with how things started, but we knew the real work was up the road. Three times up the Temple KOM. As we hit the dirt at the base of the climb, Antoine pulled over to do his bike swap. And I steeled myself for a hard effort, knowing a key selection would happen here on the first lap. If I could stay close enough to the front pack, I would be able to grab some sprint FAL points down the road. But if I found myself in a chase group with 10 or more riders ahead, there wouldn't be any sprint points for me to grab.
So I went all in. I finished in 13th place, teammate Arjen just ahead, rival Viking Hogseth on my wheel, and the strongest climbers strung out well ahead. I set a new PR of 6:47 on that climb (my previous best was 7:16). But our captain Antoine destroyed the climb on his gravel bike, finishing in 5:58 for the fastest KOM time on the day… or so we thought!
Soon enough I found myself in the main chase group behind the front peloton, with just a solo rider or two ahead of them. My chase group held positions 8-15 (approximately), but my legs were knackered, so there was no way I could chase riders ahead. DS Ally was on Discord telling us the race situation: Antoine was in the front group with one Viking, while I was in the chase with two Vikings. Ally was even tallying points, convincing us that we were in a good position and had to keep fighting. Every point matters…
It was all about finishing points now, except for Antoine, who was in a position to grab some KOM or even sprint points.
Wash, Rinse, Repeat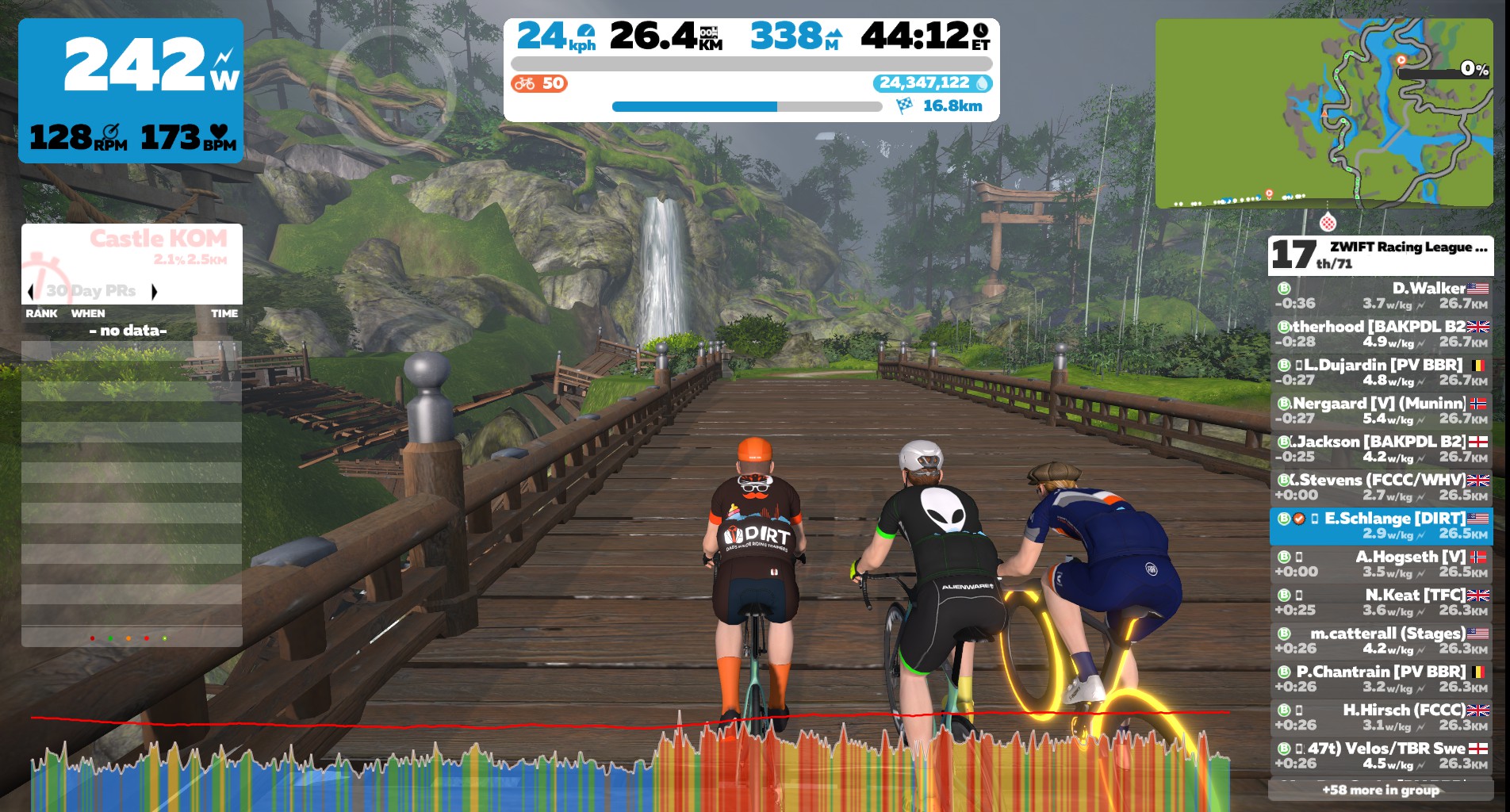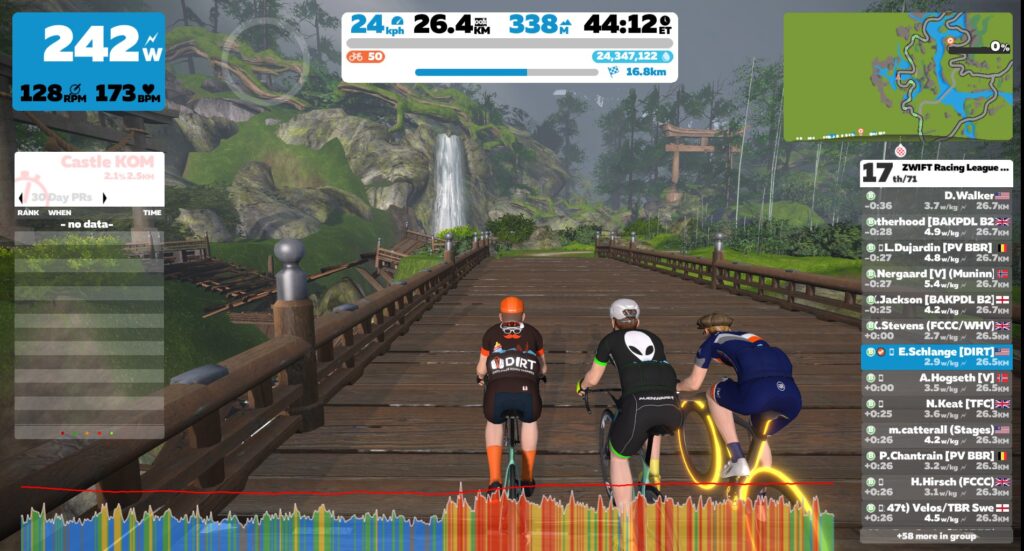 The second KOM was easier than the first. Not that it was easy, but I certainly didn't power in my legs from lap one. So I just tried to ride a sustainable pace, without letting the Vikings' Hogseth get away. (We've found ourselves in the same race packs repeatedly this season, and it's been a lot of fun battling it out each week!)
I was in a group of only three riders after the second KOM (places 15-17). We got caught by a pack from behind, that included teammate Arjen, then we caught Antoine who was up the road toiling away on his gravel bike with one other rider.
Soon enough, it was time for the final KOM. I had practice my bike swap for maximum efficiency: wait until the road slopes up. Hit "A" until I'm almost entirely stopped, then Esc, then T, Enter, two arrow keys up, Enter, and start pedaling.
I thought that's what I did. But I somehow hit my arrow keys one too many, ending up on the Aeroad instead of the Grail. And I started pedaling before I realized it. Nooo! Now I had to stop pedaling and come to a stop before I could pick the right frame.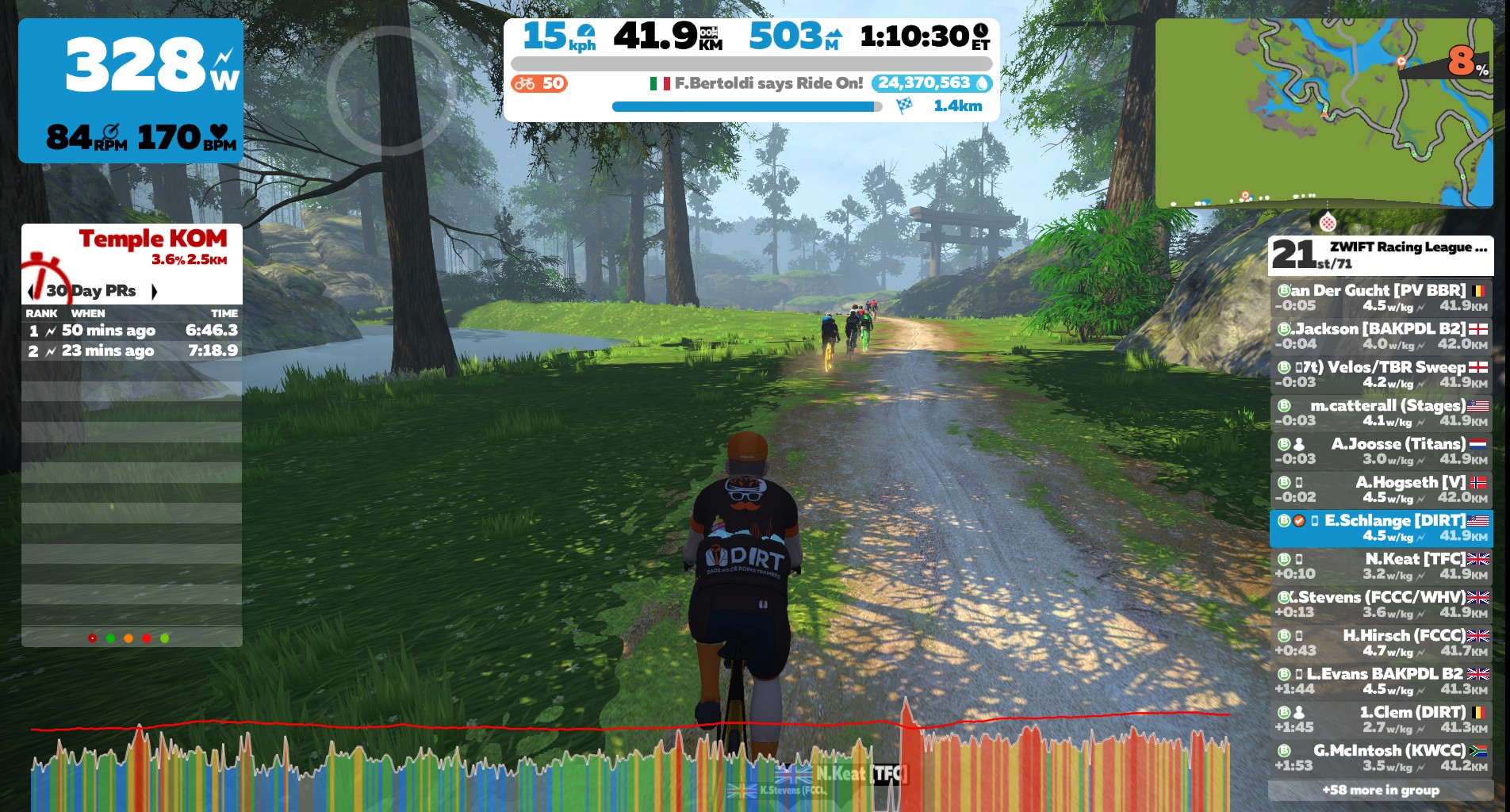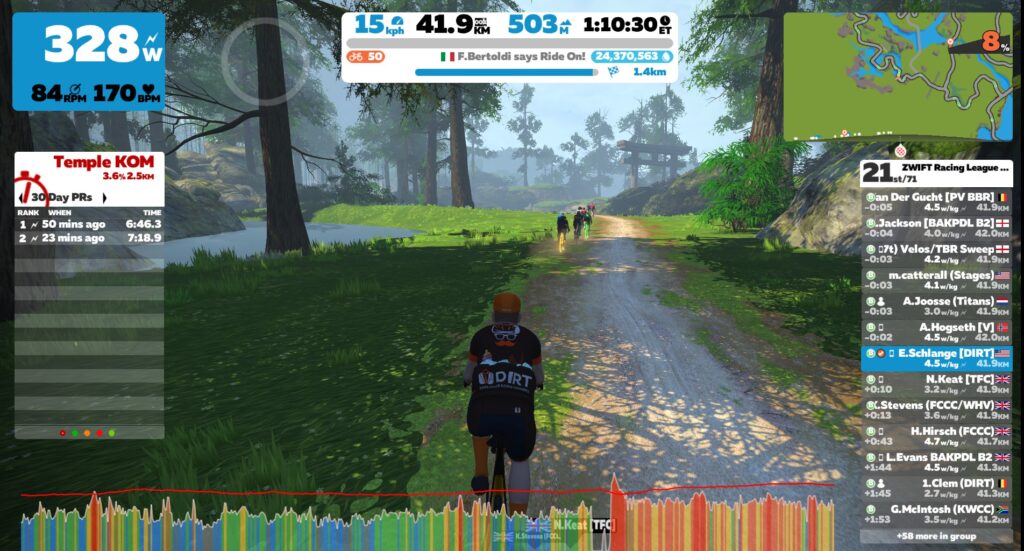 It all sounds pretty bad, but in reality, it probably only added a couple seconds to my time. And once I was on the Grail, it was go time. I started in 22nd place. But I could see that I was reeling in the pack ahead of me, and that gave me an extra shot of adrenaline and willpower! Soon enough I started catching riders, eventually passing Hogseth with 800 meters to go.
I crossed the line in 14th, having passed everyone in my initial group plus a few who had been dropped from the group ahead.
See my ride on Zwift.com >
See my activity on Strava >
See race results on ZwiftPower >
Watch Full Race Recording (with Team Discord Chatter!)
Team Result
Ally was crunching the numbers as we wrapped up the race, and things were looking good. Only 5 Vikings had shown up for the race, and as long as we beat the Vikings (or were within 2 places of them) we would take first for the season.
In the end, we got second place for this race, and first for the season. Pro Vision BBR took first in this race with a crazy-strong ride from Trullemans. But we were happy to have achieved our goal: first place in EMEA W B3! That means (in theory at least) we should move up to B2 next season. This is our second season in a row taking first and being promoted.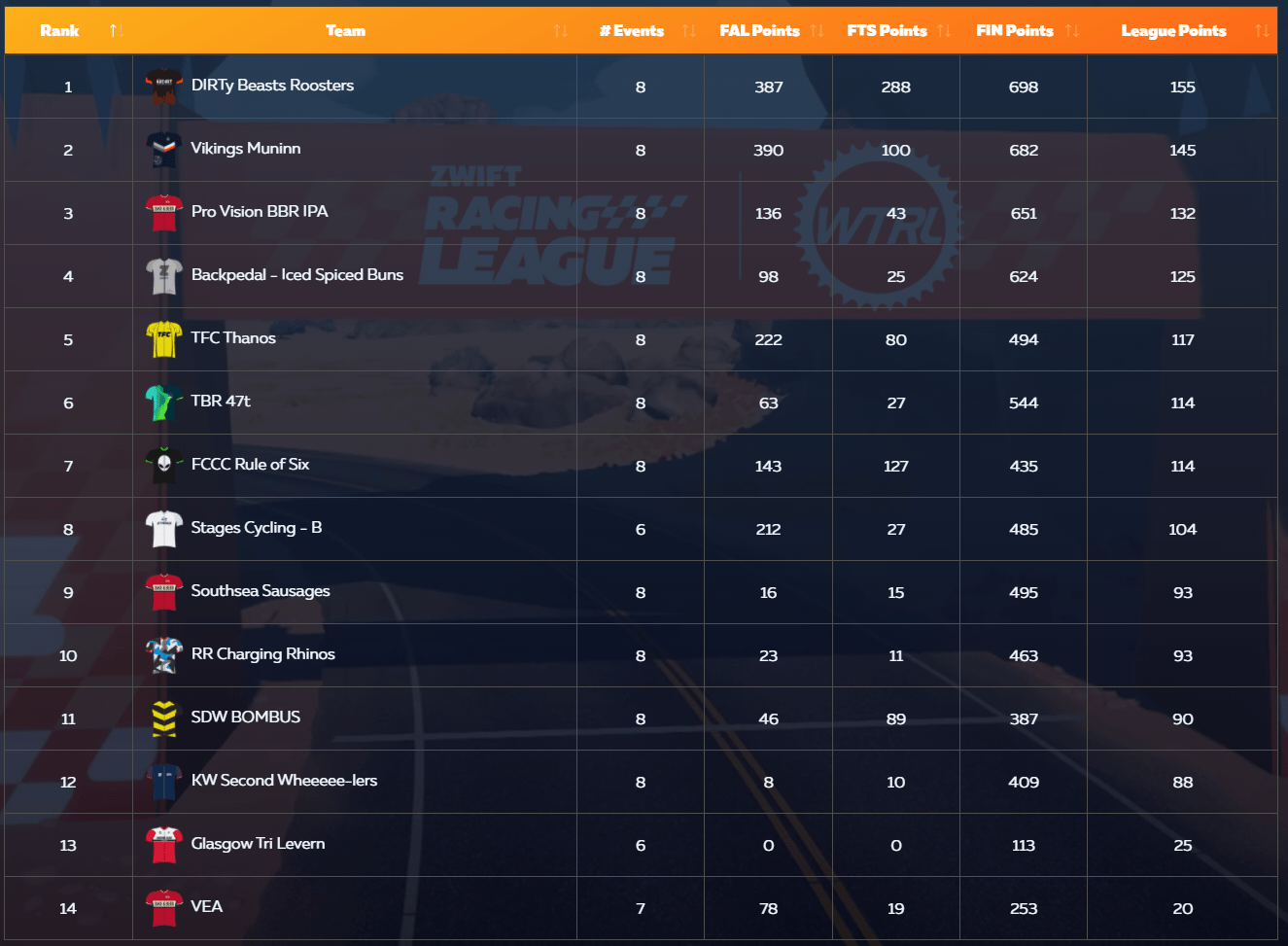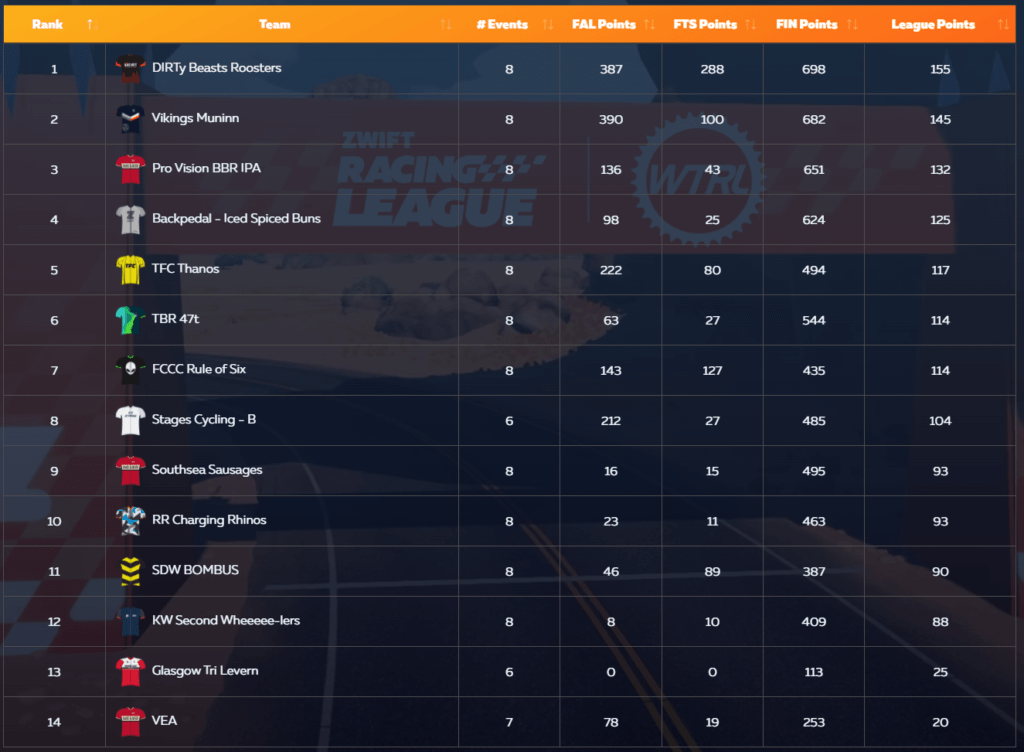 It's no small achievement to finish at the top of a ZRL division. Doing so means you consistently fielded a full team of riders who prepared adequately for the races, showed up on time, and worked hard for maximum results. And you have to do this for eight weeks in a row!
The final win doesn't go to the strongest rider. It goes to the strongest team, and in a series like this, strength looks a lot like consistency. You may not win every week (we certainly didn't), but if you do consistently well, you stand a good chance of finishing at the top.
Chapeau to the DIRT Roosters team: Captain Antoine, Arjen, Clement, Thomas, Dejan, Dean, Ally, and Brett. And a hearty thanks to the other 13 teams in our division for making it challenging and fun. Especially the Vikings, who pushed us Roosters to the limit week in and week out! We'll be seeing you in Division 2…
Takeaways
To be honest, I'm still not sure if my bike swap strategy was the best. I definitely believe swapping before the final KOM is a no-brainer… sort of a "bare minimum", assuming you have a setup that lets you swap quickly (read: not AppleTV). And starting on a road bike was crucial so we could grab sprint points.
But could I have done better if I'd swapped to gravel on the first climb, and kept it for the rest of the race? Or swapped on and off each climb?
Hard to say. But that's what made this race so much fun! There was no clear best strategy, and that's what kept everyone talking and scheming even after the race was over.
Swapping Improvements
One thing worth mentioning here: I think Zwift needs to improve the bike swapping interface. Because as things stand now, AppleTV users are at a huge disadvantage when it comes to swapping. It's just not possible to do it quickly on AppleTV.
Here's what I'd love to see: the ability to set up a "primary" and "secondary" bike in your garage, then swap between them with a simple Companion app button or hotkey. Hitting that button would immediately force your rider to a stop then automatically swap bikes. You could even keep pedaling the entire time. What do you think?
Your Thoughts
How did your team do overall in Season 4, and what are your plans for the next season? Share below!