Look, I realize I keep saying it. But this time I really mean it: this week's Zwift Racing League event was, for me, the toughest of the season so far. The second and final TTT of the season, this one was held on London's Greatest London Flat – a favorite TTT course for ZRL organizers, who have used it in every single season of ZRL.
It says "flat", but it really isn't. And even if it was, it would still be painful, because the whole goal of perfectly-paced TTT is for every rider to empty their tank by the end. This race was always going to be a sufferfest. But I was blissfully unaware of just how bad it would actually be!
And the stakes were high. In Division B3 of the EMEA W zone, my team (the DIRT Roosters) were in first place, ahead of our rivals the Vikings by only 2 points. We knew the Vikings were a strong TTT squad, having lost to them in the first TTT of the season. If they won today, they'd be within striking distance to tie us in overall points.
The Warmup
I went with the Cervelo S5 2020 frame and DT Swiss disc wheels for this race, because it's the most aero setup in game, by a good margin.
My typical race day preparations happened at their prescribed times: beet juice a couple of hours before the race, then three pieces of caffeine gum an hour before, and PR lotion on the legs before kitting up.
Today's warmup would be different than my typical race warmup, because the Roosters had decided to do a team Meetup on the race route 35 minutes beforehand. We wanted to get the feel for how Pack Dynamics 3.0 felt in a TTT situation, and just talk through our race plan.
Unfortunately, the Meetup was set up without the "Hide non-event riders" option checked, which meant we were riding around London with several thousand others, making it impossible to work on a TTT paceline. But no big deal – we warmed up and chatted on Discord anyway.
The Start: Equipment Failure Fun
Six Roosters (Clem, myself, Thomas, Dejan, Arjen, and Antoine) were in the start pens 2.5 minutes before the clock hit zero. We then had a 7.5-minute wait before we could leave the pens as the last team out of the gate.
That's when we heard Arjen over Discord: "My trainer is disconnected! I can't get it to connect to Zwift!" For whatever reason, Zwift on his PC wasn't showing his trainer, even after he rebooted the trainer. So he decided to restart Zwift – a risky move with only 6 minutes to go. If the game didn't restart fast enough he wouldn't be able to get into the pens before the clock hit zero, meaning he'd be out of the race, even while the rest of us waited 7.5 extra minutes (it's all a bit odd, isn't it?)
You can guess how it went: Zwift didn't load quickly enough, and Arjen was out of the race before it even began. He was understandably angry, and the rest of us were quietly brooding, knowing what it meant for our team. We were probably pretty evenly matched with the Vikings when it was 6 vs 6. But with only 5? Our chance of beating them had just dropped considerably.
But we had to put all that behind us and focus on the race. Arjen was promoted to DS, and we shot out of the gate at our prescribed time, with Clem taking the first pull to get us up to speed.
Chugging Along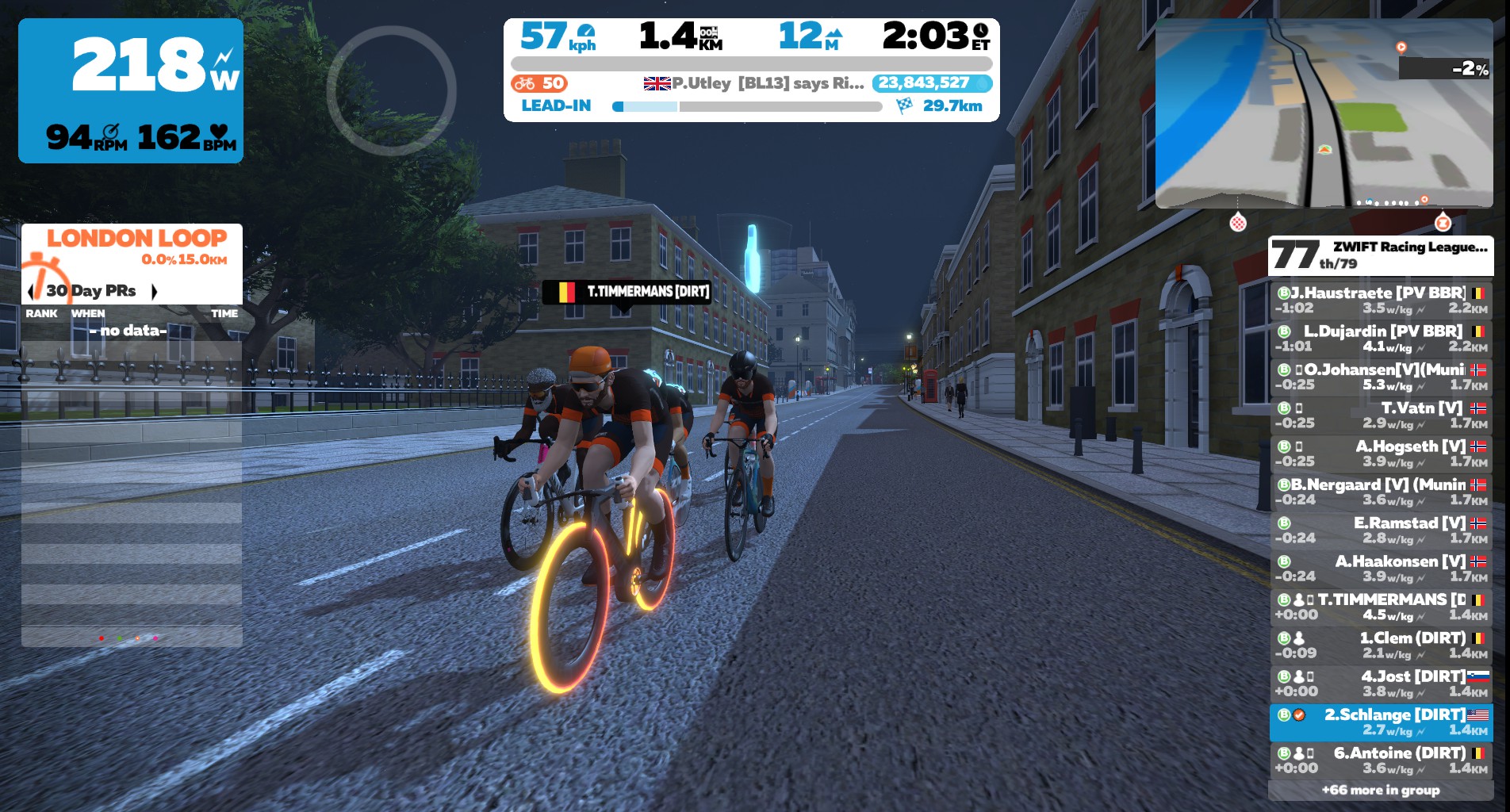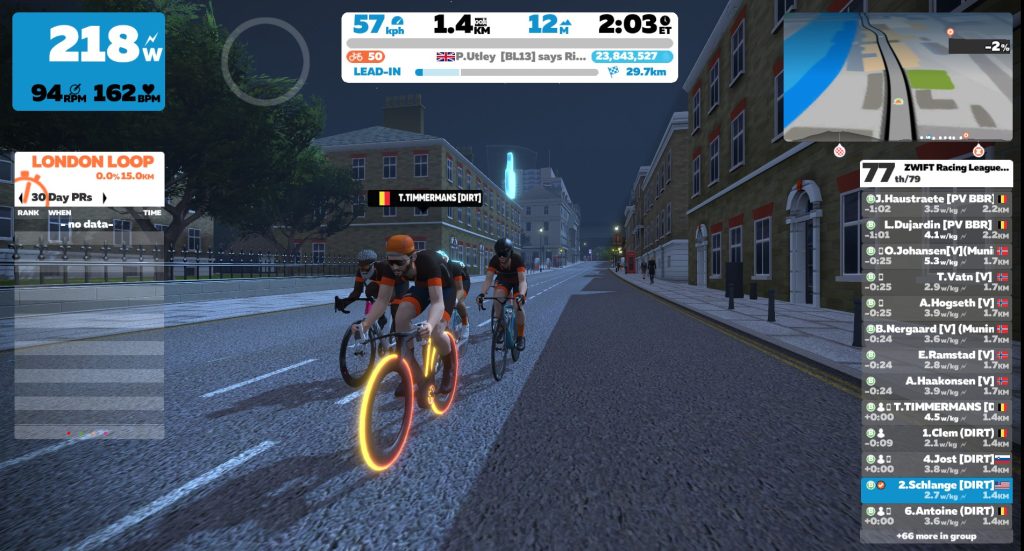 Things were a bit messy at first, but we got sorted soon enough as teammate Ally jumped in to help with DS duties. Ally began calling who was taking pulls and for how long, while Arjen would chime in regularly to let us know our gap to the Vikings up the road.
Clem was our strongest rider – an 89kg beast whose FTP puts him right at the top of the Bs. The plan was for him to take 1-minute pulls, and the rest of us 30 second pulls, with me bumping up to 45 seconds nearer the end of the race if I had the legs. (Normally Thomas was our tank engine, but he was coming off of 2 weeks of detraining thanks to Covid, so he'd be struggling just to hold the pace.)
We worked together well, trying to maintain high speed by digging a bit on the ascents and recovering a bit on any descents. The rider list showed that we were holding a consistent 2-4 second advantage on the Vikings just up the road. But I was worried – I could feel that my pace wasn't sustainable. I was close to the limit, and we still had 20 minutes left!
Being in the pulling order behind Clem was more challenging than I had anticipated. His 1-minute pulls were at such a high wattage that I was putting out well over 300W just to hold his wheel. Then I had to do my pull immediately afterward. Ouch.
Just before we crossed the Thames to make our way into the Underground tunnel, we saw that one of the Vikings had dropped from the pack. Hurray! This gave us just a bit of a psychological boost, as now we felt evenly matched.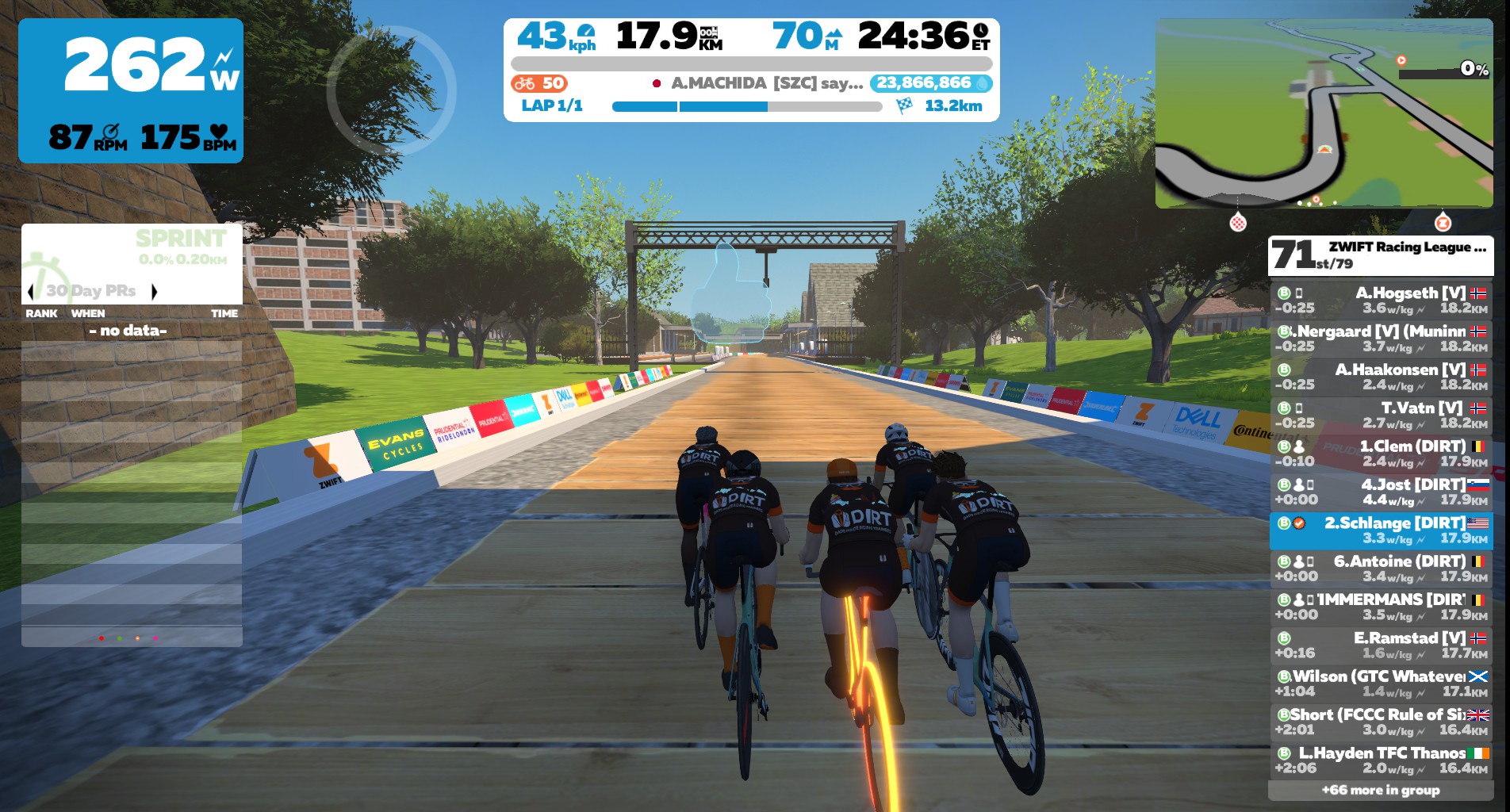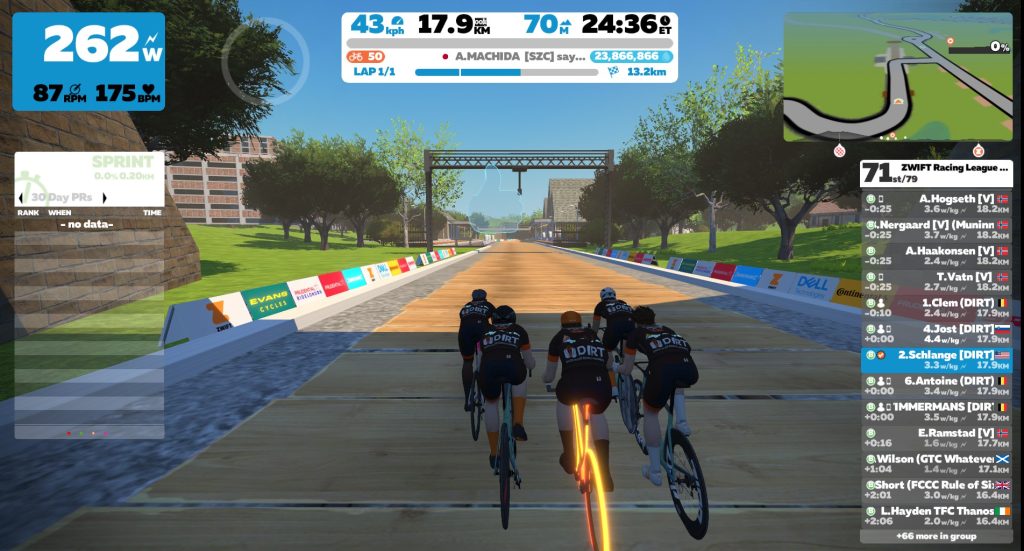 The Backside
Soon enough we arrived on the country portion of the course, which is always the worst part for me. The climbs aren't steep, they're just draggy. Thankfully, Ally coached us to maintain a doable pace, and we even got a few seconds of supertuck at the end. Then it was time to set up for the ramp out of the Underground – always a tricky, painful section.
Not to give away too many secrets, but… the trick here is to go hard into the climb, before it tilts up, building momentum. This will carry you well up the climb. Then keep power high over the crest to get back up to speed quickly.
This section can make or break a close race and, in fact, may have been the difference for us. We want from tied with the Vikings to ~5 seconds ahead thanks to that ramp.
The Finish
I was dying a thousand deaths as we went through the main London start/finish banner with 7km to go. On Discord, it sounded like everyone was dying. Things were getting chaotic as Ally tried to figure out who was able to take a pull. Everyone needed recovery. Antoine, Dejan, and Clem seemed to be feeling the best. Looking at the time we could see the Vikings were now 1-2 seconds ahead. This was going to be close!
As we hit the red pavement of the Classique it was time to leave it all on the floor. Ally was doing his best to convince us that the Vikings didn't have the legs to sprint, while the Roosters did. So we pushed with all we had, trading front spots chaotically in the final kilometer. Thomas dropped off, and now we were just four. Surely everyone wanted to give up, but we knew none of us could, since the team's time is taken on the fourth rider across the line.
With 400 meters to go, we went all in. My form had fallen apart, and I was just thrashing around, trying to push out any watts I had left (it's true – watch the video below). On Discord, Ally sounded like a midwife coaching a team of men all giving birth simultaneously. I couldn't even get my watts above 500 as my heart rate peaked 2 beats from my max.
Crossing the line, I just put my forearms on my bars and tried to stay upright. Absolutely cooked. When I was able to get off the bike I lay on the floor for several minutes. I've dug deep in many Zwift races. But I'm not sure I've ever dug any deeper than I did today.
See my ride on Zwift.com >
See my activity on Strava >
See race results on ZwiftPower >
Watch Full Race Recording
Team Result
The Roosters' human calculators got to work quickly once oxygen returned to our brains. WTRL's preliminary data seemed wonky, but ZwiftPower was showing that we had somehow finished 2 seconds ahead of the Vikings. Could it be?
Eventually, WTRL's results were updated. And indeed – we beat the Vikings! We didn't win the race (kudos to Pro Vision BBR), but that didn't matter to us: we only needed to beat the Vikings, since they're our only close competition in the overall division standings.


This win puts us three points ahead of the Vikings, meaning we're well-positioned to take first overall with just one race left.
Pack Dynamics 3.0
If you didn't know: Zwift rolled out Pack Dynamics 3.0 across all worlds as of last week. How has this changed the in-game experience for TTT races? After chatting with other racers, watching recent TTT races, and riding in a TTT myself, I would summarize the differences by saying they're all rooted in a sticky draft that isn't very sticky anymore.
Where you used to be able to "stick" to a rider's back wheel and hold it fairly easily, now you'll come around that rider if you put out just a bit too much power. There's very little "stickiness."
This isn't necessarily a bad thing – in fact, the sticky draft was the subject of common complaints from Zwifters. But in a TTT situation, it makes it much harder to form a clean team paceline. So you end up with TTT formations that look like one rider pulling, and the rest of the team milling around behind them. Let's call it "the thumbtack formation".
On a positive note, the lack of sticky draft makes it easier to end your pull and drop back into the pack without wreaking havoc and creating gaps when riders stick to your wheel. That's a welcome change!
Takeaways
I don't know what it is about Greatest London Flat, but every TTT I've done here is just murderous. In fact, I've been dropped from my team on two occasions! I always feel good for the first bit, then fall apart for the second. Today's race was a battle of the mind and body for me. I was absolutely on the limit for the better part of half the race. Check out my steadily-climbing heart rate (red line below):


Huge kudos to teammate Ally who did a phenomenal job as our main DS. Watch the video above to hear him expertly coaching us throughout the ride. For me at least, he made all the difference. I didn't have to think about when I was taking a pull, or even talk on Discord much. He told us what we needed to hear, including when we could ease off the throttle and when we needed to go hard.
Lastly, I'll add this: this race is a textbook example of the importance of bike frame and wheelset choice in Zwift time trials. When only 2 seconds separate you from your competition, your choice of wheels may very well be the difference between winning and losing. If you haven't looked at our Tron vs Top Performers or other speed test posts, consider doing so. Your competition already has!
Your Thoughts
Did you race this week's painful TTT? How did it go for you and your team? Share below!