Like many of you, I follow Eric Schlange's How the Race Was Lost (or sometimes Won) series, and going into Thursday afternoon's ZA Race #1 race, I fully expected my experience to be a cautionary tale describing how important it is to have a proper warm-up and how easy it is for larger athletes to get dropped by the field once the hills arrive.
This isn't that tale though. I've been participating in Zwift Academy, and even before that trying hard to increase my Watts/kilogram since August 18th. My motivation on this was two-fold: My Facebook memories showed that a year prior I had been fit and in France about to begin Paris-Brest-Paris (my write-up of which can be found here), and I've been working from home and wearing what my friends call "soft pants" since March, so when I had to put on slacks there was a bit of a scramble to find some that fit. I wasn't on Zwift (and didn't know my FTP) in August 2019 but I suspect I was then a Category C racer and now (despite this story) am still solidly a D.
Zwift's information page for the Zwift Academy Race #1 helpfully included a link to the Zwift Insider 2015 UCI Worlds Course Route Details which I studied on Wednesday night and for the first time ever looked at the Guest Worlds Schedule. I determined that I could very carefully and slowly do a lap just to see exactly which hill Peter Sagan got away on, as well as scope out the scene right then.
I selected the Thursday afternoon race because I've been trying to do the Bear Mountaineer (BMTR) Fundo on Saturdays and their Mini Fundo on Sundays, both in a fasted state. I knew that if I wanted to do well in the Zwift Academy races I would need to be fueled, which meant a non-morning race, and because of some other scheduling I didn't manage to ride Tuesday or Wednesday. Indeed, my pre-ride Wednesday night was done halfway through an adult beverage and was not in any way rigorous. My legs were rested and I pretty much managed to keep them rested.
Subscribe to our newsletter
Looking at the route profile I saw that someone nearing 100 kilograms such as myself had an opportunity to push the pace on the downhills but needed to do so carefully in order to be prepared for the grueling task of keeping up with lighter-weight riders on Libby Hill, 23rd Street, and again on Governor Street. The route looked like I would be fine for the first half but on the second half I was concerned I would be left alone struggling uphill.
Knowing that I'm a rather slow climber, one of the things I've done in road races in the past was move to the front of the field approaching a hill so that they all have to work to pass me, giving me a chance to make contact with the tail as I finally huff to the top. In Zwift they just get to pass through me like I'm not even there, but at least the distance could make a difference. I went into it vowing that I would try to hit the hills ahead of the field if I could.
WARMUP
The race I signed up for was at 4:13 pm and thus I was pretty annoyed with myself that I forgot that my coworkers would probably schedule a teleconference just prior. I got the email sometime Thursday morning that it would be from 3-4 pm. The next scheduled race wasn't until pretty late at night, so I figured I would just have to make it work.
Before my conference, I put on my shorts knowing they would only see my t-shirt anyway. I also mixed up some lemon-lime Heed and sipped it throughout the meeting. At 3:55 I unplugged my laptop and carried it down into my basement and plugged it in for my usual Zwift set-up. I put my shoes and heart rate monitor on and stood in front of it waiting for the meeting to wrap up. A coworker commented that I looked as if I was standing in a beam of light, and I had to explain that was my basement window, showed them the heart rate monitor on my arm, and explained I really had to go. I started up Zwift and immediately joined the race, relying on those few minutes of trainer time at the start to try to loosen my legs. They were not very loose.
LAP 1
At the beginning of the race I fully expected things to start off hard. I spun up and was ready to do whatever I had to do in order to keep contact with the group. My avatar moved quickly but oddly veered left and then stayed on the left side of the road as we rounded the corner, meaning I was alone without a wheel to follow. I had to work hard to keep pace with the group on the right side of the road and it seemed to take a long time to finally drift into the draft.
Once I was in the draft it was OK and got my breathing under control. My goal was to stay toward the front, but not actually on the front, as much as possible, so when we went around the hairpin turn leading into the Monument Avenue Sprint I was right there when two sprinters took off for it. I decided my legs could use a bit more of a stretch so I impishly took off after them. I didn't win but that wasn't the point. The three of us let up after the banner and I fully expected the field to show up any second.
I positioned myself in between the two of them and the one in front wasn't working super-hard but she also wasn't soft pedaling. I could see on the mini-map that there was actually a gap between us and the field and I realized such a gap would be very helpful to me once we got to Libby Hill. Here's a map for reference:

I was thinking that it would be a dream if we managed to stay away, and I suspect that at least one of the other women with me was thinking the same, for we rotated all way down the hill (with the exception of a little jockeying for the Broad Street Sprint). R.Vaisanen, J.Cooper, and I took turns deploying Helmet powerups at the front, and by the time we got to Libby Hill I actually could not see the main field dot on the mini-map.
On Libby Hill, though, I was pretty sure my fears of being left were being realized. Vaisanen darted around me and I had to work on the downhill to close the gap. I was grateful I weighed a lot at that point, for mashing a big gear downhill made that possible. I hadn't quite figured this out yet, but Cooper didn't make it up the hill with us, and I went into the 23rd Street climb assuming Vaisanen would again beat me. I was very surprised when I was able to power through to the banner there and again at the lap line.
LAP 2
I was really taxed from the Governor Street climb going into the first lap. When we got to the Monument Avenue Sprint Vaisanen again went for it and I really didn't want to give her a gap so I stood up and hammered. (I didn't go into this knowing I would win so I did not take any screen shots. Usually there is at least one that Zwift includes with the ride but mine was blacked out for some reason.) Vaisanen gave her permission for me to use her picture here and I think it was taken about at this point in the race. You can see how strung out the field is on the right but my eyes were not good enough to see how things stood. I imagined the field was somewhere together behind us, working to catch us still.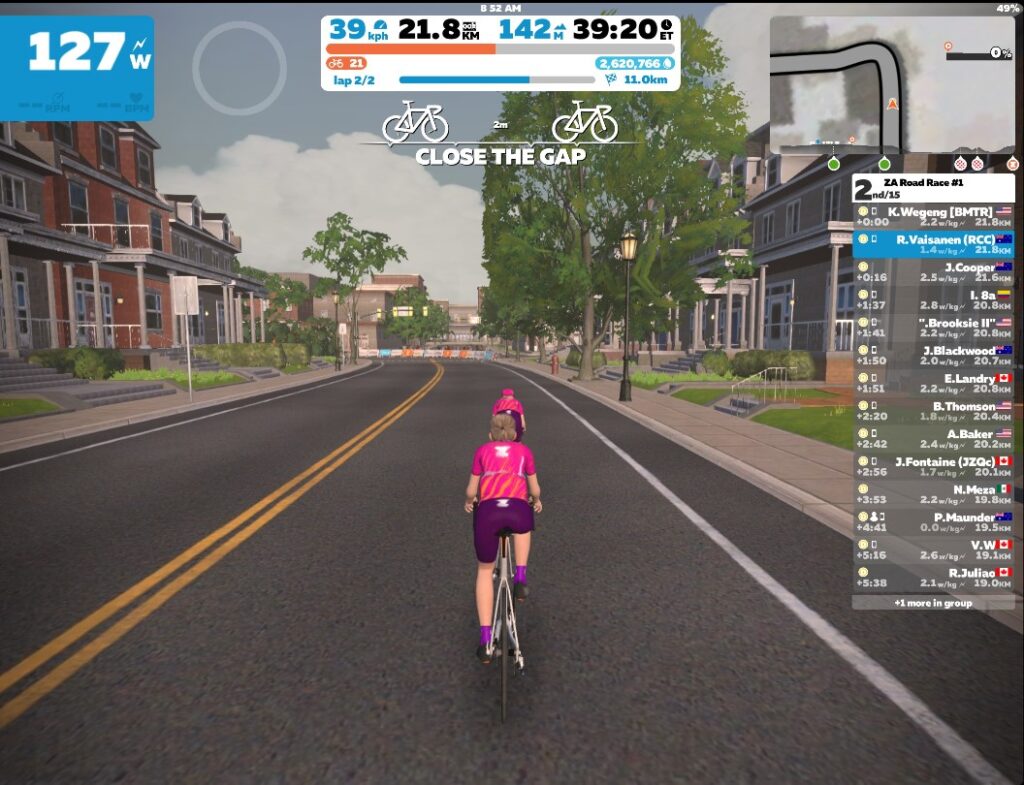 I wanted to know how things stood though, so at this point I called my husband and asked him if he had a few minutes to come and read things for me. Vaisanen did manage to close that gap and I could see that she was right behind me. I tried to see if she would share the work to help keep us away but every time I let her in the front we dropped down to around seventeen miles an hour. I didn't want Cooper to catch us, I didn't want anyone in the field to catch us, and I certainly didn't want to pull sprinters around just so they could dart past me at the finish. I knew I had to lose her.
My husband came downstairs and let me know the field wasn't coming, but he agreed I needed to get away. Vaisanen darted ahead for the Broad Street Sprint and this time I let her. I then put the hammer down just afterward, gave it all I had and got an achievement for going over 700 watts for the first time.
On the big downhill I pushed a big gear slowly, sat up, and took deep breaths, trying to keep my distance while recovering enough to handle the hills without cracking. I felt like the possibility of cracking was real. I asked Jesse to get me a mini-Coke from the fridge and drank about half of it, glad for the sugar and caffeine. That was my last rest.
I refused to let myself drop below 3 W/kg on Libby Hill (a pace that was really hard for me) and cursed when I got a Truck powerup at the top. My husband reminded me to use it anyway, for maybe I would get a Feather next. I did and got the Feather.
THE FINISH
The rest of the race was a pile of pain. I pushed as hard as I could on the downhill after 23rd Street and brought my gap to 40 seconds. Vaisanen and Cooper looked like they were meeting up and would work together to reel me in but then separated again on the hills. I deployed my Feather when the grade turned orange on Governor Street and kept telling myself that it could only hurt this badly for a few more minutes.
My husband sat silently on the couch. (When asked about this later, he said he didn't want to say anything, for fear I would let up.) I was sure that was bad and really dug deep into the red. There isn't an overhead arch at the end so I actually didn't know I was at the line until I was crossing it. It was a surprise to see the finish screen pop up with my name at the top.
I slow pedaled and stuck my arms in the air. My husband congratulated me and went over to my laptop and gave the other women Ride-Ons as they started coming in 45 seconds later. It took so long I thought there was some mistake – how could I have grown my gap on an uphill finish?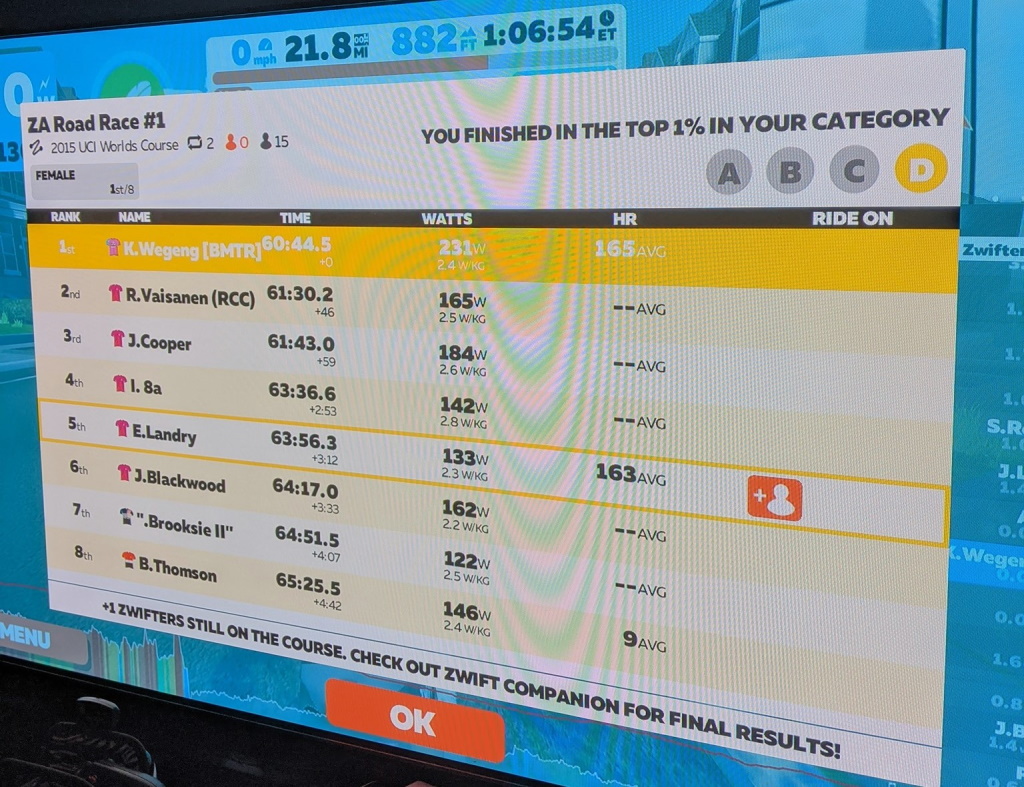 TAKEAWAYS
I still can't believe that I won. My average output was 2.4 W/kg, appropriate for my category and lower than the women who came in 2nd-4th. I got away after the first sprint and stayed away, and then managed to lose the sprinters on my wheel and time trialed to the finish. It sounds like some ridiculous fairy tale and yet I'm talking about myself.
I'm carefully watching ZwiftPower to see if they append "Almost C" to my category anytime soon, but so far it hasn't happened. I'm hopeful it will eventually, but with the way it stands now I'm solidly a D. I did get called a sandbagger on Saturday, after which I took another picture of my television: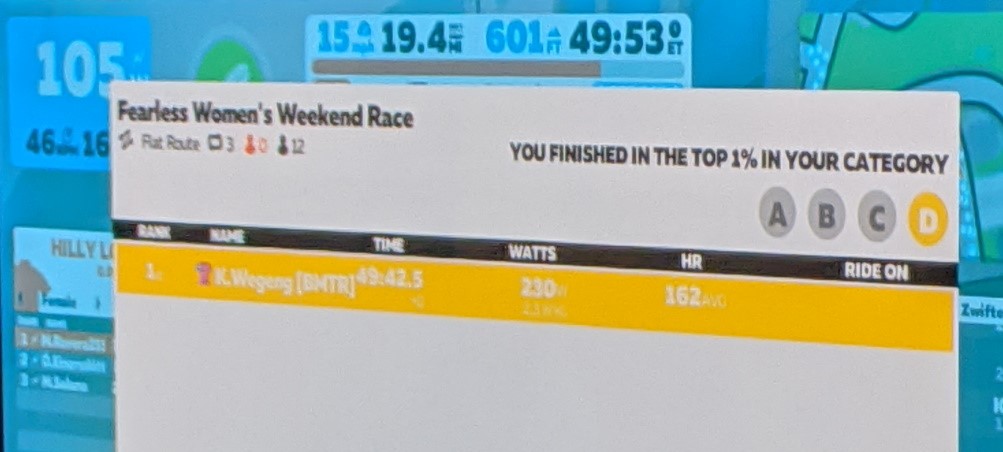 Your Thoughts
Share your questions and comments below!