If you've followed this How the Race was Lost/Won series, you know that sometimes I like to experiment in Zwift races. Because why not? It makes things interesting for everyone and sometimes leads to unexpected (yet positive) results.
That's what happened in today's race. (Well, actually, this race happened two weeks ago. I've been too busy to write about it, because I've been working on our new Smart Trainer Index feature!)
I decided to race with all HUD elements turned off – something I've been wanting to do ever since I did the FutureWorks "Sights and Sounds" group ride a few months back. "Sights and Sounds" is an actual event mode that Zwift is experimenting with, but you can get the same effect by disabling the HUD via a prefs.xml edit, or by using the ZwiftHacks Zwift-Preferences tool (which is just a front-end that edits prefs.xml for you).
The Warmup
With the HUD turned off, I hopped on to warm up. I climbed on the bike about 20 minutes before the race, having chewed two pieces of caffeine gum and slapped some PR lotion on the legs. The warmup was uneventful: I raised my heart up to 160+ a with a few hard efforts, then it was time to head to the start pens.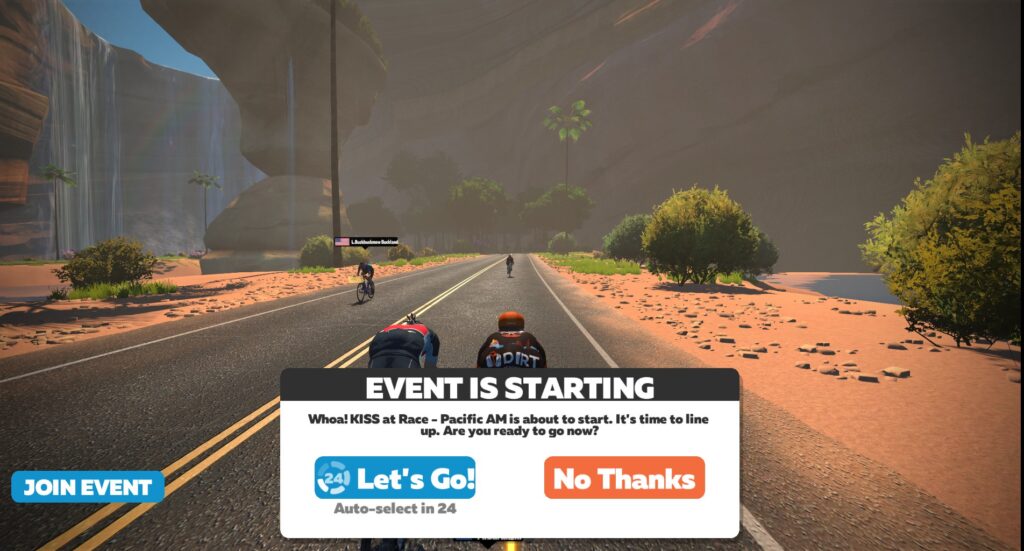 The Start
This was the KISS at Race – Pacific AM event, which takes place on Wednesdays at 6am. 15 laps of Crit City's Bell Lap route, so a bit longer than most Crit City events. We had a smaller B group signed up, so I figured it wouldn't be too crazy out of the gate. There were a few strong Bs signed up on the ZwiftPower list, though, so I took note of their names (Wish Upon the Pleiades, Jeremy Cross, Phil Borrett Tor2000) so I could hopefully figure out what their avatars were wearing and keep an eye on them.
The first lap wasn't too bad, and I figured out what the three top riders were wearing so I could pick them out: Cross was wearing the green argyle, Wish Upon the Mid Devon CC Look kit with a Gatsby cap, and Tor2000 wearing the black/red/white Elite kit.

Our group was moving along nicely, but with only about 10 in the front pack the overall speed didn't feel very high – which meant attacks might be able to get away. On the second lap I tried an attack up the twisty climb and Wish Upon and Tor2000 jumped with me. Interesting! Cross came over as well, so it was clear these three were feeling pretty strong. We didn't stay away (still 13 laps to go, after all) but we dropped a rider or two. Progress.
Attack of the A's!
Things were going along swimmingly: we were on the 6th lap, and I was calculating my next attack. Then several riders suddenly flew through our pack from behind! I instantly realized we had been lapped by the A's, who had started a minute earlier.
I would have seen it coming if I had the HUD minimap. But it was a complete surprise – I hadn't even pondered the possibility of such a thing happening!
This was the winning move, I knew it. If I could grab onto those wheels, we would drop more B riders, and hopefully I could at least grab a podium spot. I went hard to close the gap to the A's… and did it!
Note: of course, hopping into a faster group from another category would be highly frowned upon in an outdoor road race. But on Zwift, the basic rule is "if you can see a rider, you can ride with 'em." The only exception is that it's considered bad form to sit on the wheel of a known zPower range or sandbagger who is attacking off the front – but even that is often a judgment call.
Once I was in the front pack, the real work began. To give you an idea of the difference between our B group and the A group: after the initial high watts of the first lap, I had averaged 281w in the 13 minutes before the A's caught us. For the next 18 minutes, I would average 310 watts as I hung with the A's!

But I did it. I stayed with that front group of hard-charging A's. And one by one I saw the B riders who I recognized dropped from the group. Without a rider list on the right, I wasn't entirely sure that I was the only B left – but I figured there was a good chance. Regardless, I knew I had to hang in with the A's as long as possible to give myself the best chance at a win.
The Finish
Without the central HUD element I had nothing telling me overall distance or laps to go, except for the lap counter displayed after the start/finish banner. When the lap counter said 2, I knew things were going to get crazy – because the A's had lapped me, so this was their final lap!
Sure enough, I got dropped at the top of the twisty climb as they hammered away. That meant I had 1.5 laps to ride by myself. I had actually caught up with Tor2000 by that time, having lapped him thanks to the A's. So we rode together to the finish, and when I went through the arch, the only names initially shown were A's. I was the first B across the line over a minute ahead of Cross who came in 2nd!
See my activity on Strava >
See results on ZwiftPower >
Watch the race video
Takeaways
This was a unique race for two reasons: because it was HUDless, and because I won by grabbing onto the A group as they lapped me. Both race firsts for me!
Going HUDless
The HUDless experience was really fun, and it forced me to pay closer attention to the actual avatars. With a minimap visible, would I have seen the A's coming and been able to make a smoother jump into their group? Probably. But I was also so engaged in watching all the riders that I saw as soon as the A's came into our group, and was able to respond.
Paying closer attention to the avatars helped me, I felt, to spot attacks more quickly. Instead of bouncing my eyes from the rider list to the peloton and back again repeatedly, I could simply focus on the riders around me.
I'll be racing HUDless again. I wouldn't want to do it on a route I didn't know well, but if you're familiar with the route, I think it's a fun changeup from the typical Zwift race experience. Probably a disadvantage overall, but I hope that the focus it taught me carries over and benefits me when racing with the HUD.
Getting Lapped
The other takeaway is, it's smart to look at group start times and anticipate being lapped on short loop courses like Crit City, Volcano Circuit, and possibly others depending on overall race length. Knowing it's coming should allow you to make a smooth transition into that faster group – just another strategic advantage you can have over your rivals.
Your Thoughts
Have you ever raced HUDless? Have you ever grabbed onto a faster group as they lapped your bunch? Share below!