I've really been enjoying Zwift's Insider's new Tiny Race series, but due to a combination of PC crashes and scheduling snafus, by our third week of the series I had yet to partake in the fourth and final race of the day.
But that was all going to change. Today I would race all four Tiny Races. And even though it was the toughest Tiny Race week yet (thanks to some gut-punching climbs), I was looking forward to suffering with my Zwift B comrades.
The Warmup
I did my typical "casual" pre-race prep: two pieces of caffeine gum (200mg) around an hour before the race, plus some PR lotion on my legs. Then I jumped into an ERG workout in order to test a top-secret new smart trainer while getting my warmup work in.
The legs felt pretty good, and although the workout was a bit tougher than my typical warmup, I thought that might be a good thing considering the hard, short efforts about to come.
The First Three Races
For those unaware, Zwift Insider's new Tiny Race Series happens every Saturday. Racers take on a set of four short races scheduled 15 minutes apart so you complete them all in an hour. You are given points based on your finish position in each race, and the winner on the day is the rider with the most points.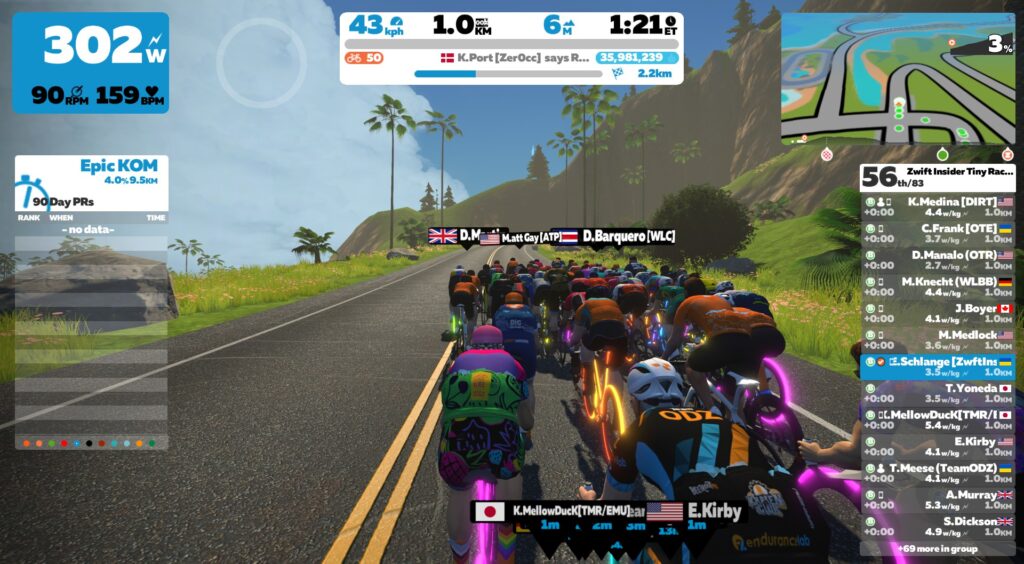 On this day my first three races were fun blasts, but the results weren't exactly impressive: 17th, 11th, and 43rd (I hate you, Leg Snapper). I knew I was out of contention for the overall win, and to be honest I didn't think my race #4 result would be any better, with the Rooftop KOM thrown into the middle of the route.
Race #4 Begins (and I Learn Something)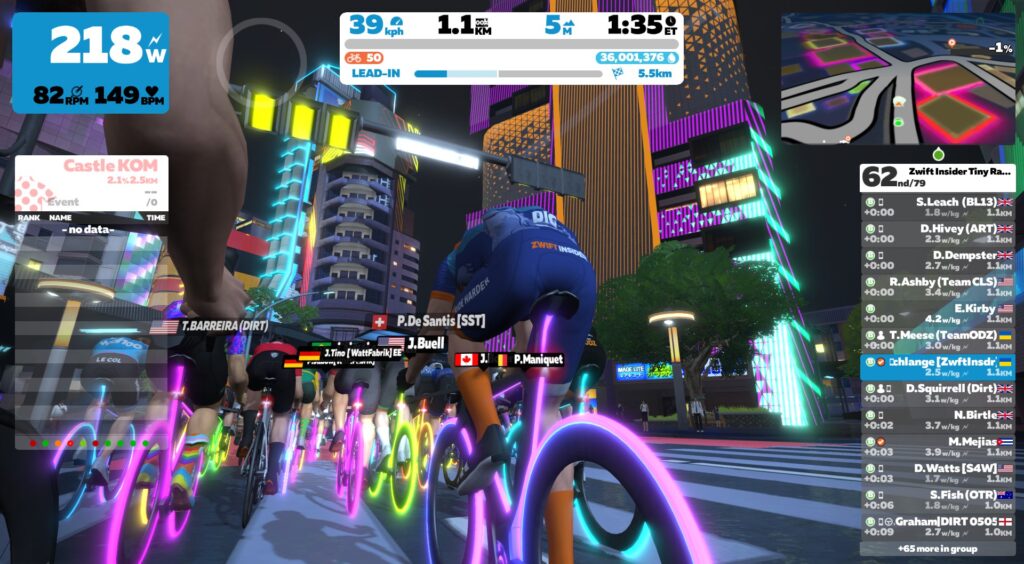 Our B field of ~80 riders spun out of the Neokyo start pens for the final race with our legs still feeling the efforts of the first three races. This race covered one lap of Neokyo's Rooftop Rendezvous, and everyone seemed to know that the upcoming Rooftop KOM would be the decisive segment. So we all sat in and chugged our way down the road to Painsville.
At the foot of the KOM I noticed something surprising – a virtual start/finish arch was in an unexpected place. (Ironically enough, I was the guy who had designed/chosen this route, and I didn't even realize it finished where it does! For some reason I thought it finished on the flats like many Neokyo routes, after the arcade and start pens.)
This could be interesting.
The finish was at the end of the KOM descent, with just ~200m of flat road before crossing the line. That meant I had to stay near the front on the descent if I wanted a shot at the win. This wouldn't be a problem. Being a bigger rider (84kg), I always float to the front on descents anyway.
Pro Tiny Race tip: you can't hang in the back of the group on high-speed descent finishes, because the group stretches out, and you pouring on the watts won't bring you forward like it does on flat ground or climbs.
Downhill finishes require good timing and high body weight. Thanks to years of Zwift racing and bad food choices, I possess both! (If you need further evidence, I refer you to my only ZRL win, which ended in a downhill sprint.)
The Rooftop KOM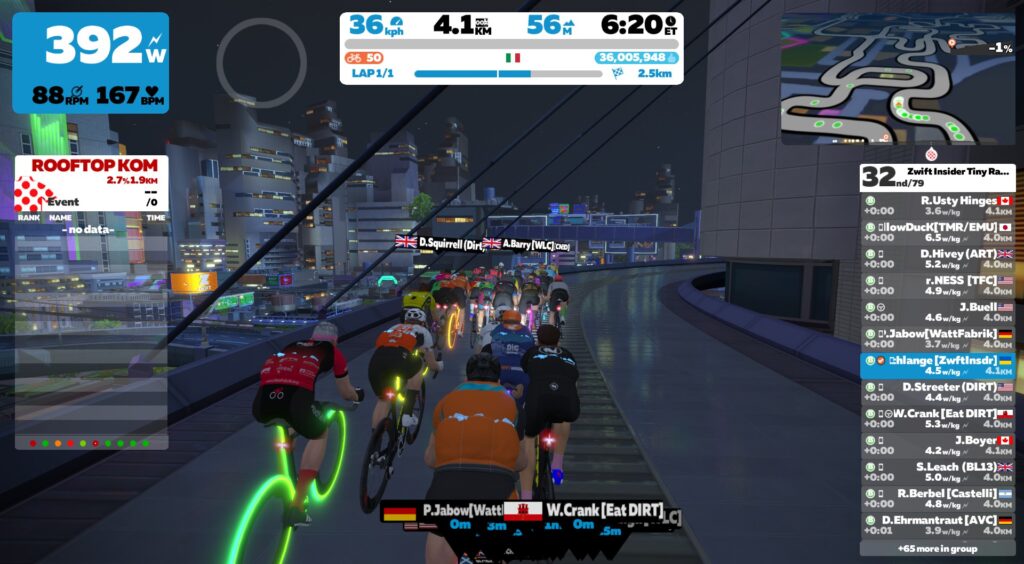 We hit the lower slopes of the Rooftop KOM, and my goal was simple: hold a position near the front of the pack. This is a ~3-minute climb, and drafting makes a big difference at only 2.7% average gradient and speeds over 35kph in the Bs. So I stayed out of the wind, kept the power high, and hoped the pace stayed manageable.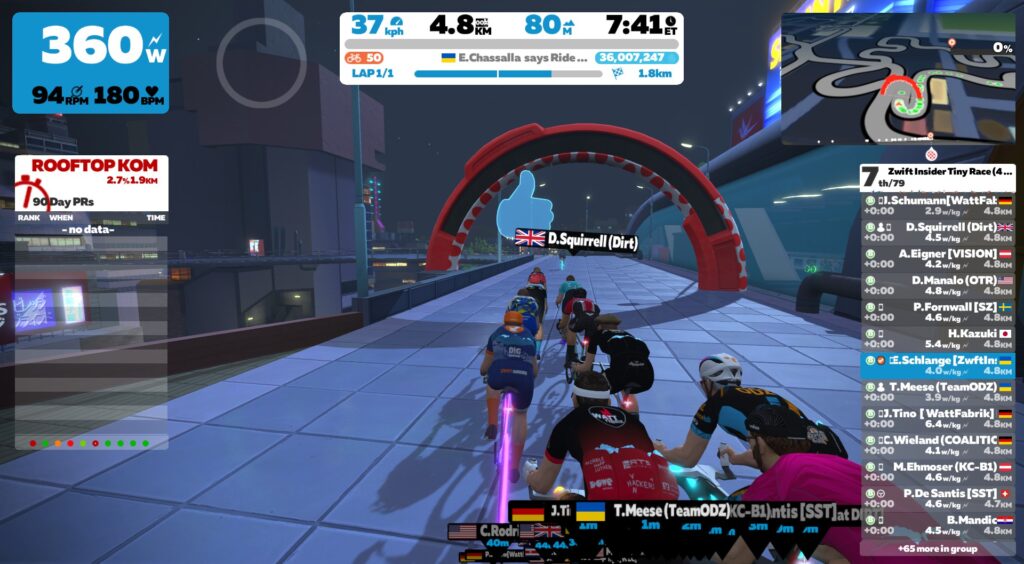 And it did! I come over the top near the front of the front pack, with one rider attacking solo just ahead.
I had a shot at this. I just had to hold a good pack position, then time my final sprint well.
The Finish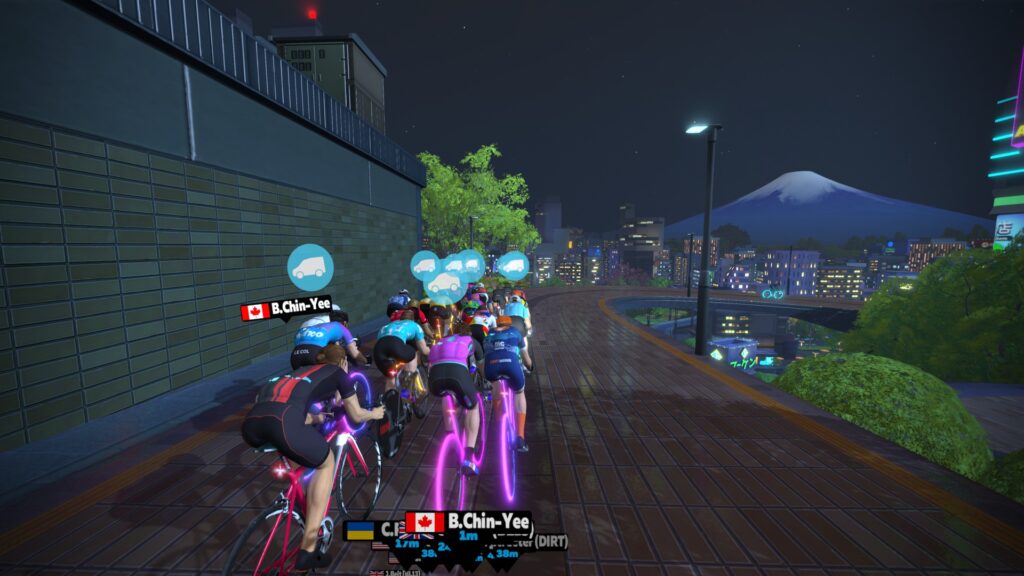 Flying downhill toward the finish line, everyone seemed to be saving their legs for the final effort. Then one rider attacked, and I saw Dave Squirrell (a very strong B from DIRT) go orange as well. It was go time!
Triggering my draft boost powerup, I did my best to grab Squirrell's wheel. Our speed increased from 60 to 70 to 80+ kph as I spun 120rpm+ in a seated, all-out sprint. My legs were feeling the efforts of three earlier races, but my position and timing saved me as I slingshotted around Squirrell into open space, somehow staying away across the line.
Winner winner, chicken dinner!
See Strava activity >
See ZwiftPower results >
Best Result… Ever!
Knowing the race field was strong, I was excited to see what sort of ZwiftPower points result I'd earned with the win. And I wasn't disappointed – the result was 109.26, which is by far my best ever!
My previous best was a 140.67 from one of the first week's Tiny Races (7th place against an even stronger field). So a 109 is just… crazy. A fluke, one might say. And I'm shameless enough to gladly take it.
Takeaways
While fitness is the thing that keeps you in contention (that is, in the front pack) for Zwift races, taking home the big win requires a combination of good timing, big power that suits the finish, and a bit of luck.
One of the fun things about crafting these Tiny Races is seeing how different mid-course obstacles and finish layouts tailor certain courses to certain riders. I'm trying to mix it up so no single type of rider always has the advantage, but this particular race was actually laid out far differently from what I had envisioned.
And it worked! We'll see this route again in the Tiny Race series, because there aren't a lot of routes with downhill(ish) finishes.
Here's a self-destructive tip for Rooftop Rendezvous, offered against my better judgment: riders with pack-leading 3-minute w/kg would be wise to attack hard on the KOM to drop riders like myself, because otherwise us big dudes are likely to fly off the front and take the win.
See you on course!
Your Thoughts
Have you ever raced Rooftop Rendezvous? How did it go for you? Share below!