I captain a C team, the BRT Coyotes in Zwift Racing League Division 2. The team spends a fair bit of time discussing tactics, but as you know, it's not often in Zwift racing that something planned ahead of time works…
But last Tuesday on the Whole Lotta Lava route (race 6) the team managed to pull off a pre-planned move for a 1st and 2nd place! Here's how it unfolded.
(Video and images within this article are taken by Paul Arpino. I'd also like to say thanks to Zwift and WTRL for a second season of well organised, competitive, and fun racing!)
---
I've taken some screenshots to talk through what we did and how it worked, picking up the action with 800 metres to go. The three team members to watch are Andy White (eventual winner), Paul Arpino (2nd placed) and an under the weather Dan Goalen.
As a team we'd discussed tactics throughout the week after a recce ride,. Andy was planning to launch an early attack if he was in the front group and try to hold it. The rest of us had agreed we'd sit in the pack as if nothing had happened, with a plan to launch our attacks in a more traditional style from a few hundred metres out.
It is not often you see the Ghost powerup working well. Another rider tries it within this sequence without much success.
The last 800m
This first screenshot you can see Andy White sat nicely near the front of the pack of 8 riders. Dan is pulling 3.8 w/kg on the front and all looks pretty normal. We are all on Discord, and on the previous lap Andy had announced where he was going to go. Paul and I had a discussion about when to use a feather powerup. From the research done, the last left-hand bend appeared to be the right spot.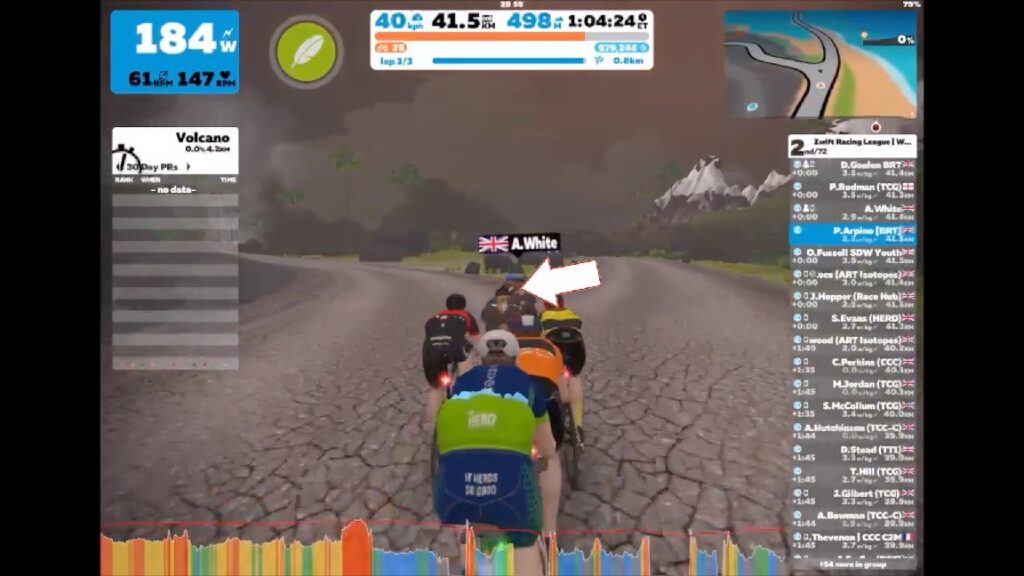 Fast forward 8 more seconds and Andy deploys the ghost and disappears. The pack is steady, no silly watts and 700m to go. Our guess that nobody would expect this move appears to be playing out well!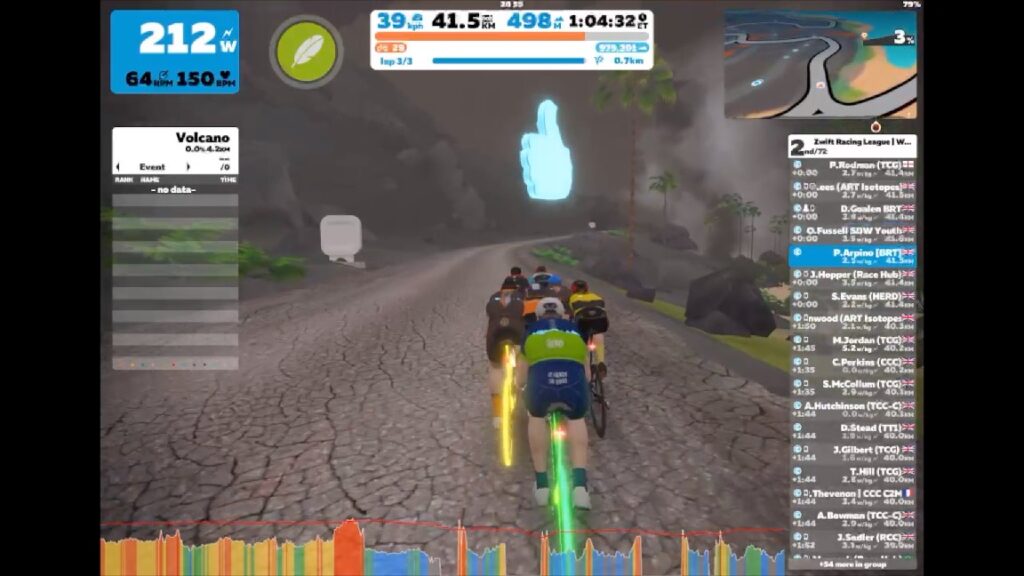 Now, the ghost powerup only lasts 10 seconds. Andy re-appears and he's not got a gap on the leaderboard, but is pushing out 7 w/kg. Jonathon Lees is just starting to wind up and pushing out 4.4 w/kg. So Andy will be carrying more speed and should pull away, hopefully before Jonathon notices!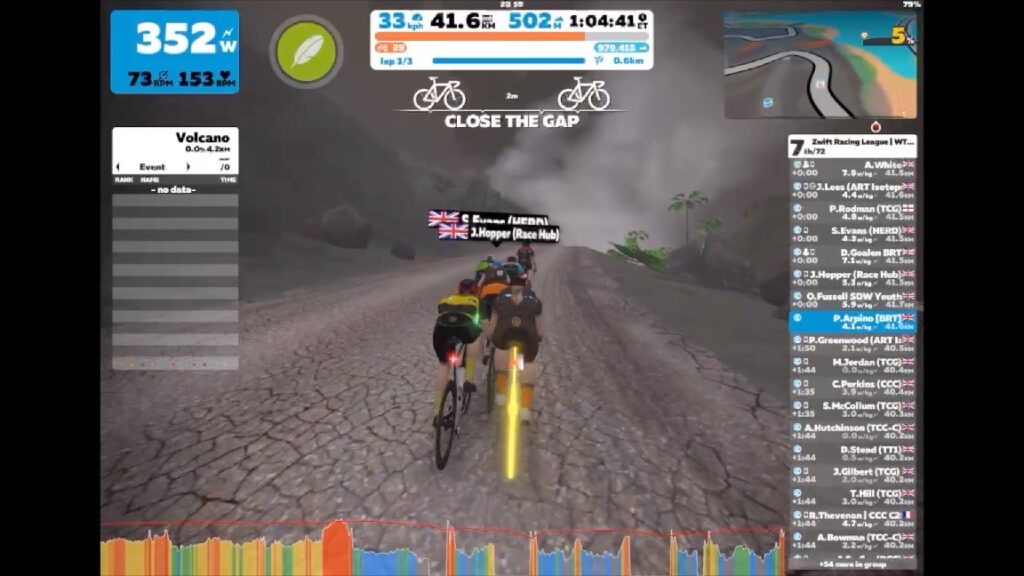 500m to go
As we enter the Volcano with 500m left, Andy is still putting down more power than the others. Nobody appears to have realised what just happened! He's got a nice 2-second gap on the leaderboard and a visible gap as shown below. Paul and Dan are happy to sit in and watch the race unfold.
At this point both Paul and Dan are nicely placed with competitors doing the work. Paul has a feather ready to unleash!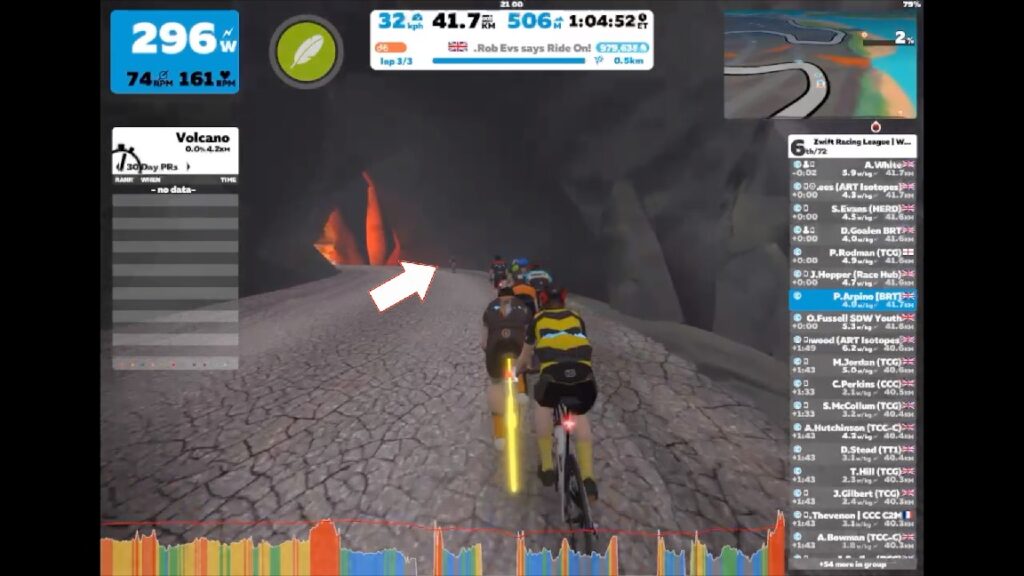 As we enter the volcano at 47 seconds, P Rodman is in fourth. He hits his ghost power up with 400m to go, and disappears from the pack. Paul is sitting 6th wheel and being patient with his feather. Andy's lead is now 4 seconds, and he has managed to keep putting out some decent power.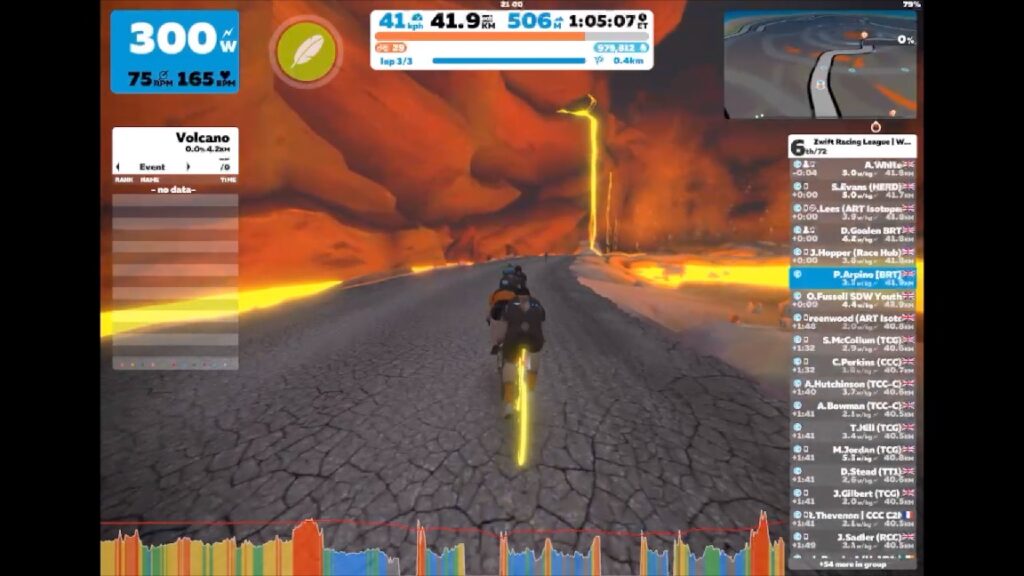 In the volcano
Rodman re-appears at 56 seconds at the front of the chasing pack. He only has a very slight gap, sub 1 second, which he holds with 208m to go. Andy's gap is holding at 4 seconds. S Evans has reacted to Rodman and is dragging everyone else back onto Rodman's wheel. At this corner 62 seconds into the video Paul hits the feather. He is very well-placed to slingshot thru the 3 riders in front of him.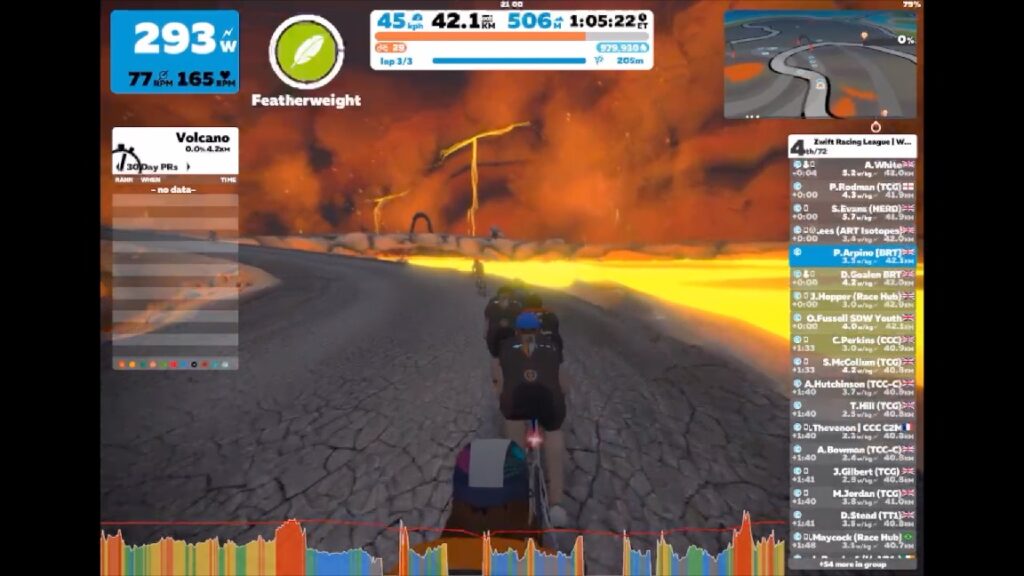 At 69 seconds with 120m to go there is a 4% gradient kick. Paul is halfway through the feather powerup and lays down some watts to move into 3rd position. Rodman has held his gap of 3m but Paul is closing and we know Rodman has no powerups left. Andy has had 1 second knocked off his lead, but the finishing banner is in sight.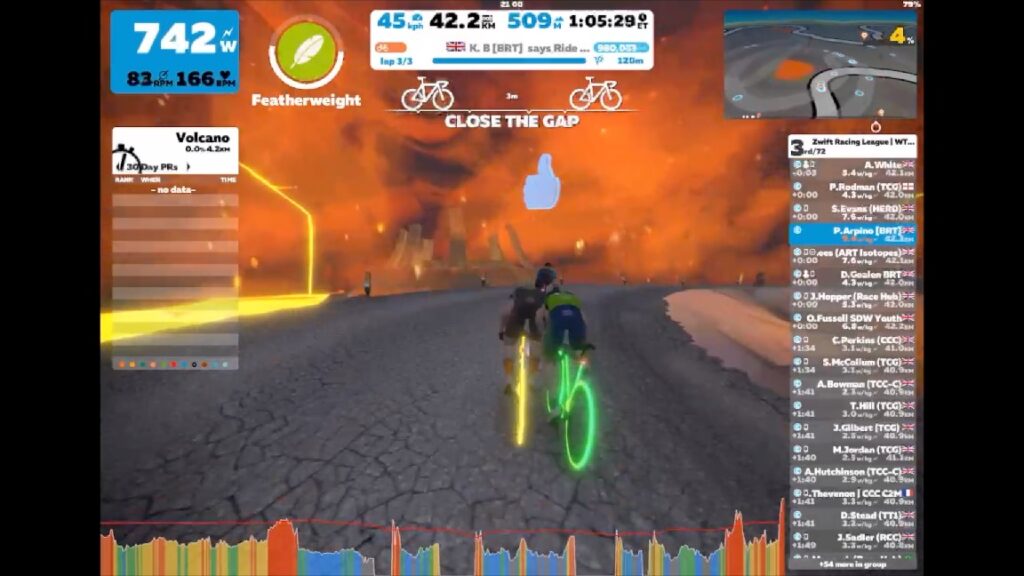 The final moves
Things are happening fast now, 3 seconds later Paul has moved into 2nd place. He is still putting down decent watts and quickly surges ahead of the 3rd and 4th placed riders. At this point we need to look at Jonathon Lees currently in 5th place. He's been improving weekly and from talking to him after the race was up for a race win today.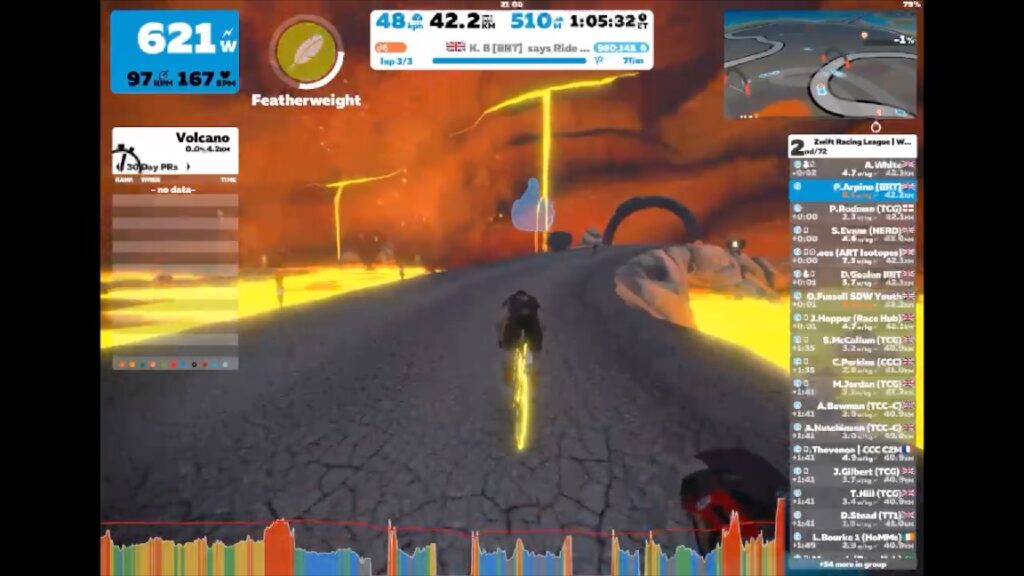 So with 34m to go, 76 seconds into the video, Andy is crossing the line in first position, Paul has got a nice gap and is still benefiting from the feather, and now Jonathon is starting to wind up from 5th position. None of the other riders have hit orange watts, so perhaps 3 times up the Volcano is being felt in the legs!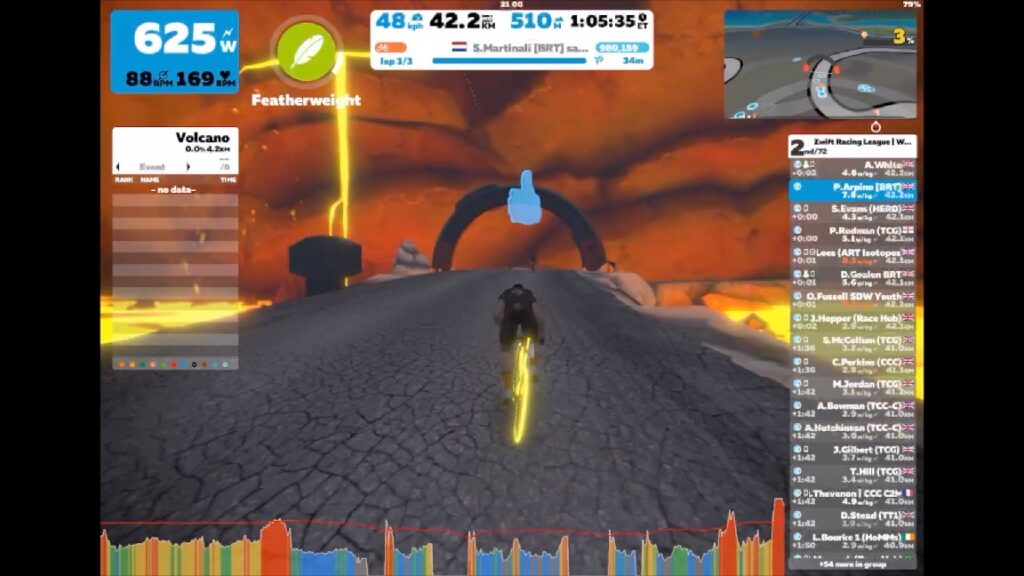 So the final results were a team 1-2 for BRT Coyotes with Jonathon's sprint paying off for a third place. It's not often a pre-thought-out plan works so well. Kudos to Andy, Paul, and Dan!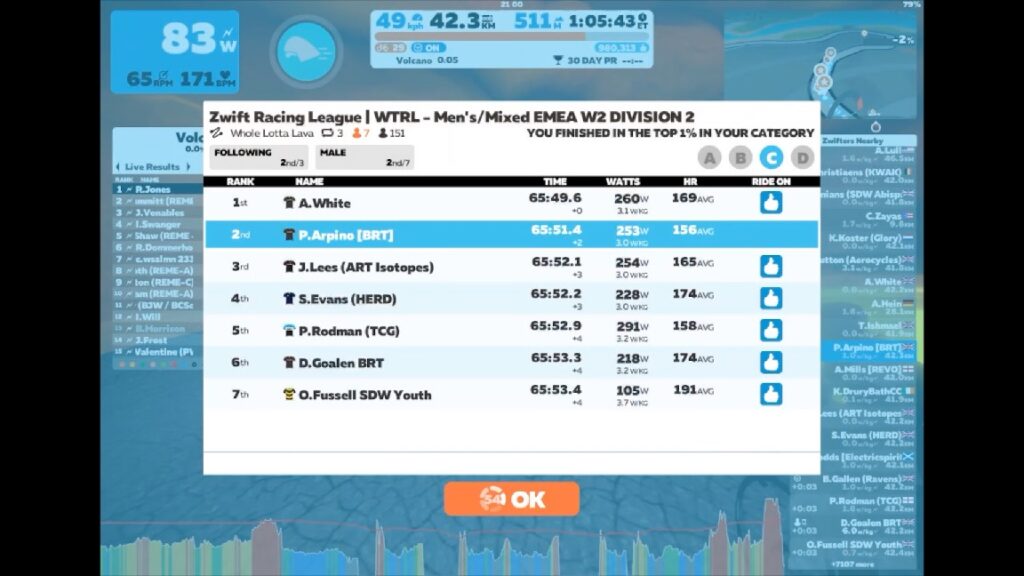 Rider Interviews
I've asked a few of the riders involved for their thoughts.
Andy White (the winner)
"After the usual fast start, I was able to keep with the front riders for most of the race. Losing ground on the final climb up the KOM, I managed to catch the lead group on the final descent. The pre-race plan was to sprint for the line with 1km to go, catching the group off guard. This would depend on how I felt. The lead group had 3 BRT riders including myself. A last-minute plan of action was discussed on Discord. I had the ghost powerup and a long-range surprise attack was on.
As I approached the final climb I was mentally preparing myself for the sudden invasion of pain. At 800 metres I released the ghost and kicked as hard as I could, exceeding 7.5WKG. Gaining vital metres on the other riders whilst been invisible was crucial to winning the race. My initial acceleration was short-lived, I could see the distance to the finish line slowly counting down however I had surprisingly gained 2 seconds on the next rider. It wasn't time to ease up just yet. It was a game of survival, the legs were on fire the watts were falling quickly, and fatigue was the enemy. The finish line couldn't come soon enough. A fantastic 1st place and overall win for the Coyotes. Pain never felt so good."
Pauls Arpino (2nd place)
"The key reason the Ghost powerup worked was because we had a small group of eight and three of those were BRT Coyotes. We had managed to break the front group down over the 3 climbs to give us the best chance of winning and enable a Ghost powerup to work. After Andy broke away with 700m to go, me and Dan didn't react and left the others to try and close the gap. I followed any moves till the second to last bend and used the feather powerup to gain 2nd place. If the front group was bigger, or another team had more numbers, the chase could have been stronger and a different strategy would have been needed to achieve the 1, 2 finish."
Jonathon Lees (3rd place)
"Coming up to the last KM I had the feather powerup saved up so was going to make an attack at the 2nd to last bend. Approaching the last 700m mark I felt good and based on the 3 previous KOMs knew I was in for a good finish. I was happy to let the others in the group take the front until that point and draft them for as long as possible. As we entered the volcano I then noticed Andy 4s in front just hitting the first bend.
It clicked he played the ghost as I led the climb into the volcano and no one passed. I was debating whether to go for it and try and catch him but wasn't sure if I had a 500m incline attack in me. I also thought that he might blow up on the last bend as it had been a tough race and the pack would catch him. Turns out he dug deep and played a blinder. I left it a bit too late and should have probably gone at about 350m in hindsight as I only just sneaked 3rd with my final sprint."
Dan Goalen (6th place)
"With Andy letting us know the lap before where he wanted to attack on the last lap, we checked in with him on the descent to see how he was feeling. Knowing he was good, my main aim in the lead up was to keep the pace high in the run in to where Andy was going to attack. Keeping him out of the wind but near the front with us. When he dropped the ghost and went, Paul and I sat back slightly up the climb, and just chased wheels of Jonathon and the others as they tried to bridge. I then spent 15 seconds shouting at Andy to keep going rather than sprinting myself!"
You can see the whole video below.