I always look forward to reading one of Eric's (or the many other contributors) 'How the race was…' articles as they inspire me to keep racing and improving on Zwift. After a recent race of my own, I felt compelled to write in and do my own article on how the race was both lost and won. Here we go!
A Little Background
My name is Ryan Dummer, I'm 27 years old and hail from the town of Port Talbot in South Wales (UK). Whilst I haven't been cycling that long (around 5 years now) since the start I have sought to improve my riding and training to try to get the most out of myself. I purchased a smart trainer and found Zwift in the process. I have raced the local amateur crit circuit for the last two years and was looking forward to my first season as a cat 2-grade racer – until all the races got cancelled due to coronavirus.
I have used Zwift off and on for 18 months, and one of my favourite features is the ability to race on the platform. Whilst I'm not an inexperienced Zwift racer I am inexperienced at competing in the B category, having only recently moved up after a run of good results and podium positions in the C category. I am a heavier rider at 86kg, so only tend to target the flatter races as I do not go uphill well in real life or on Zwift.
Since joining the 'B brigade' I have actively sought out events that keep the categories separate (please Zwift make more events separate as I want to know who it is I am racing against). Because of this, I have a new favourite race map where the categories always seem to race separately – Crit City.
To date I have taken part in 8 races on this map but never have I taken part in one of the shorter 8-lap events, instead preferring to sign up for the longer 16 to 20 lap options. I did however quite fancy really testing my legs in a super explosive (and presumably harder) 8 lap event. So, the challenge was set – 8 laps of the Downtown Dolphin route setting off at 09:46 am.
(I must say that having now raced an equal amount of times on Downtown Dolphin and the Bell Lap I much prefer Downtown Dolphin as the effort seems to be more steady with the one big surge up the cobbled climb each lap whereas Bell lap can be much more on/off over the rollers and doesn't seem to settle into the same rhythm.)
Lap By Lap
I have always heeded the advice to join the start pens early and aim to be there at least 10 minutes before any event to be in a position at the front of the start grid, so imagine my surprise when even 10 minutes before the scheduled start time I was the 46th rider to join! This would have easily been the most I have seen on a Crit City race if we had started then and by the time the timer hit zero we were up to 158 riders in my B event!
I followed my usual routine in the final 10 seconds of the countdown, ramping my watts up to around 700 as the clock hits 0 to make sure I am near the front when we all leave the pen and the hardest part of any Zwift race begins.
Can I hold on long enough to make the front selection? When I first started Zwift racing this was always an issue for me as my VO2, 5-minute type power is one of my weakest points. However, a winter spent really focusing on improving my 3-5 minute power has helped me to usually able to hold on long enough to make the front selection in Zwift races.
The initial group size made it difficult to track how many riders made the front, but after a first lap average power of 380W and a new best lap time for me of 2:04 we appeared to have ~40 riders in the front group. I tried my best to maintain my position in the top 10 as our group was further whittled down to around 25 after the second lap average of 330w.
The pace didn't drop after the second lap, with my power for the next 5 laps averaging between 324 and 337 watts. We fell into the predictable rhythm of steady as you cross the finish line up to the base of the cobbled climb before raising the power to ~500W to stay towards the front on the climb, pushing hard on the top before a slight recovery back over the rollers.
The pace felt hard but to my surprise, I didn't feel totally 'on the rivet' and was able to hold between 5-10th position in the group that had been slashed from the initial 158 riders to 14. To my even greater surprise, I managed to close a gap that started to open after the brick climb on lap 4 when the rider in front of me lost the wheel!
However, by lap 6 I felt I needed to use the draft van I had been holding to have a little respite from the relentless pace after we pushed hard to move through a large group of dropped riders on the rollers and across the finish line. I just hoped that the powerup gods would smile on me in the final two laps!
The Finish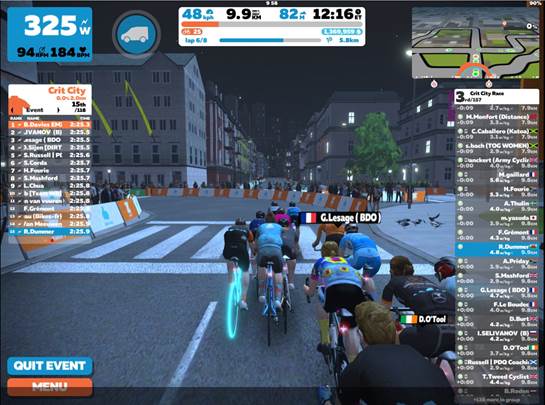 Lap 7 passed by fairly uneventfully but I now had a decision to make: do I use my feather powerup and hope for a slightly more useful one such as the Aero Helmet for the final lap? Or do I keep it and use it on the bricks during the final lap? I chose to chance it, activating the feather just before we hung a right onto the bricks on lap 7.
I was filled with a little trepidation as we passed through the finish banner for the final time. Would I get the aero helmet I so desired? "No" was the answer. In fact, I only got an XP bonus! Not that much use in a race!
The much-expected surge in pace I have previously experienced in Crit City races did not fully materialise in the final lap, maybe because of the relentlessly high pace. I was in 9th position of a final group of 11 (a little too far back in hindsight) as we hit the base of the brick climb for the final time. I pushed hard to make sure I was not distanced on the climb and held position until the top. Was I going to get to the sprint in the final group? No. As the road flattened out after the climb the group in front of me pushed ever so slightly harder and the elastic snapped, leaving me riding in a no man's land for the final 500m with a group of 8 ahead and 2 behind.
I held my position with a solid effort but without needing to sprint as I stayed away from the two chasers without being able to catch those ahead.
The Zwift results placed me in 9th position, 2s ahead of the chasers and 9s back from the winner. But I was mightily happy with my performance as I felt I had really dug as deep as I could go and left nothing in the tank. I finished the race with an average power of 335W, far above anything I have managed before! I was further vindicated when I received the notification saying I had added a full 11 watts to my FTP. I was a happy boy!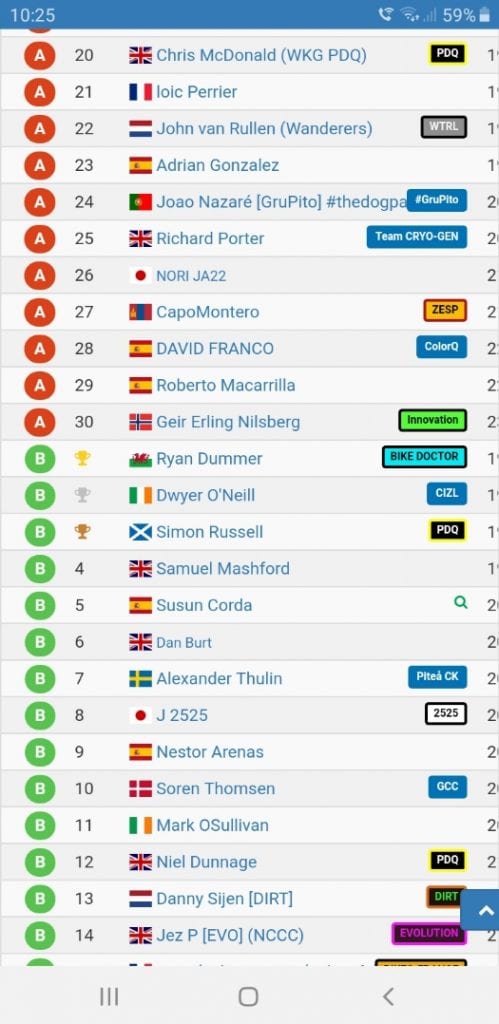 And this, I thought, is where the race was lost. Until I took a closer at the results to find that all 8 riders in front of me were well above the category power limits, meaning they were disqualified. Zwift Power raised me to 1st, so the race was in fact won! My first gold cup as a B grade rider… now I was a happy boy!
In fact, many riders behind me were also well above the category limits. As I looked at the results in Companion I discovered that only 10 of the top 50 had an average power within cat limits.
Although I do realise the allowable number can be a bit higher when Zwift Power apply their 95% principle, what I do know is that many were well over 4 w/kg and this told me two things
There were an awful lot of sandbaggers in this race and
I must be quite good at drafting and conserving energy to have held the front group where many riders averaged 4.6-5 w/kg while I stayed within the power limits!
Takeaways
Push yourself: When I was racing in cat C I felt as if I was pushing my limit but knew I kind of fell between two cats and was wary of what cat B had in store for me. However, I have discovered that I could go deeper than I knew and within a few races I am competing at the pointy end of the category above! So my advice to anyone who feels as if they fall between categories is to challenge yourself and race in the one above, as it's unlocked potential for me I didn't know I had.
Work on that final lap power: I need to work on improving my ability to go beyond my threshold in the final lap to hang with the very front of the race and stay in contention at the final sprint. All bar one of my B grade races have gone like this, where I haven't quite been able to push that bit harder in the final km, which means I come in 10 or 20 seconds back from the winner.
Indoor training is a powerful tool: This year I have trained more indoors than ever before and I am fitter than I have ever been! Even though I have done fewer training hours it has been more focused and each session has a purpose. I am seeing the benefit of this.
Aims for the future: My current aim is to try and become a solid 'upper end' B racer before progressing into the A's. I also want to develop a racing team mentality by competing in events with the newly-formed Bike Doctor Zwift race team I have joined.
I hope you enjoy reading my write up as much as I have enjoyed writing it and I'd like to extend my gratitude to Eric and the whole Zwift Insider team who do a great job at bringing us news and content from the exciting world of Zwift. Ride On!
Questions or Comments?
Share below!