I've completed 963 races on Zwift, but the number of races I've DNF'd can, I think, be counted on one hand.
This isn't because I'm some mental or endurance giant. It's just because I hate getting geared up for a race, then pulling out before it's done. So even if I get dropped, and even if it's because of some strange mechanical or technical issue, I'll almost always keep pedaling to the line.
But last Saturday's race was a bit different. Here's how it unfolded…
The Warmup
The race began at 9:30am, so I was planning to be on the bike by 9am to spin up the legs with Coco. I had chewed two pieces of caffeine gum and applied PR lotion to the legs… my typical race prep. But I got distracted processing Tiny Race results and ended up with only 15 minutes to warm up.
The shorter warmup wasn't a big deal, but I did note that it felt harder than usual to produce high-end power, and my heart rate seemed a bit higher than normal. Typically I can chug along in the Coco group at ~125-130 bpm, but today it was more like 135-140.
This wasn't altogether surprising, as I'd been a bit sick for a few days. It was one of those annoying cold/flu bugs where your nose is running just enough, you're forced to cough just enough, and you're feeling just tired enough to know you're sick. I wouldn't have called myself super sick. Generally, I try to pretend I'm not sick anyway, so I wouldn't have even called myself sick. Just a "bit" sick.
I was hopping into this race, hoping the sickness was minor and wouldn't affect my riding. But I was beginning to think that wouldn't be the case…
The Plan
The race (part of the EVR Winter Series) was on 2 laps of London's Greatest London Flat, a course that generally lives up to its name even though that longer, slack climb in the Richmond Park area always feels a bit too suffery:
This race used two settings I typically don't see in the races I frequent. First, all categories began together. Secondly, double draft was enabled. So I joined, hoping I'd be able to ride smart and stay with the A's in front for the duration of the mostly-flat race.
Lead-In and Lap 1
We began with 143 riders across all categories, but the first selection happened quickly, with a front group of 58 riders consolidating in less than 3 minutes. Then we hit the short Northumberland Avenue climb up to Trafalgar Square and the group was whittled down to 48. (Most of the front riders were A or B category, although a few cagey C riders had snuck in.)
As we finished the lead-in I saw a message from "Old Andy", a rider I had raced recently in Makuri Islands where we found ourselves together, unsuccessfully chasing a breakaway. "I see you young Eric @ ZI", he wrote. I had barely beaten him to the line in that last race, and he had later commented, "But there's always next time. Keep up the good work Eric, and watch out for Old Andy trying to chase you down." I figured Old Andy would be doing his best to beat me to the line this time!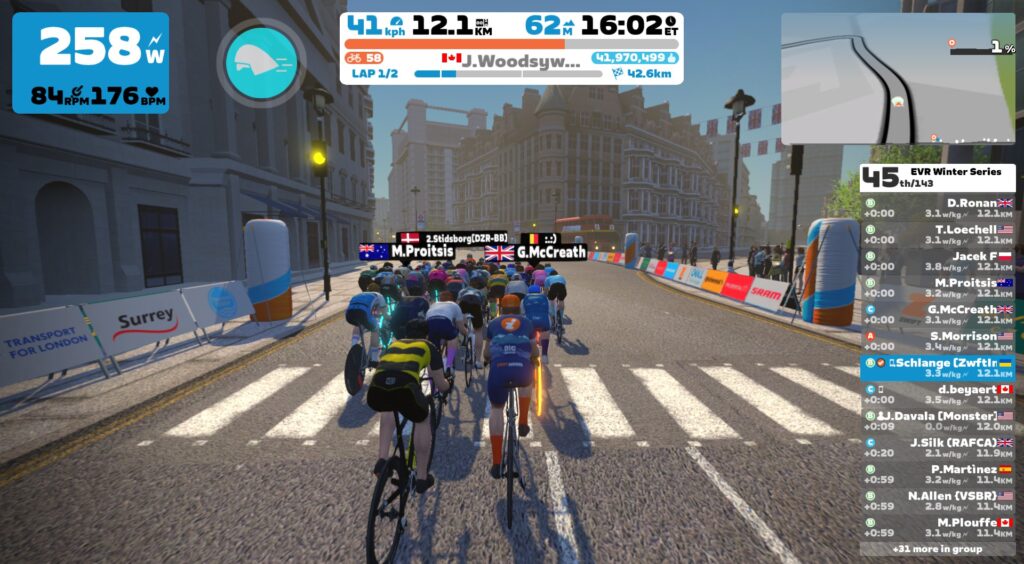 Despite being mixed in with A riders, the pace for the lead-in and start of lap 1 wasn't bad at all (thanks, double draft). I was averaging around 270W, but then one "L. Swatowski" (a rider using virtual power) attacked. I promptly messaged "zPower ranger attacks!" partly because it's funny, but also in hopes of dissuading people from chasing.
But that didn't work. The pack strung out, powerups flew, and the chase was on. And that's when I began to feel the effects of being a bit sick.
As noted, I had already noticed that my HR was 5-10 bpm higher than it should have been for the given effort. But when the pace picked up for more than a few seconds, things just got suffery and miserable. My body didn't want to perform.
At 14.6km I decided to pull the plug and drop from the front pack. I messaged the group to let them know I was dropping due to high HR/sickness. I also messaged "Good luck Old Andy! Stick it to the A's!" He replied "Take care" and I dropped off the back and spun the pedals for a few minutes before signing off.
Old Andy: your 11th place finish in the Bs certainly beat my DNF. Chapeau!
Watch the Race
Takeaways
After the race I checked my numbers to make sure I wasn't imagining things. Here's my HR distribution for this race: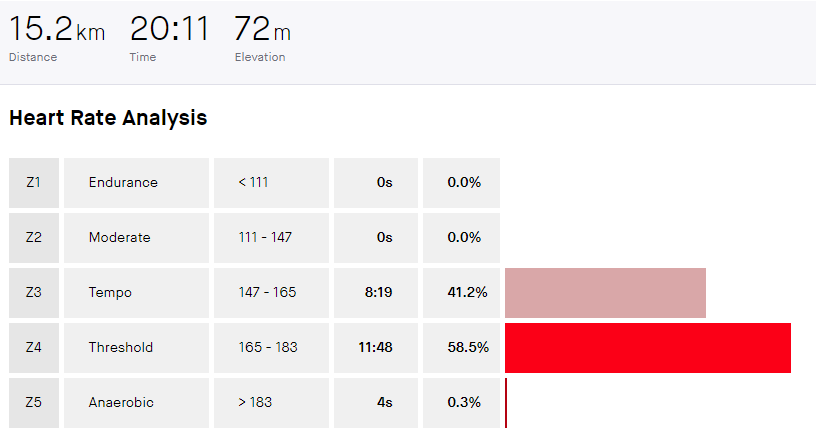 Here's my HR distribution from a similar (but slightly harder) race effort one week later: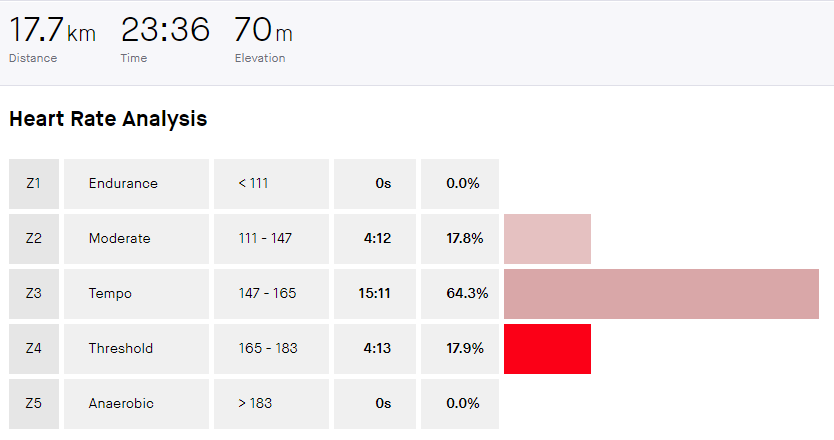 My weighted average power in the second race was 289W, while the race I quit due to sickness was only 273W. And yet, the sick race had me at threshold HR for 58.8% of the ride, while the race with higher power output only had me at threshold or above for 17.9%!
So I wasn't imagining things.
I asked my cycling coach buddy Alan Dempsey for his thoughts on training while sick. He said:
There's always a risk of myocarditis from doing that.
General rule of thumb is if it's in your chest, don't exercise.
If it's not in your chest, max zone 1/2.
That's pretty solid advice. He went on to say:
I look at it this way… you can't work hard enough to gain fitness when you feel like shit. All you do is prolong the illness.
Adaptation from training is not dissimilar to an immune response. Damage >> repair.
So you're not getting better. Riding easy might help maintain fitness while you're sick, but still might extend the illness.
For me, recovering from sickness as quickly as possible is the best course for getting back to training healthy and staying fit. And when you're sick that's rest, fluids, and healthy eating.
Good stuff, Alan. It reminds me of this paper I read in the early days of the Covid lockdown when I was researching the links between our immune systems and exercise. The paper had a lot of good stuff, but two key takeaways were that "Acute exercise is an immune system adjuvant that improves defense activity and metabolic health" and "the best evidence supports that high exercise training workloads, competition events, and the associated physiological, metabolic, and psychological stress are linked to immune dysfunction, inflammation, oxidative stress, and muscle damage."
Or to put it simply: low to mid-exertion exercise is an immune system booster, but high-exertion exercise stresses the immune system so it doesn't function as well.
The common rule in cycling is, "If it's above your neck, you can ride. If it's below the neck, rest." Not a bad rule, but I would expand that rule a bit and say if your heart rate is elevated, or you're feeling sick at all, keep it at zone 1-2. Don't stress the immune system that's already working hard to make you whole again.
Your Thoughts
Have you ever ended a race or workout due to high HR from sickness? What are your personal practices when it comes to riding while you're sick? Share below!