The first TTT of ZRL Round 1 happened last week, and it was on an interesting route: France's Roule Ma Poule. What makes this route "fun" is that it begins and ends with a ~6-minute climb, and there's a long flat stretch in between. So you have to get your wattage bazookas over that first climb so you can go fast on the flats, then it's up to your fastest 4 climbers to finish it off on the last climb!
My new team (DIRT Kraken) hadn't done a TTT together yet, but we had all raced plenty of TTTs and had a solid plan. You know what they say, though: everyone has a plan until they get punched in the face. This race didn't go as planned, but we gave all we had and, in the end, secured a decent result. But I'm getting ahead of myself…
Pre-Race Practice
We had our pull order and power plan worked out, but we decided to hold a meetup on the race route on Monday (the day before the race) so we could talk through strategy and get used to riding as one.
We were all on Discord, and had a great practice run around France while discussing pacing on the key climbs, timing our pulls, etc. Our pull order would be:
Darren (Daz)
David Mac
Dave H
Myself
Captain Diogo
Wojtek
Wojtek was one concern over the first climb, because we wanted to go as fast possible, but couldn't afford to drop him on the climb since we needed his watts for the long flat that followed. So we planned our climb pacing at a level that would keep him with us, hoping he could hang on the flats then put in one final suicide pull as we neared the final climb.
The Warmup
The race began at 9:30am, so I ate a carby breakfast (oatmeal) then chewed some caffeine gum (300mg of caffeine) and applied PR lotion to my legs before kitting up and getting on the bike around 9am.
I swapped to a TT bike for the warmup – the Cadex Tri with DT Swiss Disc wheels (the fastest TT setup in Zwift). I also put on our team kit. But I kept my very non-aero orange Zwift casquette, so each of us would have unique hardware, making it easier to tell each other part.
After putting in some steady effort and a few digs to get my heart rate up into the threshold zone, I headed to the pens 5 minutes from take-off time.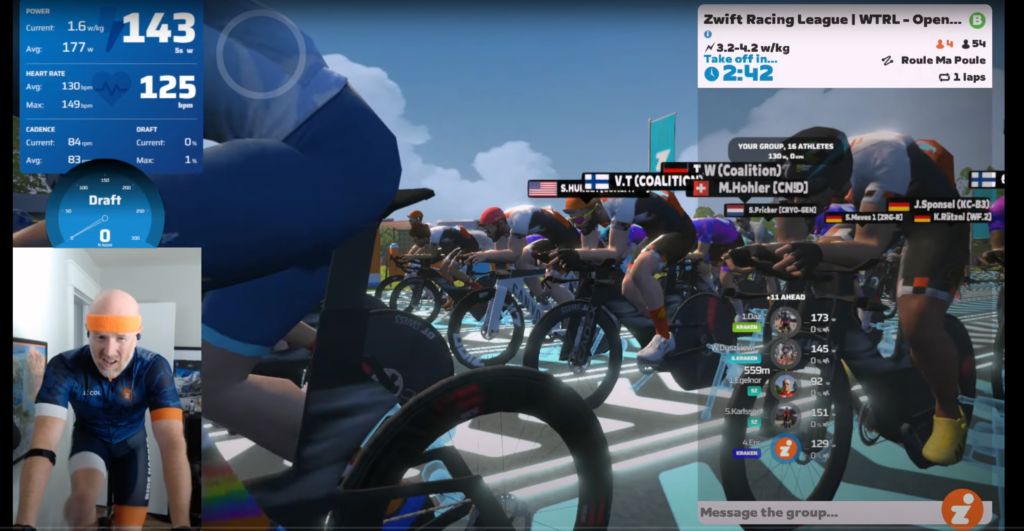 The Start
The clock hit zero, the Kraken jumped out of the pens, and before we could even cross the start line disaster had struck! I heard David Mac on Discord:
"Oh no, I'm not on the right bike! Oh f***. Classic."
Uh-oh. David hadn't swapped off his road bike and onto a TT bike. There was no way he'd be able to put in big pulls for the duration of this race, given how much faster TT bikes are.
As we climbed the backside of the Petit KOM, we had an idea – what if David could get far enough ahead of us on the climb to stop and swap bikes before the descent? It seemed like a good plan, if David could get a big enough gap.
"Ah, this gonna be grim…"
Soon enough David went off the front, but even with us trying not to push the pace, he just couldn't get a big enough gap to make it work. So he eased up, rejoined the pack, and we all grabbed a breather as we descended the Petit KOM's zigzags.
The Flats
I could see in the rider list that Team Foudre (who had started just ahead of us) had put 9-10s into us on the first climb. And Coalition (just behind us) had put a whopping 22s into us! We had some work to do.
At the bottom of the descent, it was time to get the TTT train chugging. We started taking our pulls, calling how long we were pulling for, and calling when we were on deck.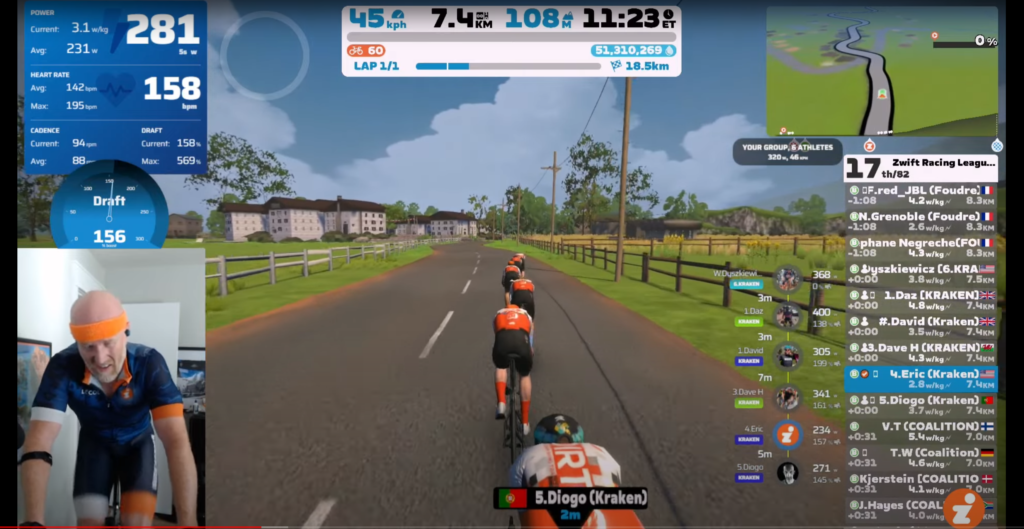 Our goal was to keep a single-file line since it's by far the most efficient formation for TTT racing. We found that riding efficiently in a TTT with Pack Dynamics required three things:
Modulating power to stay in formation as much as possible
Upping your watts ~5 seconds before your pull starts, so you come around the front rider at the right time
Dropping off the front once the new pull passes you and easing a LOT so you drop quickly back without messing up the formation too much. The put in a quick dig to grab a wheel!
We worked together nicely, and David Mac even put in a pull or two on his road bike. For the most part, though, he said in the back of our line, unable to take fast enough pulls to help the team.
At the 13km, Wojtek finished his pull and drifted back, but something went sideways and a gap opened up ahead of him and David Mac. David didn't have the legs to close the gap on his slow road bike, and Wojtek was gassed from having taken a pull.
This is one of those judgment calls you have to make in TTT racing. If we ease up and lose a few seconds to get them back, will they be able to put in the work to make up those seconds?
We opted to press on without them. The race was only halfway over, and we were just 4 riders:
Darren (Daz)
Dave H
Myself
Captain Diogo
This was going to hurt.
Everyone was in their own pain cave. I wasn't feeling great – my pulls were getting weaker as we continued, which is not a good sign. More judgment calls. How hard should I pull? Should I skip a pull? With only 4 riders, we all had to make it over the final climb. I didn't want to blow up on the climb and add a bunch of time to our team's race (your team's result is based on the time of the 4th rider across the line).
As we neared the base of the final climb, I told my team I needed to skip a pull so I could recover a bit before the final effort.
The Final Climb
As we began the final climb I looked at the rider list. Coalition had grabbed a few more seconds on the flats, now 28s faster. But we had put time into Foudre, and were now ahead of them by 17 seconds!
That was just the incentive I needed to dig deep on the final climb. I pushed hard, trying to pace myself for what I knew would be a 6-minute hard effort. I sat on my teammates' wheels as much as possible, but they turned into carrots I had to chase back over and over again as my power waned.
With 900 metes to go we had just ~5 seconds on Foudre up the road, and Coalition was behind us, closing fast. How are they so strong? We caught Foudre's 5th rider, and Daz and Dave H just kept hammering out a strong pace on the front. With 250 meters left, Coalition riders caught us.
Normally when one team catches another in a TTT, the caught team might ease a bit to let them pass, while the catching team should bump up the pace a bit too, to make it clean. But that wasn't going to happen today. We were all-out with just a few hundred meters to go, so it was a pell-mell dash of both teams to get across the line.
I wanted to sprint, but I had nothing left. So I gave whatever was left, and eventually the suffering ended. I was 4th across the line on my team, but only half a second off my teammate's wheel. I had survive the final climb… but how well did we place?
Watch the Video:
Team Result
We finished 4th, with Coalition taking 1st (well done, boys). We beat Foudre by just a few seconds, which means we're now tied with them for 2nd on the season, with SZ in 1st and Coalition in 4th.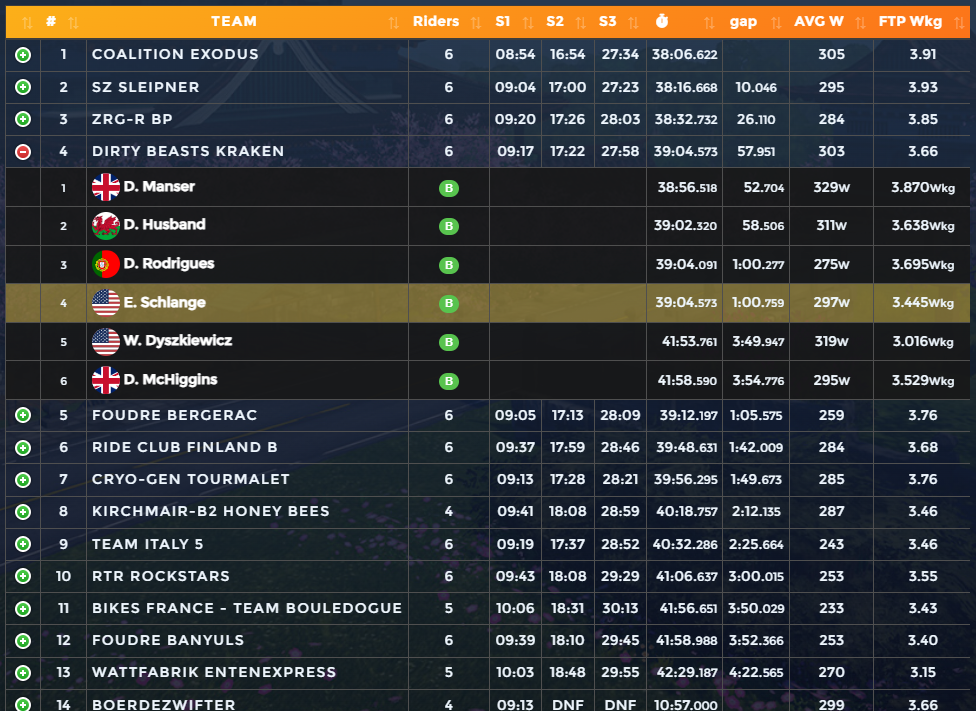 Takeaways
Our team worked together well, but David Mac's wrong bike snafu definitely hurt us, as did my weak legs on the day. These things happen, though (last week it was me with a ZNF).
When we head to London (a flatter route) for the final TTT in race 6, Kraken will be hungry for revenge!
Your Thoughts
How did your ZRL TTT go? Share below!