Heading into race #7 of the Zwift Racing League, I knew three things for sure:
My competition can outclimb me on anything semi-steep and over ~60 seconds long
I can sprint decently well
I don't get dropped on the flat parts
These facts would inform my strategic decisions as we took on a modified 47km version of France's Petit Boucle route. Unfortunately, it's what I didn't know that would hurt me in the end…
A Messy Warmup
As usual, I chewed some caffeine gum before the race – about 90 minutes before our 10:20am start time. I was working on a pile of Zwift Insider stuff, though, and the time slipped away from me! One minute it was 7am, and the next minute it was 9:30 and I was running late for my warmup!
So I quickly zipped downstairs, applied PR lotion on the legs, kitted up, and got on the bike. I really dressed up for this race, too – wearing a Nopinz Subzero jersey. I've decided you all probably don't need to see more of my flesh than absolutely necessary, and since the office stays quite cool in this fall weather I figured overheating wouldn't be an issue.
This morning was a mess – my most poorly-orchestrated warmup in recent memory! My plan had been to get onto the France map to do some recon of a few key areas: the Petit KOM backside climb, the descent (testing my supertuck!) and the sprints for timing. Unfortunately, my computer took forever to boot into Zwift (not uncommon after an update) so I had to do a long reboot. Then I wanted to save a good spot in the starting line, so I had to join the event then exit in order to ride free again. By the time I was back on course I only had time to partially make it up the climb before it was time to head to the start pens.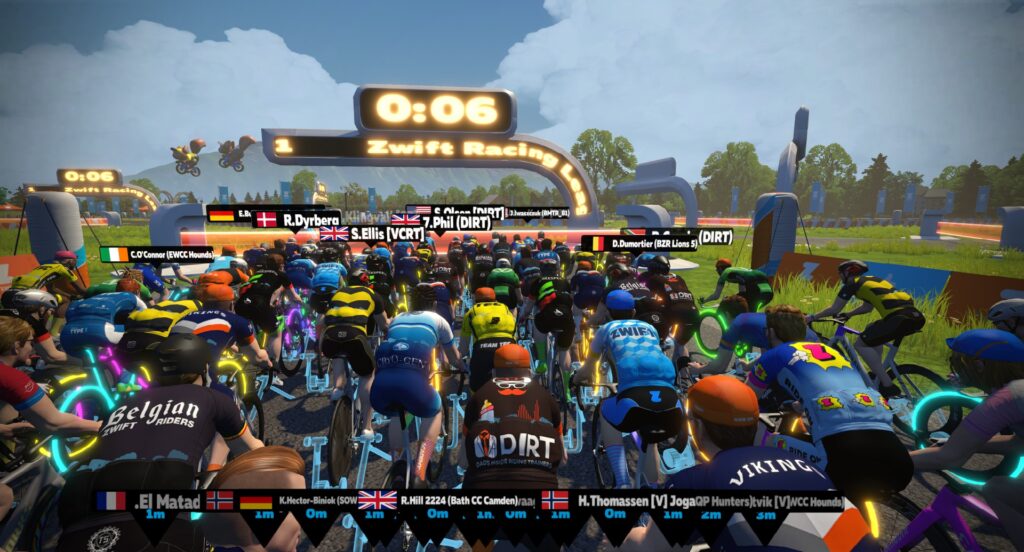 Before the Climb
I broke this race into three major sections mentally: before the climb. The climb. And after the climb. Before the climb we had the race start, followed by the Pavé Sprint Reverse, the Aqueduc KOM Reverse, and the Ballon Sprint Reverse.
The race began sedately enough, with 126 riders who were experienced and smart enough to know that big attacks early on would have little effect. Plenty of places for those later on! 317W kept me near the front of the pack for the first 3 minutes.
Going for the Sprints
Figuring I probably wouldn't make it over the climb in the top 30, I had decided I would go for the two sprints in an effort to get some extra points for my team. Unfortunately, my recon plans hadn't panned out. I knew the location and rough length of each sprint, but I hadn't done enough sprinting on France to know where I need to start putting the power down, how long the sprints are, and precisely where they start and finish.
As we approached the Pavé Sprint Reverse, one rider went early, and I got a late jump. I started the sprint, but seeing that I wasn't going to get into the top three I eased up to save my legs. The Aqueduc KOM Reverse was coming just 2 minutes down the road, and I wanted to make sure I didn't get dropped!

Aqueduc KOM Reverse
The Aqueduc KOM is interesting, because it's really more of a forced sprint than a climb. There's a bit of a false flat leading into it, but the actual timed section is only ~40 seconds long and not terribly steep. So it's all about staying in the draft and keeping the power high up and over the top, then grabbing a wheel on the way down.

And that's exactly what I did. This effort was surprisingly easy – the most "surprisingly easy" part of the race for me, in fact. I'm no climber, but short little kickers I can handle, since I can carry a lot of momentum in and keep my speed up over the top.
Ballon Sprint Reverse
After the Aqueduc it was time to spin the legs out and determine how to do better on the Ballon Sprint Reverse up the road. This was probably my last chance for extra points, after all! I remembered the sprint being fairly short, but wasn't sure exactly where it began. Cursing slow-booting Zwift under my breath, I kept a wary eye on the minimap then strained my eyes to see the start line up the road as we neared the sprint.
One rider jumped off the front and I bumped up the power to stay on his wheel, figuring I may get a good slingshot into the sprint. He eased off the power though, just as I saw the start line up ahead – so I rolled through, shifted, stood up, and went for it! Two SZ riders zoomed up from behind, but I was able to stay ahead. I might be able to win this! Push, push push!
But how long was this friggin' sprint? I was flagging, and in the last 5 meters of the sprint I went from the front slot to… 5th, according to the leaderboard! Nooooo! That sprint was much longer than I remembered. I'd burnt another match, with nothing to show for it!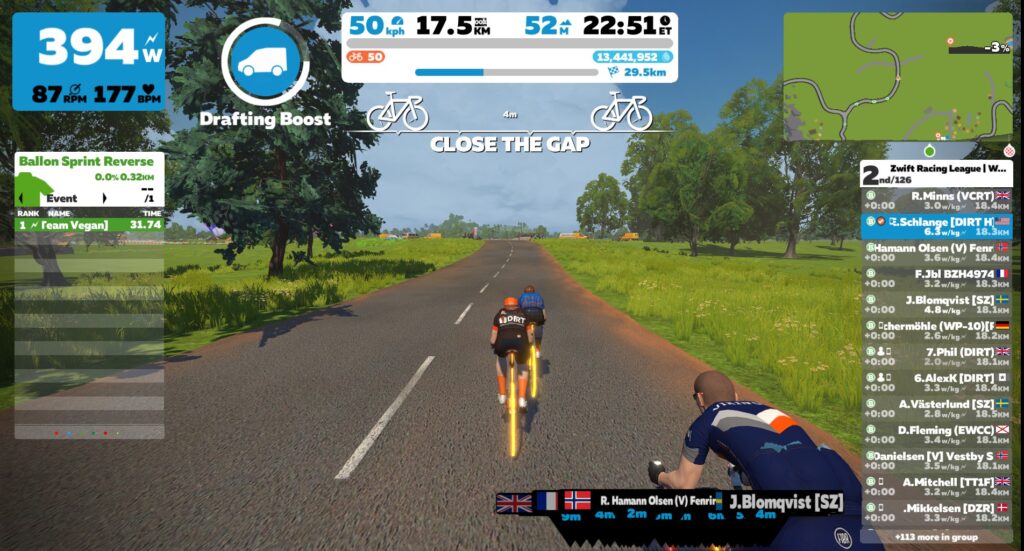 The Climb
Licking my wounds, I tried to set my mind on the battle of staying with the pack on the twisty, rolling section I like to call Les Intestins. But my legs were feeling that sprint effort, and I couldn't shake the sinking feeling that any chance of staying with the front group over the upcoming climb had evaporated with that last sprint attempt.
With Les Intestins safely behind, I made a mistake before the big climb even began, letting myself drift back so I began the climb in ~50th place, probably 15 bike lengths from the front. Starting at the front would have given me the chance to drift back while staying in touch with the front group, but now I was barely hanging onto the front group!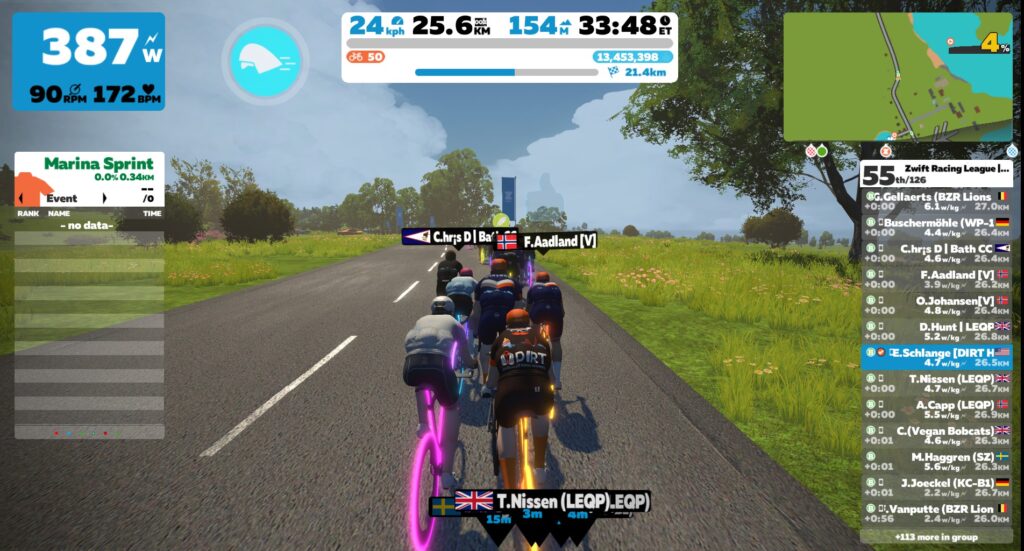 As the climb began in earnest I hammered to hold the wheels, but I just didn't have the w/kg to hang with them. As the front group rode away I tried to settle into a rhythm I could hold for ~6 minutes.
Coming over the top in 49th, four riders were just seconds ahead, and the front group so far down the descent that I gave up hope of reeling them in.
But I could catch these riders up the road! So I hammered up to speed then dropped into a supertuck, hoping I wouldn't pop out of the tuck on the corners for too long. It took a bit of doing, but I eventually caught the four riders near the bottom of the descent. Now we were faced with a decision…
After the Climb
With extra points only going down to 30th place, our 45th place group wasn't going to be getting any extra points. So should we sit up and take it easy, cruising in gruppetto-style? No. There were too many riders just up the road – we had to chase! So we took some turns pulling, then got caught by a group from behind. With increased numbers and some strong riders, our group of nine began gaining on the pack just 15s ahead.
Just how large is that pack? If they have 15+ riders, that means extra points are within each if we can bridge up…
We kept chasing, seeing our time gap slowly coming down. And sometime before crossing the bridge into the Brittany sector, we caught the group! I drifted to the front to discover that the front of the group was 30th place. Ha! You can't make this stuff up. Exactly one rider from this group was going to get a single extra point. The other 23 would get nothing!
Correction: after looking closer at results and WTRL's rules, 30th place doesn't get an extra point. Only 29th+ does!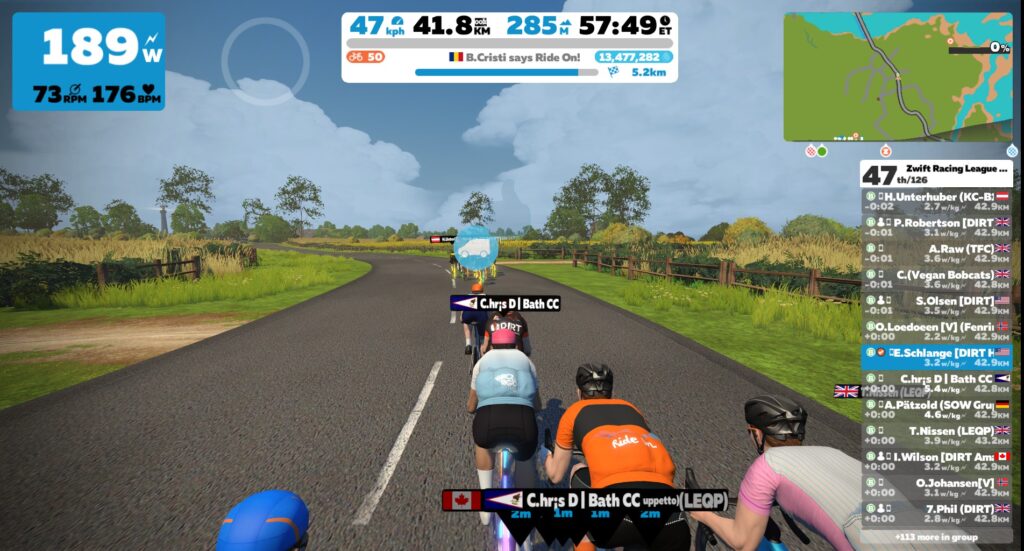 We had a pile of DIRT riders in this group, since there are two DIRT teams in this division and no one from my team had made it into the front pack. Team manager Snowy messaged me to ask if I wanted to go for a long attack with him – why not? So at 1.5km we put the hammer down. Unfortunately, my legs didn't have much hammer left! We weren't able to break the elastic, but we certainly stretched the pack out.
Riders sat in the wheels then sprinted in the final meters, but I had nothing left, finishing 47th in the back of the sprinter pack from our chase group. A rider from the Vikings team landed the 30th place extra point from our group. The front pack finished as a unit, 90 seconds ahead of us.
See activity on Strava >
See ride on Zwift >
See results on ZwiftPower >
Watch my race video (including my camera falling off the table)
Team Result
The DIRT Hellhounds didn't do well this time around. Five of us finished in that same chase group, and the sixth rider (who's nursing an injured back) finished further back.
The one bright spot (for me): I got an extra point! Although the game showed me coming in 5th, ZwiftPower says I got 3rd on the Ballon Sprint Reverse. So one extra point. Unfortunately, most of the other teams got at least one rider into that front group, so we placed 19th out of 23 teams.
Takeaways
My first takeaway from this race is that a proper recon is crucial, especially if you're going after intermediate sprint points! Most routes on Zwift I know really really well, but I should have been more conscientious about getting a good recon ride in on this route beforehand.
Secondly, I was surprised that I was able to go from alone in 49th place to having a shot at 30th, without a lot of extra work. This reminds me that I shouldn't give up, even when it seems pointless.
Did I make the right call burning matches in sprints, at the cost of having less for the big climb? I'm still not sure. In a less competitive B field I know I could have hung with the front up that climb. But we've got a strong bunch of punchy climbers in our division, and I'm in no way convinced that I could have held their wheels even if I'd conserved as much as possible beforehand.
It's really interesting to look at the 5-minute power numbers in ZwiftPower for this event. The main climb up the backside of the Petite KOM is right around 5 minutes, and everyone in the front group had a 5-minute power of 4.7w/kg or more. Almost all of those riders are 4.7-4.8w/kg, with a few higher and just two riders at 4.6w/kg.
In contrast, my group's 5-minute power was mostly 4.4-4.5w/kg. (My ZwiftPower max is 4.5w/kg.)
So there you have it – that's the difference between being in the points or being in the chase for the EMEA East 1 B1 division!
Your Thoughts
How did your first ZRL scratch race in France go? Share below!