It was Tuesday, and I had a hankering for a Zwift race. Scrolling through Zwift Companion, I was looking for races with a decent number of signups. In the past month or so race numbers have dropped considerably since:
Many riders are spending more of their time outdoors
The number of events hasn't changed on Zwift
I found a KISS EU PM race with decent B field of ~30 riders signed up. As a bonus, it was on the newish Ocean Lava Cliffside Loop, which I hadn't yet raced. And just to make things interesting – it was HUDless! Nothing like racing a new route with no HUD. Let's do this!
Watch the Race Summary Video
The Warmup
I ran through my normal warmup routine – two pieces of caffeine gum and hour before the race, some PR lotion on the legs around 30 minutes before, then a spin with C Cadence and her roadies in the desert.
This included a few 30-second efforts to get my heart rate up around 160bpm. Then it was time to head for the start pens!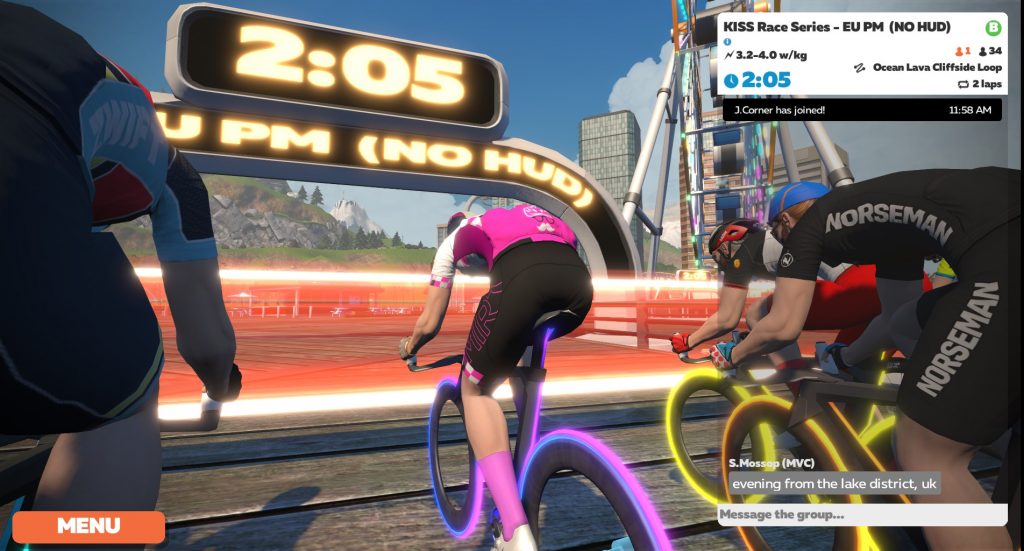 The Start
The race began as expected – a bit of an effort for the first couple of minutes as we got up to speed and headed up the ramp toward the Volcano. But nothing crazy enough to push me over the edge. We all knew the harder efforts would happen on the Dirty Sorpreza and the start of the Epic KOM reverse.
We arrived at the Dirty Sorpreza soon enough, and I was well-positioned near the front just in case it turned into a hammerfest and I moved backward a bit. But it wasn't too bad (nothing like the steamroller-powered ZRL race from season 3) and I maintained my position throughout the climb, putting out 367W for just over a minute.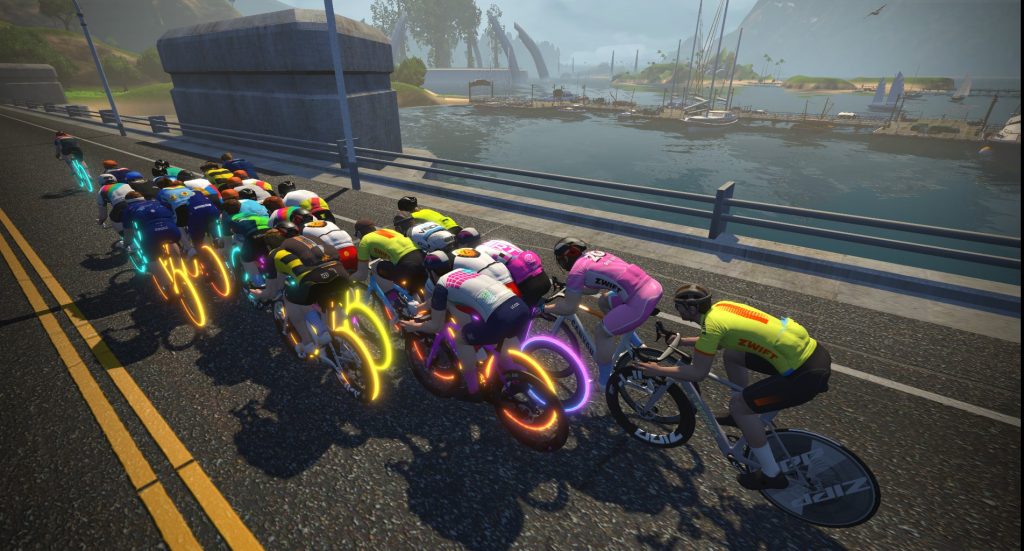 Epic KOM Reverse, Lap 1
Everyone knew the big selection would happen when we hit the base of the Epic KOM. Lucky for me, we weren't doing the entire climb – just the section from the KOM start to the Jungle turnoff.
This climb may not look like much, but it gets me. Every. Time. I went into it with fear and trepidation, because as far as I can recall, I've never been able to hang with the front group on this section. Ever.
I tried to position myself near the front going into the climb, but that took some effort before even crossing the KOM line – because everyone else had the same idea! Out of the saddle hammering early, I was hanging with the front… until I wasn't. The group of riders ahead began to slowly ease away from me, then a few riders from behind came around me.
This is never a good sign.
As the climb flattened a bit at the halfway point, I kept hammering out of the saddle, knowing this was where the race would be lost if I didn't catch onto the wheels. Happily, I was able to ease into the back of the group, and hang in with them for the rest of the climb! 373W for just over 3 minutes kept me in touch.

One down, one to go.
Wash, Rinse, Repeat
The rest of the lap after the Epic KOM climb is rather unremarkable in terms of effort. The Epic KOM bypass road, while beautiful, is fairly flat, and no big moves are made here since everyone is gassed from the climb. Then you hit the bridge on the other side and descend for a while, getting in a nice supertuck + recovery.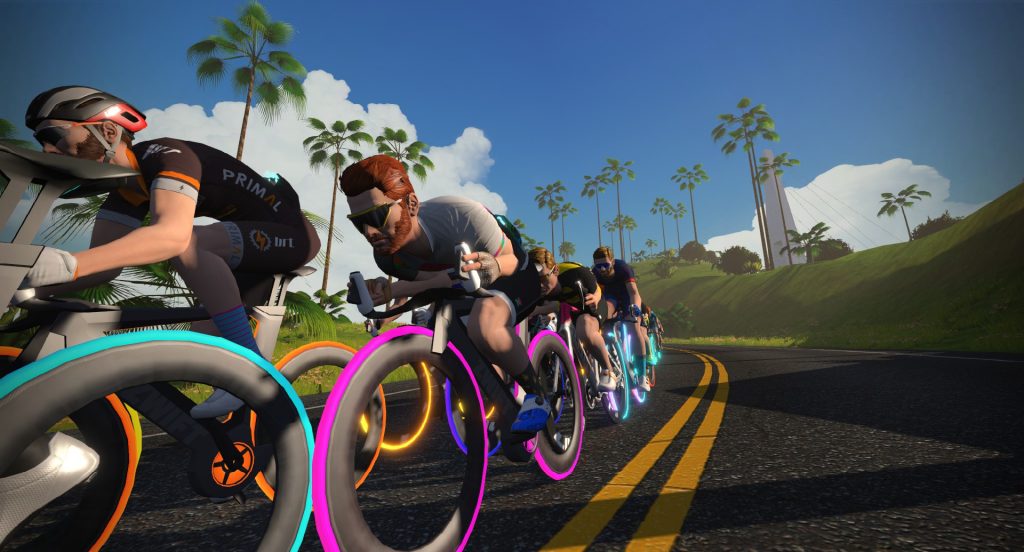 Then it's a flat run-in to downtown Watopia and the start/finish banner.
Our starting group of around 30 had been reduced to 20 or so by the time we hit the base of the Epic KOM on the second lap. This time it didn't hurt quite as bad – no gap opened up for me to close. I was stoked! I had survived the climb not just once, but twice. Which meant I'd be in the mix for the final sprint!
Interestingly, my average wattage for the Epic KOM climb on the second lap was slightly higher than the first: 378W. But on both laps, my segment times were identical: 3 minutes, 5 seconds.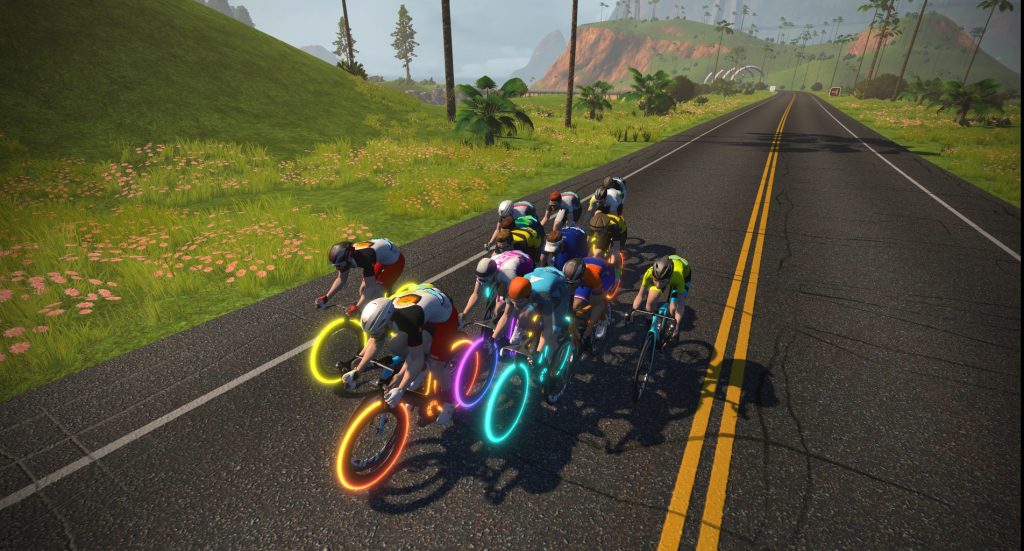 The Finish
I tried to sit in and keep the legs fresh for the final effort, knowing it would come down to a hard sprint. It always does, in this direction. You've got a bit of an effort up out of the Ocean Boulevard tunnel and up the false flat, then you turn right toward downtown Watopia and all bets are off.
No powerups for this event, so there was no hiding or blaming the random number generator. This was legs versus legs. As we turned toward downtown, I watched for riders to jump. And when they did, I stood up and started hammering, just trying to hold their wheels initially. Then it was time to go all-in! I gave it everything I had… which wasn't much.
My avatar was bouncing between sitting and out of the saddle sprinting, meaning I was doing just barely twice my FTP – not an impressive sprint by any stretch. And yet, I was in front! Then another rider zoomed past me, and I crossed the line a few seconds later in what looked like 3rd place. But the results popped up and had me in 2nd. I'll take it!
See activity on Zwift.com >
See activity on Strava >
See race results on ZwiftPower >
Takeaways
I love the idea of HUDless mode, but I think it's more fun when you have a small number of riders – perhaps 10-15. More than that and it becomes hard to track who is who, since all you have to go on is their kit and bike. Running the Companion app was definitely a big help, as the map told me exactly where I was at, and it also showed me my wattage and heart rate.
My final sprint was a big disappointment. My metrics showed that the legs were fresh, so I can't use that excuse. In those final seconds I felt like I just couldn't generate the wattage, but in hindsight, I think I just went too early My wattage was pretty steady for the final 30s, where I averaged 626W. (My best this year is 678W for 30s, so I wasn't far off.)
What I should have done is sat in the wheels longer, then gone hard for the final 15s. That's what the eventual winner did. Perfectly executed, Luiperd (ZSUN)!
Your Thoughts
Have you raced the Ocean Lava Cliffside Loop? What did you think? Share below!