I signed up for the "Haute Route Community Rides // Quatch Quest" event last Saturday because I was looking for a longer, harder race effort. Turns out, I found exactly what I was looking for.
The Warmup
I started my race prep the same way I always do – a couple pieces of caffeine gum and some PR lotion on the legs. Running a bit late once again, my warmup was abbreviated (18 minutes). That would be just enough time to formulate my race plan and select my frame and wheels.
Race Plan
By my estimation, I would be finishing this ride in just under 2 hours. So I had no intention of going all out from the start! Still, I planned to push it for the first few minutes to hopefully make the front selection and get a free fast tow until we hit the Epic KOM at around 10km.
I had no illusions about what would happen once we hit the Epic KOM. This was a combined start event, so even if I managed to hang with the front group of A's and B's to the foot of the Epic climb, I would be quickly dropped by the climbers in both categories as we tackled the ~25-minute mountain. I can't hang with the strong climbers up long climbs like the Epic KOM even on a good day, plus I wasn't going all-out on this climb anyway, knowing the Alpe was waiting.
Everything between the top of the Epic KOM and the start of the Alpe would be recovery. Then it would be ~55 minutes of draining whatever I had left to summit the Alpe.
I knew the B podium was far from attainable for me in this race. So today's goal was just to push myself to the limit in a long, challenging race effort.
Frame and Wheels
I knew I didn't want to ride my typical aero race rig for this route, since approximately 80 minutes of the 120-minute effort would be spent on long climbs. I used our frame ranking charts and wheel ranking charts to decide which equipment to ride. Here's what I settled on, and why:
Specialized Tarmac Pro Frame: 15s slower on our ~50-minute flat test compared to the Specialized Venge I use for flatter races. But it's 15s faster up the Alpe (~50-minute climb). So I was essentially making an even trade for performance on the flats vs performance on climbs. With 2/3 of this race being on climbs, and me always losing the most places on the inclines, this is a smart trade to make!
Zipp 454 Wheels: 11s slower on our ~50-minute flat test compared to the Zipp 858s I use for flatter races. But they are 5s faster up the Alpe (~50-minute climb). With twice as much climb time in today's race as descent/flat time, this meant I was making a roughly even trade in terms of performance, but shifting the advantage to where I'm weakest: on the climbs.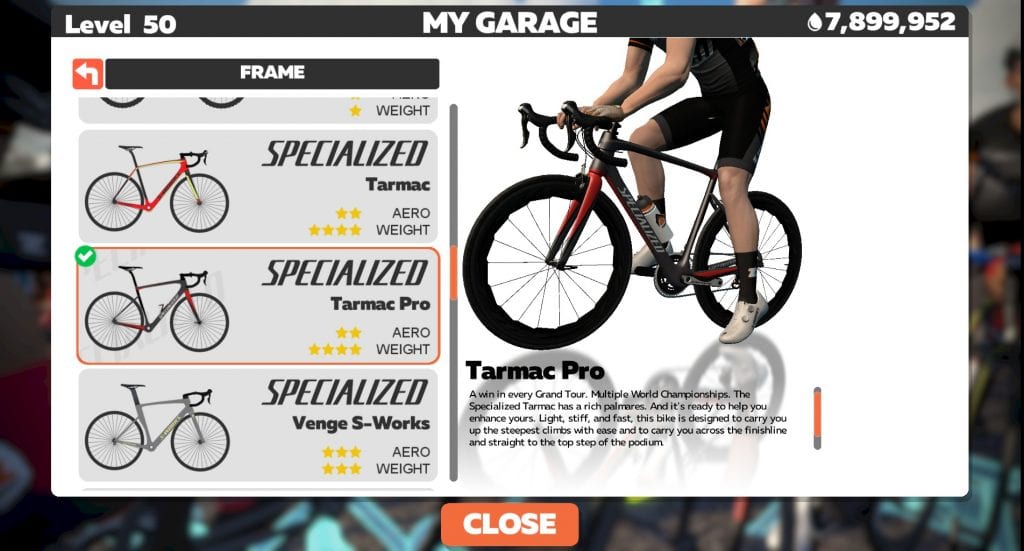 The Start
The clock hit zero and we jumped out of the desert start pen. This route begins by heading through Titans Grove, which is a punchy way to start a race!
This was a combined category event, and we had a total of 773 riders in all categories. (I'm not sure how many of those starters were B's, but we ended up with 115 B finishers.)
I hammered in an attempt to hang with the front pack, but the riders strung out quickly thanks to strong racers on the pointy end really pushing the pace. Due to some combination of those strong riders, my somewhat fatigued legs, and knowing the Alpe was up the road, I just didn't have the heart to keep pushing. I sat up after just a few minutes, jumping into a small group around 95th place where I could ride tempo and save my legs for the big climbs.
I would end up with a PR on the Titans Grove Southband segment. Not entirely surprising, since I've rarely raced this section!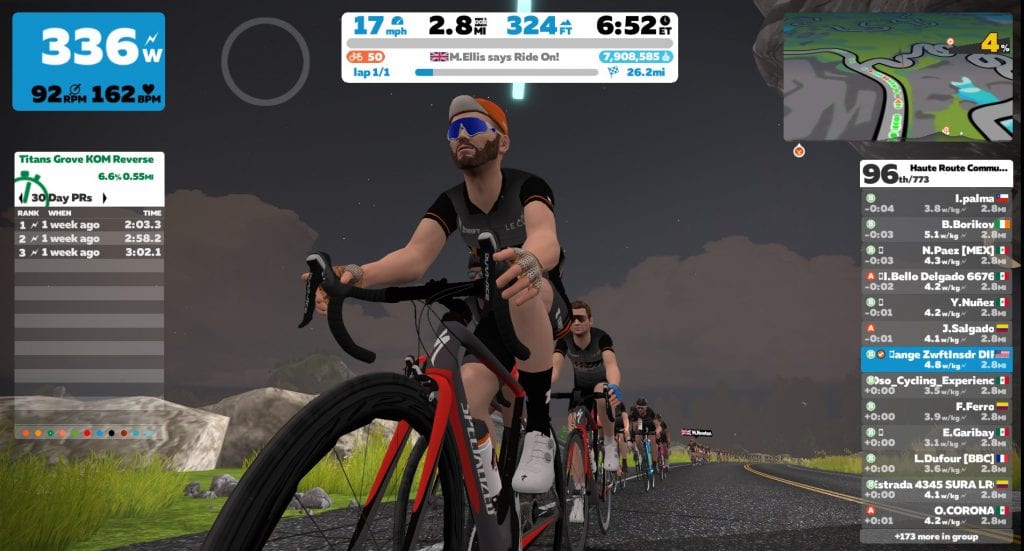 Epic KOM
Soon enough we were at the start of the Epic KOM, and I found myself in ~120th place, surrounded mostly by B's, with a few tired A's and some obviously confused "C's" in the mix. I set a goal: to finish in the double digits. (This goal would keep me fighting to the end of the race, as you'll see!)
There were lots of Spanish speakers on this ride, which was cool to see since this was a benefit ride for Mexican medical services. Lots of flags from South American countries, Mexico, and Spain – and plenty of Spanish dialogue. I jumped in with joking replies of my own, but never got any response. I envisioned the Spanish dudes reading my messages and shaking their heads. Gringos, am I right?
I averaged 268W for the Epic KOM, putting in a time of 25:38 – almost 2 minutes off my PR, which was set in the Haute Route stage 1 back in April. Not impressive by my standards, but you can't PR everything all the time! When I'm a little off my game, I try to focus on keeping my effort high, and race smarter so my mind can hopefully offset my body's weakness a bit.
For the Epic KOM, riding smart meant using drafting and momentum to my advantage. For drafting, I would sit on wheels as much as possible, especially on flats and descents where air resistance is a big factor. Momentum is an interesting one to play with near the top of the Epic KOM – if you hammer a bit while descending, so you carry extra speed/power into the starts of the rises, you'll usually put some time into nearby riders. It takes practice and some route knowledge, but using the game's momentum to your advantage is a very useful technique when racing routes that have descents leading into short climbs.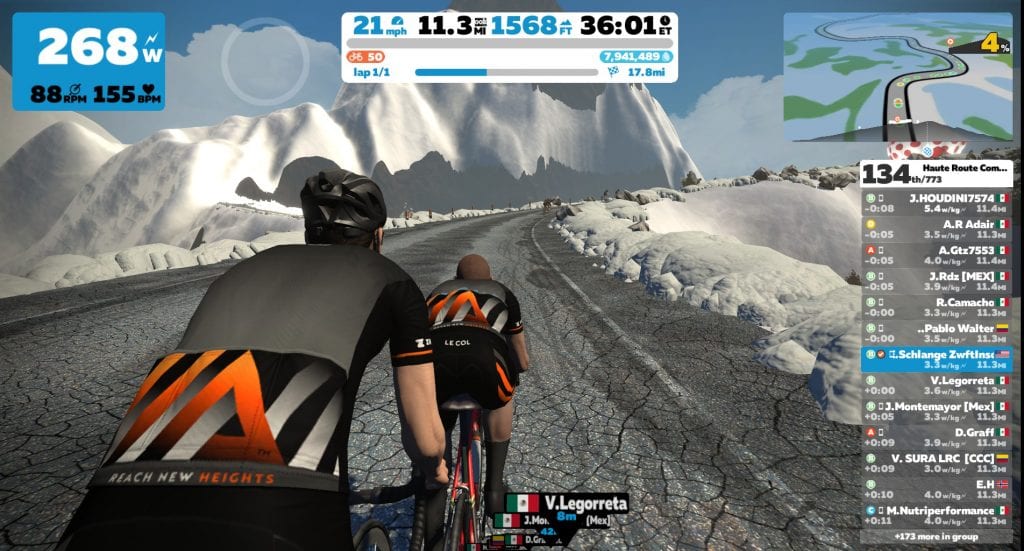 Soon enough I found myself off the front of our group, supertucking down the Epic KOM's backside. With no packs up the road in the sight there wasn't much incentive to hammer, so I took it easy until the chase group behind caught me on the climb into the Jungle Circuit. We would ride together at a tempo pace until the foot of the Alpe.
The Alpe
I started the Alpe around 110th place, but there were a fair number of riders just ahead or behind. How hard would I have to work to finish into the double digits?
My pacing strategy wasn't exactly consistent, as I flipped between holding a steady tempo, chasing a wheel ahead, getting out of the saddle for short, harder efforts, and chasing the powerup countdown timers. The pressure to keep my power up was constant, though, as I could see a steady line of B riders just behind me! I found myself trading places with the same handful of riders repeatedly: Nutriperformance, Braz, Hincapie (not that Hincapie), Sura, Oso, Buenaventura.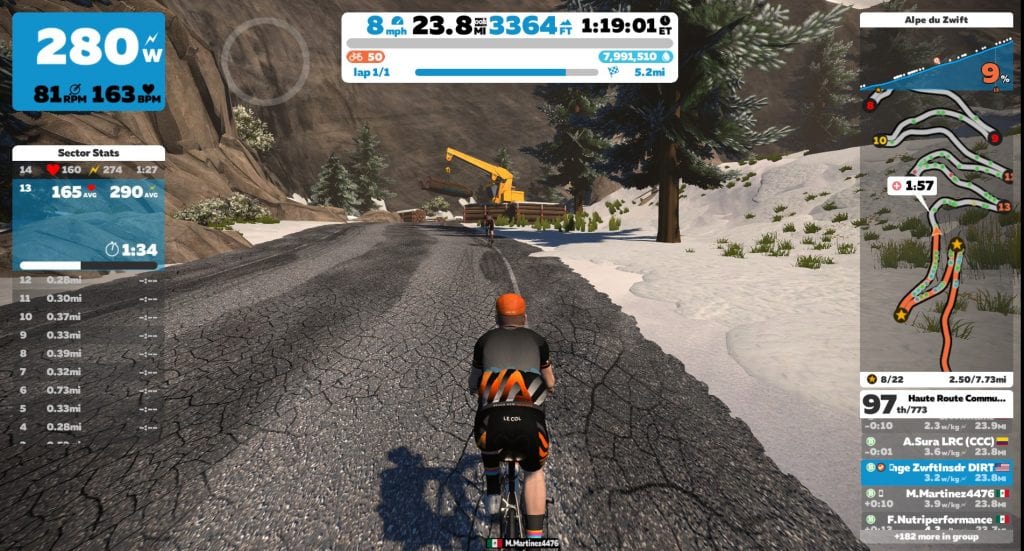 One third of the way up I began to notice how sweaty I was. Now, I'm a pretty sweaty dude – I get warm easily, and sweat a lot when that happens. So I use a strong fan and dress to stay as cool as possible on Zwift. But sweat was dripping everywhere. I could feel it in my shoes, which wasn't normal. Was it because the shoes were new? I didn't think so – they were the exact same shoes I'd had before (Specialized Torch), just a new model year. I had already used up one sweat towel and headband, having swapped to fresh ones at the bottom of the Alpe. My KICKR Headwind had been on high the entire time. But I just couldn't seem to cool down!
As we neared the top I was still ranked in the double digits, but just barely. Rounding the final hairpin I was in 97th, with Hincapie just ahead and Meza and Buenaventura just behind. I always seem to have a little extra left for that final push to the line after the final Alpe turn, and today was no different. I pushed it extra hard all the way to the line, which was a good thing because other riders around me were pushing too! I finished 97th according to Zwift, 48th in the B's. ZwiftPower would place me 41st.
See activity on Strava >
See activity on Zwift >
See results on ZwiftPower >
Performance Analysis
I was pleased with my performance overall, although I think I could have done a bit better if I had handled my cooling better (see below). I set some power bests for 2020 in the 1:40-1:56 range. And I set a PR on the Titans Grove Southbound segment, as well as destroying my Quatch Quest PR (I had ridden it twice before, but as solo efforts). I was 3-4 minutes off my best time Alpe times, but that's not surprising given my two faster efforts were both in races on the much shorter Road to Sky route.
Takeaways
I have a theory on my sweat issue for this ride, and it centers around humidity. While my smallish office/pain cave wasn't particularly hot, it was enclosed, and a two-hour hard ride made the room quite humid, as evidenced by condensation on the windows and that lovely "rain forest feeling" I got when I walked back into the room after finishing the ride.
My theory is, once the room hit a certain humidity level, my sweat was no longer evaporating at a high enough rate to cool me down. So my takeaway here is: for races over an hour or so, I need to run my A/C unit in dehumidifier mode, to keep the air dry.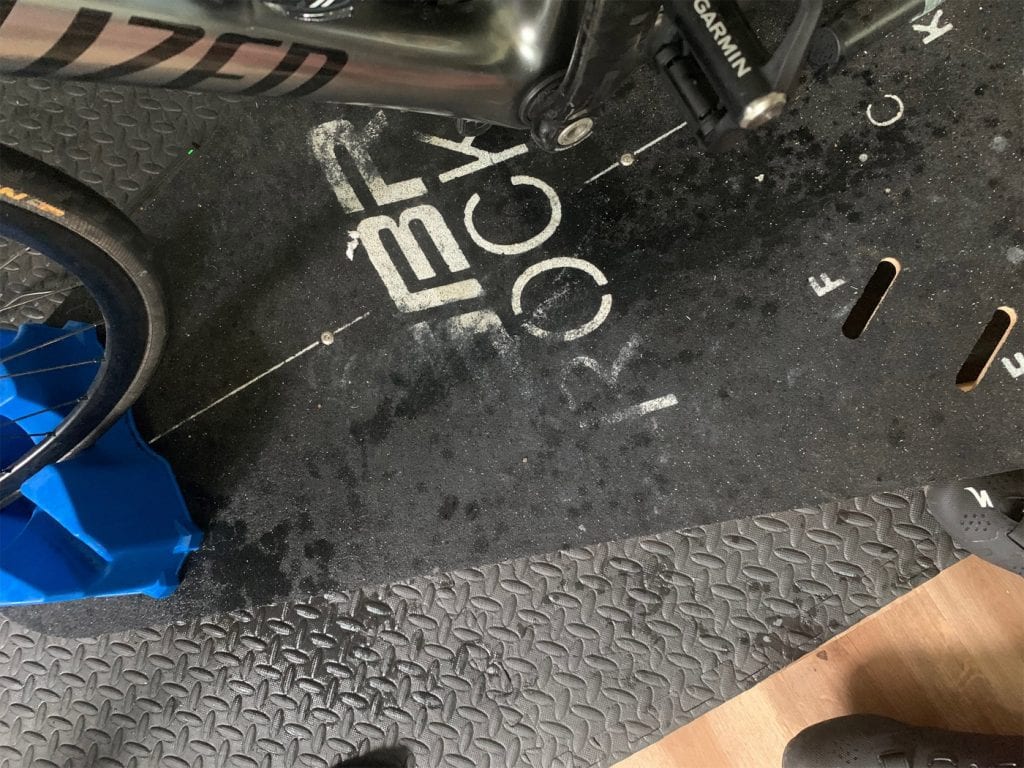 Hydration Note
Because of all the sweating, I decided to weigh myself when I got out of the shower. Despite emptying almost 4 bidons during the race, I had dropped from 180 to 176 pounds during the ride. Wow!
One strategy I've heard riders use is to weigh themselves before and after big rides, then drink enough water to replace whatever weight was lost. That would mean drinking around 60oz of water in my case, and you know what? I didn't do that.
Instead, I drank a big glass, changed my clothes, and headed outside to work on fixing our pool – a job that would involve several hours and a lot of sweat. And I didn't drink enough water during that job, either.
The result: I was still feeling my Quatch Quest effort 3 days later. Re-hydrating is a big key to recovery, and I really blew it on this day. Never again!
Your Thoughts
Questions or comments? I'm especially interested in your thoughts on sweating/room humidity and hydration. Share below!