The first TTT of Zwift Racing League 2021/22 Season 3 was held last Tuesday, and it was a flat(tish) and fast one. My team (the DIRT Roosters) was missing our powerhouse Clem, but we were still confident in our TTT abilities and excited to get out and suffer for virtual glory.
It was our first TTT in the B1 division, though, and we didn't know how we'd fare against the competition in the top-tier "meat grinder" category. Only one way to find out!
Race Prep
This race didn't require much in terms of course recon or team planning. There were two key climbs to hammer, but it was mostly about steady power on the flats, and bumping up your wattage on short climbs to keep speeds high.
We had a bit of hassle trying to put together our 6-man team, with powerhouse Clem out for the week on vacation and Arjen recovering from sickness. Eventually Arjen decided he could race, so Captain Antoine put together our pull order:
Sean: 30sec around 400w
Eric: 30sec around 380w
Thomas: 30sec around 370w
Dean: 30sec around 350w
Antoine: 30sec around 350w
Arjen: Joosse around 360w
We had our marching orders. I did what I could to be fresh and prepared for the race:
Recovery ride the day before
Plenty of sleep the night before
A clean, carby oatmeal breakfast
Beet juice two hours before the race
Caffeine gum – three pieces (300mg), one hour before the race
PR lotion on my legs about 45 minutes before the race. More bicarb=less burning.
A fast virtual bike setup (Specialized S-Works Venge + DT Swiss disc wheels)
A 30-minute warmup with the C. Cadence crew which included a few efforts to get the heart rate up into the threshold zone
My legs felt fresh, and as we chatted on Discord I clicked to join the pens with 10 minutes to go.
And Zwift crashed. Just disappeared from my PC screen entirely. Yikes!
I quickly booted it up again (a solid state drive makes booting into Zwift so much faster), then clicked to join the pens. It worked the second time. Whew. I just hoped things would stay stable for the race.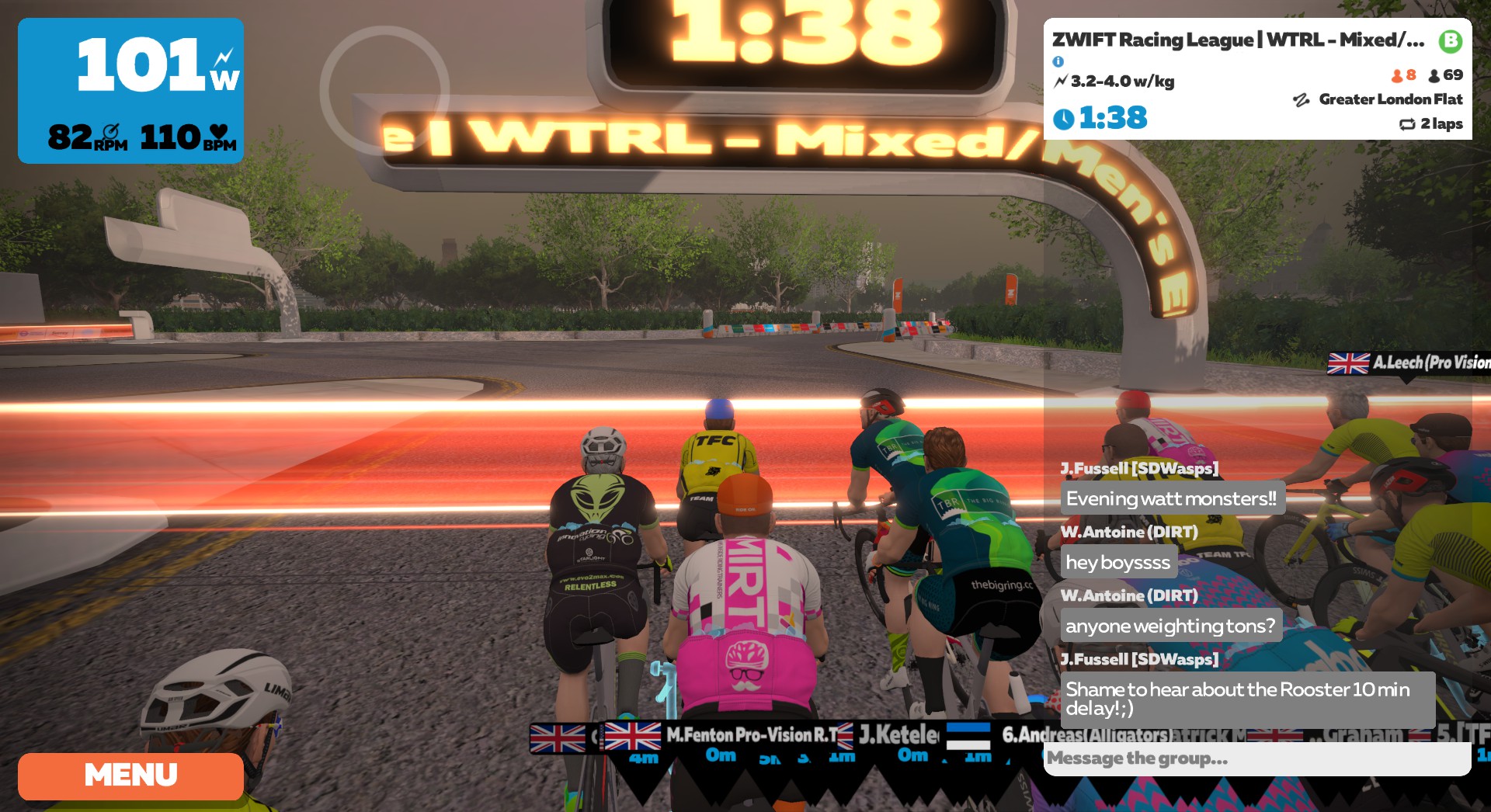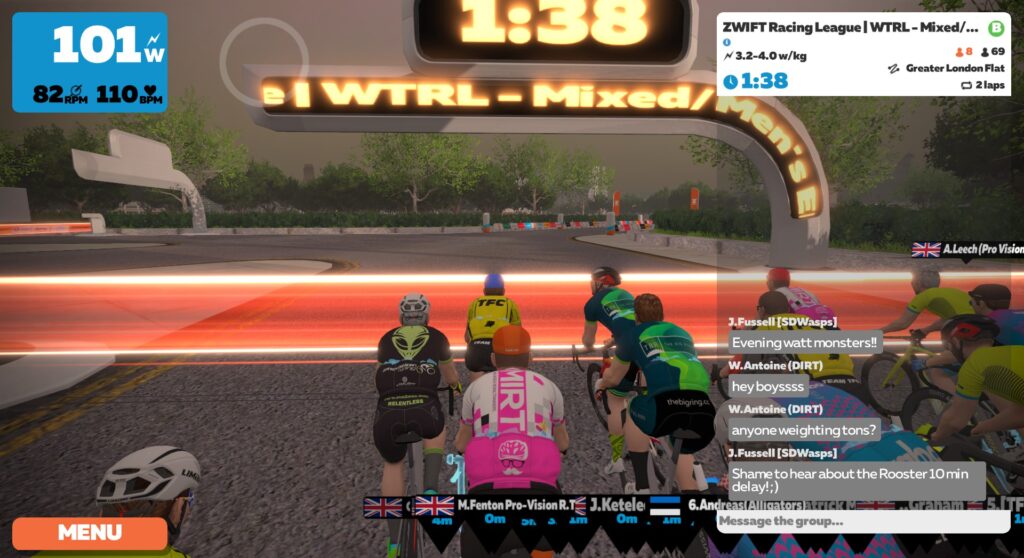 The Lead-In
After waiting 2.5 minutes, it was the Roosters' turn to launch off the start line.
The first few minutes of a TTT are always a bit crazy. Who's pulling in those first seconds, anyway? What is the rider ahead of me wearing, so I know whose wheel to sit on? And on the London course you have the added difficulty of a few rollers right at the start, making it hard to stick together efficiently.
But we settled in quickly enough. Our formation has the front rider calling out their pull start and stop time, with the on-deck rider sitting behind while the rest of the team is bunched on third wheel. I even got a feather powerup, perfect for use on the short Northumberland climb.


Lap 1
I scored an aero powerup through the Classique banner, and used it on my next pull, not realizing until afterward that this wasn't the smartest use of the powerup. (I would have been better off using it to help me keep my speed high when the legs were more tired further into the lap.)
Looking at the rider list on the right, we could see we were getting closer to the team ahead of us TFC Bugatti) and pulling away from the team behind (WLC). This was a good sign. (While Zwift's interface makes it hard to see where you're at in relation to all the teams in the middle of the race, being able to see those ahead and behind gives you some idea how well you're doing.)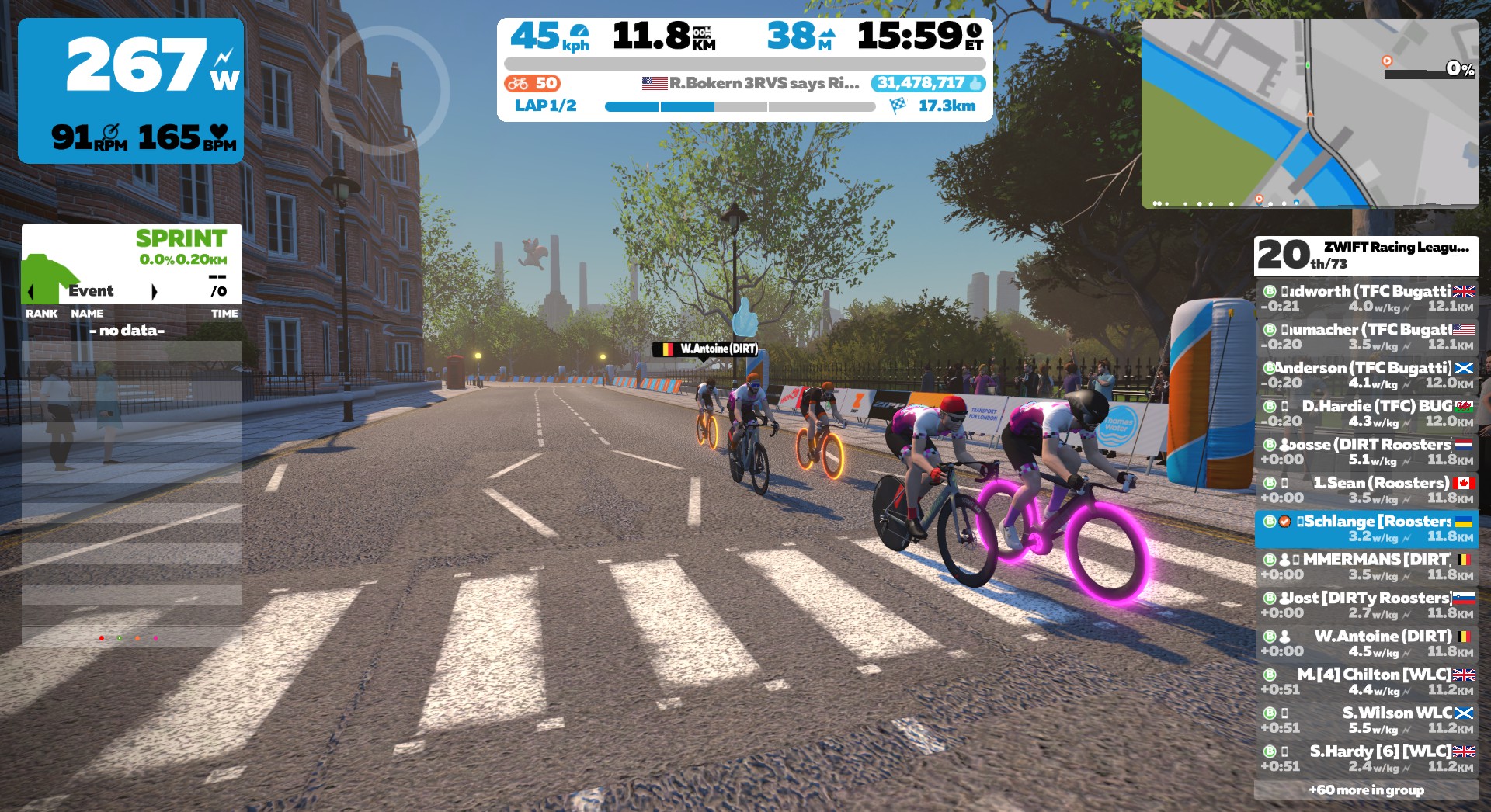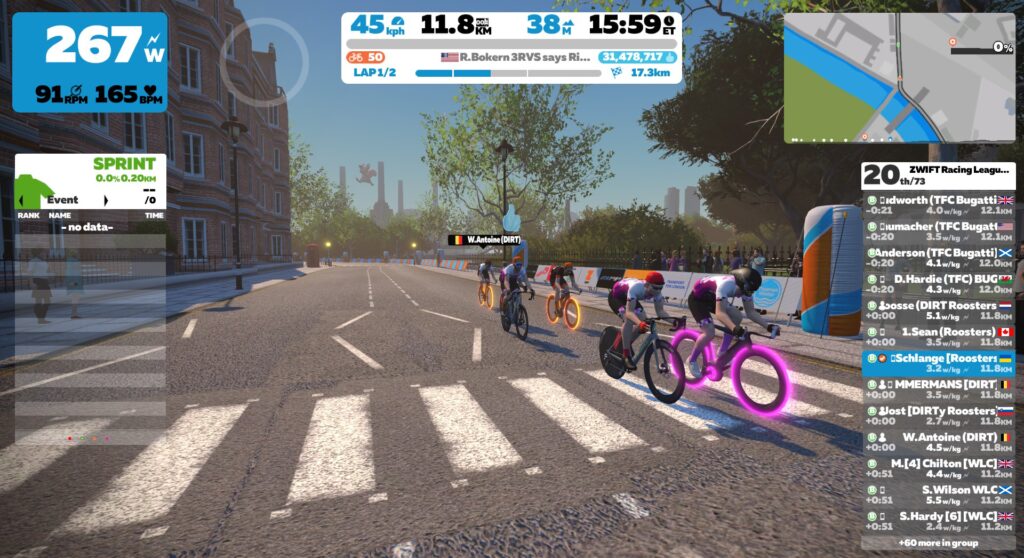 I got the dreaded "connection disconnected" alert on my screen somewhere in the middle of lap 1, and promptly disappeared from my teammates' screens. There was definitely some internet weirdness going on: my Discord screen showed it attempting to reconnect, and I could still hear my teammates talking while they couldn't hear me. I could also see them just fine on my Zwift screen, but they weren't seeing me!
This led to some chaos, with me thinking I was taking a pull, while they thought nobody was there to pull. This is the kind of thing that can really burn some legs out and cost a team valuable seconds, but they handled it like champs, rotating to the front and taking pulls until I magically reappeared 20m ahead.
We hit Piccadilly, the largest climb of the route, and hammered through a painful ~1 kilometer. I was surprised to find myself riding at or near the front of our team on the climb, which was a good sign (for me) but probably also a sign that others weren't feeling particularly strong today.
One lap down. One to go.
Lap 2 + Finish
I got a draft powerup on the second Classique banner, and held onto it this time, figuring I could use it near the end of the lap when I'd be suffering the most.
Arjen had begun skipping pulls, and it was clear we were all suffering. Even Captain Antoine had some issues, shouting that he was putting out 6 w/kg but not being able to hold our wheels. Somehow we all magically stayed together, though.
One last time up Piccadilly, and Antoine was shouting at us to give it all we had. The suffering was real, and the finish line was so close! I used my draft powerup for a bit of relief, then it was an all-out, empty-the-tank dash to the line.
We usually have a rider or two take a suicide pull near the end of a TTT, but this week we all finished within 1 second of each other, each of us completely spent.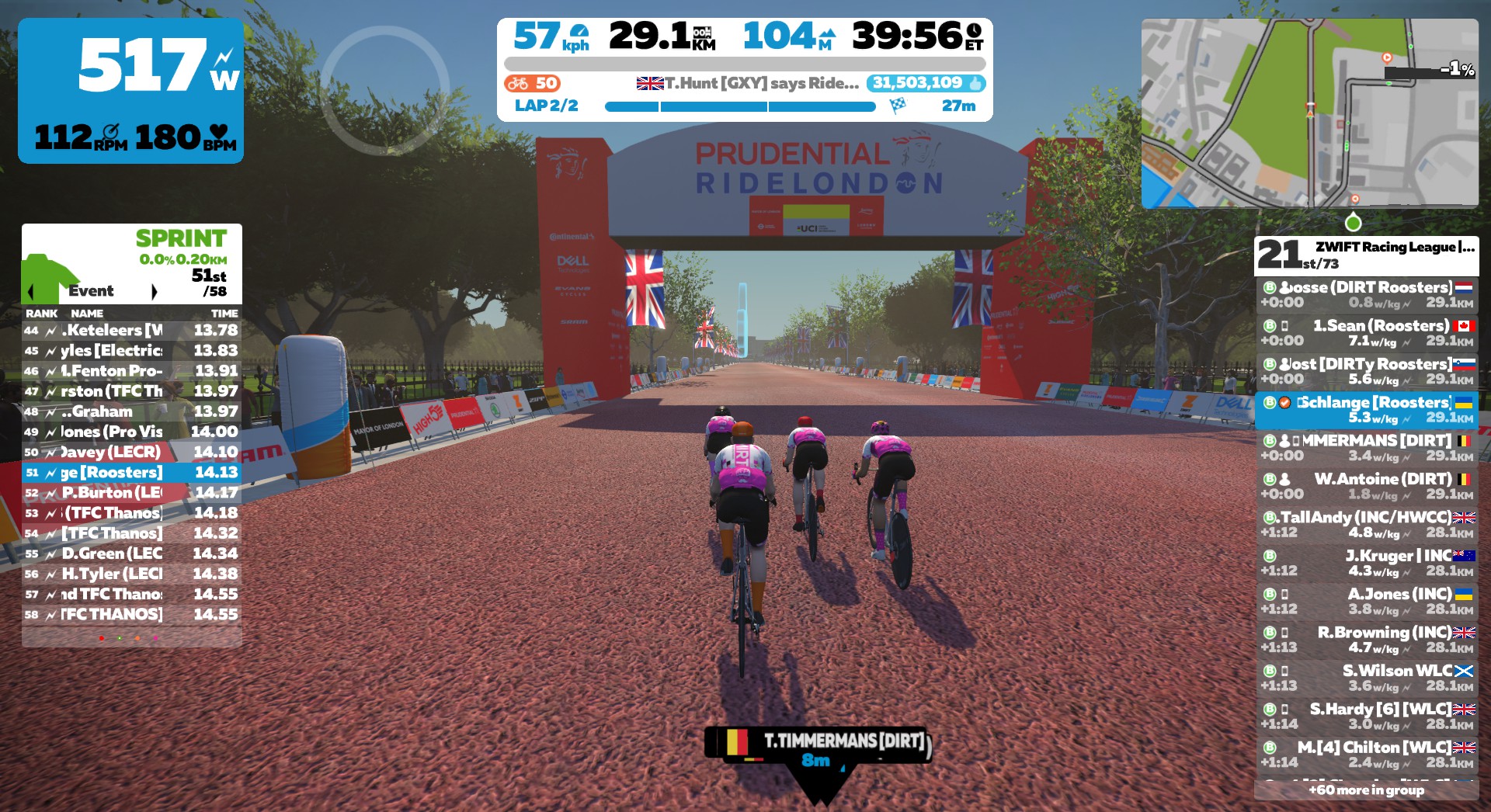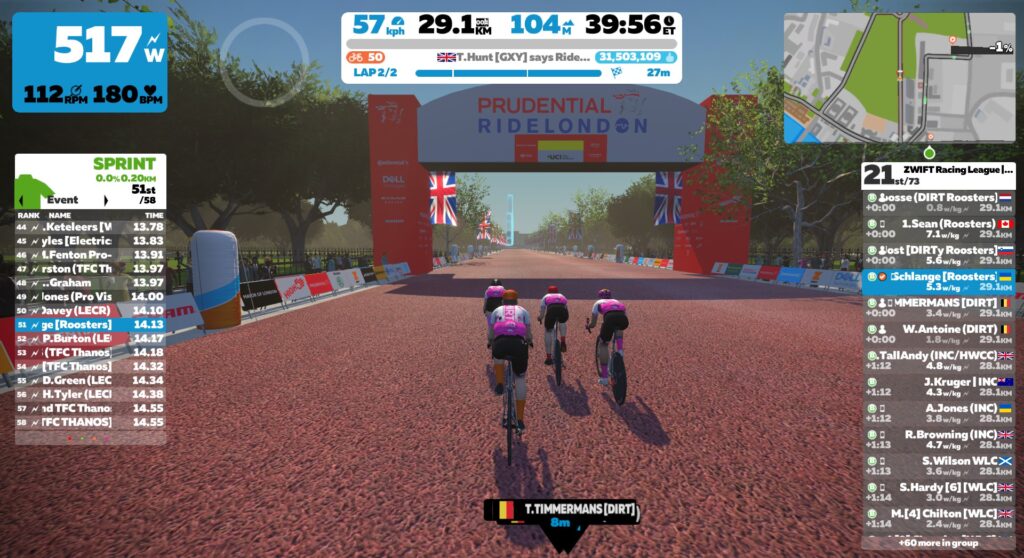 See activity on Strava >
See ride on Zwift.com >
See results on ZwiftPower >
Watch my race video (apologies again for the audio mix):
Team Result
As soon as we finished, we began looking at ZwiftPower times and doing the math to calculate where we placed. "How much of a time gap did the Alligators have? Why aren't the Aliens listed in ZwiftPower?" It's a confusing science, but we usually end up figuring out pretty well how we rank, before WTRL displays the final results on the site.
We finished third this week, just 1.5s behind second place. Congrats to INC Aliens, who hammered their way to a solid victory with some huge power numbers (average wattage of their top 4 riders: 326.5W!)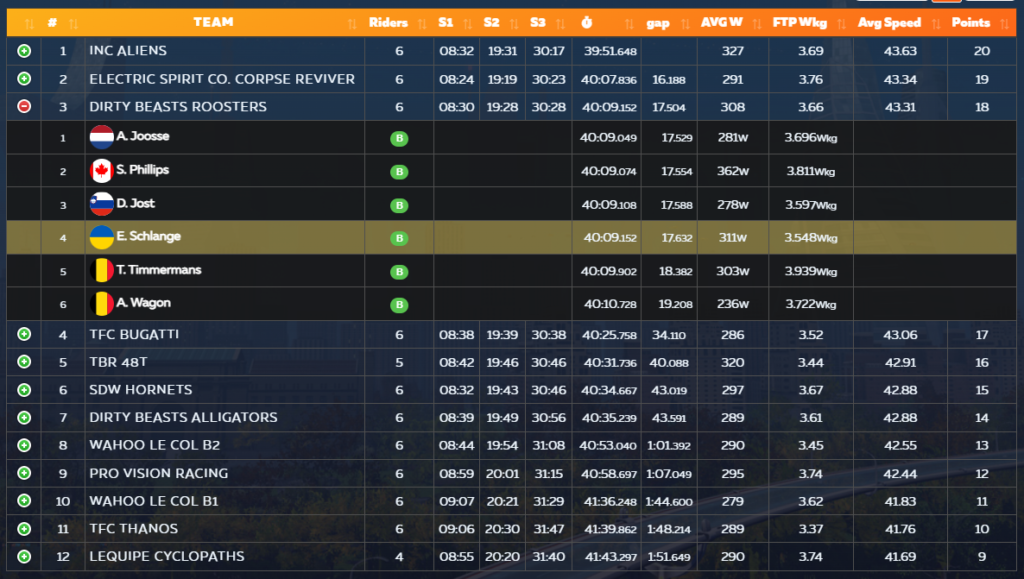 The best part is, this week's result puts us in a three-way tie for first place in our division, with two teams just one point behind the top three. That's some tight competition! This will be a thrilling season for sure: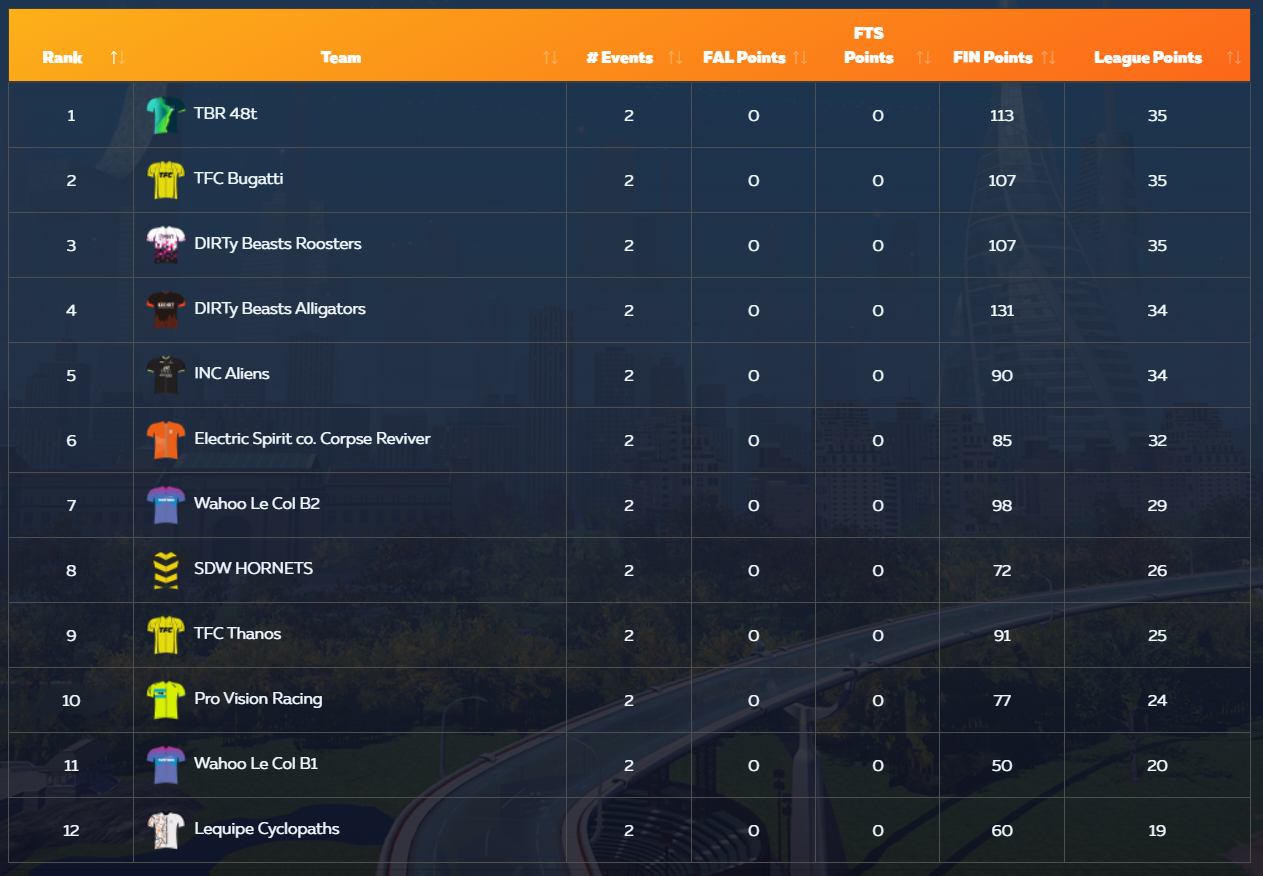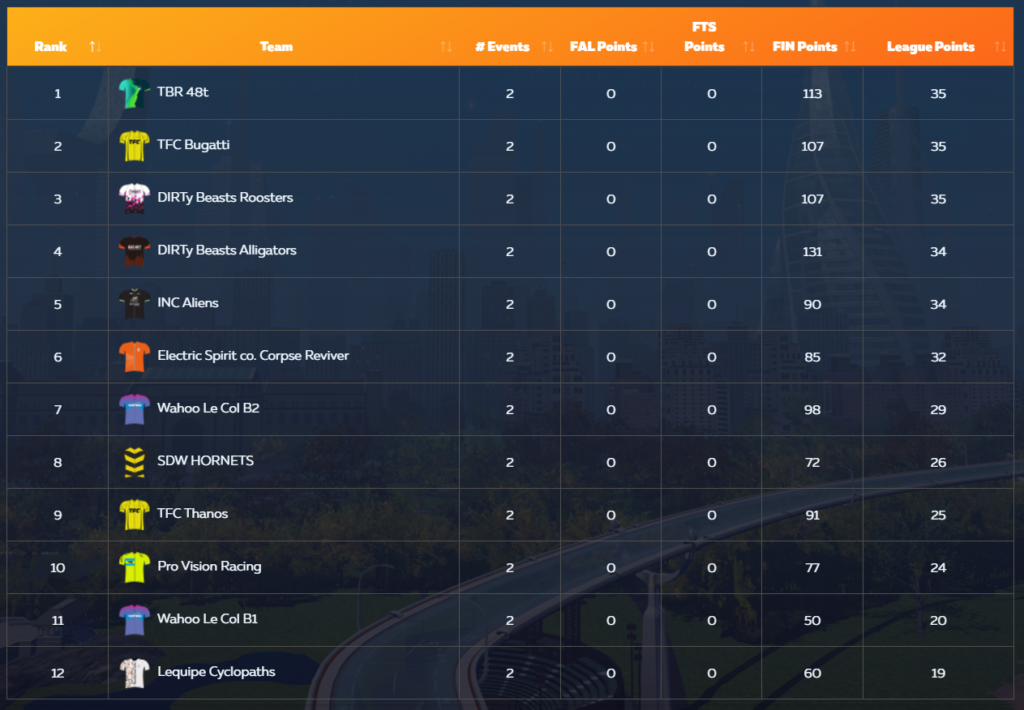 Takeaways
With such a narrow margin separating us from second place, it's easy to start second-guessing yourself. What if I hadn't disappeared from my teammate's screens? What if I'd pulled just a bit harder? What if we'd kept a tighter formation?
For me at least, once I've cooled down, showered, and eaten lunch I tend to feel like I could have pushed harder in the race. But my racing hindsight wears rose-colored glasses.
Looking at my numbers, and those of the other Roosters, I think we raced to our limits today, which is exactly what you're supposed to do in a well-planned TTT. A couple of images to illustrate: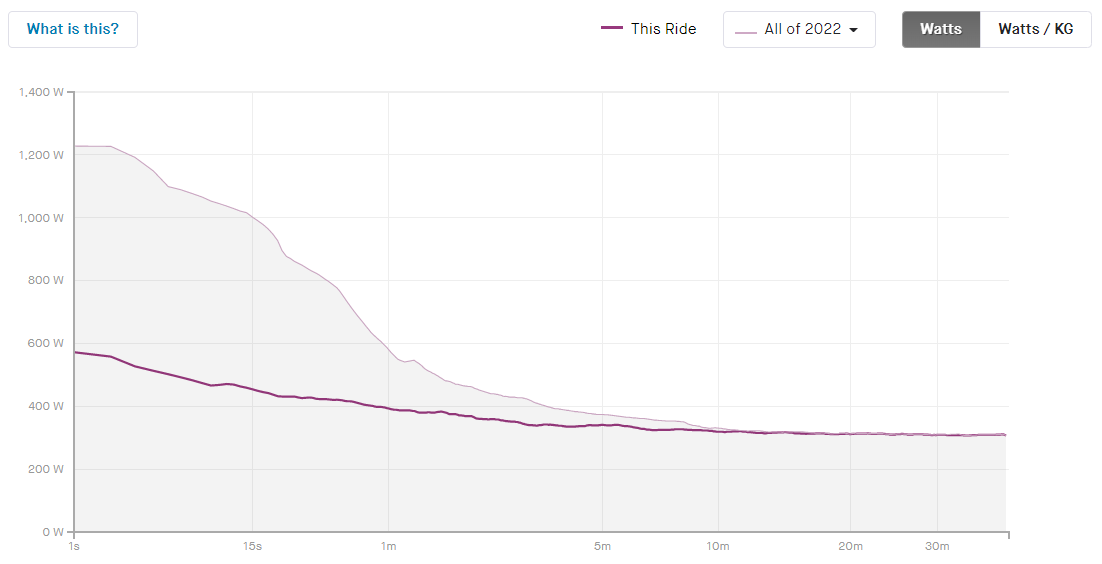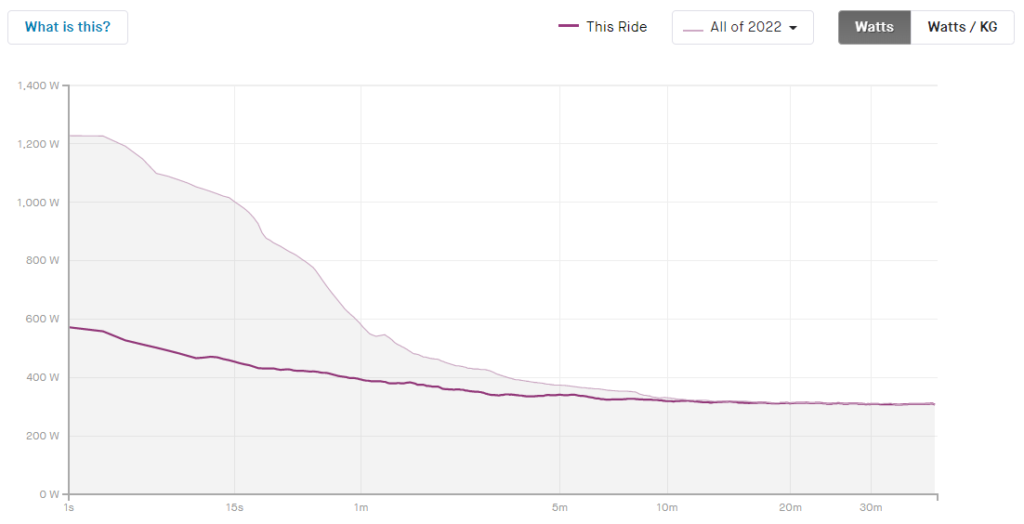 What About You?
How did your TTT go? Share your story below!