The second TTT of Zwift Racing League 2021/22 Season 3 was held last Tuesday, and it was a rather technical one compared to the fairly flat first TTT of season 3. My team (the DIRT Roosters) was sitting in first place overall in our B1 Division and were focused on holding our spot and extending our advantage.
But anything can happen in a TTT, so even though your result is entirely up to you, a win is far from a foregone conclusion, even with a very strong team. Mechanicals or bad legs can quickly drop a rider, sometimes even two, and that can be disastrous.
As it turned out, I would be the victim of the course this week. But I'm getting ahead of myself…
Race Prep
Watopia's Figure 8 course was one our team was pretty familiar with since it's a popular race route on Zwift. It's a challenging one to pace optimally in a TTT, since it includes lots of rollers and two actual climbs.
The Roosters' basic plan was to blob on the climbs, give a little extra push on rollers/bumps, and generally communicate well so we stayed together for most of the race. Captain Antoine put together our pull order:
Clem 30sec – 420w
Sean 30sec – 410w
Thomas 30sec – 370w
Me 30sec – 375w
Arjen 30sec – 365w
Antoine 30sec – 320w
We had our marching orders. I did what I could to be fresh and prepared for the race:
Recovery ride the day before
Plenty of sleep the night before
A clean, carby oatmeal breakfast
Beet juice two hours before the race
Caffeine gum – three pieces (300mg), one hour before the race
PR lotion on my legs about 45 minutes before the race. More bicarb=less burning.
A fast virtual bike setup (Specialized S-Works Venge + DT Swiss disc wheels)
A 30-minute warmup with the C. Cadence crew which included a few efforts to get the heart rate up into the threshold zone
My legs felt OK, but not great. We chatted on Discord as I clicked to join the pens with a few minutes to go.
Starting Hard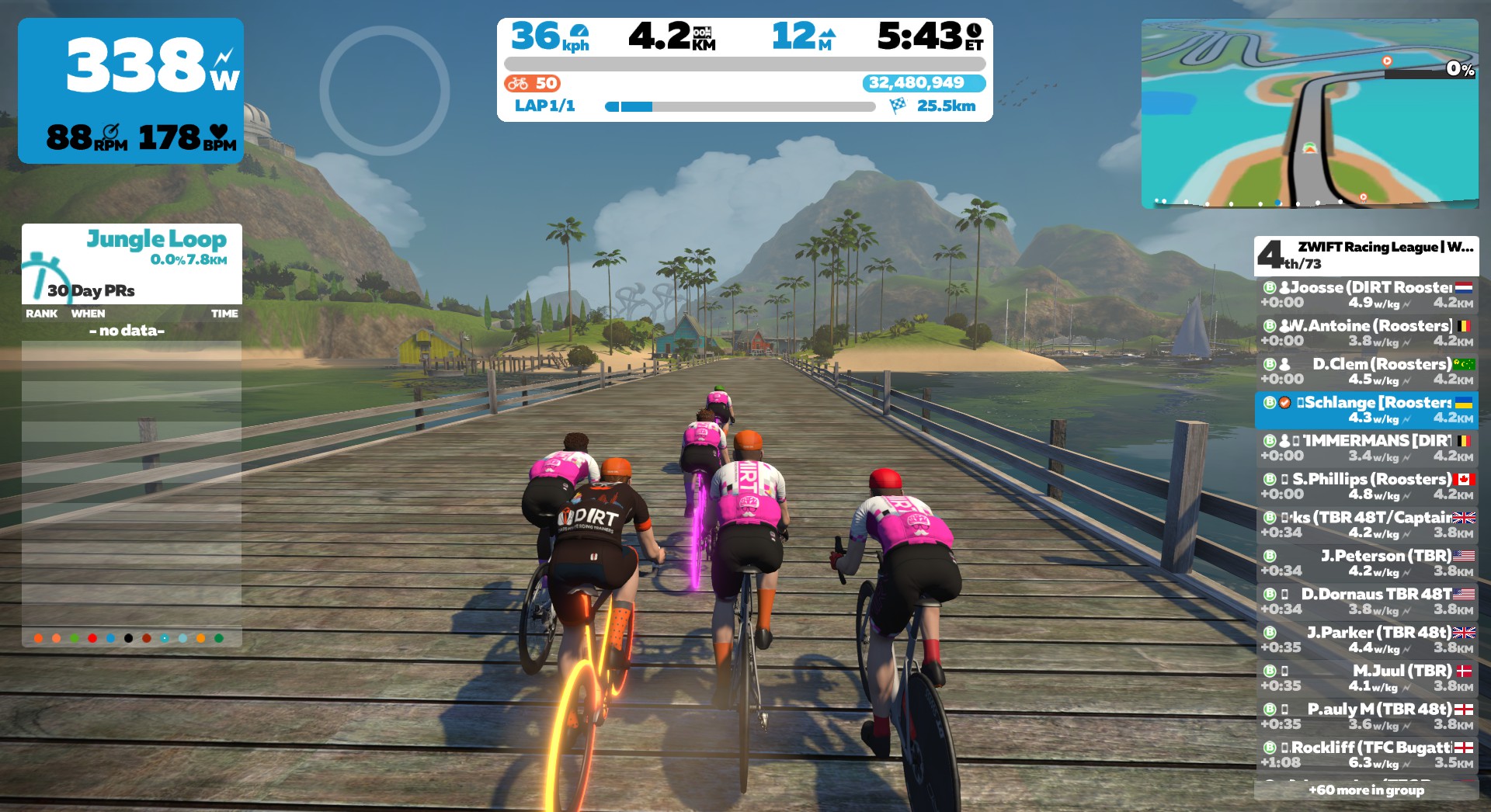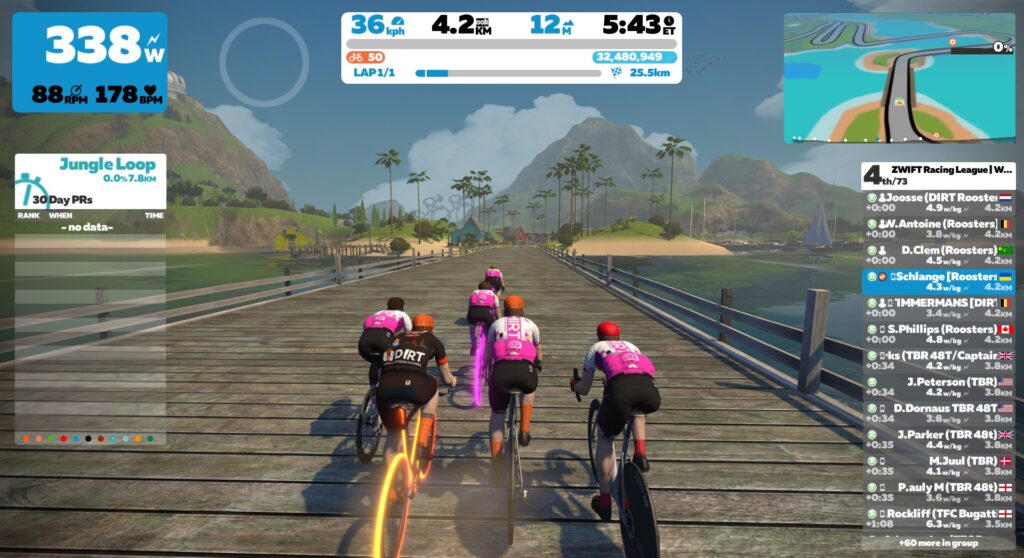 Since we're currently first in the league, we were the first team to start. Our closest competition (TBR) would be just 30 seconds behind, making it easy to see if we were gaining or losing ground to them during the race.
Antoine had instructed us not to start too hard, since we wanted to stay together over the first KOM and on the flats that followed. But as we climbed out of the ocean tunnel I saw good news and bad news:
Good news: we were already 4s ahead of TBR
Bad news: my heartrate was just over threshold, and we hadn't hit the hard parts yet
When I'm in a TTT that is paced well for me, the start always feels too easy. But this start wasn't too easy – I was at threshold, 5 minutes in! But I didn't say anything – Antoine seemed to see that the pace was a bit high, and he was asking us to slow here and there.
Then we hit the snaking false flat up from the fishing village, and Thomas took the pull with me on deck. I don't know what kind of numbers he was doing, but I averaged 335W just to hold his wheel for 75 seconds! Ouch. We got to the top and I didn't have the legs to pull, especially with the KOM Reverse just up the road.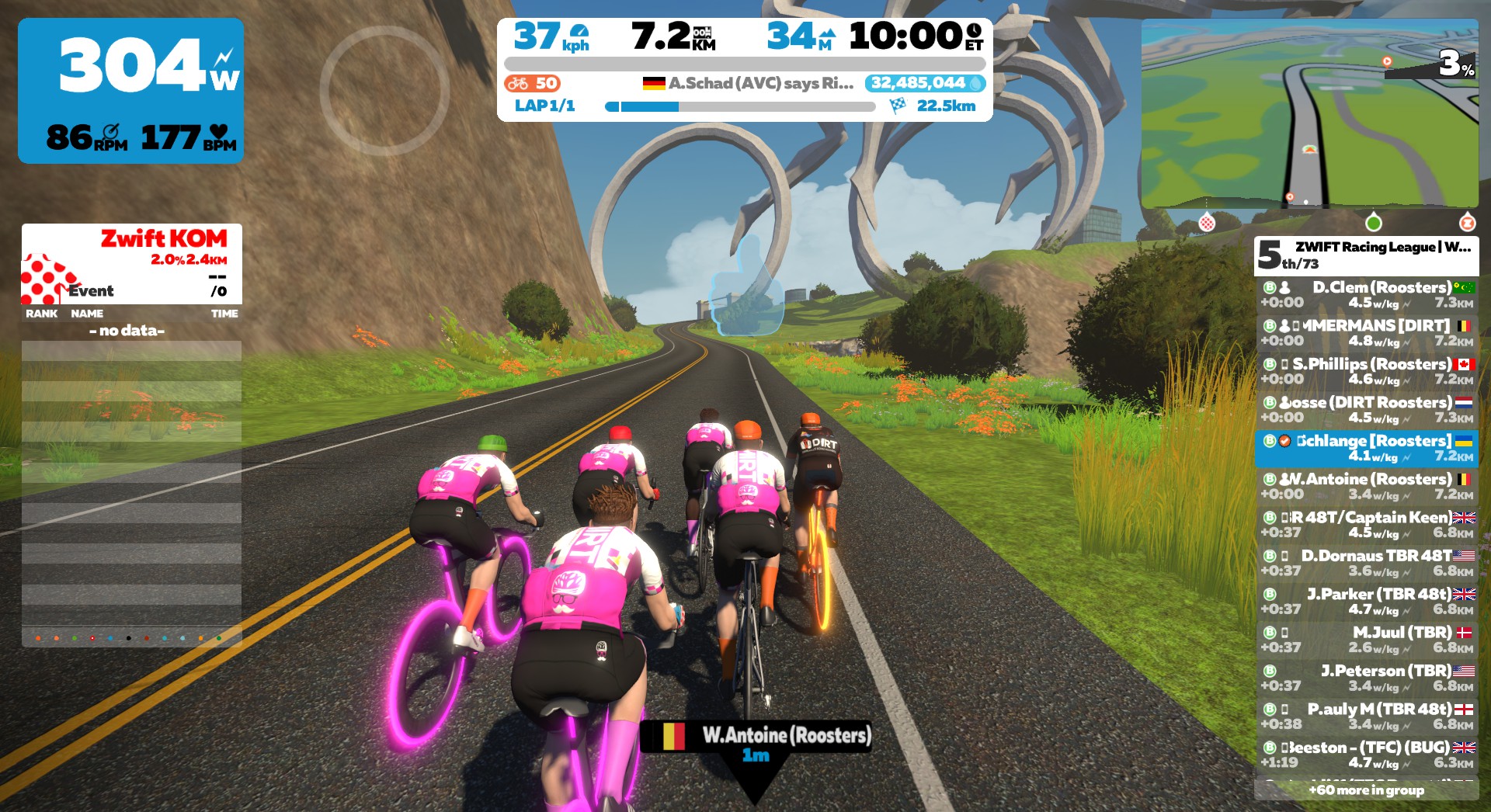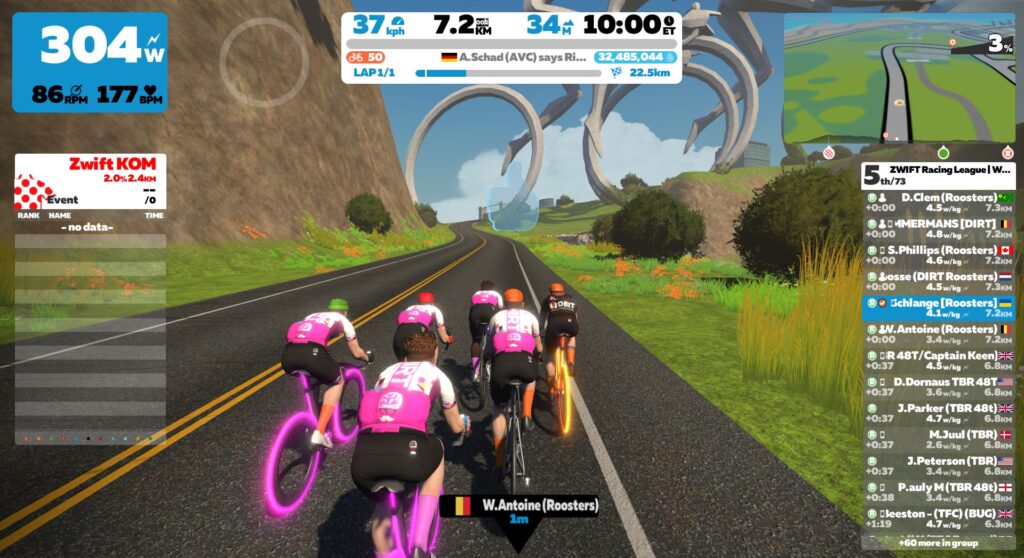 We hit the KOM Reverse 7km into the race, and I knew I was in trouble. I quickly drifted to the back of the group, but Sean saw me struggling and dropped back a bit too, giving me a wheel to help me stay in touch. I asked everyone to ease on Discord too, and they did – so we stayed together over the top.
Getting Dropped
But my legs were toast. I tried to recover on the descent, then sit in on the flats and through the Esses.
I had taken precisely two pulls so far… and those were the only pulls I would take.
After tailgunning to the 18.6km mark, I made the call and told my Roosters not to wait for me. With me unable to take pulls, their waiting for me was only slowing the team down. Continuing to wait would just cost more valuable seconds.
Watching the 5-Man Pain Train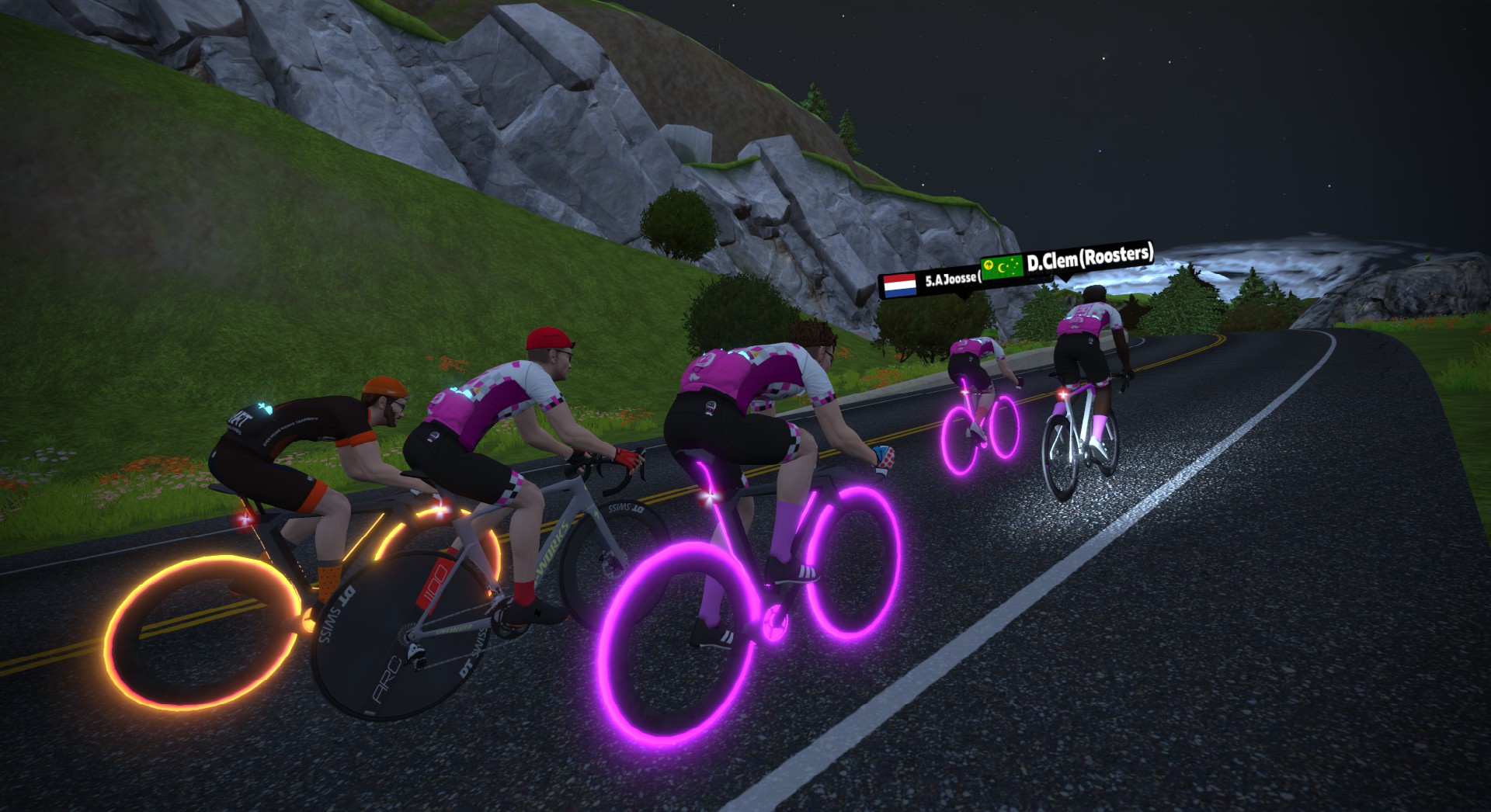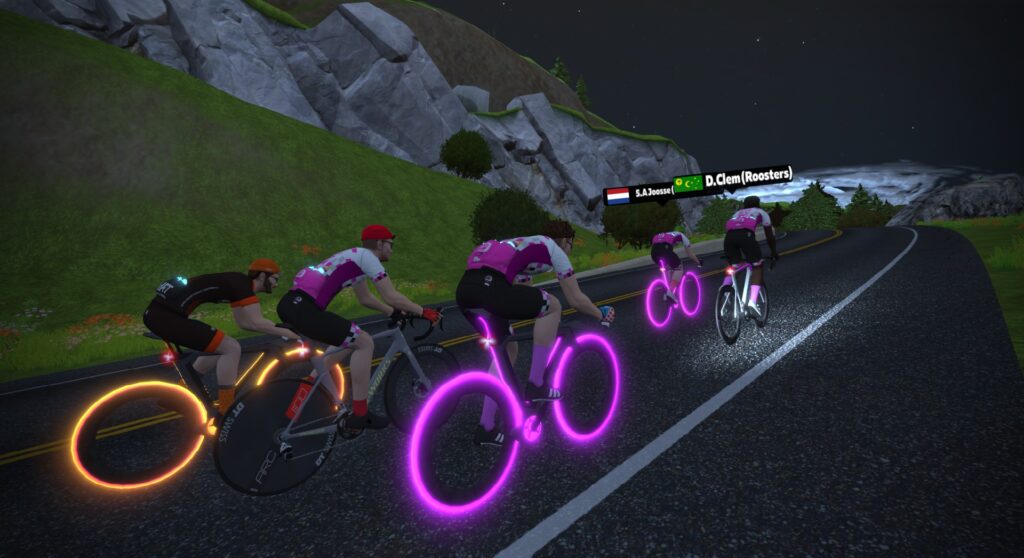 With a 17-second lead over TBR I switched to DS mode, clicking to watch my teammates as I kept spinning my pedals. Things were getting a bit messy as everyone was feeling the fatigue, and we had the crucial KOM Forward coming up.
Discord was a godsend as we did our best to pick who was pulling, and who had to skip pulls. Who needed to ease on the climb, and who needed to push. But the 5 Roosters stayed together up the KOM, then grabbed a bit of recovery on the descent before taking turns pulling on the flats and over the Esses to the finish.
See activity on Strava >
See ride on Zwift.com >
See results on ZwiftPower >
Team Result
As soon as we finished, we began looking at ZwiftPower times and doing the math to calculate where we placed. We knew we had beaten our closest teams in the rankings (TBR and TFC Bugatti), but it was the INC Aliens who once again took 1st this week, like they did in the previous TTT. Those guys know how to time trial!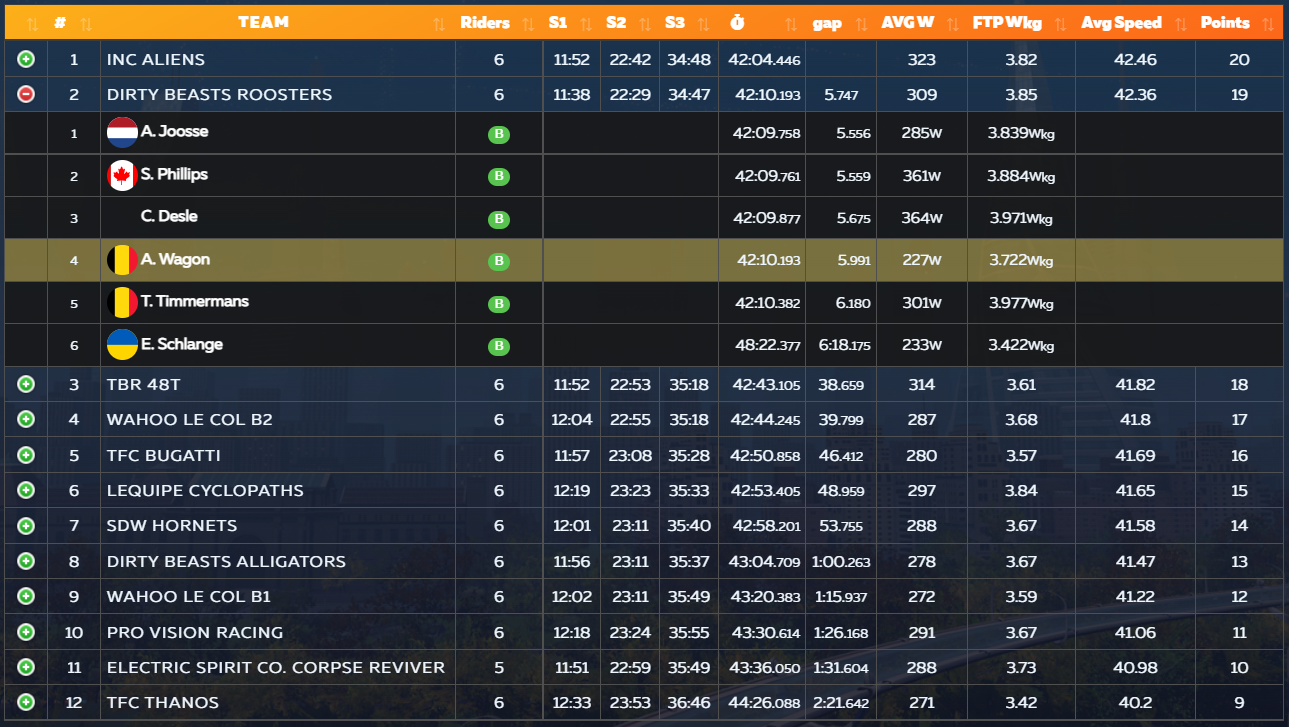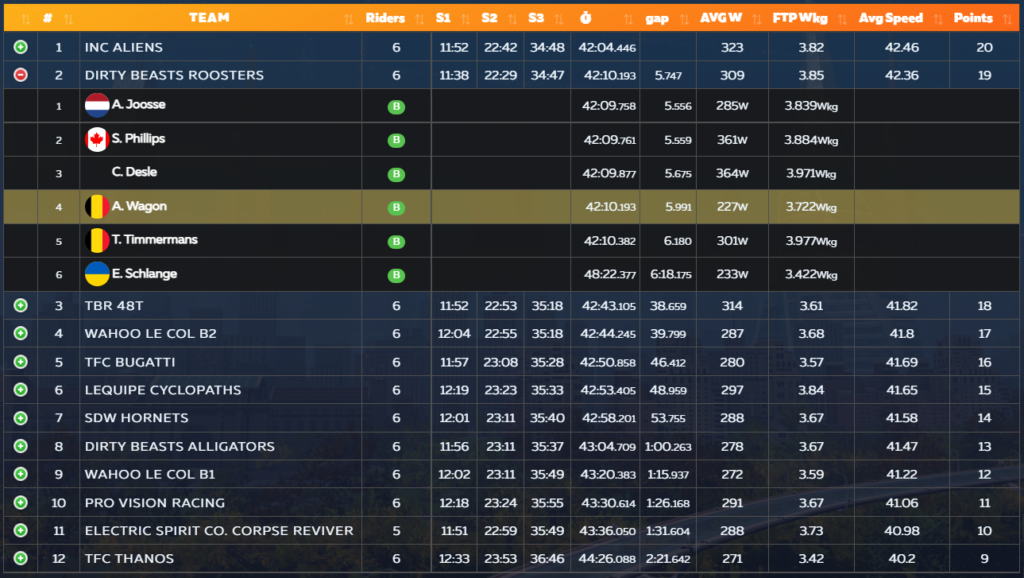 The most important thing for us, though, was to beat TBR. And we did that, giving us one more point's worth of cushion in the overall standings: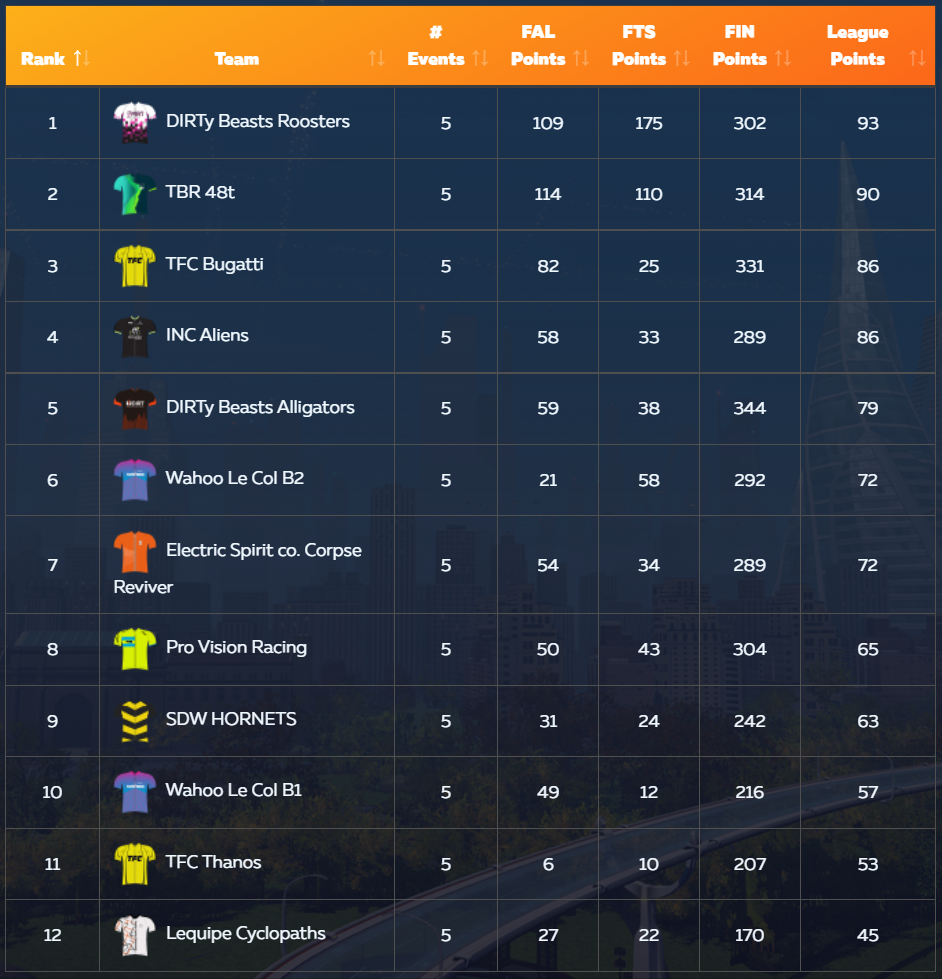 Takeaways
Looking at the power numbers afterward, clearly all of the Roosters put in huge efforts in this race:
Arjen 20-min: 96% of max
Sean 20-min: 98% of max
Clem 20-min: 99% of max, 5-min: 91% of max
Antoine 20-min: 94% of max
Thomas 20-min: New Max Effort! 5-min: 92% of max
Me 20-min: 96% of max
Kudos to the Roosters for digging deep and turning in an incredible time, given that we only had 5 riders for the last 11km.
We finished just 5.7s behind first place INC, which is like a stab in the heart for me. Such a small margin leaves a lot of questions:
What if my legs had been a bit fresher?
What if we hadn't pushed as hard as early?
What if I'd pulled the plug sooner and not asked my team to ease on the KOM Reverse?
It's nearly impossible to say whether we could have changed something and grabbed first place. But I do think easing a bit in the early portion of the race would have served us well. As they say… "If you lose, don't lose the lesson."
What About You?
How did your TTT go? Share your story below!