When I fired up Zwift in Sunday's dark morning hours, I was anticipating a fun but unremarkable warmup followed by a Crit City race.
But as often happens on Zwift, I came away with more than I'd planned. Because this was the morning I would find myself in a race with none other than Zwift CEO Eric Min!
The Warmup
Soon after hopping into the C. Cadence group for a race warmup, I noticed Eric Min was in the group as well. I said hello, there was the usual joke or two about lots of Erics (there were three Eric's in the pack), then I popped the question privately to Eric:
"Heading to the Crit City race in 15 minutes. Want to join me?"
Eric and I had talked about racing together a few times in the past, but had never actually done it. We've participated in a lot of group rides where we were both in attendance, and we've even spun our way around Watopia on a few free rides (I remember once when we rode up the Volcano together, and he dropped me hard at the finish).
His reply came quickly: "I'll see you there."
Woohoo! This was going to be fun. I started thinking of ways we could team up and make the race interesting as I finished my warmup. But I never really settled on any great ideas, and in the end I headed for the pens, deciding to just treat it like a normal race unless Eric pinged me with an idea to do something together.
The Start + Middle (Laps 1-11)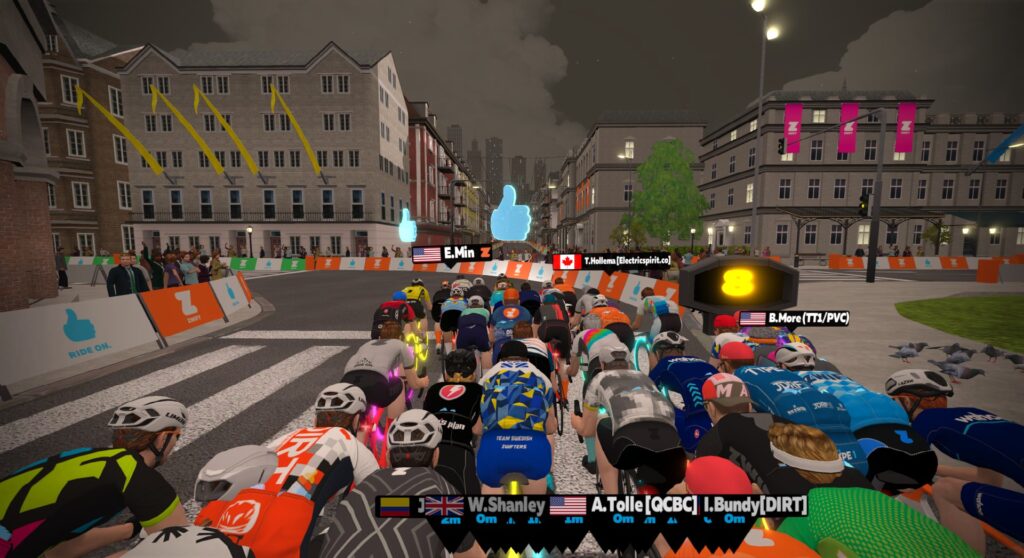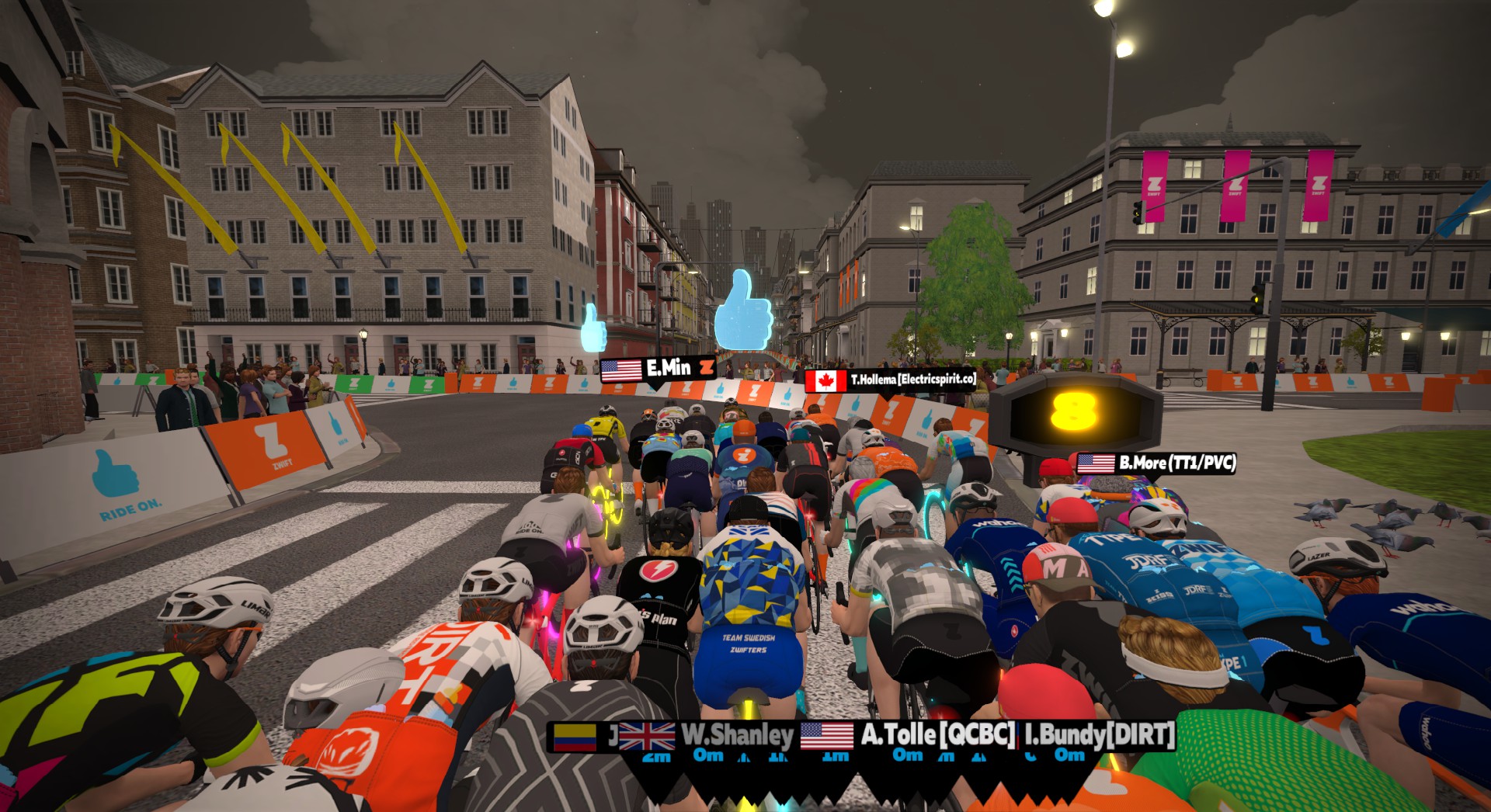 We had a decent turnout of 50 B riders, but nobody was in the mood to attack and make it interesting, so we just spun our way around Crit City, lap after lap, averaging 45 kph.
The Zwift gods granted me an aero powerup heading into the 3rd lap, so I decided to hold onto it unless an attack happened and I really needed a bit of help. I figured the race would come down to a final sprint, and I knew Eric had a strong kick!
The group was whittled down to 34 riders by the time entered the last lap.
The Finish
In my mind a vague memory was bouncing around as we entered that last lap – I seemed to recall seeing a Strava activity or two from Eric where he'd won on Crit City with a long attack. So as we approached the brick climb I stayed near him, near the front of the group, watching for an attack from him or any of the other strong riders in the peloton.
We hit the bricks, and I saw Eric's avatar stand up to sprint while his numbers flashed orange. It was go time! I stomped on the pedals as quickly as I could, spiking my power just over 1000W… but Eric had gotten a gap. One other strong rider (Sudworth from TFC) was chasing with me, but our 8-9 w/kg was no match for Eric's 12-13 w/kg. His gap grew, while the rest of the peloton held onto our wheels.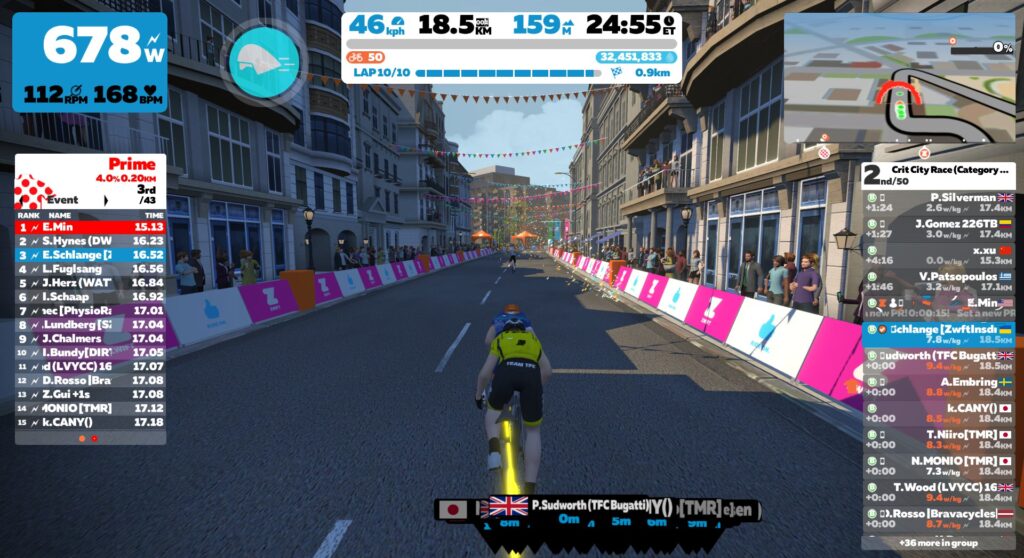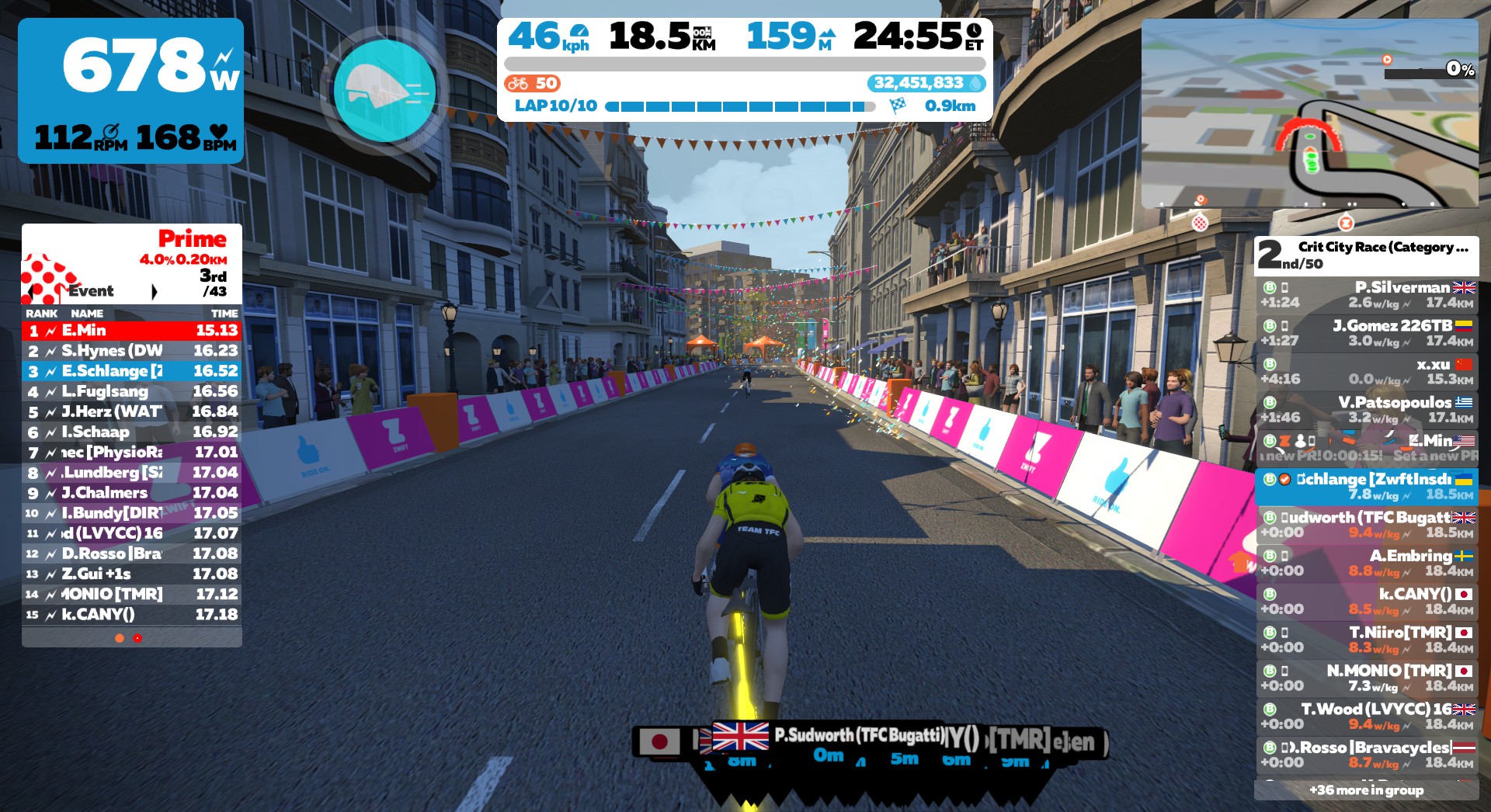 I eased a bit, hoping others would give a hard chase – but nobody had the power to get Eric back. At the finish I delivered a mediocre sprint and came across the line in 8th place. Eric Min took the win by 2.3 seconds, with a category-leading 9.5 w/kg 60-second critical power.
In fact, only one rider in all the categories bested Eric's 60-second power on the day, and that was the A+ rider who won the As! Impressive.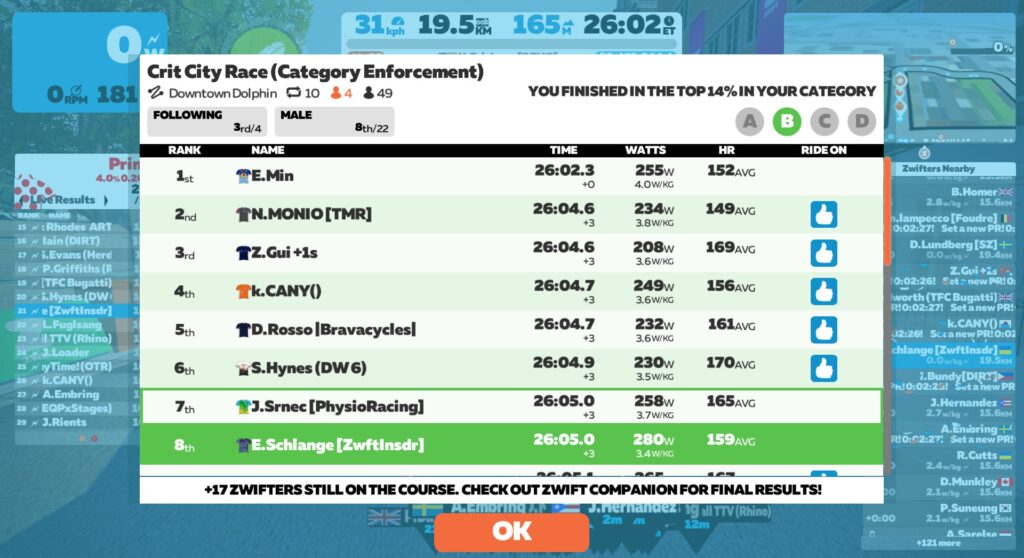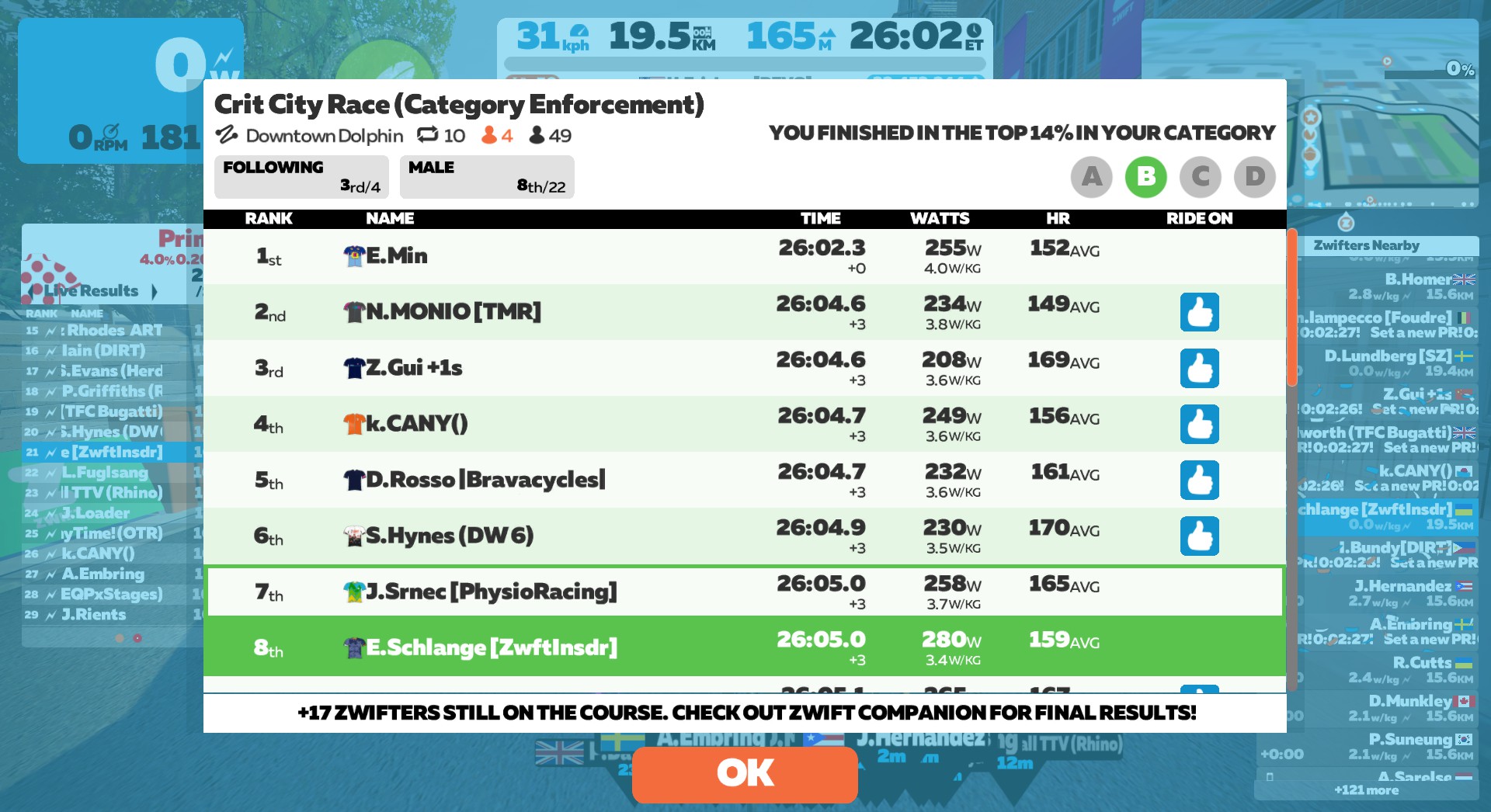 See activity on Strava >
See ride on Zwift.com >
See results on ZwiftPower >
Watch the Race Video:
Takeaways
Although he doesn't race super-often on Zwift (7 races in 2022), Eric Min is a very strong rider and an experienced racer well-suited to a course like Crit City (see his ZwiftPower profile here). His 15-second and 1-minute powers of 13.2 w/kg and 9.5 w/kg respectively make him a formidable opponent in the B and even A categories, on certain courses.
What could I have done to improve my result in this race? Looking at our numbers, I'm not sure there's any way I could beat Eric head to head on this course unless he was having an off day. (He was particularly strong in this race, achieving an XERT Breakthrough with his effort.)
It would take some sort of team effort with repeated attacks to take the win, methinks, because I set my year-best 60s power at the end of this race, and I wasn't even close to chasing him down.
Alternatively, I could have improved my result two ways:
Not chasing Eric's attack. Typically on Crit City, when riders attack on the bricks on the final lap they aren't strong enough to stay away. So I don't respond, and I let the pack pull me back to the attacking rider. If I'd done that this week we still wouldn't have caught Eric, but I would have been fresher for the final sprint and could have improved my finishing position.
Responding faster (or even jumping the gun). If I had started my sprint/attack as soon as we hit the bricks, I may have been able to hold Eric's wheel as he attacked. Maybe. I'm not sure I could have responded much faster than I did, but I should have known he would attack on the bricks. (Popping my aero powerup early may have helped, too.)
Although it always hurts a bit to lose a race, I smile knowing Zwift's CEO can hold his own as a bike racer. Eric's a strong, smart rider with a lifelong love of cycling and a competitive spirit. These attributes served him well growing up racing in New York City, and they've certainly served him well now as Zwift's CEO.
Ride on, Eric! Thanks for the race.
Your Comments
Have you ever raced against Mr. Min? What should I do differently the next time we meet up? Comment below!