UK-based cycle racewear brand Nopinz announced their SubZero Turbo range back on October 1st. I've had both the bibshort and suit versions of their kit since a few weeks prior to that rollout, and I've been putting the kit through its paces in Zwift races each week. Here's my review…
The Big Idea
While some may scoff at the thought of "indoor-specific cycling kit", there is no denying that indoor riding does put demands on your kit which aren't seen outdoors. Namely, sweat is a much bigger issue inside due to reduced airflow, and saddle discomfort is common due to reduced bike movement on a static trainer setup.
Clothing companies have recognized these demands, beginning with Castelli's Insider line then followed by Rapha and Le Col + Wahoo (read my review of these three kits). So Nopinz isn't the first to come out with indoor-specific kit, but they are one of only a few offering it, and their line has something the others don't: swappable frozen gel packs to help you stay cool.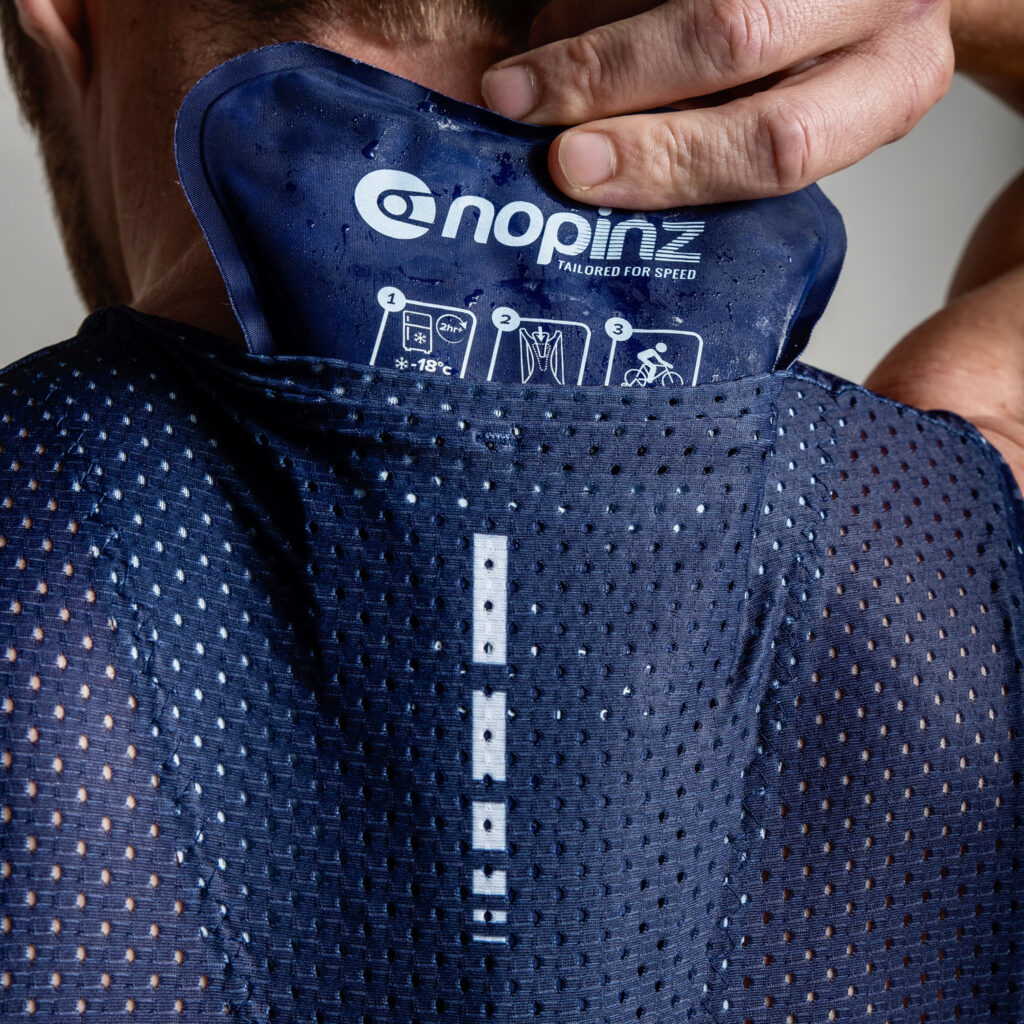 Features
The key feature of the Subzero range is the inclusion of sewn-in pockets to hold frozen gel packs. But after spending some time chatting with Nopinz CEO and founder Blake Pond (a keen Zwift racer himself), it's clear he put much more thought into this kit than just the freezer pocket idea! Indeed, the kit without the pockets is probably the best indoor kit I've worn, combining the strengths of the competition's indoor kits while avoiding the weaknesses.
Here are some of the additional indoor-specific features:
Chamois pad optimized for indoor riding for improved moisture management. The pad isn't overly-thick, and has thousands of tiny perforations, allowing for increased air flow, evaporation, coolness, and dryness. In talking with Blake, he explained how Nopinz tested many different pads for this line, using both male and female testers, before finally arriving at their pad of choice.
Men's and women's versions: some of my favorite indoor kits (looking at you, Castelli!) only come in a men's version. It's nice to see some gender parity from Nopinz.
Mesh material used everywhere except around the groin, allowing for maximal cooling. The material is similar to what Le Col + Wahoo uses, but even lighter weight. It feels like it stays drier, too. Nopinz clearly wanted to maximize cooling here, opting to use the mesh material at the bottom of the legs where other indoor lines put traditional wide elastic bands.
Wristbands: Nopinz is the only line that includes wristbands (with freezer pockets), giving you a handy sweat-wiping surface as well as additional cooling.
Extra freezer packs: the bibshorts, suit, and wristbands all optionally ship with two sets of freezer packs, because one set lasts around 20 minutes in the heat of a race. The shorts and suit include a freezer bag to store your gel packs as well, which is super handy for keeping the packs in one place, and keeping them cool when you're in a race and plan to swap to a new set partway through.
Is It Cool?
This is the question everyone is asking, of course. Do the freezer packs work? How do they feel?
I racked my brain trying to come up with some sort of test to show the efficacy of the freezer packs – but without a real lab that's pretty hard to do. So all I have to go on is my own anecdotal evidence, gathered from over 20 races in the Subzero bibshorts or suit.
Here's what I can say: I keep picking the Subzero bibshorts from my closet when it's time to race. I definitely feel cooler when I have a fresh pack in, and when I swap to a new set in the final 15-20 minutes of a race, it feels great.
It's worth mentioning that I'm a guy who gets hot easily, and I sweat quite a bit. When I race, I typically have my Wahoo Headwind going full-bore, and sometimes I'll have the air conditioning on as well. Some riders don't seem to need the same level of cooling that I do – but if you're like me, I think you'll appreciate the added coolness of the Subzero kit.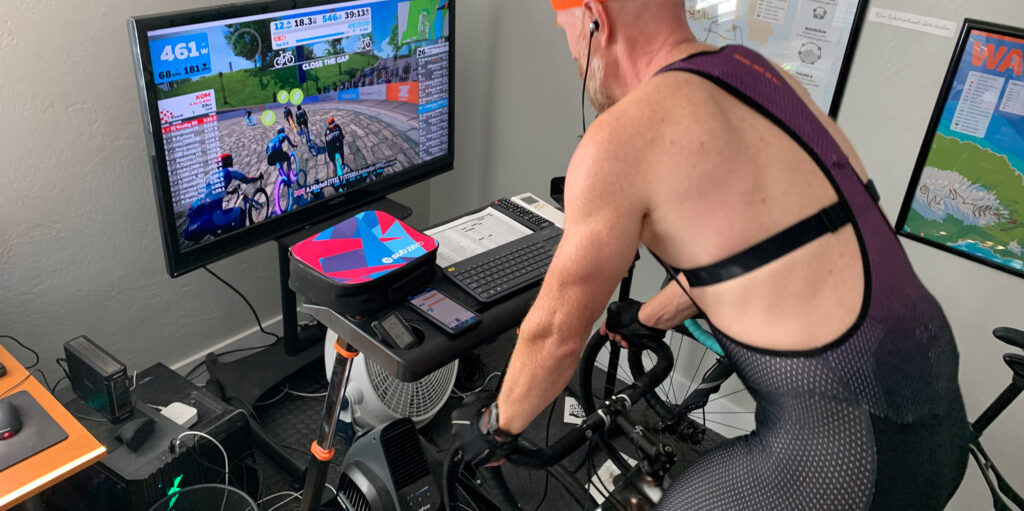 Fit
A few notes on kit fit, since that is always a question:
The bib shorts and suit fit similarly to other kits I've tried (and I've tried a lot). I wear large shorts in all of the big brands (Le Col, Assos, Castelli, Zwift/Giordana) and the large Nopinz shorts fit great. I will note that the legs are quite long on these shorts – perhaps the longest of any shorts I own. This is one place where Nopinz could perhaps go a bit shorter to provide for even more cooling.
The sweatbands fit quite tightly – they're a bit of a chore to pull on, and swapping the freezer pack out of them is more work than swapping it out of your bib shorts. Because of this, I find myself skipping the sweatbands altogether in some races.
The jersey fits very snugly. I typically wear a medium in most major brands, and I like my jerseys to fit like a snug "race fit". I got a large from Nopinz, and it fits more snugly than most of the medium jerseys I have.
The Subzero line's Turbo Training Towel is an affordable addition to the line, but at 39×20″ I found it's a bit large for my taste. On the plus side, with two options cool sayings on the towels ("Champions Train/Losers Complain" or "Turn Pain Into Power") you could hang them on your wall for a nice decoration!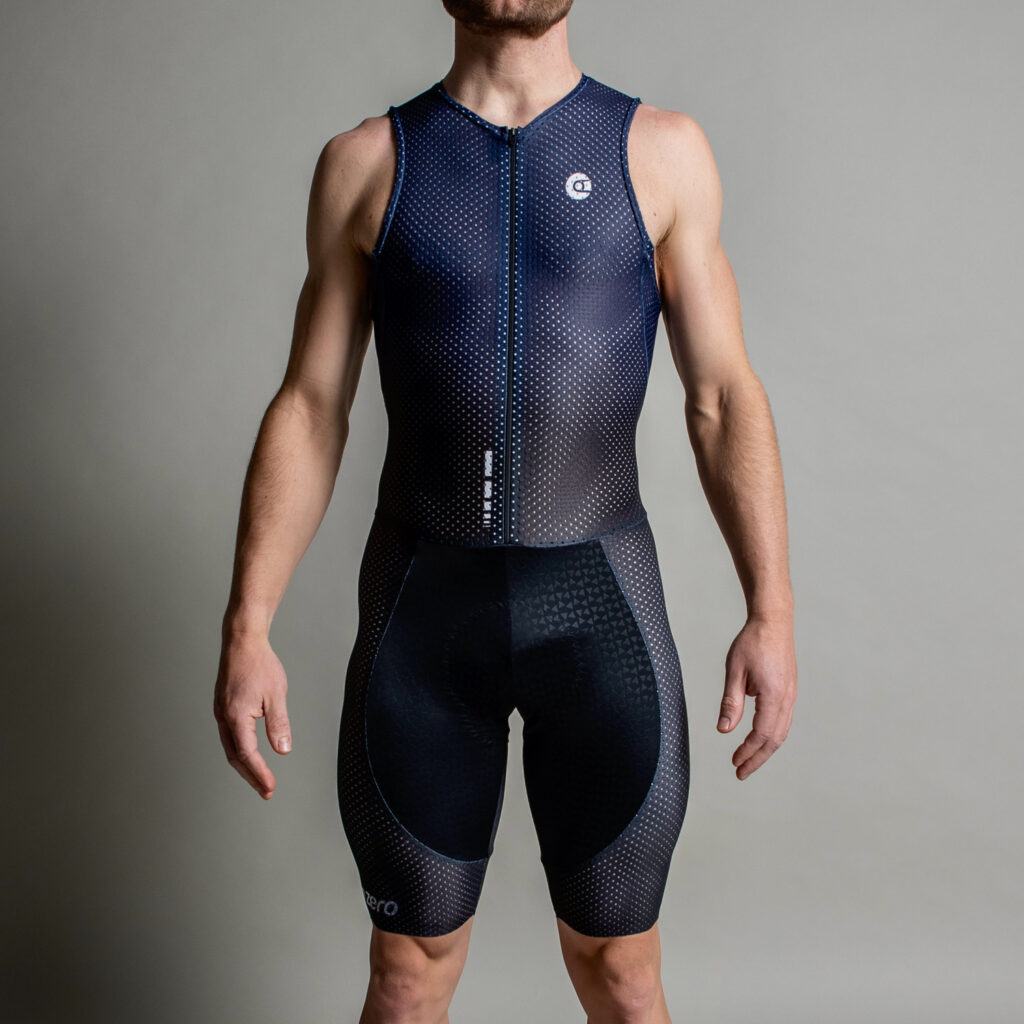 Durability
One reason I've delayed this review for several weeks is so I could wear the kits quite a bit and put them through a lot of wash cycles.
I always wash my bib shorts on the washer's "delicate" setting, then hang them to air dry. The Nopinz kit has held up well so far, with no issues to report. It seems to be a bit sturdier than Castelli's Insider shorts, which I love but which I've popped the seams on while pulling them on or off.
Price/Performance
At £109.99, the bibshorts are quite affordable. They're the same price as Castelli's Insider bibshort, and much cheaper than Le Col's £150 price point. Keep in mind, though, that adding the freezer packs (and cool bag) to your bibshorts will increase the price by £30.
The jersey is also well-priced at £79.99 compared to Le Col's £120, even though Castelli's is a bit more affordable at £75.
Wrapping It Up
The Subzero kit from Nopinz is the most well thought-out indoor kit I've used to date, and that attention to detail clearly shines through in the bibshorts and suit. Blake is a strong A racer on Zwift, and Nopinz sponsors some of the top community racing in Zwift. This intimate involvement with our rapidly-evolving discipline shows in their products.
I have no reservations highly recommending the Subzero line to any Zwifter looking to stay a bit cooler during hard rides. I would recommend the bibshorts first, although the full suit is a nice option if you're looking for a bit more modesty. The jersey isn't really necessary unless you like to wear jerseys indoors and/or you're live streaming and want to look pro but stay cool. The towel is just a cool inspirational add-on, and the sweatbands may be great for some folks, although I haven't found them particularly useful.
Shop the Nopinz Subzero Range >
Questions or Comments?
Share below!