UK-based cycle racewear brand Nopinz has just announced their latest product: the SubZero Turbo range. And it's not just a fancy name!
Described as "the world's first indoor cycling kit designed to actively cool the body's core temperature", the SubZero range includes sewn-in pockets for holding replaceable frozen gel packs to help keep your core temperature down.
Temperature management is a big concern for indoor riders, particularly when engaging in high-intensity efforts. In our "How much fan do you need when riding indoors?" article, we explained how every watt of pedal power also creates ~3 watts of heat. Our body's cooling systems get rid of this extra heat mainly through perspiration (evaporative cooling), but the solution from Nopinz adds conductive cooling to the mix.
In conduction, energy is transferred through physical contact with another object (your couch warms up when you sit on it, or your skin gets cold when you hold an ice cube). The gel packs in the SubZero line are placed in FreezePockets (a patent-pending design) over key temperature regulation points (lower back, upper back, and wrists) where they absorb some of your body's heat, which should reduce the cooling load on your circulation system.
Outdoor riders will recognize that this is simply a more well-designed and cleaner version of the proven "ice bag down the jersey" hack which racers have been using on hot days for many years.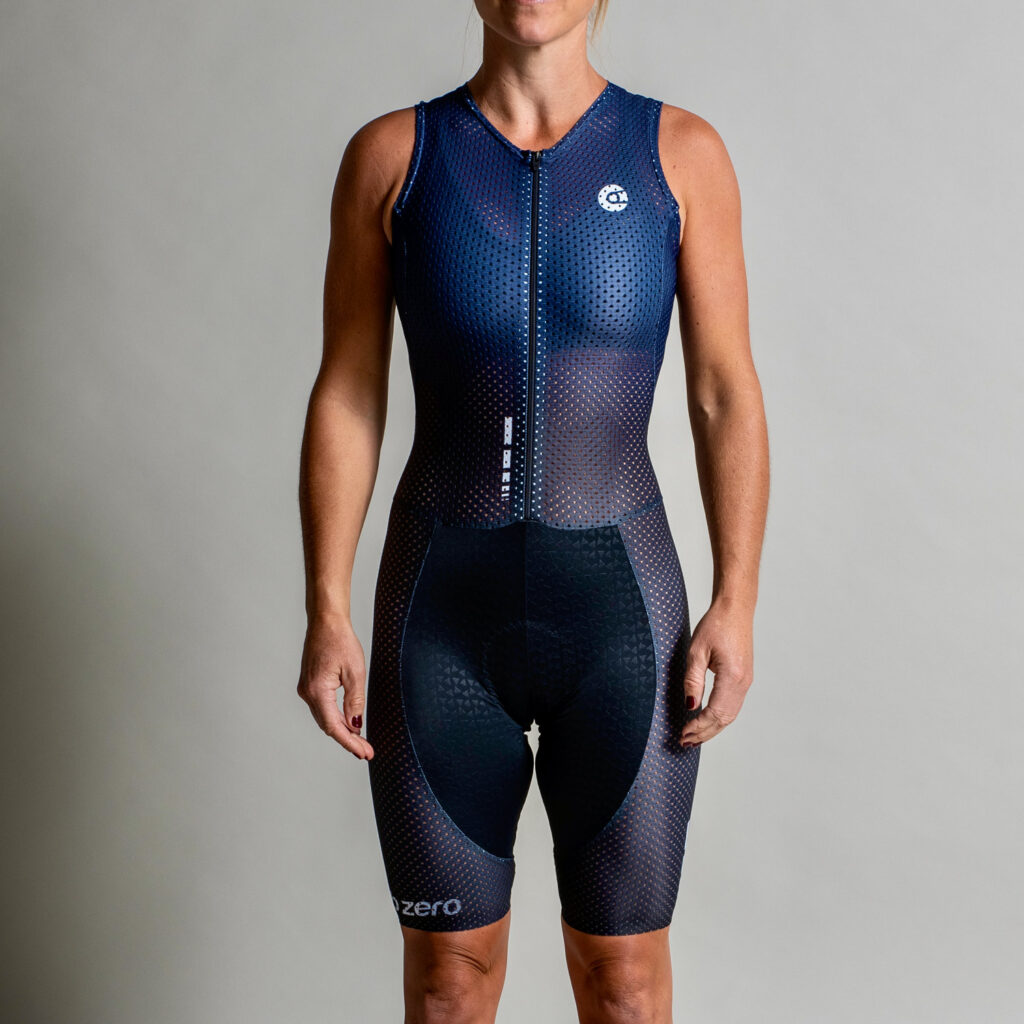 Many serious Zwift racers are investing in dedicated spaces with powerful fans and even air conditioning or dehumidifiers. Not everyone has this luxury, though, and Nopinz says their new SubZero range "provides a marginal gain and performance advantage that is accessible to all."
Nopinz founder Blake Pond, a former elite-level road and TT racer and now a keen A+ Zwift racer, poured many years of indoor training experience into the SubZero line. He says, "I knew there must be a more effective way than relying purely on cooling fans, so I decided to try putting ice packs into my kit to help me stay cool and boost my performance especially when racing in Zwift. The concept worked so well that it had to be part of our new indoor kit range and SubZero was born."
We're testing the SubZero line here in the Zwift Insider Pain Lab, and early results are positive, even though it's difficult to quantify the marginal gains outside of a true lab setting. Nopinz is working on getting into some labs for tests, but it has been difficult due to COVID restrictions and closures. They do, say, though, that "Initial signs among our own athletes have been very promising! This doesn't come as a surprise as many studies show that keeping your body temperature down allows you to perform at your best for longer, so we feel we've provided an additional solution to an existing problem for many athletes."
Nopinz has partnered with World Tactical Racing Leagues (WTRL) and one of the leading teams (R3R Nopinz) will wear the SubZero line during the upcoming World Championships held on the Zwift in early November.
Product Line Details
The SubZero range includes:
SubZero shorts: indoor-optimized bib shorts with FreezePockets between shoulder blades and on the lower back. Chamois pad is optimized for indoor riding with improved moisture management compared to those in standard bibs. Men's and women's versions available. (£139.99, two sets of gel packs included)
SubZero sweatbands: a brilliantly simple dual-purpose accessory. The FreezePocket is located on the inner wrist to help to provide a cooling effect where the skin is thinnest. In addition, the bands have a highly absorbent toweling upper to absorb sweat and keep you fresher and more comfortable during intense sessions. The FreezePockets are designed to fit energy gels, so once your body has defrosted them (usually within 20-30 mins), you can get that all-important boost for the end of the session or race. (£29.99, two reusable gel packs included)
SubZero suit: specifically designed for e-racing where live streaming requires a top to be worn, the SubZero suit has similar qualities as the SubZero shorts, but with an ultra-lightweight, breathable top for modesty. Men's and women's versions available. (£189.99, two sets of gel pack included)
Superlight Eco-Jersey: if you like to wear a jersey for indoor sessions, this ultra-light top is perfect. It's also ideal for extremely hot outdoor rides. Men's and women's versions available. (£79.99)
Learn more at nopinz.com/product-category/subzero-turbo-range/
Questions or comments?
We'll be posting our review of the SubZero range once we've got more Zwift races completed in the kits. Got questions or comments? Share below!