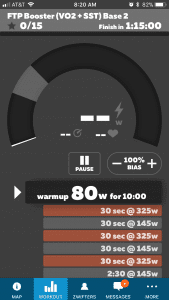 The "Zwift Mobile Link" app for iOS and Android has been renamed "Zwift Companion" and given a major upgrade in its ability to interact with workouts. 

The new workout screen includes the following:
Pause workout: need a restroom break? Forgot to grab a water bottle? Pause your workout, do what you need, then hop back on.
ERG mode off/on: having a hard time holding your interval in ERG mode, or just want to force yourself to modulate your power manually? Turn it off easily by tapping to turn ERG mode off.
FTP bias adjustment: this will increase or decrease the wattage targets for workouts where intervals are based on a percentage of your FTP. You can increase to 110% or decrease to 90%. Useful for those days when you're feeling a little weak (or extra strong).
Increase/decrease trainer resistance (incline): when ERG mode is off, you can increase or decrease the resistance level on your trainer… essentially simulating whatever gradient you prefer.
Skip Interval: slide left to right on the current interval to skip to the next.
Current workout's details (title, intervals, etc)
Current wattage, HR, and cadence
As you can see, Zwift Companion does not provide any new workout functionality that isn't already available via your keyboard/mouse in game (see Zwift keyboard shortcuts). But it does put all of that functionality within easy reach! This is especially important for users who do not have a keyboard nearby, including AppleTV users who don't want to mess with the remote to interact with their workout.
According to Zwift's Jordan Rapp, this update paves the way for future game screen changes where we could choose to have a less cleaner screen where many of the elements are only visible in the app. I like that idea!
Here is Zwiftcast's Simon Schofield interviewing Jordan Rapp about the changes to Zwift Companion:
And here's Shane Miller summarizing the app changes: