Last week Garmin, owner of Tacx, announced the upcoming release of the Tacx NEO Bike Plus. This is the successor to the Tacx NEO Bike and includes the following upgrades:
Revamped handlebar and shifter design
Ability to customize shifters and replicate Shimano, SRAM, and Campagnolo
Increased crank length options to 5 (165mm-175mm)
Seat tube width reduced by 10mm to minimize thigh/leg rub
Redesigned quick adjustment levers
Increased USB power in one port
Of course, it also comes with a price increase – the NEO Bike Plus is priced at $3999.99US, a full $800 more than the NEO Bike and equal in price to the new Wahoo KICKR Smart Bike.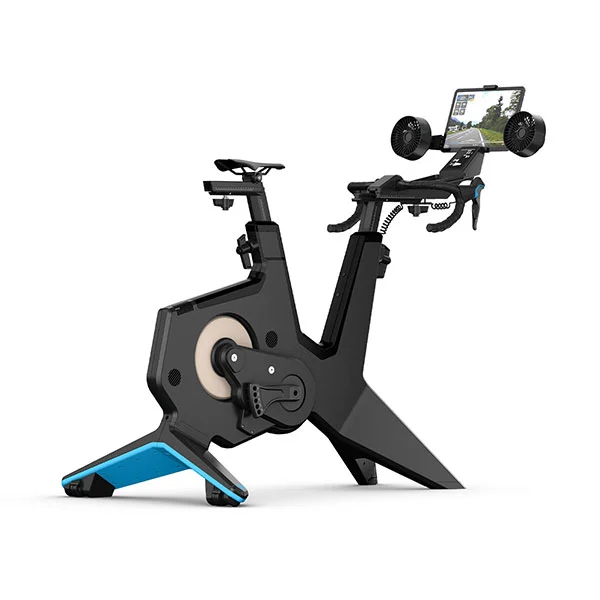 More Specs
Apart from the upgrades listed above, the specs of the new NEO Bike are the same as the old NEO Bike. Which doesn't mean they aren't impressive! These bikes, on paper at least, are as good as anything else on the market:
Power Accuracy: +/-1%
Max Wattage: 2200W
Max Gradient: 25%
Road feel (cobbles, bricks, etc) on supported platform
Easy bike adjustment/fit
Works without being plugged in
Downhill drive simulation
Pedaling metric capabilities
Built-in fans
Integrated (small) display for data metrics
Availability
Garmin says the NEO Bike Plus will be available in January 2023. You can register to be notified when the bike is available here.
Digging Deeper
Early reviews on the NEO Bike Plus are saying Garmin did a great job with the new handlebar and shifter setup… but power accuracy issues exist which need to be fixed. Overall, once the power accuracy issue is addressed, we think this new NEO Bike will be seen as a minor upgrade to its predecessor. (It's not enough of an upgrade to justify replacing your current NEO Smart Bike, but people shopping for a new smart bike will want to give the NEO Bike Plus a look.)
Looking for more? Here's a full review from DC Rainmaker and below is GPLama's video review:
Questions or Comments
Post below!