Editor's note: Scott Paciorek undertook a 24-hour ride as part of the World Bicycle Relief Zwiftathon on December 2, 2017. This is the story of that ride, in his own words.
---
On December 1st I started on a 24 hour journey into the unknown. I mean, I knew I could ride at least 6 hrs as I have done that before. But 24 hours was uncharted territory! I had no idea what would happen, I had no idea how the body would react, where the mind would take me. So I gathered up my gear and headed out to my church gym wondering what would await me. Would there be people at the gym? Would anyone be there to cheer me on or say "good luck?"
And So It Begins
I arrived at 5:30pm to a cold empty gym. I asked myself again, "Why?" Then at 6:00pm the journey began.
I set out in London riding the flat course on Zwift. I chose the flat courses as I felt it would give me the best chances to not be over tired at the end. The plan was simple: ride 6 hours, get off the bike, stretch, eat, bathroom etc… but no more than 20 minutes. I could not let the lactic acid set in.
Two hours in I felt it… uncomfortable rubbing from my bibs. My first thought was to ride through it and see if it got better. Thirty mins later I made the decision to stop and change bibs. Six hour ride plan broken, now what? Get back on the bike and push on.
I then noticed people I know through Zwift joining the ride and joining me on Discord (in game chat app). I said to myself, "Here we go." (You don't realize the importance of riding with friends until you set out to ride 24 hours. More on this later.) I was being encouraged and distracted at the same time and friends would join and leave and join and leave as the night went along.  I did some rough calculations that if I kept riding the London Flat course I would end up doing 55 laps or so. I shuddered at the thought or riding in a circle like that, but my fellow riders would seem to make that bearable.
Approaching 6 hours I was at 100 miles and kept riding to see if I would change courses automatically. That didn't happen, so I stopped to switch over to the new course for the rest of my ride. I got off the bike and took the planned break, walk, stretch and bathroom. A little past midnight and I have a century under my belt and feeling good.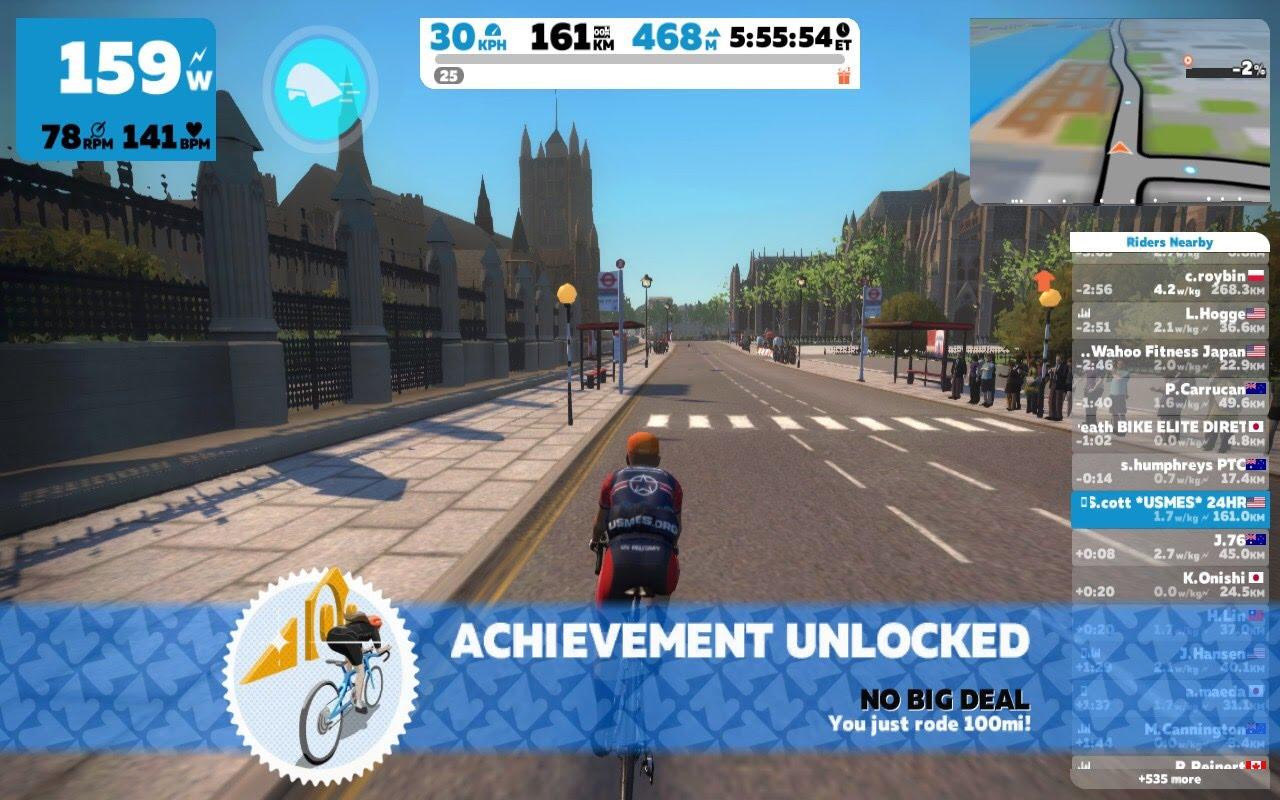 Watopia Time, 6 Hours In
On to Watopia and roughly 18 hours of riding left. Every pedal stroke at this point was uncharted territory. I have never ridden this far and did not know what to expect. Would I have the legs to do this? Was my mind ready? Was the equipment ready? Who knew? God did. I said a prayer and climbed back on the bike and away I went into the unknown.
This is the time span that I dreaded most. I thought if I was going to quit it would be during the hours between 1-6am.
Leg 2 began as uneventfully as the start of the ride I was on Watopia and riding with friends and chatting on Discord. The ability to chat with someone as I rode was a mental life saver. Throughout the night friends would jump on and ride for a while with me, so there was never a time I remember being alone, whether virtually or in real life. My wife arrived at 1:30am and sat with me until 7 a.m. and I cannot thank her enough. Just her presence gave me strength to carry on. As I rode overnight my mind wandered and I asked myself "why?" only to be followed up with a "because it is there and this is a test." I felt as if you were to chop my head off my legs would have continued to spin. It became almost mechanical at this point. I had been riding for well over 12 hours when the sun came up.
Day Breaks, 12+ Hours In
As the day broke friends and church members came by to wish me well and bring me food, although I think the real reason was to see how a crazy man was doing.  Daylight! Less than 12 hours to go and this would be over. I received a message that said at my current pace I could do 400 miles. The decision was clear if at 24 hours I was reasonably close then, 400 miles it was going to be.
Noon time rolled around and it was time for a break. Twenty minutes max was all I afforded myself for fear of lactic acid settling. Off the bike and to the restroom I went, changed bibs and realized quickly I had nothing for lunch. "Scott what were you thinking?" My mind raced and I was unclear on what to do.  then I realized I had some Smucker's Uncrustables still left from the night before. They may not have been the lunch I was thinking of but they would fill the void and prevent me from getting hungry on the bike.
The Last Leg
Back on the bike I went and was looking at the last leg of this journey. I was exhausted but at the same time was motivated to get this done. Half an hour back on the bike a friend showed up with every cyclist's go to fuel: PIZZA! Yes prayers were answered a pizza box was handed to me and I immediately began to eat. Life was good again and I felt rejuvenated. My third (or was it fourth?) wind kicked in and I was left alone from 2-4:30pm with my thoughts. This is when the reality of what I was doing hit me. Twenty-four hours on a trainer and Zwift and 400 miles. Holy cow! Was I crazy, or did I really just want to challenge my mind and body?
4:30 approached and visitors came in to wish me well or just watch. Not sure which one it was but I was glad for the company.
Kickr Disaster Averted
Zwifters I normally ride with were now appearing and Discord chatter increased. I had one ear on Discord and one ear for the people in the gym with me. I was feeling good and was ready to finish and then it happened: my chain started skipping all around the rear cogs. I couldn't believe and quickly told the riders with me to stop I had a mechanical issue and will be back ASAP.
I jumped off the bike to inspect and noticed my bike had become undone from the dropout and Kickr disaster averted! Reset the bike on the trainer and jumped back on for the finish. Now it was adrenaline and sheer willpower. Closing in on 24 hours I was at 390ish miles and the decision was made to continue on until I achieved 400 miles.
Journey's End
24 hours and 20 minutes after the journey started, I was at 401 miles and it was over. Emotions drained, physically exhausted and mentally scrambled I finished. It was then I took inventory of my body. Feet OK, Legs heavy and sore, saddle interface sore and painful, pinky and ring fingers on both hands numb.
A week later and I still have numbness in my hands but it seems to be easing.
Stats for the ride:
Ride time: 20 hours, 20 minutes and 37 seconds
Distance: 401 miles
Avg HR: 123
Avg Power: 107
Calories burned: 8,722
Avg Cadence: 71 (102,240 total revolutions)
Avg Speed: 16.6 MPH