I've lost hundreds of Zwift races in a variety of ways, but today was a new experience: purposely racing up a category (moving from B to A) just to see what happened.
Sure, I've done some "mixed cat" races, where everyone starts together but the results are divided by category. And the A's handed me my butt on a silver platter at those events! But I'd never raced against just the A's. And I had never raced any A riders, even in a mixed group, in a short event like Crit City.
So I wasn't sure what to expect. Would I get dropped by a hard start? Would repeated attacks eventually break me? Or could I hold on all the way to the finish? I didn't think I'd make it to the end in the front group. But there was only one way to find out!
Warmup
My alarm went off at 4:45am and I immediately began questioning my plans. Was I really going to take on an A race this morning? 8 laps of Downtown Dolphin. Could I survive the punchy prime climb against the w/kg powerhouses? And why did my legs hurt already?
Running Legs
I had gone for a pathetically slow, short run the day before, and my legs were tight and sore. Does anyone else have this problem? I run so infrequently that when it does happen my legs hurt for 2 days. It's ridiculous and fascinating how our bodies work. I can ride my bike for 4 hours with no pain the next day, but get me running for more than 15 minutes and I'll feel it for 48 hours!
The good news is: I've learned that my legs being "running sore" doesn't mean they're ruined for cycling. And in fact, riding seems to help them recover from running. So I climbed out of bed and got to work.
Race Prep
I'd done a little reading recently about the benefits of caffeine for cyclists, and those articles seemed to agree on two things:
I need more than 100mg of caffeine for any noticeable performance effect
I needed the caffeine in my system hours before the event, not minutes, for maximum effect
I wasn't going to wake up at 3am to chew caffeine gum, but I figured I would pop two pieces (200mg of caffeine) as early as possible this morning and see how it worked out. Slapped on some PR lotion as well, of course – because that's what I do!
Then it was off to Tempus Fugit for a quick warmup. The legs felt ok, and I was able to get my heart rate up into the 160's, so things looked good for a strong race effort. Let's go!
The Start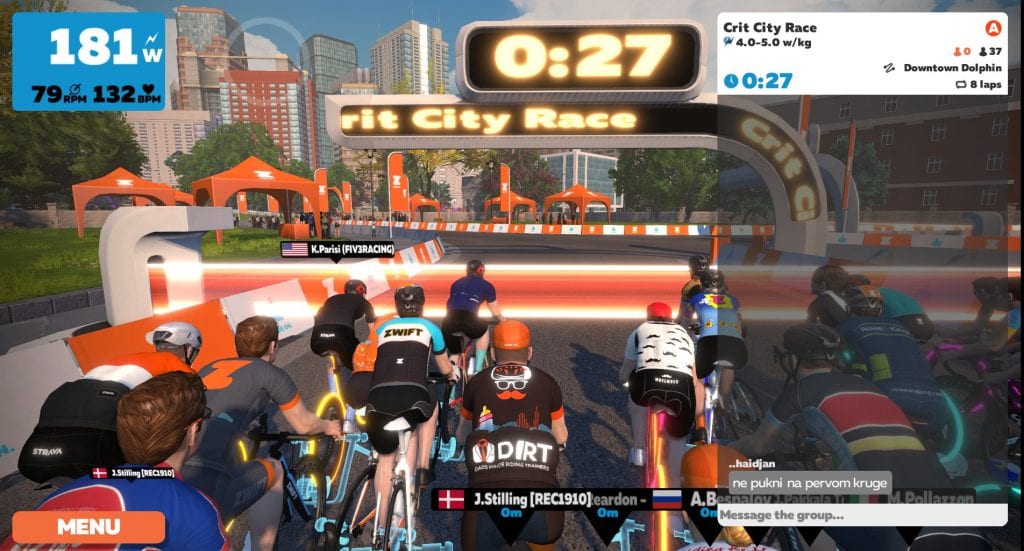 There was a decent number of riders (39) in the A pen. I've noticed that some of my B race lap times have been faster than the A race happening at the same time, but in those cases the B field was always much larger than the A field so it wasn't surprising. (My race earlier this week is a good example.)
We had a larger group today, though, so I knew our lap times would be fast. And I hoped this meant I could stay in contact with the front group by riding smart: sitting in the draft, letting the group pull me around, and letting other riders close down any breakaways. That was my survival plan.
The A start pen was all business – no pre-race chatter. "Is this how the big boys do it?" I thought to myself. I played it cool, like I knew what was going on, like I deserved to be there among these strong racers. But as Owl City's "It's Always a Good Time" ironically played in my earbuds I knew I was deluding myself: this was going to hurt. I'd probably get shelled quickly. How much of the race would I be riding by myself?
Focus Eric, focus. Just hold the wheels.
The clock hit zero, and we were off. I pushed especially hard, not wanting to get dropped if the group quickly charged away. But the pace wasn't as high as I'd anticipated: ~400 watts for 50 seconds then we settled into a rhythm.
The first lap was done in 2 minutes and 5 seconds. Of course, I didn't know this at the time: I just knew we were moving fast. (As it turns out, every lap of this race would be faster than my previous best racing as a B. More on that later.)
The Middle
Our group settled into a rhythm: easier through the start/finish banner, hard up the bricks to the prime banner, then easier again back to the start/finish. The pace was tough, but doable. We were pushing harder than any of the Crity City B races I've done, but I was able to hang on.
This surprised me, to be honest. Even up the little prime climb, where I thought the power-to-weight monsters would go hard and I'd get dropped, I found myself able to stay near the front of the group. Were they just waiting until later to pounce, knowing a breakaway wouldn't stick for long at these high speeds? I wasn't sure, but I tried to stay alert, maintain a good pack position, and recover every chance (and powerup) I got. Popping the van after the prime climb on the 4th lap was especially helpful.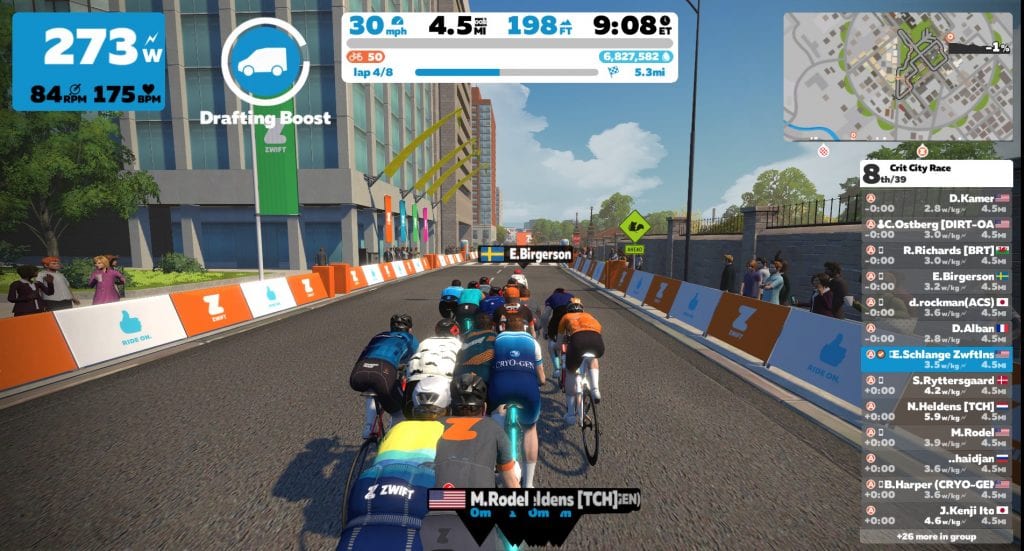 Our group was whittled down from 39 to 20 by the halfway point of the race.
Fake Attacks/Real Attacks
One rider, "D. Alban", had his FTP set too low. How did I know this? Because his avatar was out of the saddle sprinting almost the entire race! (Read how sprinting posture is determined by your FTP setting). It was comical, but it was also annoying because every time I saw him "sprinting" I instinctively went on alert to defend against his attack. But that attack never came. Not from D. Alban, at least.
On the 5th lap, some riders hit the bricks hard, stringing out the pack. Gaps were opening up, I was a ways back in the group, so all I could do was pray that we would all come back together as I worked to hold the wheels ahead. It was touch and go until we hit the hairpin before the start/finish banner, but the group eased up and came back together, "resting" until the final laps.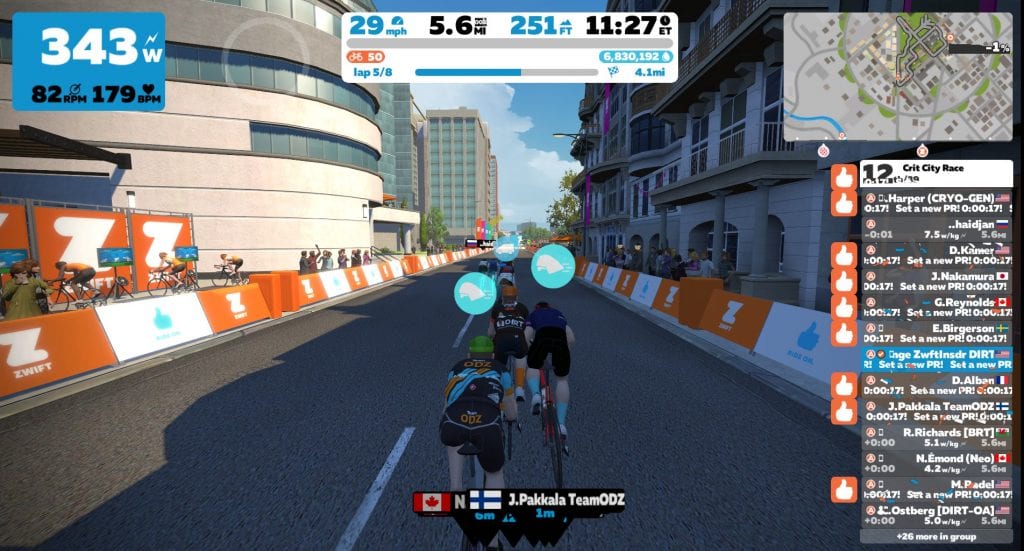 The Finish
The final two laps of a Crit City race are always nailbiters. In my experience, everyone is on edge, watching for a long attack on the penultimate lap – but that attack never comes. It's the final lap where everything goes crazy. It's not a question of if, but when.
On Downtown Dolphin, that when is usually up the brick climb. Whoever attacks there usually doesn't win, but they do succeed in stretching the field out. The winners are the strong sprinters who can handle the attack and staying within striking distance until they launch their wattage assault in the final seconds.
Our front pack hit the bricks fast, and we began to stretch out as riders pushed hard off the front. I was giving it all I had to stay in touch, but the front of the group was getting further away! I kept hammering, then deployed my aero powerup near the bottom of the twisty descent. That's when I shifted and got out of the saddle for the final sprint. I knew the front of the race was too far away for me to catch, but I thought I might be able to pass a few riders, so I gave it everything I had.
Which admittedly wasn't much. My legs were cooked and my heart and lungs were maxed out!
I crossed the line in 11th according to Zwift's results… ZwiftPower would place me 8th. It wasn't a win. But finishing just 3 seconds behind the winner certainly felt like a big accomplishment to me.
See my ride on Strava >
See my ride on Zwift.com >
See race results on ZwiftPower.com >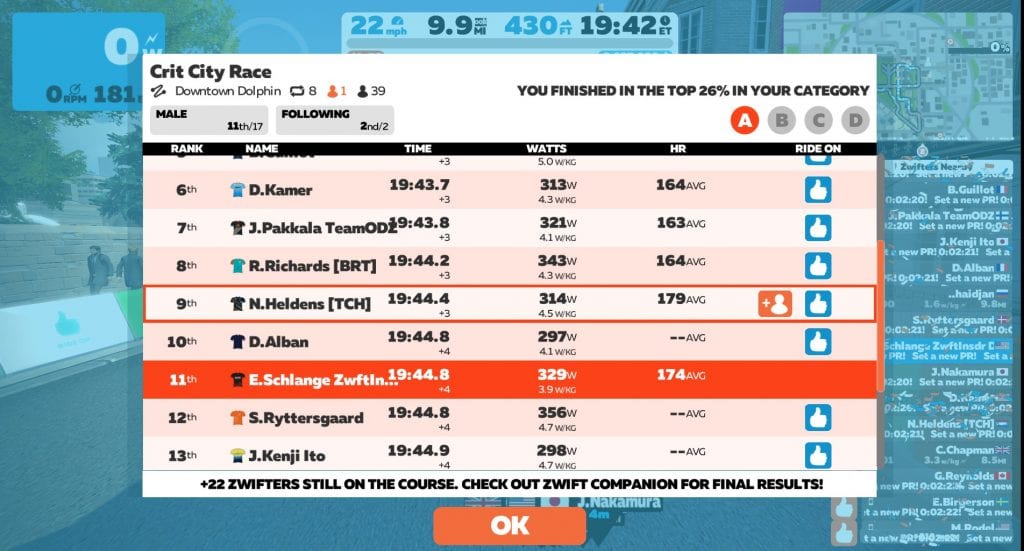 FTP Increase?
Zwift's race results showed me averaging 329 watts (3.9w/kg), which is more than I've ever done in a Zwift race. This makes sense: I would logically get my highest average wattage in a short Crit City race, and this was my first time racing as an A, so the pace was bound to be higher than the B's.
Here's where it gets weird, though. I was greeted with this when saving my ride: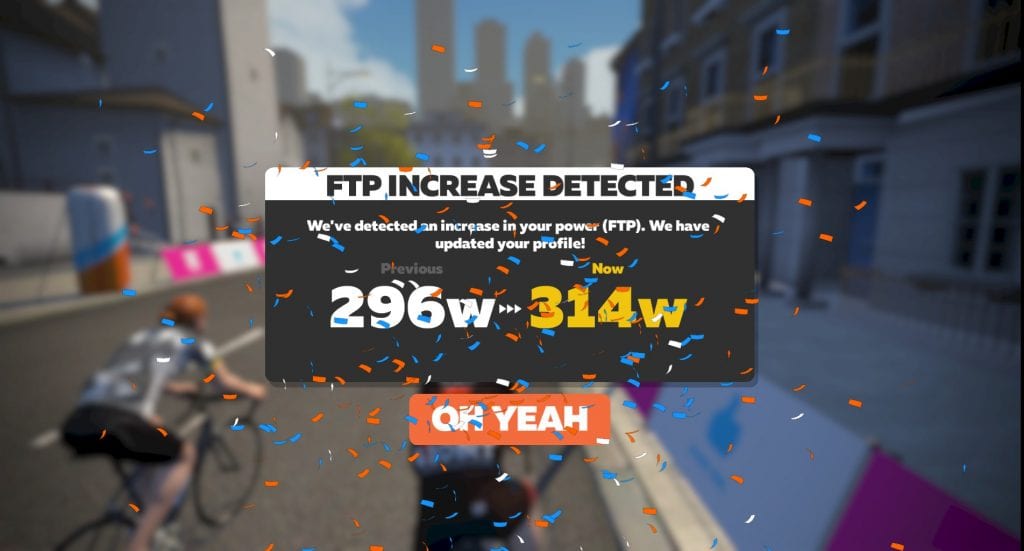 I'm not sure how Zwift got the 314 number, since I averaged 329 for the race, which only lasted 19 minutes and 44 seconds. My 20-minute power for the event was 323 according to Strava, which would put my detected FTP (95% of 20 minute power) at 306-307.
TrainingPeaks sent me an automated email saying I'd hit a new threshold value of 308. That seems pretty accurate. My previous threshold value was 301, from a recent Crit City race.
Riding at Threshold
This race definitely pushed me to the edge of my abilities. One way I know this is by looking at my heart rate, which usually stays consistent throughout a Crit City race, until the final lap. Each lap will show my heart rate bumping up on the uphill portions, then dropping down as I recover – but overall, each lap's average heart rate is about the same until the final effort. Here's an example from a Downtown Dolphin race I did back in December (average power: 309):

Check out today's A race, though – this is what bumping up the power average by 20 watts will do!

This is what riding just over threshold looks like. You can see how my heart rate steadily increased throughout the race – meaning this was not a sustainable (eg, 1-hour) pace for me! My first lap was done at 168bpm, then the second lap was 170, then 172, 175… it just kept climbing!
Lap Times
As I mentioned above, every lap of this race was faster than my previous best on Downtown Dolphin (2:09). Our lap times ranged from 2:03 (final lap) to 2:07, whereas most of my B races have lap times closer to 2:12-2:20.
I didn't feel like I was working that much harder in this race, but the heart rate and power data definitely show me pushing my limits to keep up.
Takeaways
Here are my takeaways from this race:
I can hang with the A's, at least in a short Crit City race. This is a big deal, because if I'm able to stay in contact with the front of the race, it makes things more fun. And that means I'll be willing to race the A's more often. Racing against stronger riders helps us get faster, but it's no fun if you get dropped hard and early every time. But today was (type II) fun!
When I'm going hard, it's tough to go harder. Like my B race earlier this week, today's race showed me that I lack the fitness to deliver a strong sprint after pushing well over threshold to stay near the front of a hard-charging pack in the final seconds of the race. More training required.
Your Thoughts
Are you a B who has raced in the A's? How does my experience line up with yours? Share below!