Welcome to the second post in a series aimed at helping you avoid n00b powerup mistakes in Zwift races.
Powerups add a fun element of randomness and strategy to Zwift racing. While some purists deride their use, most racers welcome their addition to an indoor racing experience which can feel a bit oversimplified since it has fewer variables than outdoor riding.
Experienced Zwift racers understand how powerups work, but we see them used incorrectly over and over again. Hopefully this series can help.
Still learning? Read our "Guide to Powerups in Zwift" >
The Aero Boost, aka "The Helmet": How It Works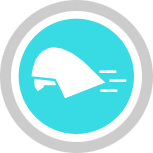 Every rider in Zwift has a CdA based on their weight and height plus other constants controlled by Zwift. This virtual CdA is a key part of Zwift's physics, greatly affecting your in-game speed.
When the Aero Boost powerup is activated, your CdA is reduced by 25%.
What's the effect? You'll go faster for the same wattage. Quite a bit faster, in fact: there's a reason Zwift racers say the aero helmet is the best powerup to have when you're heading into a sprint finish!
The Aero Boost lasts for 15 seconds, which means you need to time things just right. A bit of trivia: it used to last for 30 seconds, but was revised in May 2019 because it was simply too strong of a powerup.
How It's Misused
The most common misuse of the Aero Boost is on climbs. When you climb, you move slower. And like IRL riding, when your avatar is moving slower on Zwift, it is encountering less virtual air resistance. The Aero Boost powerup is designed to reduce air resistance, but if you use it while moving slowly, it's lowering something that isn't really there (or, more precisely, isn't significant enough for you to notice.)
If you're slogging up the Radio Tower at 12kph/7.5mph, the Aero Boost will not help you.
At what speed does the Aero Boost become noticeably helpful? That's a good question, but it's one we can't answer precisely. Our educated guess is it's somewhere around 30kph/18.5mph, but of course the Aero Boost is much more noticeable at high speeds like 40-50kph (25-31mph)+. That's why riders find it especially useful for sprint finishes, attacks on descents, and unlocking the Daredevil achievement badge.
To maximize your Aero Boost benefit, use it when virtual wind resistance is the highest. That means at high speeds, especially when you're out of the draft, perhaps attacking off the front of a group.
Judgment Calls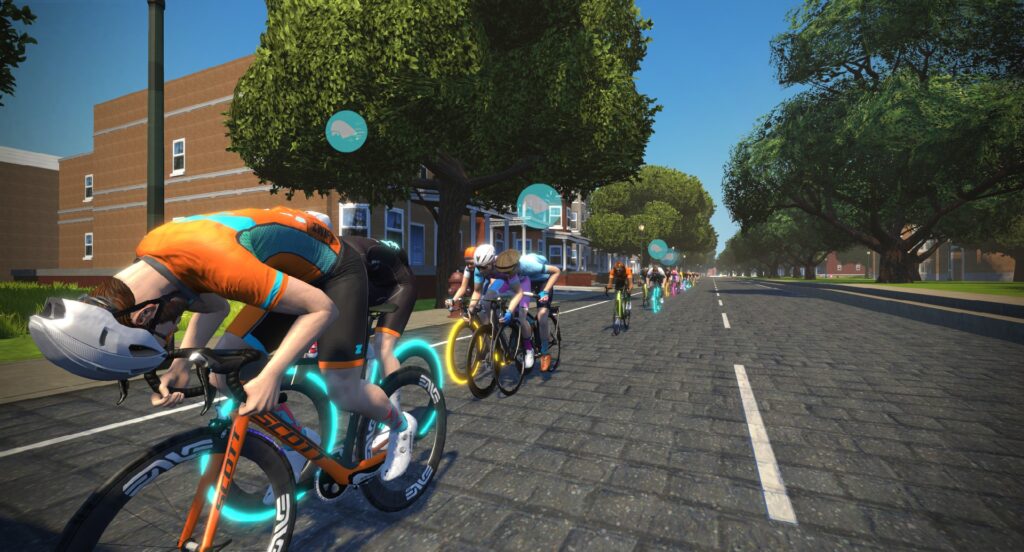 The Aero Boost, perhaps more than any other powerup, forces us to make judgment calls about its deployment. It's the powerup most commonly "held" because riders want to make sure they have it going into the final sprint. Because a helmet on the head is worth two in the bush…
But what are you losing by holding your helmet instead of using it? That's the judgment call.
A course like Crit City really brings this into stark relief, since you're receiving a new powerup every lap and races often end in a pack sprint. With a lap lasting approximately 2 minutes and 30 seconds, and most races lasting 6-12 laps, you know exactly when you'll get another chance at a powerup if you use the one you've got.
But what if you have three laps to go, and you get an aero helmet? Do you use now, or hold? What if there are 6 laps to go? What if you're struggling on the brick climb each lap, and really need a helpful powerup each time around to stay in touch with your group?
As you can see, there is a very real strategic element in play. You may not always make the right call, but that's all part of the game. Just make sure you aren't using your aero powerup during a slow climb. Because that's just silly.
Questions or Comments?
Share below!