Initial Statement to the Zwift Racing Community
First of all, I would like to express my most sincere support to all those who suffered the "join the pen glitch" and could not race. Given your misadventure, I hope my sarcastic ranting will at least make you half smile. Also I hope it never happens again as I am not sure I would be able to survive another selfie like this one: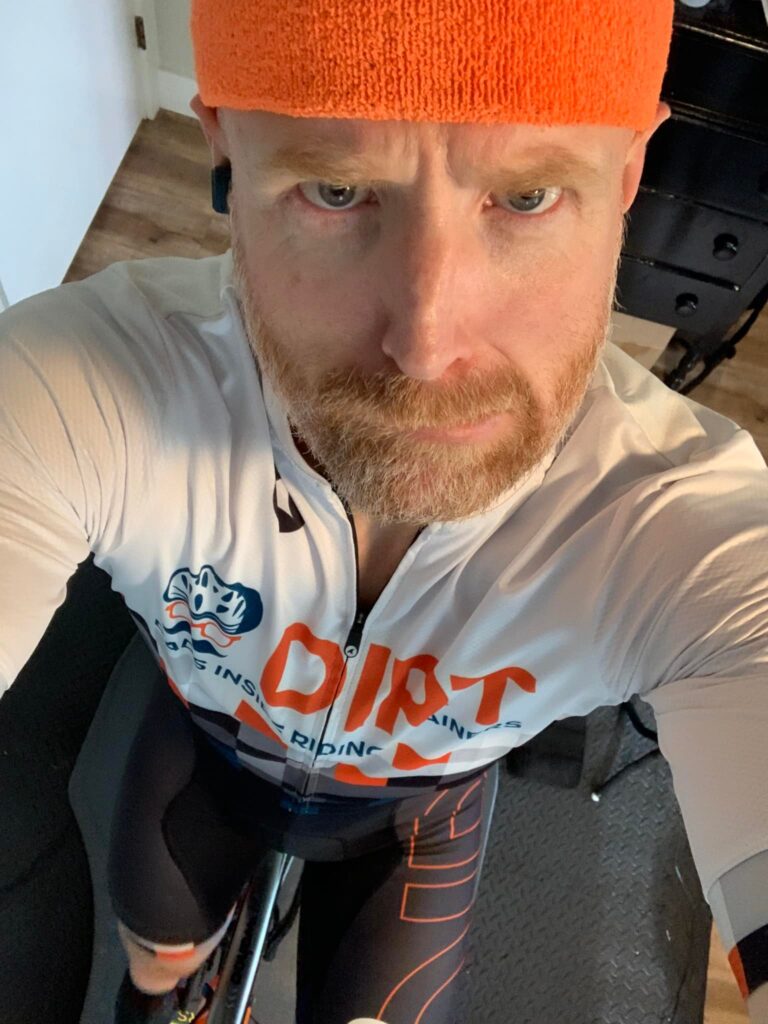 A Collective Suicide by Burrito
Let's start with a suggestion. Let's create a change.org petition to have Zwift create a "burrito clearance procedure" as some countries do with firearms. No rider should be authorized to possess and by extension use a Burrito Power-Up before having succeeded in a Burrito usage test based on Eric's Master Class on the topic.
My race, and that of a dozen other riders, was ruined by a typical collective suicide by Burrito, creating a cut in the pack which we were never able to overcome.
My team being very international, I can now proudly brag about the fact that I know how to say "Who is this f***ing idiot starting a f***ing burrito war 3km into the race for f**k sake" in at least five languages, including one in French with an Italian accent (thanks Stefano!)
To be fair it is possible that the rider starting the war activated the Burrito by mistake. In any case, even if he did it intentionally, he would not qualify as an idiot, only as someone who needs urgently to read Eric's post on misused Burritos. However, since four of us were caught in the split provoked by the burrito suicide, we needed to find a scapegoat instead of acknowledging our own mistake. I am so glad my new teammates have the same bad faith automatisms as myself!
That being said, I am the worst sprinter in human history. Therefore the first ZRL race of the season in Neokyo All-Nighter was not the one I was supposed to enjoy the most. And the race confirmed it.
The overall level of the Africa A1 division is crazy. There are at least 25 monsters there, easily going up to a gazillion watts per kilo in the sprints. A totally different universe.
Add to it that two members of the team had Bluetooth dropouts, plus the above-mentioned Burrito collective suicide, and it could have been the worst race ever.
However, there was at least a good part to it. All the team finished in the same pack, we managed to create good solidarity among us during the race, and some team osmosis in swearing against the Burrito idiot.
We finished in the second half of the ranking. I will now pretend it doesn't matter at all, and focus on some non competition related items, diverting your attention from the actual results of the race.
The Ultimate Weigh-In Challenge
So, the real fun of this week's race came from getting to know new teammates joining the Abyss team. We clicked almost immediately, as if we'd been together for quite some time. Team Coalition's transparency policy requiring a weigh-in and height-in for anyone participating in ZRL certainly helps build team rapport. The way it is done, it is as much an ice-breaker as it is a doping control!
Nothing better to break all the barriers of shyness than a good old weigh-in protocol requiring a master's degree in scale management and another one in camera perspective in order to be compliant: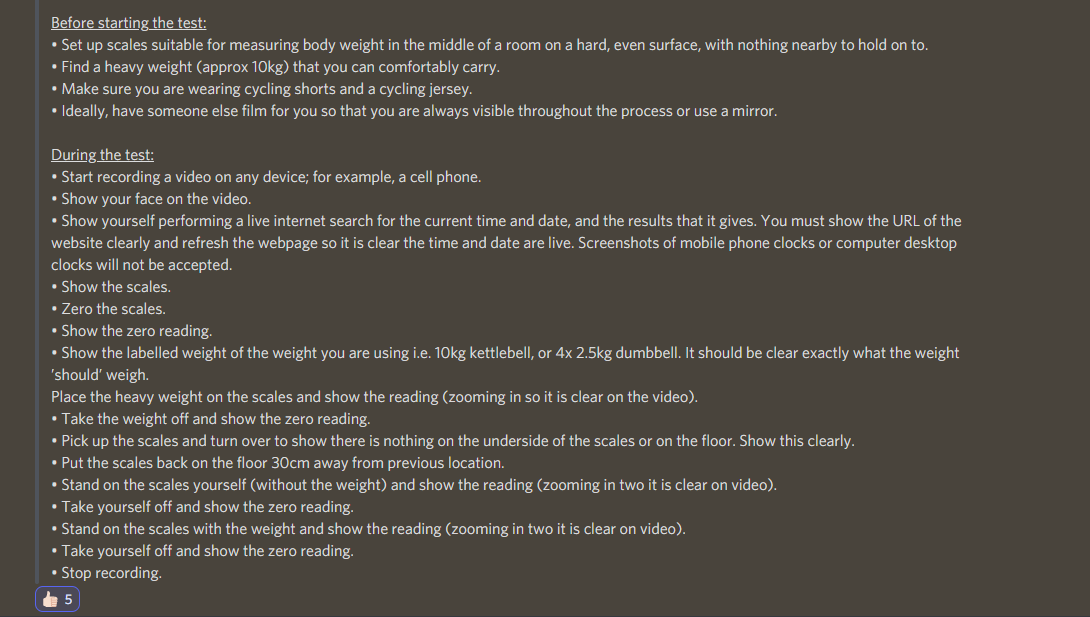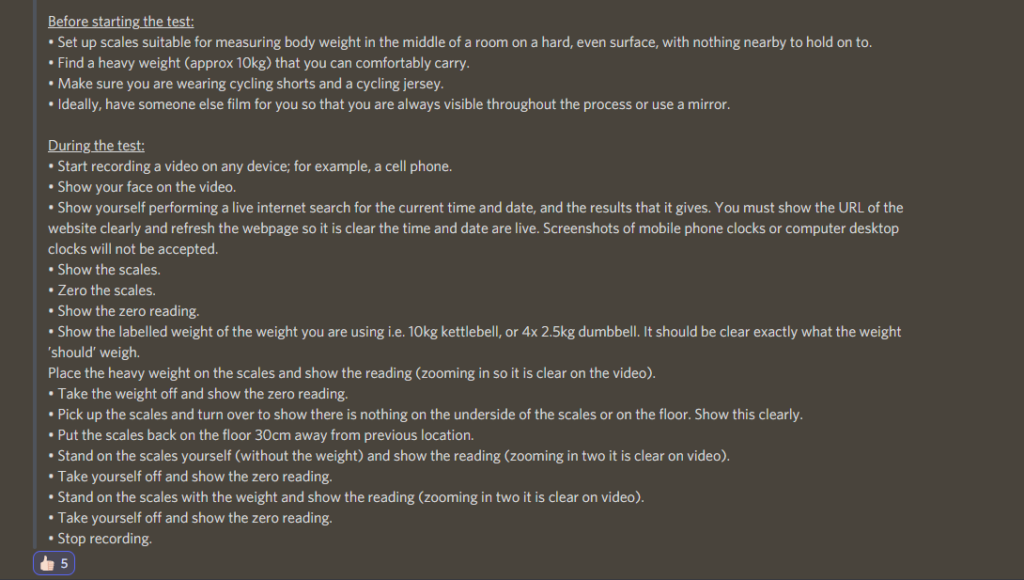 In summary, before the test I had to find the appropriate environment, as well as an accomplice:
The location should be a desert (nothing nearby to hold on to), preferably a hard, even-surfaced desert. Good luck finding such a place…
A heavy yet comfortable to carry weight: good one. Get as heavy as possible weights but feel comfortable, right? Is that cynical on purpose?
Someone I trust enough and I already lost any kind of credibility to, to film me and set in stone this humiliating process.
Then comes the fun. You would need 10 arms and 7 legs to be able to perform all the tasks included in the protocol. You would also need to be as translucent as a jellyfish so everything is visible from the camera in case you are hiding something between your toes.
The worst thing is that these rules began with ZADA, because they found out people were cheating this way, which is sooooooo sad.
It took me a good 10 iterations in order to get it right. Blackmailing me with the hacked "Making Of" the weigh-in video could be the fastest and most efficient way to obtain anything from me. I can perfectly imagine a business model with your ex-boyfriend or girlfriend sharing your weigh-in video on a website… "revengeweigh-In.com, share the video of your ex weighing him/herself in bib shorts". Apocalyptic.
Competing for Most Ridiculous Weigh-In
Coming back to the actual weigh-in, first I got worried because my weights were 6kg but were marking 5.9kg on the scale. I tried with 3 different scales and I can now confirm I was scammed. I was sent 5.9kg, not 6kg weights.
Second, there is nothing that could prevent me from feeling utterly ridiculous filming myself in bib shorts this way. I was moving awkwardly, and feeling observed.
You don't believe me? See for yourself:
So it was with great joy that I saw my teammates were not doing any better performing the same exercise. As the links to their own videos populated the Discord chat, the wounds of my ego rapidly healed. In all fairness, I felt I was an average ridiculous weigh-in performer. Some of my teammates were doing radically better, some others were doing so poorly that I was already embarrassed to have them in my team.
More seriously, I think anything promoting and securing transparency and fairness in the game is very welcome, especially when the outcome depends on marginal differences. That is why I pledge to spontaneously and voluntarily go through a weigh-in protocol every single morning, for the rest of my life… NOT!
I am planning to write from time to time about the team's ZRL adventures. So Emiel, Stefano, Maxime, Alejandro, Fabian, Adam, Callum, Aaron, Chris, and whoever feels brave enough to join the team in the future, get yourself prepared to be roasted big time.