We are about to start another season of the Zwift Racing League (ZRL). What I've written below, believe it or not, is a tribute to all the ZRL captains, from the utterly sarcastic bottom of my stone heart.
There are some jobs or missions which are ungrateful by nature. Regardless of who is performing them, they attract the anger or repudiation of humankind.
For example, being the referee of any major professional sport. I can't recall anyone at the end of any game claiming spontaneously "Woah! What a referee we had today! He did a wonderful job!" Does anyone remember the name of the 2018 Soccer World Cup Final or the 2016 Super Bowl's referee? However, I can remember in less than a second more than seven thousand outrageous offensive comments targeting referees, most of them requiring you to show your ID before you're allowed to hear them.
Being ZRL coach/captain/team manager (you can choose any appellation, it will not mitigate the pain of the experience) falls in the same category as missions: an outstanding contribution without which nothing would be possible, which receives very little recognition, and therefore only attracts the most masochistic of us.
Let's be honest: who would volunteer for being alternatively and randomly the mom, dad, friend, confidant, counselor, shrink and/or pet, of a bunch of 40-year-old immature frustrated wannabe pro-cycling teenagers!?
You don't agree? Well, let's recap a week in the life of a ZRL coach, and I am sure you will agree this is much closer to a via crucis than a path to glory.
Everything starts on Wednesday, results day.
You wake up at 4:37AM frantically refreshing the WTRL results page, as you know that at 5AM the team members will start asking if the results of Tuesday's race are published.
Like Chinese water dripping torture, one after the other and without checking if anyone asked before and received an answer, each member of the team is going to ask in the Telegram/Discord/WhatsApp group.
As a good captain, you have already prepared between ten and twenty different reactions or scientific explanations to the disastrous individual and collective performance on Tour of Tewit Well. Each of them will protect the dignity of each team member, allowing them to recommit to next week's race. But once you announce the results, radio silence. Seems nobody cares now. Does the following look familiar?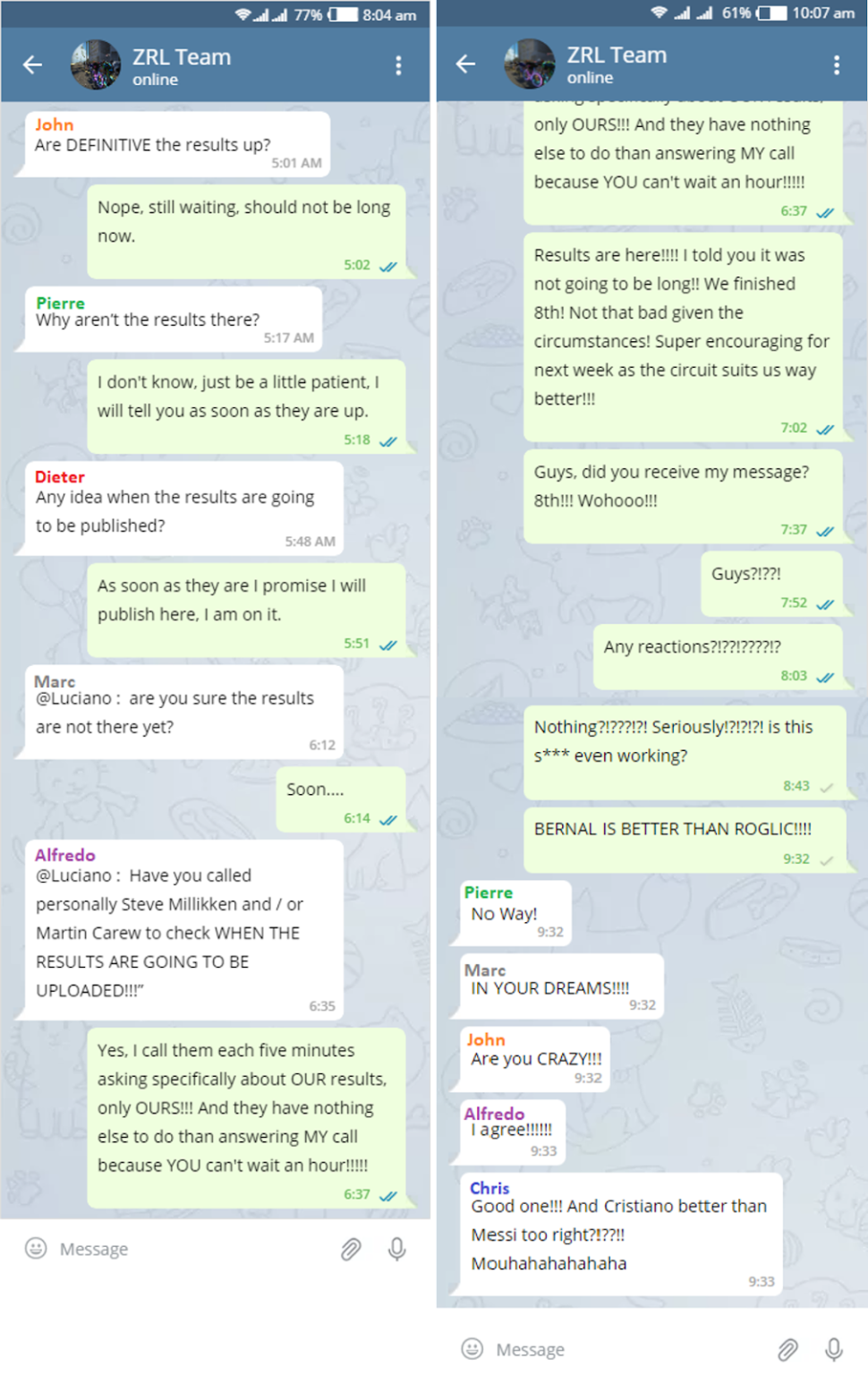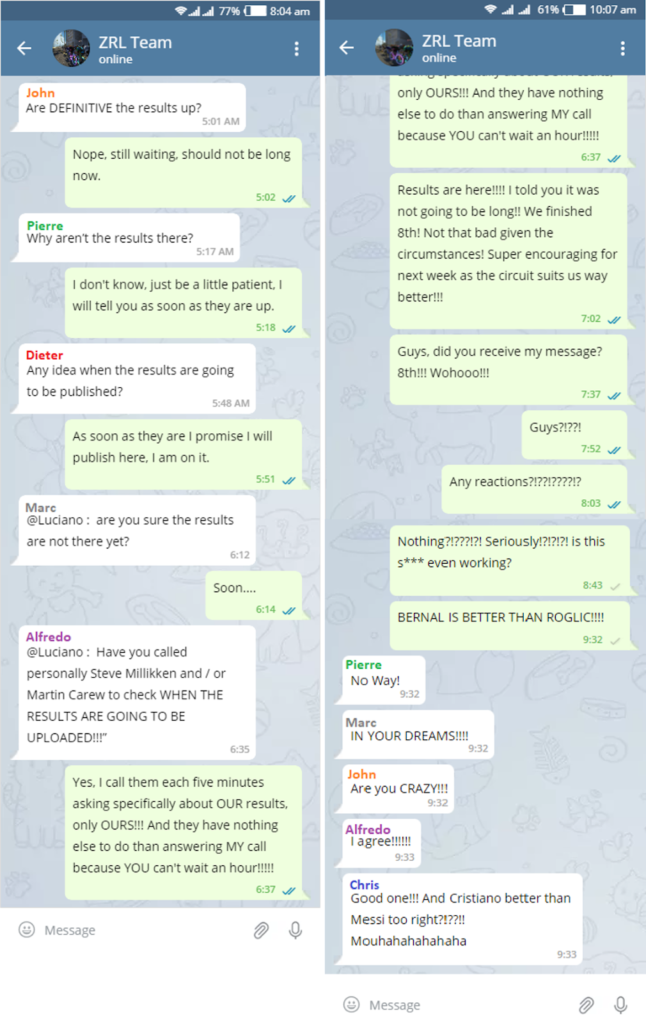 Thursday is the race back-office preparation day.
For breakfast, you watch Sherpa's Dave recce seven times until you know the circuit by heart but also all the songs of the video, including the ones you hate which are going to stay in your head the entire day.
Next race is a TTT, so making a team more valuable than the sum of its individual contributors is your role. And the team makes you accountable for it. On your own. Nobody will even imagine that some help might be welcome.
You study everyone's latest power numbers, and previous results on the circuit for each rider. Best bike, absolute watts vs w/kg balance. You spend your whole day on it.
No pain cave today for you, only the Excel spreadsheet cave.
Friday is the day everyone pretends this will be the race of their lives.
At this point everybody wants to race. Everyone has the best argument to justify he should be racing no matter what.


Each single member of the team finds the best way to emotionally blackmail the Captain. And as a Captain you will have to break the heart of two team members as there are only 6 seats available for 8.
Saturday is the day you announce the selection and get drunk.
There is a noticeable spike of alcoholism among ZRL team captains on selection announcement day. The following graph explains it all: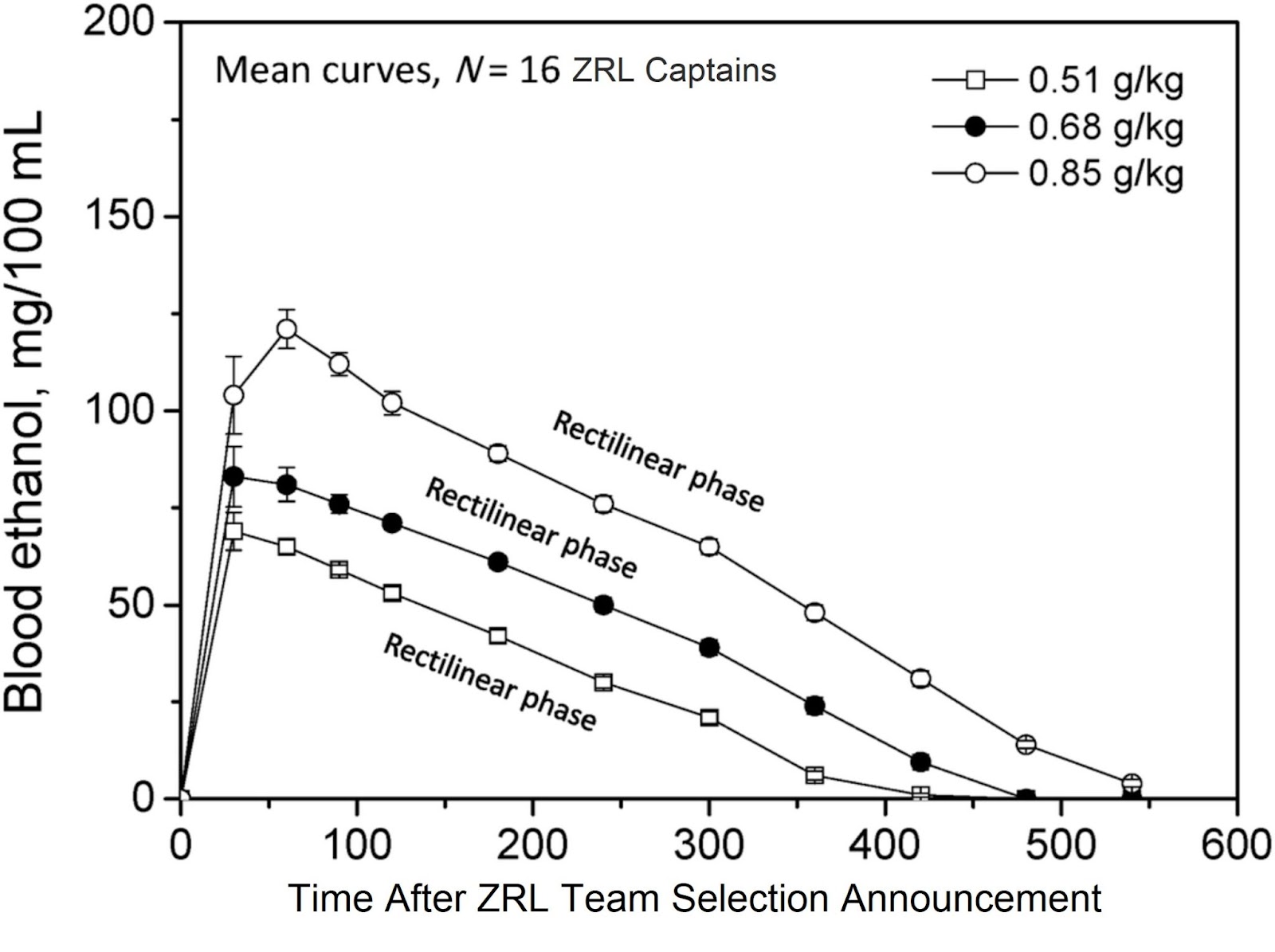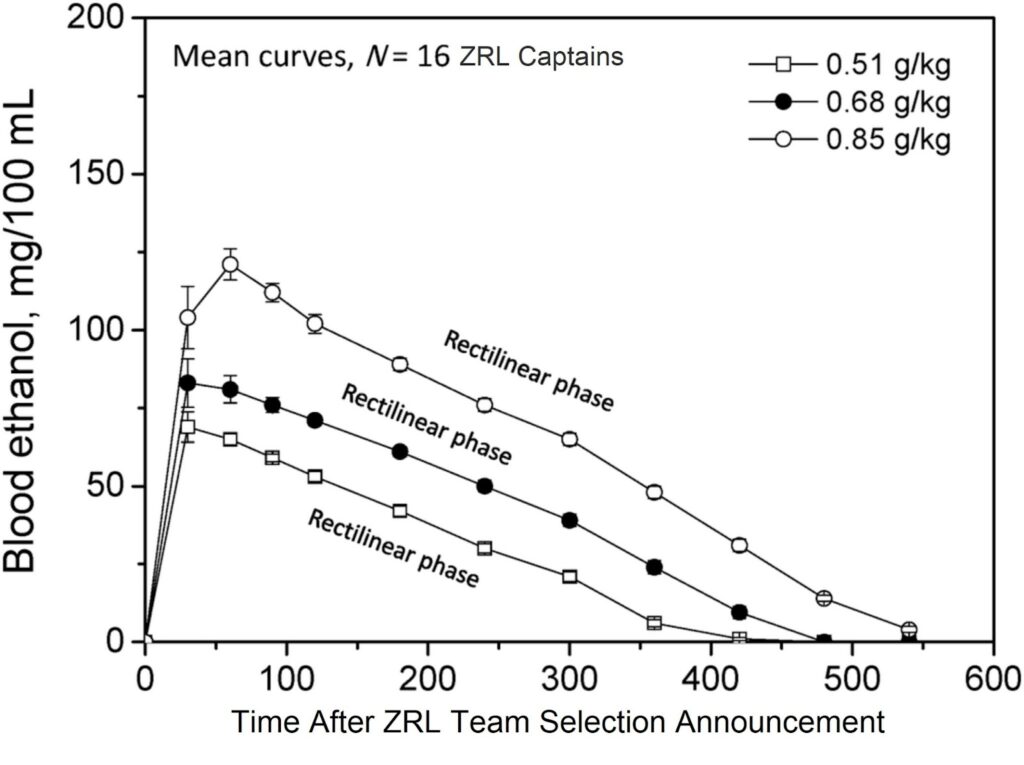 This week, Alfredo and Jan are out.
Jan pretended he did not care, but immediately started zwifting for seven hours, increased his FTP in a race, and sent you a screenshot of the FTP upgrade with an impossible to interpret emoji.
Alfredo decided he would appeal your decision. He invoked many Faverophobic discriminatory behaviors you had over the past weeks according to him. (Faverophobia refers to the fact that he uses Assioma Favero pedals as a power source while all other team members have a smart trainer.) Alfredo believes Faverophobia is the main driver of your decision. You are served at noon by Alfredo's lawyer.
Sunday is the impossible meet-up day.
It's more difficult to find a common slot to recce next week's TTT than to organize a World Summit on climate change with the top 20 world leaders.
All of a sudden it looks like your team's calendars are more crowded than Cindy Crawford's the day she joined Tinder.


Obviously at 4PM only 4 out of 6 show up. This includes Jan, who is not selected and joined just for fun. Numbers are terrible, and you anticipate the worst for Tuesday.
Monday morning is the day natural disasters directly target members of the team and their relatives, preventing most of them from racing Tuesday.
The same guys swearing that this race was the most important event in their lives since the birth of their first child are now making up the most unbelievable stories to escape it.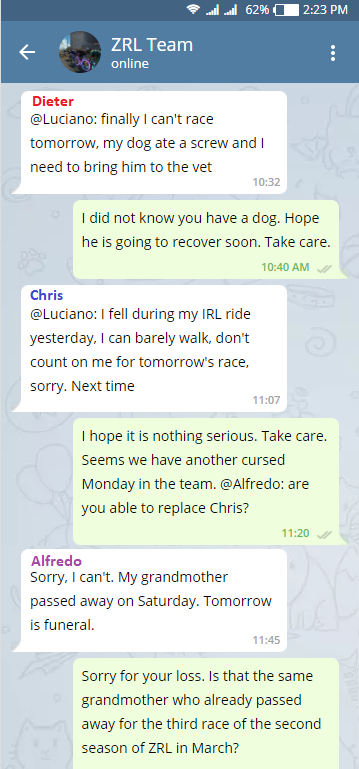 As a cautious captain, you already have a plan B and plan C. But not a Plan J. You finally find fallback solutions with the help of other captains in your club to make it to five riders starting the race. Not ideal, but still good enough to not totally lose credibility.
You are so happy that the end of the season is near. You remember when the manager of the club gaslighted you into believing that being ZRL captain was "the most interesting experience on Zwift". Here again, depending on the perspective, words have different meanings. You are still trying to figure out what perspective made this guy use the adjective "interesting". From a scientific perspective, there is no possible explanation other than delusion, bad faith, or evil. Most certainly a combination of the three.
Tuesday: Race Day
It is 7:30AM and Alfredo writes to you that he can finally make it. His dog is doing better and he wants to race.
Since you need Alfredo as a sixth rider, you decide to be pragmatic. You will not point publicly to the fact that the one having the sick dog was Dieter, and that hopefully Alfredo is not missing the fake funeral of his fake three times gone grandmother.
The race is at 7PM. At 6:45PM no one is in the pen and you are by yourself in the Discord audio channel. Your frantic messages remain unanswered.
6:50 PM, 11 guys are connected on Discord and all the riders are in the pen. 11! Subs are there, Dieter and his dog are connected from the car on their way back from the vet. Chris is connected despite his bruised rib and breathes heavily on the microphone. Jan is making some jokes about how horrible the ride was on Sunday, and everybody laughs. You are a team.
Timer goes to zero. Three minutes delay. That is when you give the last instructions and remind the guys to remain together, to stick to the plan, while not believing for a single second this will be the case.
But when you give the go everything starts on the right foot. The guys manage to immediately form a line and start pushing hard and steady, communicating with each other as necessary, orderly and efficiently.
Alfredo is on a great day. Each time he takes a pull he cuts two seconds to the team ahead. Marc is filling the gaps to maintain a permanent draft, Pierre is pushing hard on the climbs… smooth, fast, very pro. Everybody is at the max output possible. Feeding and being fed by the team.
When after only seven kilometers the first competitors are overtaken, you know something good is cooking. You will not cede to euphoria, there is a long way to go, but instead of slowing down, the guys even accelerate. A second and a third team are swallowed by yours. Now everyone is conscious something big is happening. You are no longer a team, you are THE team. Dieter celebrates and encourages, the dog barks in the background, you can't refrain from being very pushy now, "Go! Go! Go! Give it all! Two kilometers to go!"
Done! Incredible! Awesome job guys!
You sweat more than if you would have raced yourself, your heart rate peaking like you're racing up Ven-Top.
Upon arrival the celebration is huge, but also the expectation has been raised. Did we make it?
The results show almost immediately on the WTRL webpage. First! We won, they won, I won! Whatever! First!
Barry White's song pops in your head! That's how happy you are!
"Ahh, the first, my last, my everything. And the answer to all my dreams.
You're my sun, my moon, my guiding star. My kind of wonderful, that's what you are."
As you go to bed, you tell yourself the week went exactly as planned. You forget all the frictions and tensions, the silences. It's all buried under the ton of fun you had during the race. Awesome team, awesome game, awesome everything.
You even plan to apologize to your mother-in-law for the things you said during Thanksgiving dinner.
Being ZRL Captain is the best thing that has happened to you since you discovered Zwift.
Wednesday, Week 2
And we are back to Wednesday. At 6AM you receive the first message asking if the definitive results are up… are they definitive? Are they uploaded? Do you know?
And the routine goes on…
So, before enrolling as a ZRL Team Captain, just take into account those minor hiccups and stones in the shoe which may occur down the road.
I would like to thank all the captains who had to suffer the unbearable torture of having me on their teams. Special thanks to Peter, from Jerbos Team, who beyond an incredible Captain and person became a friend (Jerbos forever!), and to Ricardo from Coalition, who made me discover an entirely new universe with WTRL TTTs and is helping the team and myself to improve week after week.
There are so many anecdotes I could have put in here. I have tried to make some fun out of the ones in which I was involved one way or another, though I have never been ZRL captain myself (the Telegram conversations above are fakes, generated through an online tool). I am sure you have plenty of stories yourself.
Your Stories
I am really interested in hearing your ZRL Captain or DS misadventures or anecdotes. Share below!