Until the 24th of September 2022, I could still pretend I was not totally batshit crazy.
vEveresting (twice!), LaMónCambil, those were irrational challenges. But this? This was crazy.
The Challenge: Climbing Mont Ventoux from Its Three Sides In One Day
When Maxime invited Stefano and me to the Cinglés du Mont Ventoux (translation of the name says it all: the Mont Ventoux Nuts), It was a unique opportunity to meet IRL my two brothas from anotha motha.

The three of us are part of the SONAR team in COALITION. From day one we clicked. We spend hours chatting in Discord about the most irrelevant topics (one evening after a ZRL race we spent almost 4 hours discussing a brand of thru-axles only sold on eBay). It was about time we got to ride together without Tron bikes!
We met in Malaucène on Friday 23rd September for dinner. Malaucène is a typical French provençal village and was to be the starting point of our adventure. Stefano drove 5 hours from Castres with his wife and daughter. I flew from Madrid to Marseille where I rented a car and picked up Maxime in Avignon, where his high-speed train from Paris arrived.
Stefano and his family were already seated in the restaurant when Maxime and I arrived in Malaucène. It was immediately like we had known each other forever! Those guys are close friends of mine, period.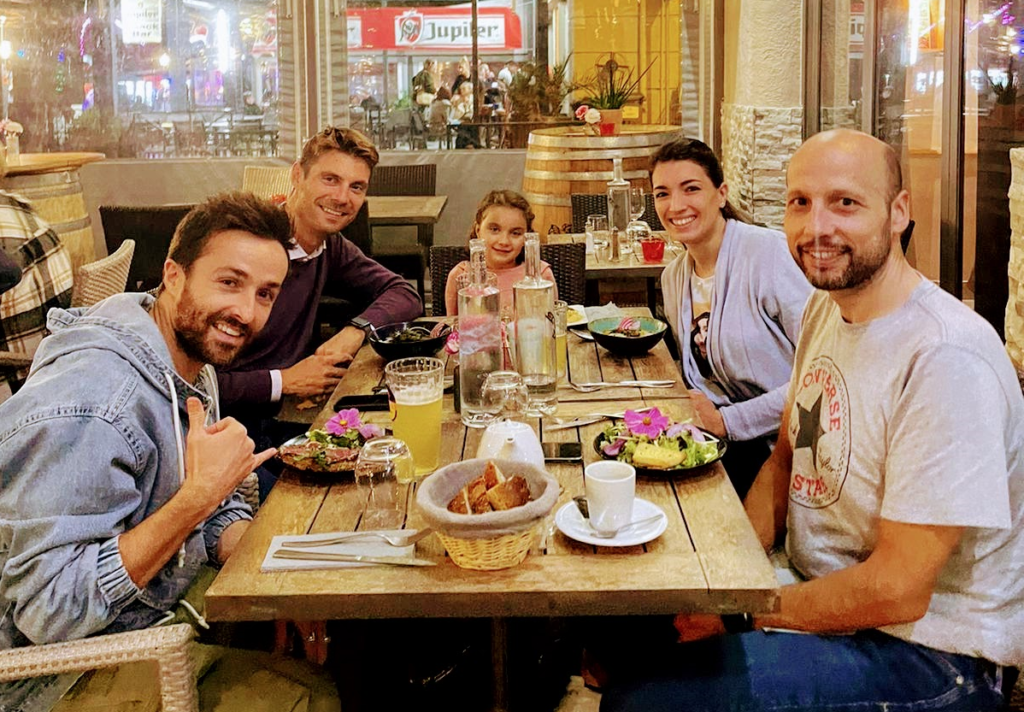 Beyond a common passion for cycling and Zwifting, we share the same humor (in reality Stefano and I pretend Maxime's jokes are good but it is not the case, they are painful, don't tell him), the same pillar values of effort and friendship. We have been scratching each other's backs throughout the whole year in our ups and downs, even with personal, non-Zwift-related stuff.
We spent most of the dinner talking about the climate though. After my misadventure during LaMónCambil, I thought I had seen it all. The weather forecast was anticipating some low probability of light rain in the morning, and then a sunny afternoon, so we were wondering what to wear but not worried at all.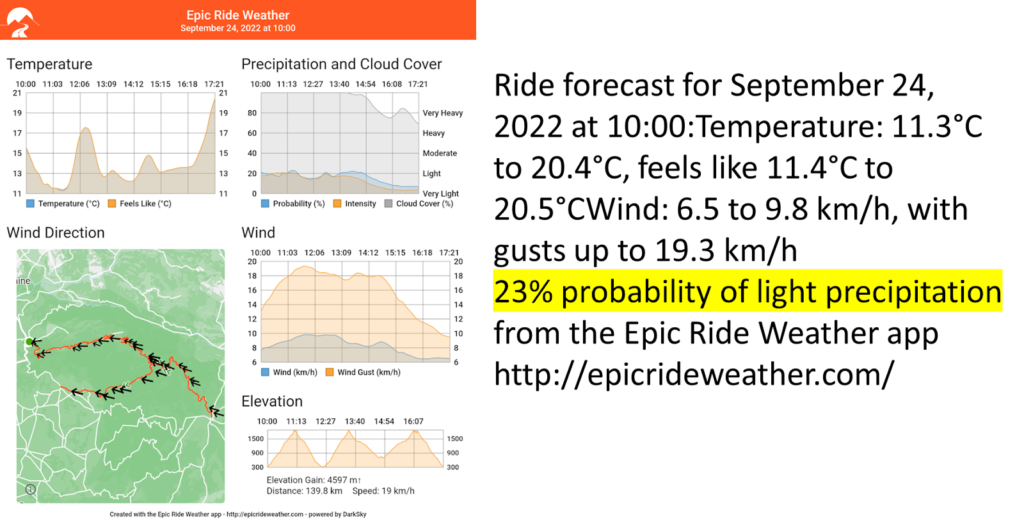 The Cinglés du Mont Ventoux Challenge consists of climbing the three ascents to Mont Ventoux (from Malaucène, Bédoin, and Sault) on the same day. Mont Ventoux is one of the most legendary climbs of the Tour de France, and has a Zwift replica, Ven-Top. To me, this is one of the most prestigious challenges you can be part of because of the breathtaking scenery and also the history it contains.
From a performance perspective, it is less than 5000 meters elevation and around 135km distance: from the top of my nauséabond arrogance, I overlooked it as an almost trivial effort.
Oh boy, I was wrong.
23% Chance of Light Precipitation: the Big Lie
That was us at the top of Mont Ventoux after the first climb.
And if we were already cold while climbing (less than 2°C at the top with heavy rain) the descent was an absolute nightmare. We were freezing to death, totally soaked, and almost paralyzed. I did not feel my fingers despite three layers of gloves, and I was uncontrollably shaking which made braking really hazardous.
5km into the descent, we decided to stop and find refuge. That's when we realized that we descended back in the direction of Malaucene instead of descending to Bédoin. We were so desperate and overwhelmed by the rain and cold that we did not think about it. We would need to climb 5km to the top again… and go to Bedoin.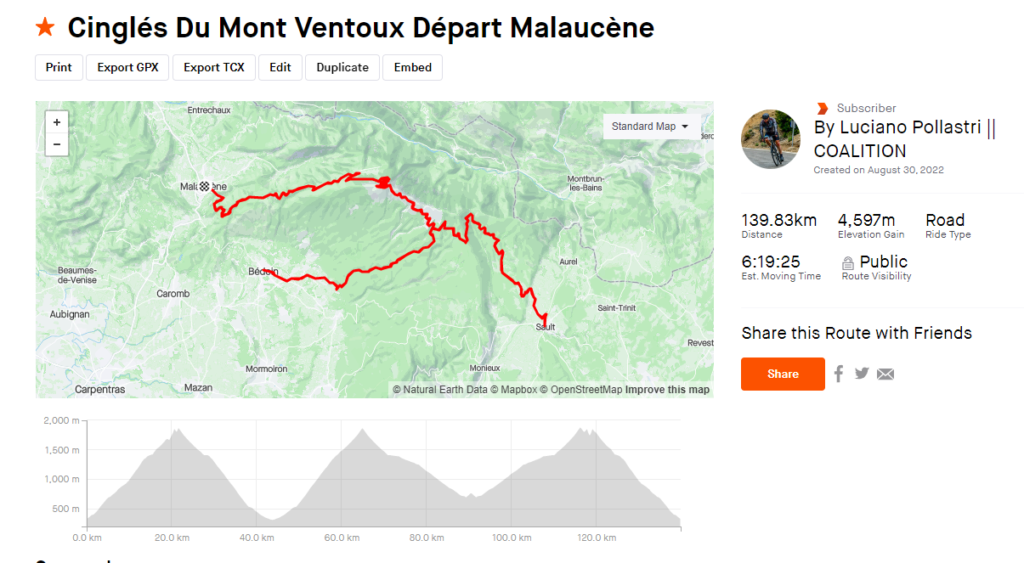 We looked at each other. Maxime tried to speak but could not manage it. The road was really super dangerous, with little to no visibility. We needed to change our clothes and spend an hour under a warm shower, because it simply was not safe. The risk of hypothermia or falling was too high. (I plan to die a hero, but not at 46 years old.)
Stefano called his wife to tell her we were going back to Malaucène where the guys at the rental bike shop gave us the "we told you you were crazy" look. They actually did tell us it was going to be tough at 9AM.
We told them we would shower and have lunch, and decide if we would attempt the second climb from Bédoin in the afternoon.
We had lunch, laughed a lot about what just happened to us, shared some anecdotes, and looked at the sky. It was sunny. We could not end our adventure on a retreat. That was so not representative of what we were as a crew.
So at 2PM we decided to go to Bédoin and climb Mont Ventoux from its most famous ascent: Bédoin.
The Second Climb: Following the Steps of the Giants
Reaching the top of Mont Ventoux from Bédoin is a pilgrimage every cyclist should do, in my opinion. Chalet Reynard and the Tom Simpson Memorial are mythical places surfacing from my childhood memories when I watched Bernard Hinault and Greg Lemond on TV 36 years ago…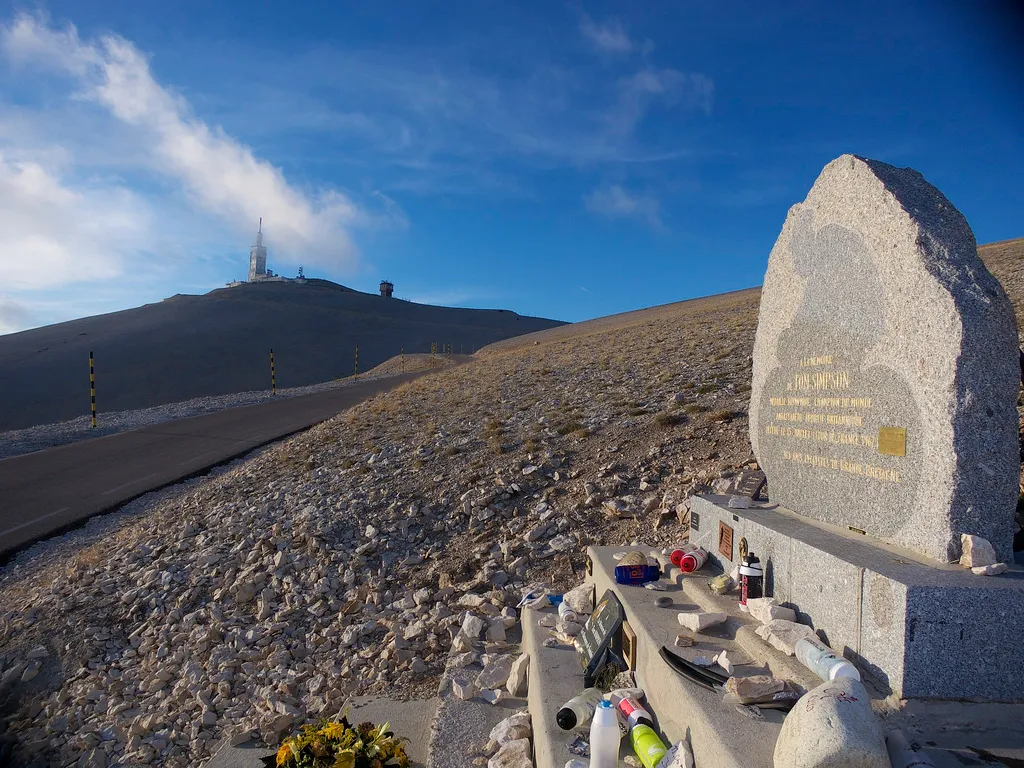 (That's not the only pilgrimage I am planning: Alpe d'Huez, Stelvio, Tourmalet, Sierra Nevada, Aubisque, Mortirolo… all in my checklist. Mr. Tim Perkin, we definitely need to organize one of those…)
Despite its 21.5km at 7.5% gradient average, the afternoon climb was way more enjoyable than the first one. The temperature was ok, with some fog from time to time, but it was nothing compared to the apocalyptic conditions of the morning.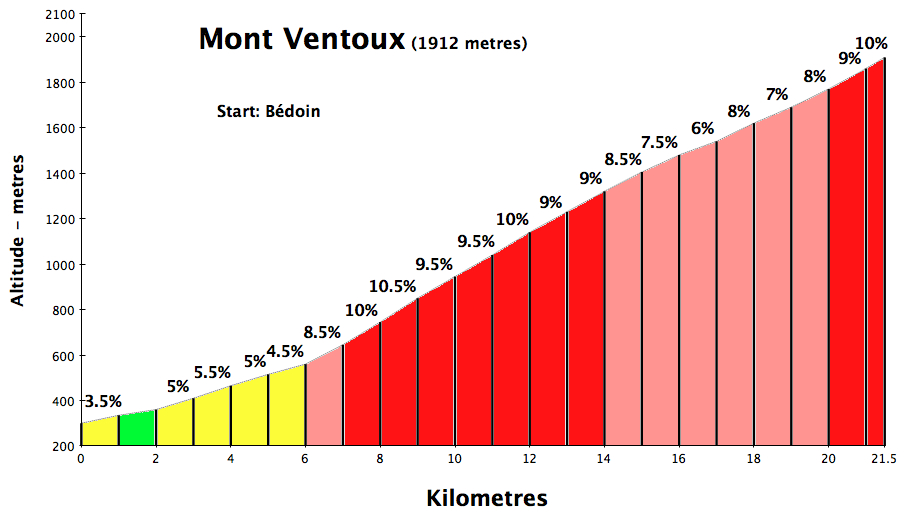 One hour into the climb, just after Chalet Reynard, Stefano could not resist making a sneaky/traitorish "same watts attack" with 5km to go. A same watts attack means that while Maxime's and my power output inevitably faded, Stefano left us behind merely by sustaining the same 4 w/kg during the 90 minutes. "Same watts attack": Stefano patented.
The Brotherhood
In conclusion, we did not complete the Cinglés Challenge, but Maxime, Stefano, and I definitely sealed our brotherhood. A way more rewarding trophy. I love these guys.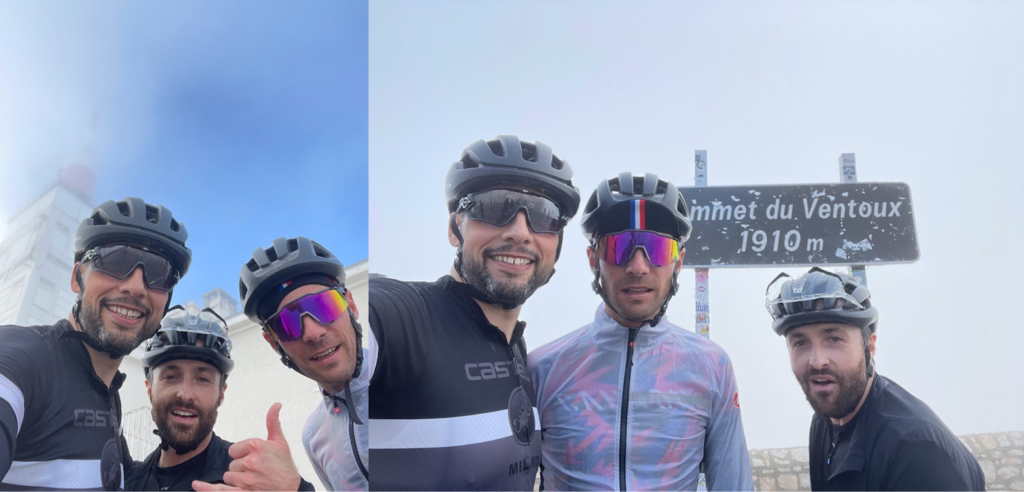 Special kudos to Giulia and Nicole. Giulia drove the minivan all day long, adapting her schedule to ours. Many Directors of Pro Tour teams would learn a lot from her unconditional way of conveying support and reassurance. Nicole is a wonderful little girl whose curiosity and permanent laughs made my day more than once. She says that one day she will be a magician.. she does not know she is already one.