Last week I was asking if someone would be crazy enough to adopt me for the next ZRL season. I have eventually landed in The Coalition, which is Canyon's community club open to all. 
I am already having a lot of fun… though not always. Let me do a quick recap of the week. 
The welcome pack started with a Discord chat about the need to combine the colour of your hair with the fur of your pet (no joke), in which I could not participate since I am lacking one of the two ingredients: hair. Thank God having hair is not a prerequisite to be part of the team. Strike 1.
As you discover new teammates and members of the community, you also discover they own new gadgets. Five milliseconds after someone mentioned he owned a "Blowmaster 2000" I knew I could not live without it. I did not even know what it was, I JUST NEEDED one. The following day my Blowmaster 2000 was delivered to me. Strike 2.
Strike 3 of the welcome pack: I was genuinely invited to a Meetup on Saturday morning 10AM CET. The Meetup title was "Officially unofficial Group FTP Ramp Test". The description said you need to join the Meetup, and select the ramp test workout before the Meetup starts.
It looked suspicious, and I had the perfect excuse not to go since I had already committed to join a friend to ride IRL. But fate is fate and weather conditions made the IRL ride unfeasible. That's how I ended up going to the "Officially unofficial FTP Group Ramp Test".
For those who never had the "immense pleasure" of performing a ramp test on Zwift, let me summarize it in a few words: pedal until you die.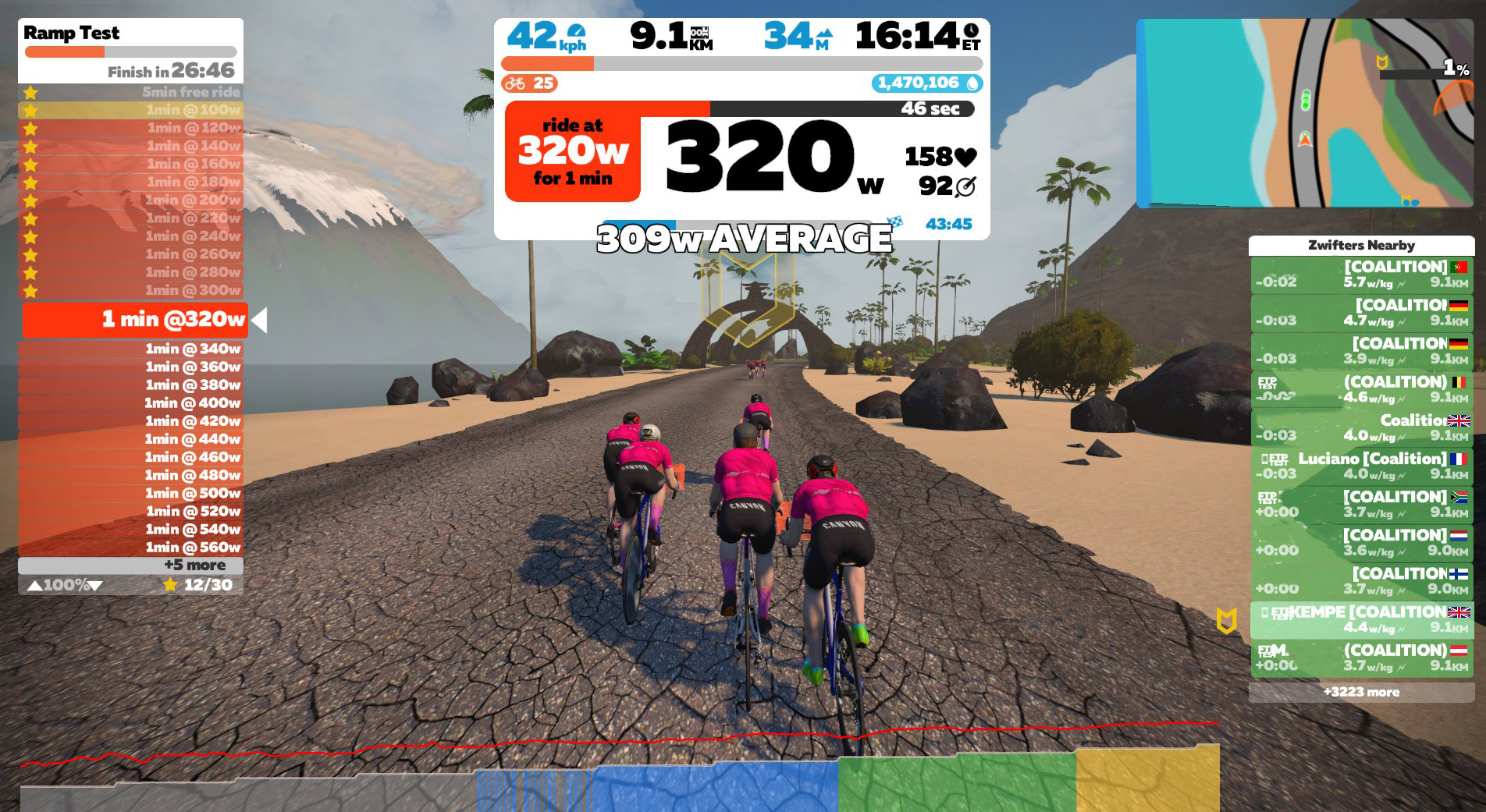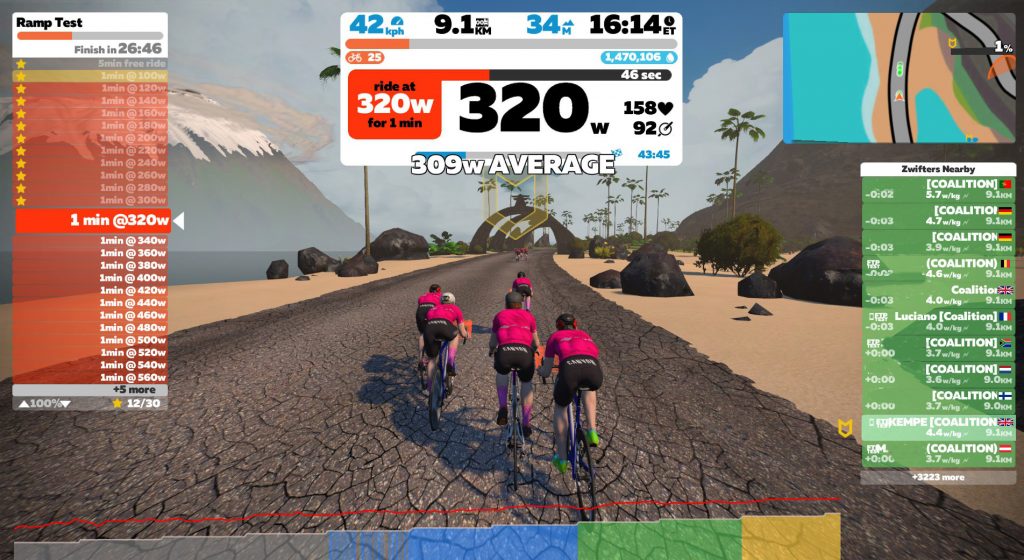 The ramp test is a proxy to calculate your FTP,  increasing the resistance of your smart trainer by 20W every minute. The beauty of it is that at the beginning of the test it is explained very clearly that the calculation of your FTP is made on your best minute, meaning your last minute, so you should go and go until exhaustion. Pedal until your last drop of blood.
The concept is by definition everything but attractive. "Come and die. There is no other outcome than dying. Be happy about it."
Therefore, going to a Group Ramp Test is more or less like signing up for collective suicide. 
If you have ever watched a documentary showing a herd of wildebeest (gnu) crossing a river infested by crocodiles… well, I felt like I was one of 16 wildebeest (yes, 15 other nutjobs enrolled in the slaughter) waiting for my turn to cross the river.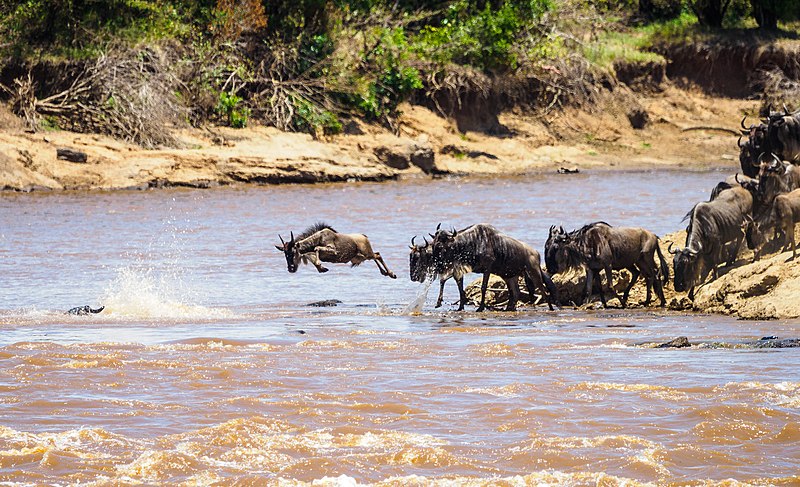 The beauty of the Group Ramp Test concept is that the collective pressure and emulation has only one effect: you die later, which means you suffer longer for the same outcome.
If you think we are crazy, wait for the next detail: you don't get your motivation out of positive reinforcement practices, tending to gently push you to overcome your fears and pains by finding your inner you and reaching a higher level of meditative consciousness. For the lovers of mindfulness, this is not the right place. 
The way to help you push your limits is to have a bunch of ladies and guys shouting at you permanently through the Discord channel. Some of them would have Sergeant Hartman (from the Full Metal Jacket movie) downgraded to the level of a girl scout gently knocking at your door to sell you strawberry cupcakes.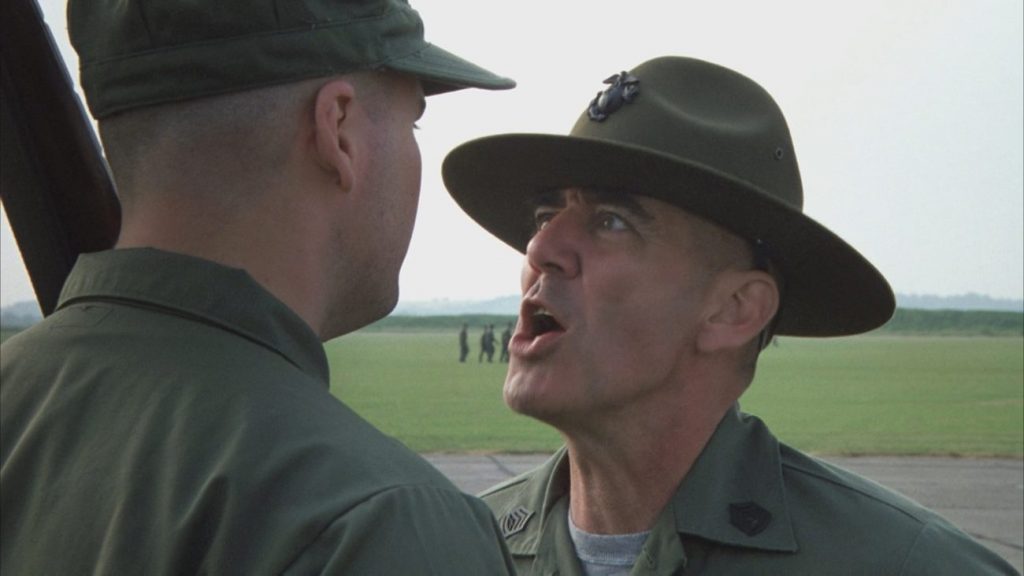 Your only focus is sticking to the rear wheel of the rider before you as long as you can. And at the exact moment you are absolutely convinced that there is not even an additional milliwatt in you, a cavernous death metal voice shouts "KEEEEEEEEEEEEEEP GOOOOOOOOOOOOIIIINNNGGG!!!!". shaking every single cell of your body and urging you to unconsciously pedal another ten seconds… and another ten seconds… and another ten seconds…
In the end, many of us improved our FTP because of the extra 20-30 seconds squeezed out of ourselves thanks to others cheering and encouraging our effort. 
In my opinion, this is as close as you can get to the definition of a team: making each other better simply by working together. 
Can't wait to race with them in ZRL.
Now, let's be clear. It has now been half an hour since I finished the Officially Unofficial Group FTP Ramp Test and I still don't know if I should thank or insult the Meetup organizer. Andy Kempe, I'm not sure I want to have anything to do with you again!
Kudos to Andy, Nils, Lydia, Tom, Matthias, Andreas, Rhys, and many others for the warmest of welcomes to Team Coalition.  
I have bad news for you though. I am planning to stick around for a while. 
Questions or Comments
Have you ever tried a Ramp Test Meetup? Share below!